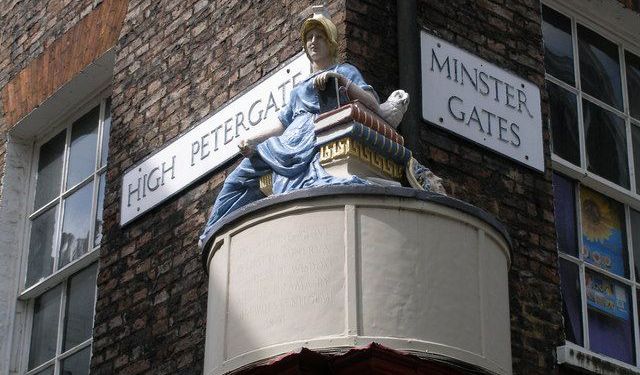 Curious York. A Family Walk., York, England (A)
This is a family friendly walk of discovery through the Minster precinct suitable for adults wishing to look in closer detail at the medieval heart of York and find some of the quirky carvings and historical remnants that make York such a unique place to visit. Read more into the images and symbols of this fascinating city. Also appropriate for children who can be guided by their parents and carers from location to location on "an eye spy walk".
How it works:
The full article is featured in the app "GPSmyCity: Walks in 1K+ Cities" on
iTunes App Store
and
Google Play Store
. Download the app to your mobile device to read the article offline and create a self-guided walking tour to visit the sights featured in this article. The app's navigation functions guide you from one sight to the next. The app works offline, so no data plan is needed when traveling abroad.
Sights Featured in This Article
Guide Name:
Curious York. A Family Walk.
Guide Location:
England » York
Guide Type:
Self-guided Walking Tour (Article (A))
# of Attractions:
14
Tour Duration:
2.0 Hour(s)
Travel Distance:
1.4 Km or 0.9 Miles
Author:
Julia Hickey
Author Bio:
I am a university lecturer and writer currently living in the north of England. In addition to professional qualifications, I hold a masters degree in English Literature and a B.A.(hons) in English and History. I am passionate about history and enjoy nothing more than exploring the UK's historic cities and buildings. In addition to travel writing and educational writing, I also write fiction for a range of women's magazines including the Woman's Weekly.
Sight(s) Featured in This Guide:
Model of York City Centre
Minerva
A Royal Coat of Arms
The Golden Bible
Little Red Devil
The Topless Angel
Bee Coat of Arms
Latin inscribed tombstone
Native American
Cat on Roof
Sundial
The Chapter House
Second Division War Memorial
Dean's Park, stone bench
1 1) Model of York City Centre
You can find this bronze model at the west end of the York Minster. You can touch it too if you want. That's what it's here for.

It was designed by the Dog Rose Trust so that blind and partially sighted people could find out more about York. The most important streets have raised edges so that they are easier to feel.

There are Braille signs so that blind people can find out about the city. The Braille alphabet is made up from a series of raised dots. The model is also exactly the right height for a wheel chair user.

You can see how small the church of St Michael Le Belfrey is next to the Minster and how important the Minster is in the city. Can you see a bronze column in front of the Minster on the model? This is the Boer War Memorial. If you look in the direction of Minster Yard and across the road you can see the real war memorial in a public garden.
2 2) Minerva
You'll have to look up to find Minerva. Minerva is the Roman goddess of wisdom. She's leaning on a pile of books to show her learning. Owls are Minerva's symbol because they are supposed to be very wise birds. There's even a nursery rhyme about owls. It goes like this: "A wise old owl lived in an oak. The more he saw the less he spoke. The less he spoke the more he heard. Why can't we all be like that wise old bird?"

There is an owl perched up there with Minerva, who was also a goddess of war that's why she's wearing a helmet.

This lovely little statue is actually a shop sign put here by a Victorian bookseller when he set up a bookshop. Who'd have thought that the statue would still be here in the twenty-first century?
3 3) A Royal Coat of Arms
The shop that you're looking at now used to sell antiques. There are still many antique shops and galleries in Stonegate. There is also a sweet shop and a toy shop! This one used to be called Greenwoods.

A notice outside the shop explains why there is a royal coat of arms above the front door. Queen Mary who was King George V's wife often came here to buy things.

Shops and companies who provide goods and services to the royal family are sometimes rewarded with a royal warrant. This means that the company or shop is allowed to display a royal coat of arms. Have a look at some well known brands of biscuits or breakfast cereals for example– many of them have a royal coat of arms on the packet. You could be eating the same kind of biscuits as the queen.

Greenwoods was showing that the royal family bought things from them. It was a way of drawing in other customers too.
4 4) The Golden Bible
This is another old bookshop sign. It's dated 1682. There was also a printing press here. The man who owned the bookshop and the printing press was called Francis Hildyard. He published books and novels including one called Tristram Shandy by Lawrence Sterne. Lawrence Sterne lived in York for a time.

York has many literary connections. Did you know that Charles Dickens came here? And the Bronte sisters? According to Daniel Defoe, Robinson Crusoe was born in York and in actual fact the poet W.H. Auden was born in York and A.S. Byatt went to school in York. If you're looking for something more fictional, in the novel Ivanhoe, by Sir Walter Scott, the hero and heroine get married in the York Minster.

There are still many bookshops in York today, although there aren't any on Stonegate at the moment.
5 5) Little Red Devil
Stonegate was a street of booksellers and publishers and here's another link to that past. York's very first printer set up shop here in 1480.

Apprentices who worked for printers learning how to become printers themselves were called printers' devils because they carried hot metal type and got themselves covered with black ink that was difficult to clean off. This little devil is a reference to those printers' devils.

He's got a chain around his middle to stop him running off and causing mischief and he's been carefully painted so that he stands out on his perch.

You've seen three different signs for a bookshop now. Which one do you think is best? And how do you think they compare to modern signs for bookshops?
6 6) The Topless Angel
We looking at another shop sign.

This lady used to be a ship's figurehead. In the days when ships were made from wood most ships had figureheads. The idea of a ship being a 'she' is a very old one and so is the idea that ships needed good luck symbols to guide them on their journeys so many figureheads are of females. Old sailors believed that the ship's figurehead, especially a naked one like this one, would be able to calm storms at sea.

So how did the topless angel turn up here? York is miles away from the sea. Well, perhaps the people who ran this shop in the past had something to do with the tea trade in the days when tea was carried in ships with sails, called tea clippers, around the world.

She's been a bit battered over the years by lorries cutting the corner but now that traffic doesn't come up and down these roads she's much more likely to survive for many more years.
7 7) Bee Coat of Arms
There are many different coats of arms in York. Many of them are brightly painted and put where it's hard to miss them, like this one.

Originally coats of arms were painted onto shields in the days when knights went into battle in armour. A coat of arms meant that other people knew who was inside the armour when the visor on the helmet was shut. In the chaos of battle soldiers could follow their leaders more easily. Coats of arms were like signatures because they identified people.

They could also be used to show ownership. This coat of arms is very grand and it is immediately above the front door. Whoever put it here wanted everyone to know how important they were and that they owned the building.

This coat of arms shows three bees. Bees are a symbol for skill, hard work and perseverance. If you perservere you keep trying.

Elsewhere in York you might see a coat of arms with two crossed keys. This is the coat of arms of the York Minster. The full name of the York Minster is The Cathedral and Metropolitical Church of St Peter in York. The crossed keys are the symbol of St Peter, who holds the keys to the Gates of Heaven.
8 8) Latin inscribed tombstone
You've just walked down a modern shopping street but here is a little courtyard edged with tombstones. They're here because of the Lord Mayor of York's new home.

St Helen's Churchyard needed to be tidied up after the mayor's mansion house was build in the middle of the eighteenth century. The view from the mansion wasn't a good one. There were so many bodies in the churchyard that people said a small hill had grown up where the land had once been flat. York was reinventing itself as a city that drew the rich and powerful to horse races and dances. St Helen's Churchyard had to go.

The people of York decided that it would be better to change the churchyard into a public square. You've just walked through it to get here. But what were they to do with the graves, especially the recent ones? So some of the graves were moved down the road. And here they are.

Can you see the mosaic owl on the wall? The tomb stone beneath the owl is inscribed in Latin. It says 'Here lies William Peckitt. Died August 21st 1776. William was 86. His wife Anna is also buried here. She was 97.

In the past many people couldn't read and write. That's one of the reasons why there are so many old picture signs and statues in York. It's easier to work out the meaning of a picture than to work out words if you can't read.

If you did go to school and were well educated then you would have learned Latin. People used Latin to show that they were well educated. Latin was the language of education and the Church.

We know that William Peckitt was well off, he has a stone tombstone after all. We also know that he was well-to- do, or at least wanted people to think he was, because his tomb is inscribed with Latin rather than English.
9 9) Native American
This figure is a shop sign like the ones you saw earlier. He was once the sign that tobacconists used. The feathers and his skirt are really supposed to be tobacco leaves. If you look closely you can just about make them out.

A Native American was used by people who sold tobacco because according to the story, Sir Walter Raleigh bought tobacco back from the New World- that's America to you and me- during the reign of Queen Elizabeth the First in the sixteenth century. As well as tobacco he is supposed to have brought back potatoes and tales of fierce, proud Native Americans.

Some Native Americans visited Britain at this time too. The most famous one being Pocahontas – though she never visited this far north.

Tobacconists used the image of the Native American because tobacco came from the same place. They could have used a potatato but it would not have been so striking! And it certainly wouldn't have created the right kind of advertising. By contrast, as you can see, the statue of the Native American stands out and you can see him a long way down the street.

Shop keepers used statues and pictures rather than words because in the past not everyone could read and write but if they knew what the symbol for a particular shop was they could still find what they were looking for. For example, in the past barbers' shops used a red and white pole above their front door just like a tobacconist used a Native American.
10 10) Cat on Roof
You'll need to look up onto the roof to see this part of the tour. Can you spot the cat stalking the pigeon? There're many statues of cats in York.

An architect called Tom Adams put many of the more recent cat statues in place. They're a bit like his trademark, or signature, to say he worked on the design of a particular building.

There are older cats though. These date from the Nineteenth Century. Some people think that they were placed on the buildings to scare away rats and mice. Other people think that they are there to bring good luck to the people who lived in the houses. What do you think?

The cat you're looking at now was put on the roof by Tom Adams when the owners had the building extended into the roof.

Have a look to see how many other cats you can spot during your visit to York. They're all over the place, on window ledges, perched on chimney pots, climbing walls and on roofs just like this one.
11 11) Sundial
The sundial is on the green opposite St William's College. There is a sundial on each of the four sides of the column, there's a bench beneath supported by four lions. If the sun is shining perhaps you will be able to see what time it is.

It is tempting to think of the priests who lived in St William's College hurrying over here to check the time so that they could get to the Minster in time for their services.

If you cross the road to have a look at St William's College; the half timbered building with the grand doorway you will see a carving above the door way. If you look at it carefully you can see two praying priests.
12 12) The Chapter House
You are looking at the outside of York Minster's chapter house. A chapter house is a meeting room where the business of the Minster can be discussed. This chapter house is octagonal and was finished in 1286.

You'll have to look up to find this part of curious York. If you look at the picture you can see something sticking out from the wall. It's almost as though there's a little monster hanging on to the stonework. Can you see the carvings of strange creatures and people on the walls and near the roof? These are grotesques and gargoyles.

A gargoyle is a water spout. It has a long neck so that when it rains the water comes down off the roof and spits out of the grotesque's mouth so that the water doesn't run down the walls. A gargoyle is an early form of drainage system. Don't get caught under one if it starts to rain.

Grotesques are fantastic creatures.The stone masons who created them let their imaginations run wild. They're often very ugly too. They don't have any immediate useful purpose. They were put there originally to scare off evil spirits and warn people about what nasty things were waiting for them if they didn't go to church. Remember, that when the Minster was built most people couldn't read or write so pictures were very important. Some of these strange creatures would certainly have drawn lots of attention to themselves even if they are high up.
13 13) Second Division War Memorial
This memorial to the Second Division, created in 1987, was made from part of a medieval archbishop's palace. There's not much of the palace left now, just this and what's now the Minster library.

Can you see that the stone masons have had to work hard to repair the damage caused by time? See if you can spot the carved birds in the picture.

There is information on the memorial about the Second Division. It was raised in 1809 to fight against the French during the Napoleonic Wars. It has fought in many battles since then. These are listed on the memorial.

You might also see poppies. The poppies are for remembrance of the soldiers of the Second Division who died during all those battles.

Dean's Park is open from 7.00 am until dusk.
14 14) Dean's Park, stone bench
This octagonal stone bench was made to celebrate the stone carving festival held in York in 2000.

There are many stone carvers and stone masons in York. Looking after the Minster is a full time job. The stone the Minster is made from is a soft kind of stone called sandstone. It is good to carve but it wears away, or erodes, over time so it is important to replace and repair the stone work as damage occurs. There's usually scaffolding covering some part of the Minster to allow the masons to look after the building.

There are lots of interesting faces and creatures on the bench. Look around the outside and then around the inside to see if you can spot a dragon, a sleeping lion, someone pulling a face- the face in the picture that accompanies this location, a lizard, a pelican and someone sticking their tongue out. It's a great chance to see some of the skill that goes into the grotesques and gargoyles high up on the Minster where no one can see the fine detail. Which one do you like best?

On a summer's day it's a good place to sit and admire the Minster or to take some time out from all the people in the crowded streets. There's plenty of space to play too.
Walking Tours in York, England