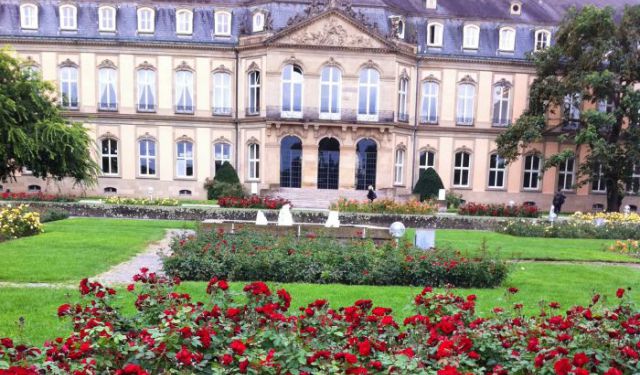 Landmark Tour of Stuttgart, Stuttgart, Germany (A)
Stuttgart is a charming city situated in a valley surrounded by vineyards. This capital city of the state of Baden-Württemberg will charm tourists with its impressive history, unique architecture, and bustling downtown. Stuttgart is also a must see for car enthusiasts as both Mercedes-Benz and Porsche headquarters are located here. Fortunately, Stuttgart's most impressive sights are best experienced on foot as this guide demonstrates.
This article is featured in the app "GPSmyCity: Walks in 1K+ Cities" on
iTunes App Store
and
Google Play
. You can download the app to your mobile device to read the article offline and create a self-guided walking tour to visit the attractions featured in this article. The app turns your mobile device into a personal tour guide and it works offline, so no data plan is needed when traveling abroad.
Walk Route
Guide Name:
Landmark Tour of Stuttgart
Guide Location:
Germany » Stuttgart
Guide Type:
Self-guided Walking Tour (Article (A))
# of Attractions:
13
Tour Duration:
4.0 Hour(s)
Travel Distance:
3.2 Km or 2 Miles
Author:
Laurel Robbins
Author Bio:
Laurel Robbins is a freelance travel writer who hails from Canada, but now calls Stuttgart, Germany home. Prior to living in Germany, she lived in S. Korea, Thailand and the United States. She is happiest when traveling and her favorite travel adventures include diving with hundreds of hammerhead sharks in the Galapagos and volunteering on a conservation boat off the Hebrides in Scotland. She is currently busy exploring Germany and writing about her European adventures.
Author Website:
https://monkeysandmountains.com
Sight(s) Featured in This Guide:
Hauptbahnhof (Main Railway Station)
Staatstheater Stuttgart (State Opera Stuttgart)
Neues Schloss (New Castle)
Schlossplatz (Palace Square)
Altes Schloss (Old Castle)
Schiller Platz (Schiller Square)
Der Stiftsfruchtkasten (Storehouse)
Stiftskirche (Collegiate Church)
Markthalle (Market Hall)
Karlsplatz (Karl Square)
Altes Waisenhaus (Old Orphanage & Grand Café Planie)
Königstraße (König Street)
Calwer Strasse (Calwer Street)
1) Hauptbahnhof (Main Railway Station)
The Main Railway Station is easily recognizable by the gigantic rotating Mercedes logo. It was built between 1914 and 1927. It is a busy place with a daily count of over 1200 trains and 200,000 passengers. For a panoramic view of Stuttgart visit the Aussichtsplatform, a viewing platform 10 stories high in the railway station. Here you can also learn more about the controversial "Stuttgart 21" development project. Construction has already started on the Hauptbahnhof and the project is deemed as one of the largest construction projects in Europe, projected to last 10 years but will eventually make Stuttgart a railway hub between Western and Eastern Europe. The Hauptbahnhof is also where you can buy English books and magazines.
Image by Roger W under Creative Commons License.
2) Staatstheater Stuttgart (State Opera Stuttgart)
The State Opera Stuttgart belongs to the State Theater Stuttgart and is also home to the world famous Stuttgart Ballet Company. It is very productive, producing over 40 productions a year and has a repertoire of more than 100 works. It has won the "Opera House of the Year" award six times and is well known in Germany, so despite having 1400 seats, productions sell out quickly so buy your tickets in advance if at all possible. The State Opera was built between 1909 and 1912 and partially destroyed in World War II. It was restored to all of its former glory in 1983 and 1984.
Image by Andreas Praefcke under Creative Commons License.
3 3) Neues Schloss (New Castle)
The New Castle was built for Duke Carl Eugen von Wuerttemberg and was the largest baroque residence castle in Germany. The main building was built between 1745 and 1751, but work stopped for ten years when the Duke moved to the nearby town of Ludwigsburg. The castle was finally completed in 1775. The three winged residence castle was strongly influenced by contemporary French architecture and was typical of its time. The castle was destroyed in World War II and was restored between 1958 and 1964. Today, the central part of the castle is home for representatives of the Baden-Wuerttemberg state government, while the side wings house ministries. Also be sure to check out the rose garden on the north side of the castle.
4) Schlossplatz (Palace Square)
Palace Square was transformed into a garden in 1860. You may notice a rather tall column in the center of the Palace Square, this was erected in honor of King Wilhelm in 1863. The 5 meter high statue on the column is of Concordia, the goddess of harmony. On the platform scenes are portrayed from the Wars of Liberation against Napoleon, back when King Wilhelm was still a Crown Prince. The 2 fountains were also constructed in 1863. They each feature 8 cherubs representing 8 rivers in the state of Baden-Wuerttemberg. The bandstand wasn't built until 1871 and was originally in front of the New Castle. For years, military concerts were held here every Sunday morning. Today, musicians still play here frequently.
Image by big-ashb under Creative Commons License.
5) Altes Schloss (Old Castle)
The Old Castle has a humble history of first being used as a water fortress back in the 10th century. It wasn't until the 14th century that counts decided to use it as a residence and it wasn't till much later after that when the castle came to the forefront when Duke Christopher von Wuertemberg redecorated and added three wings to the formerly modest castle. The result was a 4 winged castle enclosing an inner court. Once the New Castle was built, there was little use for the Old Castle and it was not lived in after 1746. It was partially destroyed in a fire in 1931 and destroyed in World War II, but reconstruction began in 1946 and was finished in 1962. Today, the Old Castle houses the Wuerttemberg State Museum. Here you can see the queen's jewellery which gives you an idea of how vast the Wuerttemberg kingdom was. It also features history from the stone ages to present times. Even if you don't go to the museum, the inner court is worth checking out. Here you will also see that one wing of the castle was a protestant church. The inner court is also where the opening ceremony of Stuttgart's famous Christmas market is held.
Image by Ben Garrett under Creative Commons License.
6) Schiller Platz (Schiller Square)
Schiller Square was not constructed until the 16th century because of overcrowding in medieval Stuttgart, there was no room for a square. Originally the square was only for use by the royal court and was a common place for ceremonies by the dukes to be held. Common people were not allowed here until the New Palace was built. To celebrate this freedom for the common people, the Schiller monument was erected as a memorial to Friedrich Schiller, a German poet, philosopher, historian and playwright who campaigned against tyranny and spent many of his formative years in Stuttgart. Today, Schiller Square is used for the wine festival held every August and for the Christmas market held every December.
Image by ¡0-8-15! Christoph Hoffmann under Creative Commons License.
7) Der Stiftsfruchtkasten (Storehouse)
This large stone house, was used mainly to store wine, but on occasion was also used as a granary from as early as 1393. Wine was often more abundant than water in these times and even children drank small amounts of wine. Stuttgart was a large wine producing area, so much so that the wine growers' guild was the largest guild in the city with over 700 families belonging. On the crest of the roof you will see Bacchus, the god of wine, sitting on a small wine barrel with his wine glass in hand. Today, the building now holds the Württemberg State Museum's collection of musical instruments.
Image by Ben Garrett under Creative Commons License.
8) Stiftskirche (Collegiate Church)
The Collegiate Church is the most important Protestant Church in the state of Baden Württemberg. Its history dates back to 1175 when it started off as a small Romanesque Church. It was extended several times and in 1531 the notable west tower, standing at over 60 meters high was built. The first Protestant sermon was preached here in May 16, 1534. The Collegiate Church has served as a burial for many notable Württemberg citizens including many counts of Württemberg. The Church underwent renovations again from 1999 -2003 to extensively restore and modernize it to meet the service and acoustical needs of the church while still referencing the church's earlier architectural elements.
Image by Ben Garrett under Creative Commons License.
9) Markthalle (Market Hall)
The Market Hall is one of the most beautiful market halls in all of Germany and is a culinary lover's delight. Here you will find fresh flowers, fruits and vegetables, fish and meat, exotic delicacies from all over the world and gourmet specialities, along with a restaurant and gallery. Fresh fish from the North Sea or Black Forest trout anyone? Despite the variety, it all has one thing in common, it's all fresh and high quality, which also drives the prices up. It's the perfect place to buy a snack for a picnic at the Schlossplatz. Even if you are not planning on buying anything the Market Hall is still a sensory treat. It was first built from 1912 to 1914 in art noveau style and had over 430 stands. Today, it only has 44 stands but you will not be disappointed.
Image by Matthew Black under Creative Commons License.
10) Karlsplatz (Karl Square)
Karl Square is named after Duke of Karl Eugen who ruled Württemberg from 1744 to 1793. The prominent equestrian statue is of German Emperor Wilhelm I. He was considered to be a polite gentleman, but on occasion his better judgment was subjected by "female influences." Today Karl Square is home to the weekly flea market held every Saturday and the annual Hamburg Fish Market which arrives in Stuttgart every summer. Hidden from view, but just underneath Karl Square is a container for rainwater storage which is connected to all the trees surrounding Karl Square and is controlled by an automated computer system.
Image by MSeses under Creative Commons License.
11 11) Altes Waisenhaus (Old Orphanage & Grand Café Planie)
This building was built in 1705 for the purpose of cavalry barracks, it was only used for a few short years as such before being used as an orphanage after 1712 for approximately 140 children. Today it is home to offices and the Grand Café Planie which I can't recommend enough. Your mouth will water just looking at the selection of cakes and choosing just one is almost an impossible task. There is a lot of outdoor seating if the weather is nice and it's the perfect place for a rest stop. If you're in the mood for a beer, the beer garden of Amadeus in the courtyard also makes a charming rest stop.
12) Königstraße (König Street)
Königstraße is Stuttgart's longest pedestrian street at 1.2 km and the main shopping street. It is the heart of the city and is always hustling and bustling. Königstraße is divided into two parts, the lower half runs from the Main Station to the Schloss Platz (Palace Square), while the upper half runs from Schloss Platz to Rotebühlplatz. The lower half of Königstraße was first laid out in the early 19th century during the reign of Kind Freidrich, who made room for the street by moving the stables to Solitude Palace. Königstraße owes its pleasing atmosphere of fountains, trees and benches to the national Gardening Exhibition which was held here in 1977, but its pleasant atmosphere can still be experienced today.
Image by Filip Maljković under Creative Commons License.
13) Calwer Strasse (Calwer Street)
Calwer Strasse is another pedestrian zone lined with charming historical houses dating back to the 17th, 18th and 19th centuries which have been dutifully restored. Just walking through here takes you back in time. There is good shopping along Calwer Strasse, but it is best known for its choice of restaurants. If you are hungry, head here for a wide choice of dining options, many of them with outdoor seating along this enchanting historic street, where Italian restaurants are especially popular.
Image by bogenschlag under Creative Commons License.