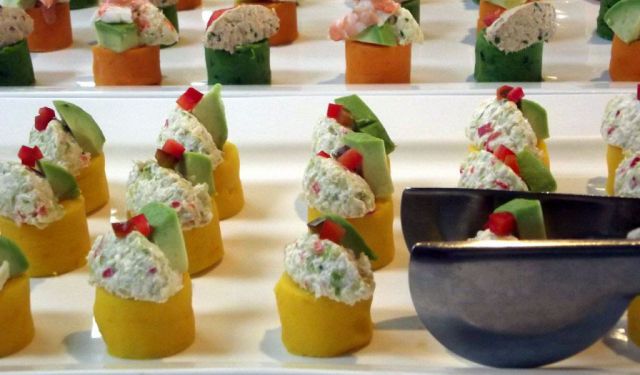 Peru, Lima Guide (D): Gastronomic Tour
During half a millennium of fusion, flavors from Europe, Africa, and Asia have mingled with Incan fare to create Peruvian cuisine. The country's approximately 90 microclimates–distributed through coast, mountain, and jungle–produce a startling variety of ingredients, many unique to Peruvian soil. This tour highlights representative dishes from this world-renowned cuisine at some of the most raved-about restaurants in Lima. ¡Buen provecho!
This article is featured in the app "GPSmyCity: Walks in 1K+ Cities" on
iTunes App Store
and
Google Play
. You can download the app to your mobile device to read the article offline and create a self-guided walking tour to visit the attractions featured in this article. The app turns your mobile device into a personal tour guide and it works offline, so no data plan is needed when traveling abroad.
Attractions Map
Guide Name:
Gastronomic Tour
Guide Location:
Peru » Lima
Guide Type:
Self-guided Walking Tour (Article (D))
# of Destinations:
25
Sight(s) featured in this guide:
•
Antigua Bodega Sanguchería Antonio Carbone
•
Pastelería y Panadería Huérfanos
•
Pastelería San Martín
•
Grimanesa Vargas Anticuchos
•
Chifa Salón de la Felicidad
•
Fiesta Chiclayo Gourmet
•
Chifa Chung Yion
•
Canta Rana
•
Don Tito
•
Chez Wong (Sankuay)
•
Restaurant at the Commercial Center of the National Agrarian University at La Molina (Carmax)
•
La Buena Muerte
•
El Mercado
•
Sonia
•
El Chinito
•
Costanera 700
•
El Señorío de Sulco
•
Restaurant Huaca Pucllana
•
Pastelería San Antonio
•
El Rincón que no Conoces
•
ámaZ
•
Tanta
•
Huancahuasi
•
Café Tostado
•
La 73

Author: Lauren Wellman
Author Bio: I'm a freelance writer and editor who has traveled extensively throughout South America. I've lived in Lima, Perú, since 2011. I enjoy exploring this multifaceted city and becoming, a little more each day, a limeña.
1 1) Antigua Bodega Sanguchería Antonio Carbone
El Carbone was founded in 1923 by Italian immigrants in what is now a street replete with optical shops and a competitive sales force hawking their wares. Carbone's original neon sign has retired to a space on the back wall indoors, leaving this hidden gem unmarked from the outside. The interior of El Carbone's original location is as Spartan as the menu, apart from the historic sign and dusty whiskey bottles lining its shelves. It features a glass cooling case with an exquisitely prepared...
2 2) Pastelería y Panadería Huérfanos
The Peruvian-Italian tradition is alive and well at Los Huérfanos (the orphans), which makes on-site and serves artisan pastas as well as a wide variety of baked goods. In his nineties, Aroldo Porcella arrives every day, ties on an apron, and serves customers. After more than half a century running this highly visited cafeteria and bakery, Aroldo has passed managerial duties to one of his sons.

Customers clamor for the homemade pasta, the fantastic chancay bread, and the pastries filled with...
3 3) Pastelería San Martín
Pastelería San Martín is tucked in a corner in one of Lima's most representative public areas, Plaza San Martín. Most of the eateries situated around the plaza are recent phenomena. Along with the dining room of the Gran Hotel Bolívar, Pastelería San Martín provides a welcome exception, harboring nostalgia and memories, as well as traditional recipes.

Chief among these is the original recipe for the turrón of Doña Pepa, a sticky pastry made with egg yolks, anise, fruit juice, and...
4 4) Grimanesa Vargas Anticuchos
Anticuchos–skewered, grilled (and highly nutritious) beef heart–are an emblematic Peruvian food often sold on the street or small locales and an integral part of cultural celebrations. According to Vocabulary of Lima's Kitchen, the word "anticucho" is derived from the Quechua "cuchu" (to cut). In the Incan era, anticuchos were prepared with llama meat. African slaves took the beef heart given to them by the Spaniards and transformed it into a creative feast, marinating the organ...
5 5) Chifa Salón de la Felicidad
Lima is an international city with the second-largest Chinese population outside China, following San Francisco. Cantonese Chinese arrived en masse in the 19th century as indentured servants to work on large estates, mostly in Lima. Chinese immigration to Perú, of a more voluntary nature, has continued through the present, leading to the continued intermingling of Chinese and Peruvian cooking traditions.

The term chifa refers to both the unique fusion of Chinese cooking traditions with...
6 6) Fiesta Chiclayo Gourmet
The Premios Summum recognize the best restaurants overall and by category in all Perú. In 2013, Fiesta moved into the top five overall and was awarded top restaurant for traditional Peruvian food. Under the proprietorship of chef Héctor Solís, the restaurant has been recommended by The New York Times. Originally from the city of Chiclayo on Peru's northern coast, this family restaurant has transformed over the years into a top choice for Peru's foodies. The traditional foods it serves...
7 7) Chifa Chung Yion
Commonly called Chifa Unión for it location, this chifa is an integral part of Barranco, the bohemian district of Lima that has historically been home to many of Lima's artists and intellectuals. It's likely that poet, journalist, and artist José María Eguren (1874-1942) enjoyed some chifa and cocktails at Chifa Chung Yion. He may even have composed some poems at one of its tables, perhaps after sharing a meal with fellow ambassador of Peruvian letters César Vallejo.

Nowadays, the...
8 8) Canta Rana
According to Gastón Acurio, a huarique (say wah REE kay) is like a Peruvian bistro, a kind of hideout where people meet up and eat exceptional food in a pretension-free setting. Linguist Martha Hildebrandt says the term comes from the Spanish "guarida," or lair. Others say its origins are Quechua. A friend might recommend a huarique due to its growing reputation for the uniqueness and excellence of a particular dish.

Barranco is home to several huariques, and Canta Rana is one of its...
9 9) Don Tito
According to the Peruvian Society of Gastronomy, Peruvians go out to eat at pollerías, chicken places, more than any other type of restaurant. Fast, tasty, affordable, and abundant, pollo a la brasa (rotisserie-cooked chicken) is by far the popular favorite among Peruvians. According to the Peruvian Chamber of Commerce, roughly 8,000 new chicken places open up every year in the country. Peru's first pollería, La Granja Azul, opened in 1950, ushering in the creation of a special oven allowing...
10 10) Chez Wong (Sankuay)
Chez Wong is the ultimate huarique. In 2009, The Guardian proclaimed that Javier Wong serves the best ceviche in the world. The world-renowned cevichería is part of Wong's home in a gritty Lima barrio called La Victoria. There is no signage to identify the locale—and no set menu. You eat what Javier Wong serves you. But don't worry, you're in expert hands.



Calling Javier Wong a chef isn't sufficient. Artist, high priest, genius, magician, and master all come to mind. How...
11 11) Restaurant at the Commercial Center of the National Agrarian University at La Molina (Carmax)
The genius of the restaurant in the commercial center of la Universidad Nacional Agraria de la Molina (UNALM) is that the ingredients, just about all of them, are grown on the campus next door. The restaurant, called Carmax, has a treelined, country atmosphere with rustic wood tables under a thatched awning, creating an enjoyable setting to sit down with friends or family and enjoy pan y chicharrón (a dish based on pork cooked in its own fat).

It's typically served family style and eaten...
12 12) La Buena Muerte
Started in 1959 in downtown Lima, La Buena Muerte is a pioneer in the fusion of Japanese and Peruvian cuisines, known as Nikkei. The restaurant's name comes from its customers, inspired by the original location near the plaza and church called la Buena Muerte (good death). I tried the fish roll the waiter recommended, one of the dishes on the ample menu most representative of Nikkei. The roll of pejerrey (silverside) and marlin are served hot and covered in a tamarind sauce. Several diners...
13 13) El Mercado
Rafael Osterling is one of Lima's buzziest and busiest chefs. The restaurant he opened in Miraflores in 2000, Rafael, has consistently been ranked among the top 3 in the country by Summum. Travel & Leisure deemed Rafael the best in Perú in 2005, and it's an excellent choice for a taste of refined and creatively reinvented Peruvian home-cooked flavors.

In 2010, El Mercado appeared as Rafael Osterling's gourmet cevichería in Miraflores. Lima alone has over 12,000 cevicherías. El...
14 14) Sonia
Sonia's connection to the sea resonates in the rustic restaurant decorated with fishing nets. Sonia Bahamonde grew up in Chorrillos, a district in Lima known as a home for its fishermen. She comes from a fishing family with several generations of knowledge in how to prepare seafood. When Sonia married Freddy Guardia, a fisherman, she began serving her family recipes to fishermen on the dock. Seafood prepared all over Perú a la chorrillana (in a sauce based in onion, garlic, ají, and tomato)...
15 15) El Chinito
This sandwich shop founded over 50 years ago in downtown Lima garners the highest praise for its chicharrón. The chicharrón is served on French bread with a slice of sweet potato and a simple Creole sauce. You can buy the chicharrón by the kilo (S./ 55), as well, for an affordable meal served with baskets of breads and sides to build your sandwich.

Felix Yong Loo and his wife Luisa Tataje founded El Chinito in 1960, and the place is now one of Lima's most classic restaurants. The...
16 16) Costanera 700
Nikkei style Peruvian fusion cuisine is given its highest and most honored expression by Humberto Sato's restaurant. Moved about ten years ago from a rundown neighborhood near the airport to a more posh address in Miraflores, Costanera 700 serves some of the most elegant food in Lima to an exclusive clientele. It is a place where deals are made. Top-quality Peruvian ingredients are converted with Japanese techniques and traditions into a palate-pleasing hybrid.

In the 1970s,...
17 17) El Señorío de Sulco
The extensive menu is as wide as the ocean view from the spacious dining room. A tasting menu takes diners on a 5-course tour of Peruvian cuisine that begins with a classic pisco sour and culminates with cheese ice cream served with a coconut cookie and a honey made from dark beer. The main courses represent the diverse regions and ingredients of Perú, including cocona, yucca, and a cornucopia of fruits of the sea.

The tasting menu might be compared to a dissertation of Peruvian cuisine (an...
18 18) Restaurant Huaca Pucllana
This restaurant sits at the base of the extensive ruins of a temple from the Pre-Incan Lima culture. The extraordinariness of the setting is well complemented by the menu, which offers traditional Peruvian food with creative haute cuisine twists. The executive chef, Marilú Madueño, was trained in Paris's Cordon Bleu. She has been heading up the kitchen at Huaca Pucllana for the past decade, during which time the restaurant has consistently ranked among the top 20 in Perú by Summum.

The...
19 19) Pastelería San Antonio
José Vila arrived from his native Spain to Lima in 1957 with the dream of starting his own bakery. Three generations of his family have since become part of the bakery that was named best café style restaurant in the nation in 2012 by the official guide to Peruvian gastronomy, Summum. San Antonio's motto is, "The tradition of yesterday, the technology of today, and the quality of always."

In addition to Miraflores, San Antonio has four other locations in Lima. The Miraflores location...
20) El Rincón que no Conoces
The "Mother of the Peruvian Kitchen," Teresa Izquierdo left behind many heirs when she passed away in 2011 at 77 years old. The whole country mourned. Remembering her a year later, chef Javier Wong, her friend, suggested that she left us because God wanted to eat comida criolla. Her daughter, Elena Santos Izquierdo, carries on the legacy of traditional dishes passed down from her renowned mother at the restaurant she founded in 1978 in Lince, El Rincón que no Conoces ("The Unknown...
Image by Kricket under Creative Commons License.
21 21) ámaZ
A trip to ámaZ could change your travel plans. The line on your map could suddenly veer toward the Peruvian Amazon. Traveling through the jungle, you might run into ámaZ's executive chef, Pedro Miguel Schiaffino, who has dedicated over a decade to exploring its culture,traditions, and flavors.

The restaurant evolved from Schiaffino's passion for this region of Perú and his desire to share its unique ingredients and culinary traditions. ÁmaZ lifts overlooked Amazonian cuisine and...
22) Tanta
Part of Gastón Acurio's restaurant empire, Tanta is an international franchise with locations throughout South America and the U.S. Promoting the street food vendor and the small-scale agricultural producer, Acurio is a benevolent emperor, who enjoys wide-scale popular support.

Tanta is more accessible and casual than some of his other restaurant confections; in particular, Astrid & Gastón, a restaurant serving gourmet New Andean cuisine and rated among the world's top 50. Making...
Image by Acurio Restaurantes under Creative Commons License.
23 23) Huancahuasi
This restaurant serving traditional and New Andean cuisine hales from Huancayo. It serves exceptional versions of some of Perú's most distinctive plates, like cuy picante (spicy guinea pig) and pachamanca--a traditional meal in which spiced meats and potatoes are cooked over hot stones in the earth. The pachamanca experience happens on weekends only. From Thursday through Sunday, the festive restaurant hosts Andean musical performers and traditional dancers.

An appetizer tray give...
24 24) Café Tostado
This cozy huarike in Barranco serves a fixed menu that's gone unchanged for five years, rotating plates throughout the week. The intimate café with eight large wooden tables lures a lot of people out on Mondays for its sancochado, a hearty soup of beef, turnips, sweet potato, yellow potato, celery, cabbage, corn, and carrots.

On Thursdays, the restaurant serves huatia prepared with homemade vinegar. Always on the menu, for lunch or dinner, is the orange-flavored rabbit, another great...
25 25) La 73
The name of this restaurant comes from the green bus, which used to be the only one to run the route that passes by this "gourmet stop." The outdoor terrace is a good setting to enjoy a chilcano, made from Peru's famous pisco. The wait staff is friendly and knowledgeable. Our waiter, Wilfredo, said he always makes sure customers leave happy. The seasonal menu is stocked with options that make this outcome likely.

Spring daily specials included tacacho with yucca, a plate from the...
Useful Travel Guides for Planning Your Trip
--- 20 Must-Buy Trip Mementos from Lima
Today's Peru is a basket of natural, cultural and historical riches manifested in the multitude of handicrafts that have flourished in the country for thousands of years and embraced Inca, Spanish and other influences. Local jewelry, wool, pottery, leather, music, food and drinks - all have a... Gastronomic Tour of Lima
Peruvian cuisine reflects a rich cultural and geographical diversity. During half a millennium of fusion, flavors from Europe, Africa, and Asia have mingled with Incan fare. Perú's approximately 90 microclimates produce a startling repertoire of ingredients, many unique to Peruvian soil. A...