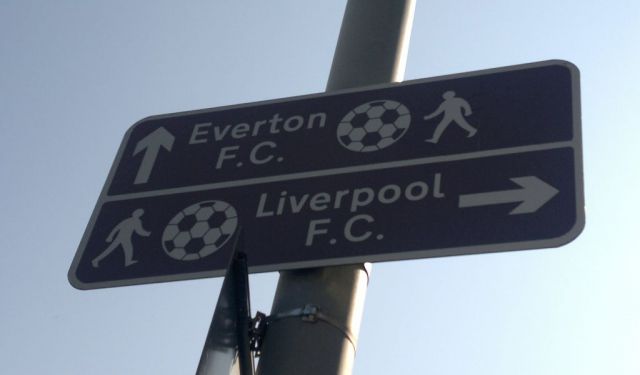 Football Trail, Liverpool, England (A)
Liverpool is the only city in England to have had a team playing top flight football in every season since the league began in 1888. It is also England's most successful football city, Liverpool and Everton between them have won 46 domestic and 9 European trophies. This trail takes you round the sights connected to the birth of the 2 clubs and their contribution not just to the local game but nationally and internationally as well.
How it works:
The full article is featured in the app "GPSmyCity: Walks in 1K+ Cities" on
iTunes App Store
and
Google Play Store
. Download the app to your mobile device to read the article offline and create a self-guided walking tour to visit the sights featured in this article. The app's navigation functions guide you from one sight to the next. The app works offline, so no data plan is needed when traveling abroad.
Sights Featured in This Article
Guide Name:
Football Trail
Guide Location:
England » Liverpool
Guide Type:
Self-guided Walking Tour (Article (A))
# of Attractions:
11
Tour Duration:
3.0 Hour(s)
Travel Distance:
5.8 Km or 3.6 Miles
Author:
Steven Horton
Author Bio:
I have lived in Liverpool all my life and been a supporter of Liverpool FC since 1978, attending the majority of games home, away and in Europe. However I am extremely proud that my city has two top flight clubs and of the contribution that Everton has made to the game.
Author Website:
http://www.stevenhortonfreelancewriter.co.uk
Sight(s) Featured in This Guide:
Goodison Park, Everton FC
George Mahon's home
Dr Baxter's Home
The Kop, Liverpool FC
Hillsborough Memorial & Shankly Gates
John Houlding's Home
Sandon Hotel
Site of St Domingo's Church
Our Lady of Immaculate
Everton Roundhouse
Liverpool College
1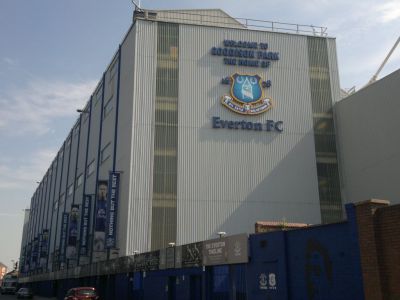 1) Goodison Park, Everton FC
Everton FC moved into Goodison Park in 1892, after spending the previous eight years playing at Anfield, now home of Liverpool FC. The move came about after the owner of Anfield, Everton board member John Houlding, raised the rent and most of the Everton organising committee decided to break away from him and secure a lease on a piece of land that was then called Mere Green.

When Goodison was opened on 24th August 1892 by FA president Lord Kinnaird, it was the first purpose built football ground in England. Only Glasgow's Celtic Park, which opened on the same day, prevents it holding the world title. The ground has hosted more top flight football matches than any other in England, an FA Cup final and replay, 5 games in the 1966 World Cup as well as a visits by Kings George V and George VI, the latter for a military parade in 1938 attended by 80,000 people.

The Main stand, in front of which you are now standing, was opened in 1971 and the first triple decker structure at a football ground in England. The ground's current capacity is 40,157 although 78,299 once squeezed in for a game against Liverpool in 1948. In the car park to the right of the main stand is a statue of Dixie Dean, who scored an incredible 60 league goals for Everton in 1927-28, a feat that has never been equalled since and is never likely to be.

Tours of Goodison Park are available on Mondays, Wednesdays, Fridays and Sundays, excluding match days at 11am and 1pm and priced £8.50. Pre booking is advisable on 0151 530 5212.
2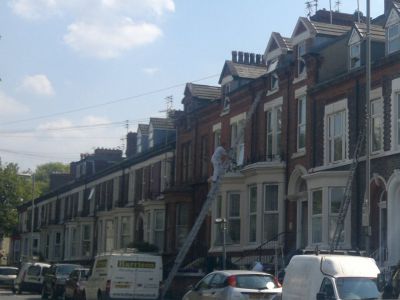 2) George Mahon's home
86 Anfield Road was the home in 1892 of George Mahon, an accountant who was an instrumental figure in Everton FC's move away from Anfield.

Born in Ireland in 1853, he showed little interest in the game at first but after witnessing a match at Anfield in 1887 he was hooked and within two years had been elected to the Board. After John Houlding proposed to raise the rent at Anfield, Mahon called a Special General Meeting of Everton members in January 1892 in which he gave a rousing speech stating why the terms should be rejected and that he had already identified a site at which the club could move to. An alternative rental agreement was put to Houlding, which was not accepted and in March 1892 members voted to re-locate to the field at Mere Green that would become Goodison Park.

Mahon became Chairman of Everton after the move and after resigning in 1895 remained as a member of the Board. He died in 1908 aged just 55 and the Liverpool County Combination League named their cup competition in honour of him. The trophy is still competed for today by clubs in what is now the Liverpool County Premier League.
3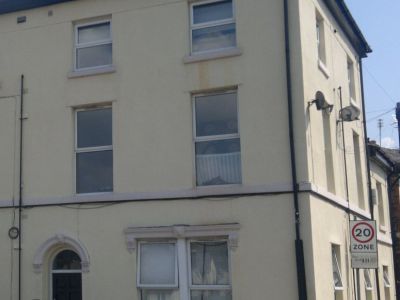 3) Dr Baxter's Home
In 1892 Dr James Clement Baxter lived in 110 Robson Street and had a surgery nearby. He was well respected within the districts Irish community for his dedication to caring for his patients, long hours worked and willingness to donate money to help the poor. He was also the medical officer for the local orphanage in Beacon Lane and St Edwards College, which trained catholic priests. He was appointed to the Everton board in 1889 as medical advisor to Everton FC and when the move from Anfield occurred in 1892 he advanced the club a £1,000 interest free loan to make the new ground at Goodison Park suitable for hosting football matches. Baxter became Chairman in 1895 and remained on the Board until he died in this property in 1928, when his son Cecil took over his position and remained with the club until 1954. Baxter was the most senior figure from Everton FC that attended John Houlding's funeral in 1902, playing a large part in the bridge building that took place between the two clubs after the bitter split.
4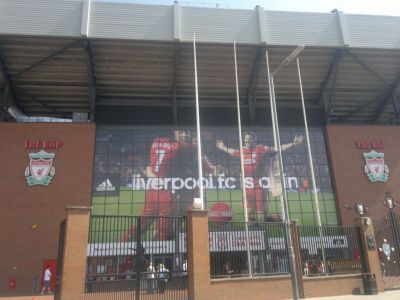 4) The Kop, Liverpool FC
Anfield became the home of the newly formed Liverpool FC in 1892, with the clubs first game being a friendly against Rotherham Town on 1st September. Liverpool won 7-1 in front of no more than a few hundred fans.

The Kop is by far the most famous part of the ground and arguably the most famous section of a stadium in world football, having since the 1960s been known for the passionate backing given to the team and the songs it has produced.

The Kop was first built in 1906 as a large uncovered terrace accommodating up to 25,000 fans, from where it was possible to see the River Mersey. It took its name from the scene of a battle during the Boer War where many local soldiers died. In 1928 a roof was put over it and in 1994, by which time its capacity was reduced to 16,000, it was pulled down to make way for the 12,000 seat stand that is here now.

Despite the conversion to seating, the Kop has remained quite capable of producing a sensational atmosphere. John Terry, captain of Chelsea when Liverpool beat them in the 2005 Champions League semi final at Anfield said "the Liverpool fans that night were amazing. I have never heard anything like it before and I don't think I ever will again"

In front of the stand there is a statue of Bill Shankly, who was manager of Liverpool from 1959 to 1974, taking them from the 2nd Division to becoming one of the most feared clubs in Europe. The statue was unveiled in 1999 by his widow Nessie. There is also the Paisley Gateway, commemorating Shankly's successor Bob Paisley who won six championships and three European Cups in just nine seasons in charge. The gateway contains the coats of arms of Liverpool and his home town of Hetton Le Hole in County Durham.

The entrance to the club souvenir shop, museum and tour is also situated here. The museum and tour is open 10am to 5pm daily, although booking is advisable for tours on 0151 260 6677. Prices are £6 for the museum and £14 for a combined museum/tour ticket which takes you inside the home dressing room and pitch side.
5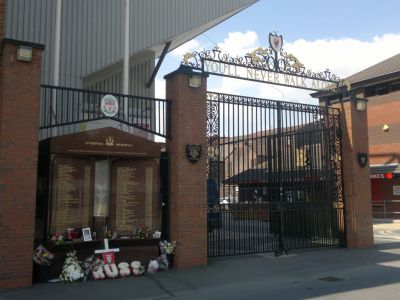 5) Hillsborough Memorial & Shankly Gates
The Hillsborough Memorial, containing an eternal flame and the names of all those who died, is in memory of the 96 Liverpool fans who perished at the 1989 FA Cup semi final at Hillsborough in Sheffield. It was as a result of the disaster that the Taylor Report was published, blaming a failure of police control and calling for all seater stadiums to be introduced. More than 20 years on families of the bereaved are still fighting for justice for their loved ones after a public inquiry recorded a verdict of accidental death. Next to the memorial are the Shankly Gates, unveiled in August 1982 following the death of Bill former manager Bill Shankly 11 months earlier. Above the gates are the words You'll Never Walk Alone, which has been sung by Liverpool fans since 1964.
6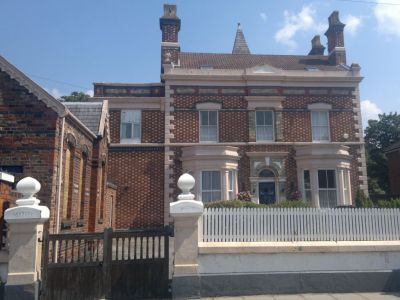 6) John Houlding's Home
This imposing property was built in 1873 and the home of brewer and councillor John Houlding, who became president of Everton FC in 1881 when they were playing on an open field in Stanley Park which he could see from the rear windows. In 1882 he arranged to rent a field off Priory Road from a Mr Cruitt, allowing the club to charge for admission. However they soon outgrew this and in 1884 Houlding secure the lease of Anfield from fellow brewer John Orrell , where he was able to construct basic stands. In 1892 after the split amongst membership that saw Everton move to Goodison Park, Houlding was left with a ground but no club so formed Liverpool FC at a meeting in this house with William Barclay and John McKenna, who had remained loyal to him. McKenna, an Ulsterman who lived in Edge Hill, put together Liverpool's first team, known as the 'Team of Macs' as they were recruited mainly from Scotland. He would go on to become one of the game's great administrators, being president of the Football League from 1910 until his death in 1936. Houlding lived in this house until he died in 1902, just a year after Liverpool's first title success. Although the split was very acrimonious, the wounds had healed over time and flags at Goodison flew at half mast following his death and at his funeral three players from each club carried his coffin.
7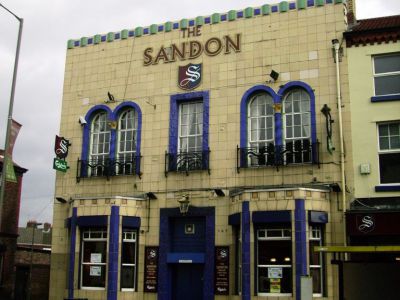 7) Sandon Hotel
This pub was owned by John Houlding, after whom the street running to the left of it is also named. When Anfield was first built it doubled as the changing rooms for the players, who would then walk through the crowds to the ground. Houlding also had an exclusive agreement to provide refreshments to players and supporters at the ground from the Sandon.

As the headquarters of Everton FC, it was in an upstairs room in the pub on 12th March 1892 that the majority of members of the Everton committee informed John Houlding that they would be moving the club to Goodison Park. In the early 1990s a number of tickets from Everton FC games played at Anfield were discovered under the floorboards of the pub during renovation work.

Today the pub remains a popular place for fans to have a pre and post match pint, whilst it also provides official hospitality provided by Liverpool FC. In February 2008 however one unwelcome visitor was Tom Hicks junior, son of unpopular co-owner Tom Hicks, who rather naively dropped in for a pint after a home game, before hastily leaving surrounded by bodyguards whilst having lager thrown at him. The Sandon is open from 11am to 11pm every day and I can assure you you'll get a much warmer welcome than Mr Hicks did.
8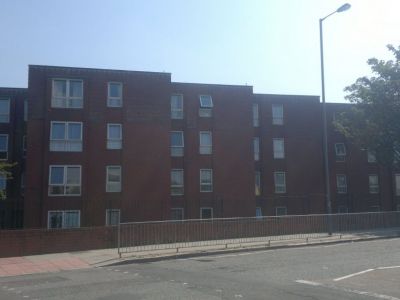 8) Site of St Domingo's Church
The flats you see now are on the site of St Domingo's Methodist Church, which opened here in 1871 and was demolished in the early 1970s. It was in this church in 1878 that St Domingos FC was formed by the Reverend Ben Swift Chambers, who wanted a winter sports activity for his team of cricketers. In November 1879 the name was changed to Everton FC to reflect the wider district. The church's connection with Everton did stay for some time though, with committee member George Mahon becoming the organist there in 1890. .
9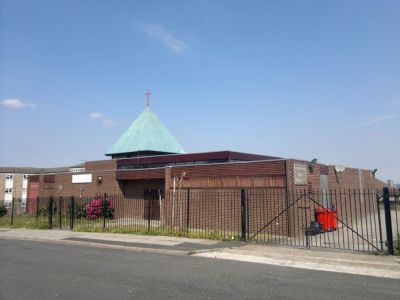 9) Our Lady of Immaculate
The original Our Lady Immaculate Church was built in 1856 on St Domingo Road and was intended to be the chapel for a catholic cathedral on the site, but this was never built and the chapel instead became a parish church. This was demolished in the mid 1980s after it was condemned as unsafe. Following this the parish centre, which you now see, was converted so that it could also be used for church services.

The funeral of Dr James Clement Baxter took place in Our Lady's Immaculate after his death in 1928, followed by an internment at Anfield Cemetery. His family unveiled a stained glass window in the church in his memory the following July.
10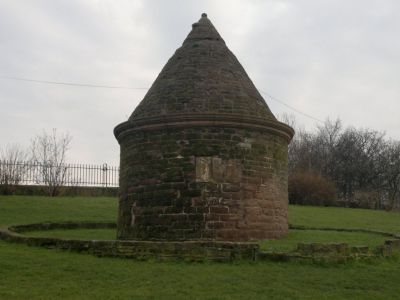 10) Everton Roundhouse
The Everton Roundhouse is a village lock up dating from 1787, used for imprisoning drunks overnight or holding other prisoners before they appeared before a magistrate. The centre of the old village of Everton used to be situated around the slopes surrounding the lock up.

In 1938 Everton's secretary Theo Kelly was asked to design a neck tie for the club and after 4 months of pondering, decided on including the roundhouse, as it was one of the symbols of the ancient village of Everton. Two laurel wreaths were added to the design as they were symbols of winners, whilst the Latin words 'Nil Satis Nisi Optimum' were incorporated – nothing but the best is good enough.

On the slopes surrounding the roundhouse were some other buildings, sadly no longer here, that were part of the history of Everton FC. About 100 metres behind the roundhouse still running through the park is Village Street, where the Queens Hotel was situated. Here a meeting took place in 1879 where it was decided to change the name of the club from St Domingo's to Everton. Another building here was Ma Bushells Toffee House. It is a tradition at all Everton games to hand out toffees to fans in the crowd, something that dates back to the 1890s when Ma Bushell went along to Goodison Park to do so, leading to the club acquiring the nickname the Toffees.

To the left where the slope levels off is Everton Terrace. During the 19th century this was the site of an industrial school where boys and girls could learn job skills. The governor of the school was William Edward Barclay, who combined his school duties with managing Everton FC in 1888-89 and then Liverpool from 1892-96, jointly with John McKenna, after he had remained loyal to John Houlding following the split.
11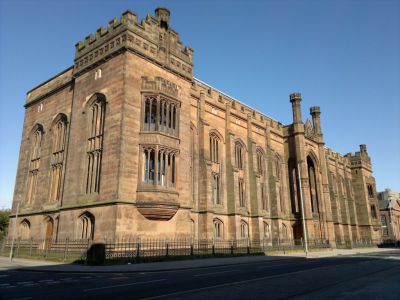 11) Liverpool College
This building, now converted into apartments, was home to Liverpool College, which is now situated in Aigburth in the south of the city, between 1843 and 1907. John Houlding was a pupil here, as was Will Cuff, a solicitor who was also secretary of Everton and in 1909 arranged to take them on tour to South America, the first visit there by a professional football club. He was later President of the Football League between 1938 and 1949.

It was in the lecture room of Liverpool College that a Special General Meeting was held on 25th January 1892, at which all but 18 of the 500 Everton members present voted to reject John Houlding's proposal to raise the rent at Anfield, paving the way for the split that led to Everton's move to Goodison Park and the formation of Liverpool FC.
Walking Tours in Liverpool, England