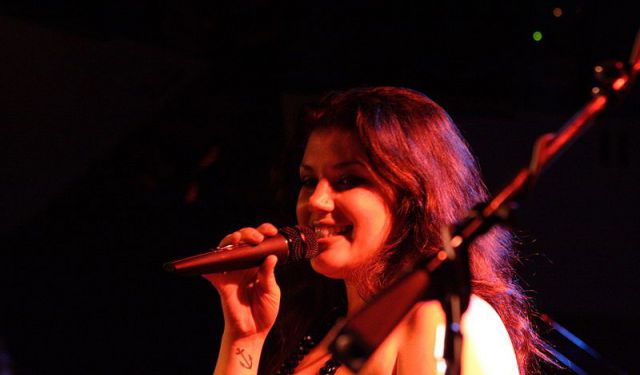 Greenwich Village Music Tour, New York, New York (A)
Greenwich Village has long been an incubator for jazz, folk, blues, and rock. This tour visits twelve venues that had a significant place in the history of the Village's music scene. Some are almost unchanged, yet as vital and exciting as ever; others have reinvented themselves to embrace new styles and new performers for new audiences. (Note: This tour covers the West Village; the East Village has a very different scene of its own.)
How it works:
The full article is featured in the app "GPSmyCity: Walks in 1K+ Cities" on
iTunes App Store
and
Google Play Store
. Download the app to your mobile device to read the article offline and create a self-guided walking tour to visit the sights featured in this article. The app's navigation functions guide you from one sight to the next. The app works offline, so no data plan is needed when traveling abroad.
Sights Featured in This Article
Guide Name:
Greenwich Village Music Tour
Guide Location:
USA » New York
Guide Type:
Self-guided Walking Tour (Article (A))
# of Attractions:
12
Tour Duration:
1.0 Hour(s)
Travel Distance:
2.6 Km or 1.6 Miles
Author:
Eric Kraft
Author Bio:
Eric Kraft is the author of a large (and growing) work of fiction called The Personal History, Adventures, Experiences & Observations of Peter Leroy. Newsweek called it "the literary equivalent of Fred Astaire dancing: great art that looks like fun," and the San Francisco Chronicle said that it is "perhaps the most ambitious and rewarding literary enterprise of our time." It consists, so far, of ten novels.
Author Website:
http://www.erickraft.com, http://midtownmanhattanguide.com/
Sight(s) Featured in This Guide:
Arthur's Tavern
Cornelia Street Cafe
The Blue Note
Cafe Wha?
Le Poisson Rouge
The Bitter End
Terra Blues
Washington Square Park
Electric Lady Studios
The Village Vanguard
Smalls Jazz Club
Fat Cat
1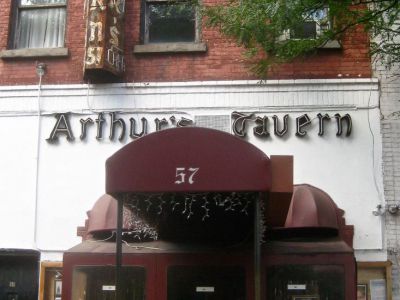 1) Arthur's Tavern
Arthur's has been presenting jazz and blues every night since 1937. Charlie Parker played here, and the room retains the atmosphere of those great days — and that atmosphere remains authentic, since Arthur's has never been renovated or re-invented. Essentially it is today what it has always been. The décor seems to have just happened; ornaments seem to have drifted in over the years, settled down, and never left. The result is either tacky or wacky — depending on how seriously you take it. Today, the musical styles at Arthur's include New Orleans jazz, Chicago blues, and, on Monday nights, the Arthur's Dixieland jazz band. The musicians may be lesser-knowns, but the quality of the music is high — and there's still no cover charge. Arthur's is the sort of place where you can drop in now and then for a couple of drinks and take your chances on the music. Arthur's is open from 6:30 in the evening until 4 in the morning Tuesdays through Saturdays, and from 8 p.m. until 4 a.m. Sundays and Mondays. (212) 675-6879, arthurstavernnyc.com. (Sources: Arthur's website, personal experience)
2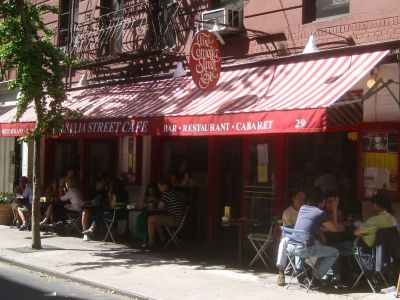 2) Cornelia Street Cafe
The musicians who appear at the Cornelia Street Cafe are first-rate, although they may not be world-famous . . . yet. Suzanne Vega got her start here. The cafe has grown in its thirty years, so that it's now about five times its original size and offers two shows a night, nearly every night of the year. The music emphasizes jazz and singer-songwriters, but performances are not limited to music. There are also poetry readings, dramatic performances, cabaret nights, prose readings, and a science series. In a recent week the lineup included a CD release party for a jazz trio, a tribute to jazz great Bill Evans, a jazz group led by a guitarist, a group of singers inspired by the vocal improvisations of Bobby McFerrin, and vocal settings of poems by E. E. Cummings. Although most Village music venues don't serve much in the way of food, and some don't serve food at all, at Cornelia Street you will find good food and good music. The restaurant is open seven days a week, serving breakfast, lunch, and dinner, and you can also get dinner in the performance space, downstairs. Performances are generally at 6 pm and 8:30 or 9, with late shows on Fridays and Saturdays. Cover charges vary. (212) 989-9319, corneliastreetcafe.com. (Sources: Cornelia Street Cafe website, personal experience)
3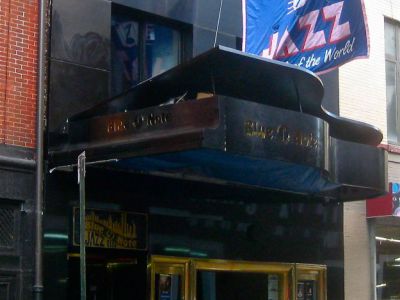 3) The Blue Note
The Blue Note has been here for about thirty years. It's one of the most successful clubs—so successful that it has become a franchise, with Blue Notes in Milan, Tokyo, and Nagoya. You'll probably spot it from some distance, thanks to the distinctive marquee in the shape of the body and raised lid of a grand piano. Inside, you will find one of the best-looking rooms, with good sight lines and relatively comfortable seating. Almost from the beginning, the Blue Note has booked the top names in jazz. The greats who have played here include Dave Brubeck, Ahmad Jamal, Sarah Vaughn, Lionel Hampton, Dizzy Gillespie, Stanley Turrentine, Oscar Peterson, Ray Brown, Tito Puente, Chick Corea, McCoy Tyner, Joe Lovano, and many, many more. Of course, the big names tend to command high fees, so the Blue Note is one of the most expensive clubs. There are two shows nightly, with a separate admission charge for each show. Food is available, including dinner, and it's some of the best food that you'll find at a music club. Monday nights and weekend brunches are a relative bargain with lesser-known performers. Late-night shows on Friday and Saturday nights showcase younger musicians, and stretch beyond jazz to include hip-hop and funk. The Blue Note is open every night at 8:30, and brunch begins at 12:30 pm on Sunday. (212) 475-8592, bluenote.net. (Sources: Blue Note website, personal experience)
4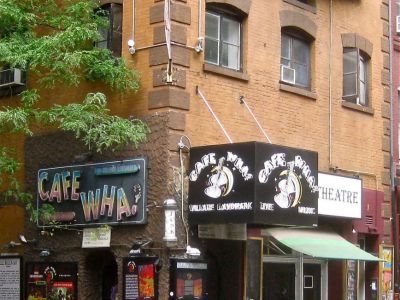 4) Cafe Wha?
In its Golden Age, which extended from the 1950s through the 60s, Cafe Wha? hosted Bob Dylan; Jimi Hendrix; Bruce Springsteen; Peter, Paul, and Mary; and many other performers who defined an era. Now it's a place frequented mostly by tourists, and the performers are house bands. Monday night's band plays Brazilian dance music; Tuesday's plays soul, rhythm-and-blues, and funk; and Wednesday through Sunday, the band plays just about anything, including reggae, r&b, and rock. Okay, so Cafe Wha? has become a bar with cover bands, but these are very talented cover bands. They whip up a party atmosphere, and sometimes that's just what you want. It certainly seems to make groups happy, but it's not a place where you sit and listen seriously to the music. You couldn't, not with people dancing in the little bit of space that separates your table from the next one. The cover charge varies from $5 on Thursday to $20 on Saturday, there is no cover on Wednesday or Sunday. Cafe Wha? is open from 8:30 pm to 3 am Tuesday through Thursday, and on Sunday; 8:30 to 4 on Friday and Saturday; and 9 pm to 3 am on Monday. (212) 254-3706, cafewha.com. (Sources: Cafe Wha? website, personal experience)
5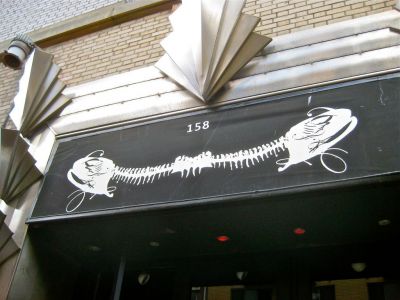 5) Le Poisson Rouge
Le Poisson Rouge is on the site of the Village Gate, once a jazz venue of stature equal to or greater than the Village Vanguard. The Village Gate sign has been preserved on the building at the southwest corner of Bleecker and Thompson. Le Poisson Rouge is now one of the most exciting and innovative venues for music in New York. The programming is eclectic and innovative: you can sip a scotch and soda while listening to Bach cello suites one evening, hear the debut performance of an electronic composition the next night, and dance to world music the next. LPR calls itself a multimedia art cabaret dedicated to the fusion of popular and art cultures in music, film, theater, dance, and fine art. The space has been artfully designed for flexible configuration to suit the performances: at some events the audience is seated, and at others standing. Of all the places where you might spend an evening, LPR is the one most likely to surprise you with something unusual, experimental, and exhilarating. My advice: even if the performers are unknown to you and the musical genre isn't what you are accustomed to listening to, give it a try. You will have stepped outside your box. Shows begin at 6:30 or 7:00 nightly; admission varies, depending on the program. (212) 505-3474, lepoissonrouge.com. (Sources: LPR website, personal experience)
6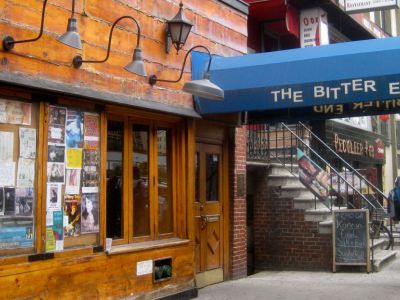 6) The Bitter End
In the nearly fifty years that the Bitter End has been here, it has hosted many great folksingers: Joan Baez sang here; so did Bob Dylan, Joni Mitchell, Judy Collins, Arlo Guthrie, and Phil Ochs— but the Bitter End wasn't just about folk music. There was rock, too. In fact, the Bitter End bills itself as New York's oldest rock club, citing a very mixed bag of artists that includes Neil Diamond, Bo Diddley, Bill Haley, Ricky Nelson, Van Morrison, and Neil Young. And there's a standup comedy tradition here, too. It includes Woody Allen, Sandra Bernhardt, Albert Brooks, Dick Cavett, Bill Cosby, Pat Paulson, and Richard Pryor. Today, the emphasis is mainly on singer-songwriters, rock, folk-rock, and blues, featuring lesser-known singers and groups. The Bitter End is open from 7 pm to to 2 am Sunday through Thursday, and from 7 pm to 4 am on Fridays and Saturdays. (212) 673-7030, www.bitterend.com. (Sources: Bitter End website, personal experience)
7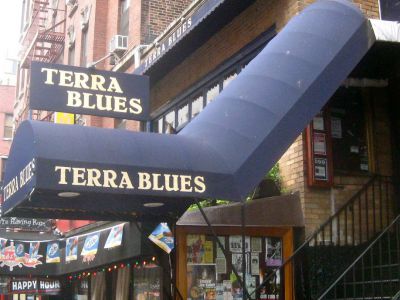 7) Terra Blues
For more than fifteen years, Terra Blues has been delivering the real thing. Over that time, the number of blues clubs in the city has declined dramatically, but Terra Blues has stayed the course, delivering the likes of Little Milton, Edgar Winter, and Johnny Clyde Copeland to an audience that knows and loves blues music. There are two sets nightly. The early set, running from 7 pm to 10 pm, is acoustic, usually a solo performer. The second set, beginning at 10, is electric, usually a well-known blues band, not necessarily one that would be a headliner at B. B. King's Blues Club, but certainly a solid aggregation. The room is long and narrow. The best seats are at tables in the part of the room nearer the stage, but the sight lines from the bar are fine, and though it seems far from the stage the acoustics are good. Doors open at 7:00 pm. Admission charges vary depending on the performers. (212) 777-7776, terrablues.com. (Sources: Terra Blues website, personal experience)
8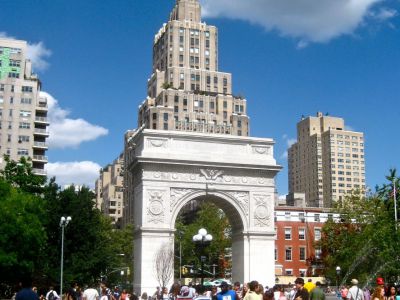 8) Washington Square Park
Recalling the time when he came to New York in the 1960s, Bob Dylan had this to say about Washington Square Park: "Washington Square was a place where people you knew or met congregated every Sunday and it was like a world of music . . . There could be fifteen jug bands, five bluegrass bands and an old crummy string band, twenty Irish confederate groups, a Southern mountain band, folk singers of all kinds and colors singing John Henry work songs . . . bongo drums, conga drums, saxophone players, drummers of all nations and nationalities, poets who would rant and rave from the statues. You know, those things don't happen any more." That's not quite right. Music still happens in Washington Square. On weekends especially, you're likely to hear traditional music from a variety of groups, and—maybe—tomorrow's great singer-songwriter. (Sources: Bob Dylan in His Own Words, personal experience)
9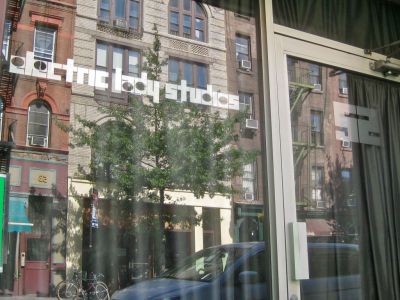 9) Electric Lady Studios
You won't be able to hear any music at Electric Lady Studios, but you might want to pause a moment in front of the door, because this is a historic site in the history of rock. Jimi Hendrix had this studio built for him in 1968. It was designed precisely to his specifications, and he intended to do all his future recording here, but he actually recorded only one instrumental number in it. That was the last studio recording he made before his death on September 18, 1970. Many other musicians have recorded here, though. Wikipedia lists John Lennon, Led Zeppelin, Carly Simon, The Clash, Peter Frampton, The Rolling Stones, David Bowie, Al Green, Stevie Wonder, Curtis Mayfield, Lou Reed, Frank Zappa, and many, many more. electricladystudios.com. (Sources: Wickipedia, New York Times)
10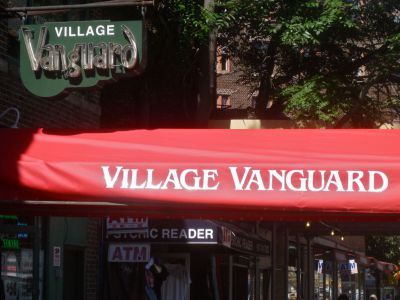 10) The Village Vanguard
The Vanguard is a landmark in the history of modern jazz. Since 1935, the top musicians have played here, including Sonny Rollins, John Coltrane, Bill Evans, Charles Mingus, Dexter Gordon, Art Pepper, and the list goes on and on. The Vanguard is still as vibrant, interesting, and important as ever. Top-notch musicians play here, and a knowledgeable and appreciative audience comes to see and hear them, every night of the week. The doors open at 8:00 pm; sets begin at 9:00 and 11:00. Admission is $20 or $25 per set, depending on the day of the week, with a one-drink minimum. Here's a little note on jazz ettiquette at the Vanguard: this is a place where people come to listen to the music; they don't talk during the performances: they listen. This is the way the website puts it: "During performances, quiet is enforced. We're a jazz club, not a chat room." (212) 255-4037, villagevanguard.com. (Sources: Vanguard website, personal experience)
11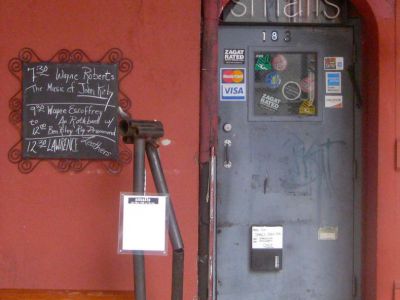 11) Smalls Jazz Club
Smalls has been around since 1993, when it began life as a very bohemian no-frills jazz den, little more than a bare basement room. Modest though it was, it attracted a late-night crowd and first-rate musicians. Many of the current generation of top-notch jazz musicians found their audience here, including Joshua Redman, Roy Hargrove, and Norah Jones. After the terrorist attacks of September 11th, 2001, Smalls struggled to keep its audience, as many clubs did at that time, and it closed for a while, but Smalls has been back in business since 2007. It has a full bar now, but it still has that bohemian basement feeling, and it still doesn't have chairs that match one another. Smalls is where you're likely to hear new young players, and it offers one of the best music bargains in the Village: you pay one cover charge, and that lasts for the entire evening; you can come and go as you please. Early in the evening the cover charge is $20, but it drops to half price after hours. Smalls is open from 7:30 pm until the early morning hours, seven days a week. (212) 252-5091, smallsjazzclub.com. (Sources: Smalls website, personal experience)
12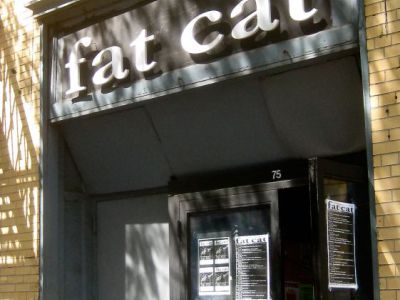 12) Fat Cat
There are three sessions every night at Fat Cat, each featuring a different band, and the final set is a jazz jam session that runs until closing time. The emphasis is on jazz (with some Latin jazz now and then, and even a capella vocal groups at times). Fat Cat's a bit of an oddity in the Village music scene, because it is also a pool hall and game room, with pool, billiards, ping pong, shuffleboard, foosball, chess, checkers, backgammon, and Scrabble available. The musicians tend to be lesser-knowns, but the cover charge is low. Fat Cat is open from 2 pm to 5 am, Monday through Thursday, and from noon to 5 am Friday and Saturday, but the music starts at 6 pm on Sundays and at 7 Monday through Saturday. (212) 675-6056, fatcatmusic.org. (Sources: Fat Cat website, personal experience)
Walking Tours in New York, New York
Useful Travel Guides for Planning Your Trip
---