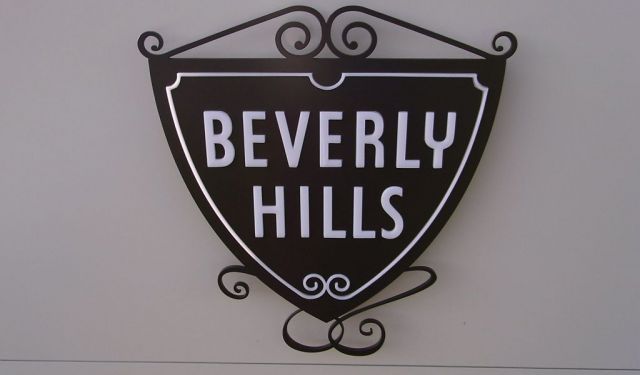 Beverly Hills Walking Tour, Los Angeles, California (A)
In part one we will explore Beverly Hills. Beverly Hills was and is the home and playground of the rich and famous. Sights highlighted will include The Beverly Hills Hotel, City Hall, Rodeo Drive, The Museum of TV and Radio (Paley Center), The Beverly Wilshire Hotel, Nate N' Al's restaurant, Mr. Chow restaurant and several former movie star homes.
How it works:
The full article is featured in the app "GPSmyCity: Walks in 1K+ Cities" on
iTunes App Store
and
Google Play Store
. Download the app to your mobile device to read the article offline and create a self-guided walking tour to visit the sights featured in this article. The app's navigation functions guide you from one sight to the next. The app works offline, so no data plan is needed when traveling abroad.
Sights Featured in This Article
Guide Name:
Beverly Hills Walking Tour
Guide Location:
USA » Los Angeles
Guide Type:
Self-guided Walking Tour (Article (A))
# of Attractions:
15
Tour Duration:
2.0 Hour(s)
Travel Distance:
5.1 Km or 3.2 Miles
Author:
Grace Takade
Author Bio:
I was born and raised in Los Angeles and have lived here all my life. I have enjoyed traveling to many great locations worldwide, but I have also made it my mission to explore my native city and see its many wonderful sights.
Sight(s) Featured in This Guide:
City Hall
Boris Karloff's Former Home
Kirk Douglas' Home
Don Adam's Former Home
The Beverly Hills Hotel
Will Rogers Memorial Park
Gene Kelly's Former Home
Pretty Woman Filming Location
Bijan
Two Rodeo Drive
Beverly Wilshire Hotel
Mr. Chow Restaurant
Nate n' Al Restaurant
Paley Center for Media (formerly The Museum of Television and Radio)
Wallis Annenberg Center For The Performing Arts
1 1) City Hall
Welcome to the Beverly Hills walking tour. You can explore this first location at the beginning of the tour, or you can save it for the end, in order to minimize any parking or time considerations you might have.

The present day city of Beverly Hills was founded in 1906, incorporated in 1914 and named after Beverly Farms in Beverly, Massachusetts by Burton Green, one of the original partners responsible for developing the land in this area.

Prior to 1906 there were several attempts to extract oil from this area, raise cattle and sheep and farm various crops, none of which were particularly successful. Prior to settlement by whites the area was inhabited by Native Americans known as the Tongva or Gabrielinos.

This Italian Renaissance style City Hall building, topped by its golden dome, was built in the early 1930's, then renovated and expanded to its current configuration in the 1980's. The civic center complex houses the fire and police departments, public library and city government. The court house is located slightly to the east.

Though the official address for city hall is on Rexford Drive, the "front" and most dramatic view of city hall is on its western side, on Crescent Drive. You might recognize it from the Beverly Hills Cop movies starring Eddie Murphy. In the film, the city hall tower was used as the Beverly Hills police station.

If you happen to be here on a Sunday, there is a farmer's market on Civic Center Drive, which is the southeast border of this complex, from 9am to 1pm, rain or shine.
2 2) Boris Karloff's Former Home
Born William Henry Pratt, Boris Karloff was an Englishman that found fame in Hollywood, starring in a long string of movies from the 1920s through the 1960s, but best known for playing Frankenstein's Monster and The Mummy in the 1930s. He was also the narrator in the animated 1966 movie "How the Grinch Stole Christmas" as well as the voice of the Grinch.

This was his residence in the 1930s. The building you see today is the original, built in 1924. The house has four bedrooms, four bathrooms and over 2100 square feet of space, sitting on about 1/3 of an acre.
3 3) Kirk Douglas' Home
Kirk Douglas starred in dozens of films, starting in the 1940s, but is best known for his role in classic films such as Spartacus, The Glass Menagerie and 20,000 Leagues Under the Sea. He is #17 on the American Film Institute's list of greatest male American screen legends of all time. Humphrey Bogart holds the #1 spot, in case you were wondering, and Katherine Hepburn holds the #1 spot for the ladies.

Kirk Douglas is also the father of actor Michael Douglas. Two other sons, Joel and Peter work as producers in Hollywood and a fourth son, Eric Douglas, who also worked as an actor, died of a drug overdose in 2004.

This house was bought by Kirk Douglas in 1990 and as of 2011 is still owned by the Kirk Douglas Trust. It has three bedrooms, four bathrooms and over 2,000 square feet of space.
4 4) Don Adam's Former Home
This lovely property once belonged to Don Adams, star of the 1960's TV series "Get Smart" and voice of Inspector Gadget in the cartoon series from the 1980s. While he won three Emmys for his work on Get Smart, he suffered greatly from typecasting after the series ended and it was difficult for him to find other successful screen roles. He did however have the foresight to negotiate 1/3 ownership of the Get Smart series and was able to live quite comfortably off the proceeds. Don Adams passed away in 2005.

This modest little home has eight bedrooms, eight bathrooms and over 6600 square feet of space, sitting on over one acre of land. It was built in 1938. Like many Beverly Hills homes it has the obligatory swimming pool in the back and also a private tennis court.
5 5) The Beverly Hills Hotel
The Beverly Hills Hotel was built in 1912 and nicknamed the Pink Palace. It was the focal point of Beverly Hills for decades. Everyone who was anyone has stayed here. Greta Garbo, John and Yoko, Elizabeth Taylor, Marilyn Monroe, John Wayne and many more have all spent time here as guests.

It was also a filming location in many movies, including "The Way We Were" with Barbara Streisand and Robert Redford, "Shampoo" with Warren Beatty and "American Gigolo" with Richard Gere. Fans of the rock group Eagles may recognize it from the cover of their album "Hotel California".

The hotel currently has five restaurants/bars, but it is best known for the one called The Polo Lounge. From the beginning it has been a popular spot for the Hollywood elite to make deals, have a drink or eat a bite of food in relative peace and quiet. Anyone can go in for a meal or a drink and then walk around the grounds afterwards, but please be warned it is very pricey. A simple cocktail is in the $20 range and brunch is in the $50 range.
6 6) Will Rogers Memorial Park
Across the street from the Beverly Hills Hotel, Will Rogers Memorial Park was once part of the front lawn of the hotel. The land was donated to the city of Beverly Hills in 1915 by the hotel and became the city's first public park.

It was renamed in honor of radio and movie star Will Rogers in 1952. Will Rogers, who died in a plane crash in 1935, was the biggest box office draw of his day. His syndicated column was carried in more newspapers than any other writer of the time. It was at this park he was named honorary mayor of Beverly Hills. This is not the more famous and much larger Will Rogers State Historic Park, also located on Sunset Blvd., six miles to the west.

In 1998 this park became infamous as the spot where singer George Michael got arrested for performing a lewd act in front of an undercover cop, in the park's restroom.
7 7) Gene Kelly's Former Home
We are now heading south down the famed Rodeo Drive. As you can see, the northern part of this 1.2 mile stretch is residential. We are going to stop at just one home here, belonging to Gene Kelly. Gene Kelly got his start on Broadway, but is perhaps best known for his movie roles in "Singin' In The Rain" and "An American In Paris".

He lived here on Rodeo Drive with his family from 1946 until his death in 1996. The home was either radically renovated or rebuilt in the 1980s. It is an over 4400 square foot house with six bedrooms and six bathrooms. The property is a little over an acre.

If you are thinking that these homes are relatively modest, considering who lives in them, you would be right. The really grand, multi-acre Beverly Hills estates are located north of Sunset Blvd., in the hills, and best explored using a car rather than walking.
8 8) Pretty Woman Filming Location
We are now at the beginning of the commercial section of Rodeo Drive. Down this street are some of the high end, luxury minded, if-you-have-to-ask-the-price-you-can't-afford-it type stores of the world, second only to perhaps 5th Avenue in New York.

In the movie "Pretty Woman" Julia Robert's character tries to buy some clothes and gets blown off by the saleswoman. Later in the movie she goes back with her handful of shopping bags and tells the saleswoman "big mistake". Those scenes were filmed in this corner store location. The outside facade looks completely different now, but the windows are the same and the staircase in the store is the same.
9 9) Bijan
Bijan has been called the most expensive store in the world. It was opened by its namesake and primary designer, Iranian immigrant Bijan Pakzad, in 1976. This store specializes in men's clothing, jewelry and designer fragrances. Bijan has dressed presidents, world class athletes, movie stars, and the rich and famous from around the world. Bijan passed away in May of 2011, but you will probably still see one of his pricey yellow sports cars parked in front of the store, complete with a Bijan license plate. If you are hoping for a look around inside, you're going to have to settle for peeking through the windows. The store itself can be entered by appointment only.
10 10) Two Rodeo Drive
Although its official address is on Dayton Way, Two Rodeo Drive is strongly associated with Rodeo Drive and is the focal point of what is known as the "Golden Triangle". The Golden Triangle refers to the area bordered by the streets of Wilshire Blvd. to the south, Santa Monica Blvd. to the northwest and Canon Drive to the east. Within these borders are the bulk of the high end retail shops and restaurants that have made Beverly Hills the destination shopping spot for celebrities and the well to do. While I can't promise that you will see someone famous, the odds definitely go up in this area.
11 11) Beverly Wilshire Hotel
The Beverly Wilshire Hotel was built in 1928 on the site of the Beverly Hills Speedway. Yes, that's right, Beverly Hills once had a race track. It seated 70,000 spectators. It was a one mile track built of wood and at the time was considered second only to the Indianapolis Speedway. In spite of this, it existed for only about four years, until 1924, as the land was considered more valuable if sold for purposes other than running car races.

This Italian Renaissance style hotel has been home to the likes of Elvis Presley and Warren Beatty, both of whom lived here for years. John Lennon lived here when he was separated from Yoko Ono.

This is also the hotel featured and filmed in Pretty Woman. The TV series Entourage also shot many scenes at this location.

It currently houses three restaurants and two bars/lounges. Anyone can go in and partake, but it is definitely pricey.
12 12) Mr. Chow Restaurant
Mr. Chow opened its doors in 1974 and since day one has been a hotspot for the celebrity set. It is not uncommon to see hordes of paparazzi in front of its doors during lunch and dinner hours. The tables of this modest looking place are few and close together, the decor is dated, the food is Chinese fusion and of course, quite expensive, but it remains popular because of its ability to draw in famous diners and the people who love to watch them. Dining is by reservation only, but one doesn't have to be famous in order to get a table.
13 13) Nate n' Al Restaurant
This Beverly Hills institution was the creation of Nate Reimer and Al Mendelson. It is a Kosher style deli that opened in 1945 and is still run today by the Mendelson family. Its facade has not changed much over the years and gives you an idea of what the old Beverly Hills used to look like. If you want to eat at a modestly priced restaurant in Beverly Hills, this would be it. Hollywood deal makers and celebrities still frequent the place and many swear it's the best deli around. Talk show host Larry King supposedly bought his Beverly Hills home because it's walking distance to Nate n' Al.
14 14) Paley Center for Media (formerly The Museum of Television and Radio)
The Paley Center for Media is an archival storehouse for TV, Radio and emerging media programs. It has amassed 100 years and over 150,000 programs from around the world, covering everything from news and documentaries to sports, variety shows and advertising in two locations, one here in Beverly Hills and the other in New York.

It is open to the public for guided tours, screenings from their collection and special public events such as preview parties of TV shows before they air, along with Q&A sessions with the stars of the shows. The TV preview parties generally take place in September, but there are other public and exclusive private events offered year round. It is open Wednesday through Sunday 12pm to 5pm.
15 15) Wallis Annenberg Center For The Performing Arts
The Wallis Annenberg Center for the Performing Arts is scheduled to open in the fall of 2013 and will incorporate the historic Beverly Hills Post Office as part of a complex housing three classrooms, a 150 seat theater, a 500 seat theater and a cafe. The post office building, completed in 1934, was designated as a landmark in the National Register of Historic places in 1985. The center is named after the TV guide heiress, who is its largest donor.

So here we come to the official end of the Beverly Hills tour. As you can see, it's a short little walk back to city hall. I hope you enjoyed the tour and come back to do some more exploring on your own.
Walking Tours in Los Angeles, California
Useful Travel Guides for Planning Your Trip
---