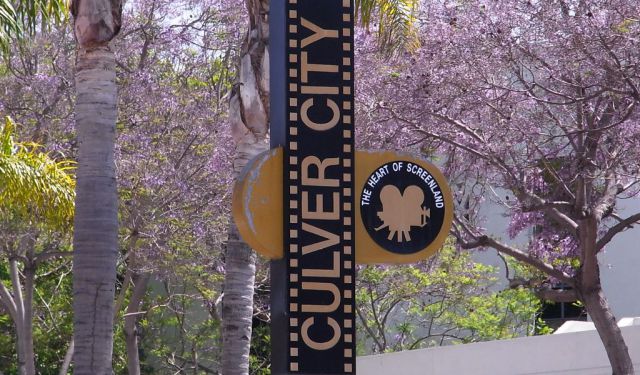 Culver City Walking Tour, Los Angeles, California (A)
Culver City is where many "Hollywood" movies are and were actually made. Once home to MGM studio and its many back lots, most of it was eventually sold and turned into residential real estate developments, but a portion remains and is currently owned by Sony Studios. Sights highlighted in this tour include Sony Studios, Main Street, The Culver City Hotel, Kirk Douglas Theater, Museum of Jurassic Technology, Culver Studios and Media Park.
How it works:
The full article is featured in the app "GPSmyCity: Walks in 1K+ Cities" on
iTunes App Store
and
Google Play Store
. Download the app to your mobile device to read the article offline and create a self-guided walking tour to visit the sights featured in this article. The app's navigation functions guide you from one sight to the next. The app works offline, so no data plan is needed when traveling abroad.
Sights Featured in This Article
Guide Name:
Culver City Walking Tour
Guide Location:
USA » Los Angeles
Guide Type:
Self-guided Walking Tour (Article (A))
# of Attractions:
12
Tour Duration:
2.0 Hour(s)
Travel Distance:
2.7 Km or 1.7 Miles
Author:
Grace Takade
Author Bio:
I was born and raised in Los Angeles and have lived here all my life. I have enjoyed traveling to many great locations worldwide, but I have also made it my mission to explore my native city and see its many wonderful sights.
Sight(s) Featured in This Guide:
Culver Hotel
City Hall
The Washington Building
The Kirk Douglas Theater
Sony Pictures Entertainment
Hobbit House
Govinda's
Museum of Jurassic Technology
The Ivy Substation/The Actor's Gang/Media Park
The Citizen Building
Main Street
The Culver Studios
1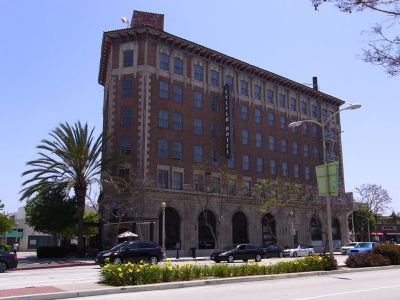 1) Culver Hotel
Originally named the Hotel Hunt, this Renaissance Revival style hotel was built by Harry Culver, the founder of Culver City, in 1924. It was built on the site of the first movie theater in Culver City, the Meratta Theater. Though considered a luxury hotel, it originally had only one bathroom per floor.

The actors who played the Munchkins in the film "The Wizard Of Oz" stayed here during filming, as did some of the actors from the cast of "Gone With The Wind", both in 1939. The hotel can be seen in movies such as The Little Rascals and Laural and Hardy films and also in more recent TV productions such as "The Wonder Years" and "7th Heaven".

The hotel and much of Culver City fell into quiet disrepair starting in the 1950's and through the 1990's. However, a massive renovation effort and revival has made Culver City and the hotel once again a bustling hot spot. In 1997 the hotel completed renovations and was placed on the National Register of Historic Places. It features a restaurant and bar, along with statues and tributes to its movie past around its exterior walls.

Look for the zoetrope (a cylindrical object with slits cut into its side) located on the south side of the hotel. Give it a spin while looking through the slits for a very early form of motion pictures. There are seven zoetrope art installations in Culver City. Try looking for them as you do your walk. (Hint: The other six are located between Main Street and Watseka Avenue and all but one of those are located in, near or along the alley north of Culver Blvd.)
2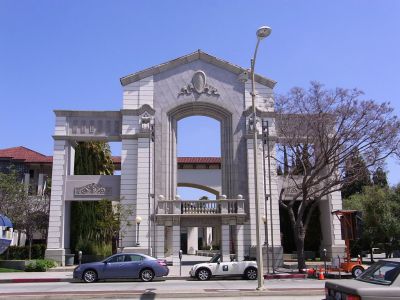 2) City Hall
In 1928 a permanent City Hall was built at this location. The current incarnation of City Hall was opened in 1995, but it has a 3/4 size replica of the 1928 City Hall's facade just to the side of its main entrance. The 1928 structure was completely demolished to build the current modern structure.

The rebuilding of City Hall was part of the massive effort in the 1990s to restructure and revitalize the commercial heart of Culver City, which up to then had gradually fallen into disrepair, aging slumber and empty storefronts. This effort was helped and anchored by the purchase and renovation of the old MGM studio lot by Sony Pictures.

On certain summer evenings free public concerts are held on the plaza in front of city hall, along with free classical concerts held in the city council chamber room on certain winter evenings.
3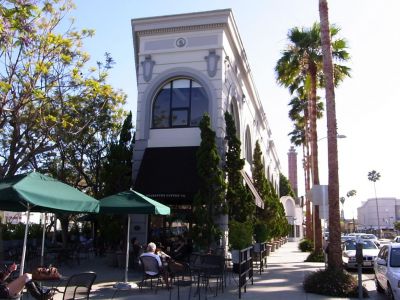 3) The Washington Building
The Washington Building was commissioned in 1926 by Charles E. Lindblade, a real estate developer who helped Harry Culver develop Culver City and a founding member of the Culver City Chamber of Commerce.

The style of the building is known as Beaux Arts Classicism. Its triangular shape earned it the nickname "The Flatiron Building", drawing comparisons to the taller, more famous one in New York. The structure is 135 feet long on the Washington Boulevard side, 152 feet on the Culver Boulevard side, only 12 feet wide on its smaller eastern end and 68 feet wide on the west end.

From 1931 to 1940 the Washington Building housed the local post office. Other occupants included the Draft Board during World War II and the MGM Fan Club after the war.

The Washington Building was awarded Landmark status by the City of Culver City, which protects and preserves its exterior and in 1991 was placed on the National Register of Historic Places.

On a movie note, if you stand in front of the shorter east end of the building and look toward the rounded brick building on the corner of Watseka and Washington, you may recognize it as the exterior facade of the arcade in the movie Tron and Tron Legacy.
4 4) The Kirk Douglas Theater
Originally opened in 1947 as a movie palace named The Culver, this site was acquired, renovated and reopened for live performances in 2004 by the Center Theatre Group, which also owns and operates the Ahmanson and Mark Taper Forum in downtown Los Angeles. It underwent an 8 million dollar renovation and reconfiguration. Most of the original exterior and box office architecture has been preserved.

While the original movie theater seated over 1,000, it slowly fell into obscurity and became more of a place to see bargain matinees rather than the glamorous opening nights of its heyday. Its current configuration seats a little over 300 people.
5 5) Sony Pictures Entertainment
The first movie studio to occupy this site was the Triangle Motion Picture Company, founded in 1915 by Thomas Ince and his partners, including D.W. Griffin, who created the controversial film "Birth Of A Nation" during this time. On the lighter side, the Keystone Cops movies were filmed here. The Greek colonnade facade, located on the Washington Blvd. side of the lot was the original entrance and today is a designated historical landmark.

In 1918 Samuel Goldwyn bought the studio and through a series of deals, the company was renamed Metro-Goldwyn-Mayer, or MGM for short. In its heyday, the studio had 28 sound stages spread over 180 acres, encompassing the land past Overland Ave. to the west and past Jefferson Blvd. to the south, housed a farm for the movie animals, various street and city facades and its own police and fire departments.

MGM was a powerful force in the movie industry through the late 1950's. Perhaps the most notable movie filmed here on the lot was "The Wizard Of Oz". MGM was also famous for its musicals, such as "An American In Paris" and "Singin' In The Rain". The Tom and Jerry cartoons were also created and developed here. "Gone With The Wind" was a MGM creation, but was filmed on the nearby Culver Studio lot.

This location was sold to Lorimar-Telepictures in the 1980's, then in 1993 to Sony Pictures Studios, which includes Columbia Pictures and Tristar Pictures. It currently consists of 45 acres.

Recent productions filmed at this location include "Men In Black", "Spiderman", "The King Of Queens" and "Married...With Children".

Tours of the studio are given Monday through Friday, four times a day. Group tours can be arranged in advance. "Wheel of Fortune" and "Jeopardy" are filmed here and reservations can be made to be a part of the studio audience.
6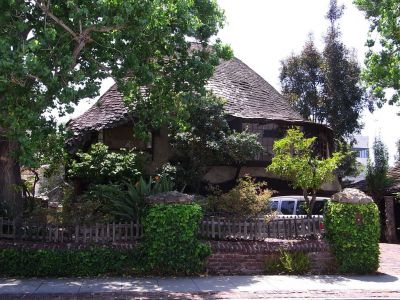 6) Hobbit House
Officially known as the Lawrence and Martha Joseph Residence and Apartments Historic-Cultural Monument No. 624, it was designed and built by Lawrence Joseph, a former Walt Disney artist between 1946 and 1970 and consists of 9 residential units. Now known as a Hobbit House, this fairy tale architectural style was popular in the early part of the century and Los Angeles had many homes based on this theme, but now there are only a handful remaining.

If you are lucky, a resident will spot you and invite you onto the property for a closer look, but do remember it is private property.
7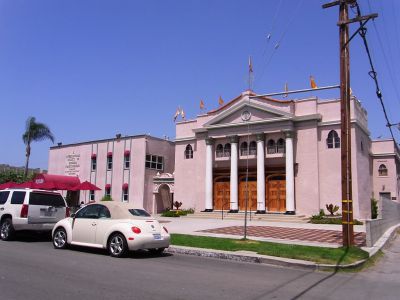 7) Govinda's
Govinda's restaurant is a vegetarian/vegan restaurant run by the International Society for Krishna Consciousness of Los Angeles, or Hare Krishnas, and is located in the Hindu temple at this location. The temple also houses a gift shop and museum.

The restaurant serves a vegetarian Indian buffet Monday through Saturday 11am to 3pm and 5pm to 8:30pm for under $10. On Sunday evenings a free six course meal is served, in part because of their belief that no one near a Krishna temple should go hungry. There is no proselytizing or effort to convert patrons, just food, treats and trinkets in the gift shop and information in the museum for those curious about Hindu history and religion.

The museum is only open on Sundays and holidays from 4:30pm to 7pm, but the gift shop is open 11am to 8:30pm Mondays through Saturdays and Sundays 12pm to 6:30pm.
8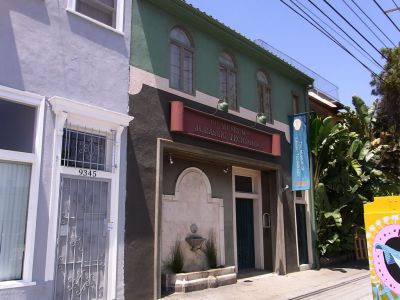 8) Museum of Jurassic Technology
The Museum of Jurassic Technology was founded by David and Diana Wilson in 1987. Contrary to what its name may imply, it is not about dinosaurs. It is difficult to classify or describe its contents. It is full of curiosities, whimsical in its presentation, eclectic, at times obscure in its references, but sure to peak your interest.

For example, one exhibit displays a collection of pre-scientific remedies and supposed cures for various medical conditions. Another display shows miniature mosaics made entirely from butterfly wing scales and diatoms.

The Museum is open Thursday from 2:00 pm to 8:00 pm and Friday, Saturday and Sunday from 12:00 noon to 6:00 pm. Suggested donation is $5 for adults and $3 for children ages 12-21.

The Russian style Tea Room and Theater opens one hour after the Museum's front desk opens and closes one hour before. During this time, complimentary tea and cookies are served and obscure, little known films are screen hourly.
9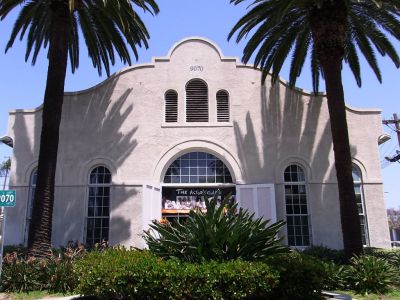 9) The Ivy Substation/The Actor's Gang/Media Park
The Ivy Substation was built in 1907 and was a power converting substation for the Pacific Electric Railway's Santa Monica line. Essentially power was received as AC current and the substation converted it to DC power needed to run the electric trains. Electric trains were eventually replaced by diesel electrics and the substation was mothballed around 1953.

The Ivy Substation is listed on the National Historic Register of Historic Places and renovation was completed in 1993. Its Mission style exterior architecture is basically unaltered from its original railway days.

It currently houses a 99 seat theater and has The Actors' Gang as its resident theater company. The Actors' Gang was founded in 1981 by Bull Durham actor Tim Robbins, with some of his college actor buddies, before he became famous. Tim Robbins occasionally directs and sometimes acts in The Actors' Gang productions. The Actors' Gang puts on reasonably priced plays in an intimate setting, but also seeks to educate and enlighten through the arts, by putting on various workshops for K-12 students and on-site at various California prison facilities.
10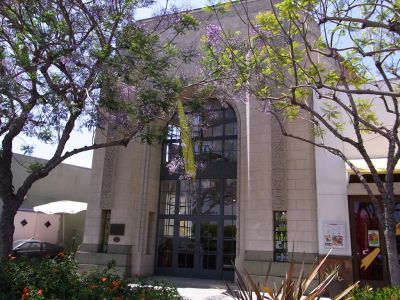 10) The Citizen Building
Eugene and Kitty Donovan purchased the land at this site with the intention of building a self-contained hometown newspaper and commercial printing plant. The architectural firm of Orville E. Clark designed the Citizen Building, with a fusion of Beaux Arts classical elements and Art Deco and at the Donovans' request complied with San Francisco's earthquake building codes, since Southern California had no such guidelines. Construction was complete in 1929.

The newspaper, named The Citizen, was "dedicated in perpetuity to the service of the people that no good cause shall lack a champion and that evil shall not thrive unopposed". The paper, among other things, wrote to further an agenda of better Culver City government, adequate streets, recreational facilities, lighting and bus transportation.

In 1987 the Citizen building became the first structure in Culver City to be placed on the National Register of Historic Places.
11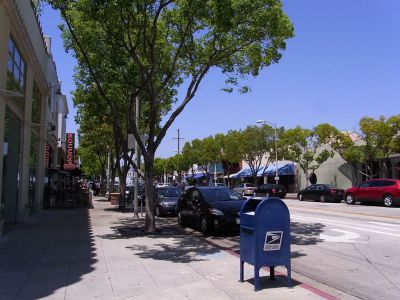 11) Main Street
At just one short block in length, Main Street in Culver City has the distinction of being the Guinness World Record holder of the world's smallest Main Street. The city itself is on a small scale as well, being 1.2 square miles at its incorporation in 1917 and today is just under 5 square miles in size.

Every Tuesday from 3pm to 7pm year round Main Street is shut down to cars and plays host to a farmer's market. There you will find your usual mix of fruits, vegetables, flowers, prepared foods, arts and crafts and occasional street performer.

The rest of the time you will find a nice mix of restaurants, bars and shops, which like the rest of Culver City is currently enjoying new popularity among both residents and tourists.
12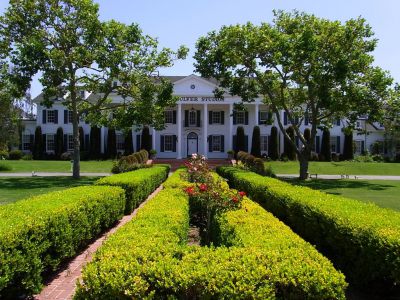 12) The Culver Studios
After selling his shares in what became MGM, Thomas Ince created "Thomas H. Ince Studios", at this location, which operated from 1919 to 1924. The front administrative building that you see was designed as a replica of George Washington's home at Mount Vernon.

After Ince's death, the studio was acquired by Cecil B. Demille, who renamed it DeMille Studios in 1925. It has been owned at different times by RKO, Howard Hughes, Desilu Productions and Sony Pictures. It is currently owned by a group of investors.

It was here that some of Hollywood's best known films were created. "Citizen Kane", "King Kong", and "Gone With the Wind" were all filmed here. The burning of Atlanta was done by putting together set buildings from other movies on a back lot and setting them on fire, then constructing the exterior facade of the plantation Tara on the ashes.

Classic TV shows were filmed here as well, including "The Adventures of Superman," "The Andy Griffith Show," "Hogan's Heroes", "Gomer Pyle," "The Twilight Zone," "Lassie," and "Batman".

In more recent years, parts of movies such "Armageddon" and "City Slickers" were filmed here, along with TV shows like "Mad About You", "The Nanny", "Arrested Development", "Deal or No Deal" and "America's Next Top Model".

The Culver Studio does not offer tours and is off limits to the public, with the exception of live studio audiences at the taping of certain TV shows. So if you are really curious to see the inside, your best bet is to find out the schedule and reserve tickets to be an audience member. Audiences Unlimited handles and distributes free tickets to many shows, including those at The Culver Studios. Please note that most shows are on hiatus April through July, and during the Christmas holiday, so pickings will be slim during those months.
Walking Tours in Los Angeles, California
Useful Travel Guides for Planning Your Trip
---