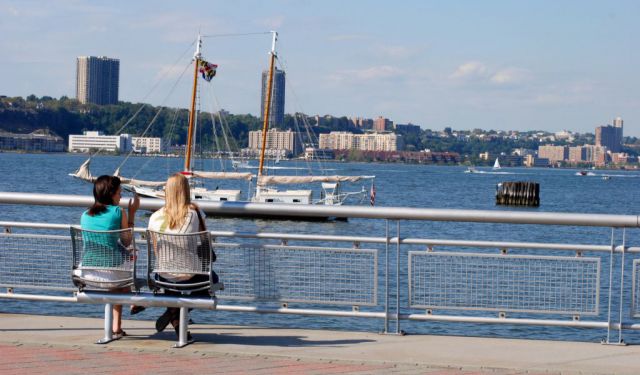 Upper, Upper West Side, New York, New York (A)
Though known for its stately old buildings and quiet neighborhood feel, the Upper West Side of Manhattan includes some of the city's most illustrious institutions, inspiring statuary, sumptuous food, and magnificent views. This tour takes you on an insider's path from the start of Riverside Park and ends further uptown in Morningside Heights, known as the "Academic Acropolis" since it sits on one of highest natural points in Manhattan.
How it works:
The full article is featured in the app "GPSmyCity: Walks in 1K+ Cities" on
iTunes App Store
and
Google Play Store
. Download the app to your mobile device to read the article offline and create a self-guided walking tour to visit the sights featured in this article. The app's navigation functions guide you from one sight to the next. The app works offline, so no data plan is needed when traveling abroad.
Sights Featured in This Article
Guide Name:
Upper, Upper West Side
Guide Location:
USA » New York
Guide Type:
Self-guided Walking Tour (Article (A))
# of Attractions:
13
Tour Duration:
3.0 Hour(s)
Travel Distance:
7.1 Km or 4.4 Miles
Author:
Andrea Simon
Author Bio:
Andrea Simon is a writer and photographer who lives in New York City. She has worked as an editor and writer, and was the co-owner of an editorial/production company. Recently, she has been writing literary fiction and nonfiction, including her published memoir, Bashert: A Granddaughter's Holocaust Quest. She has published several stories and essays and has been the recipient of prestigious literary honors. Andrea's photography has been featured at numerous venues.
Author Website:
http://www.andreasimon.net
Sight(s) Featured in This Guide:
Eleanor Roosevelt Monument
Pier 1
Boat Basin
Zabar's
People's Garden
Firemen's Memorial
Shinran Shonin Statue
Tom's Restaurant
The Cathedral Church of Saint John the Divine
Hungarian Pastry Shop
Columbia University in the City of New York
The Riverside Church in the City of New York
Grant's Tomb
1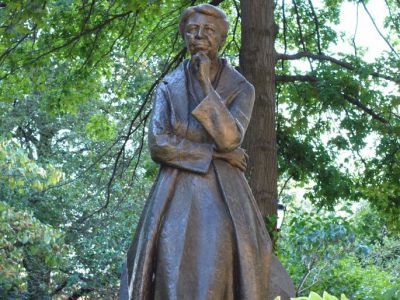 1) Eleanor Roosevelt Monument
Standing as a welcome to Riverside Park, this bronze-and-stone figure is the first public statue of a president's wife and the second of an American woman in New York City. Created by famed sculptor, Penelope Jencks, the eight-foot likeness was dedicated in 1996 when Hillary Rodham Clinton, an admirer of Eleanor, gave the keynote address. Anna Eleanor married Franklin Delano Roosevelt, a distant cousin, in 1905. During his tenure, she expanded the role of First Lady, giving lectures, radio interviews, and writing a daily column called "My Day." The statue fittingly portrays Eleanor in her mature years when she was a vocal advocate for many causes, including the United Nations, women, and the poor.
2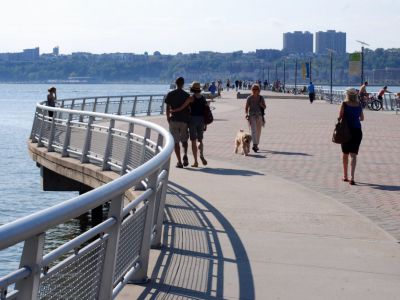 2) Pier 1
For an upfront Hudson River experience, take a seat on the pier, originally part of the Penn Central rail yard, newly renovated to its original length of 795 feet, though its width has been narrowed. The angled pier is part of the Riverside Park South (59th-72nd Streets), an apartment complex also known as Trump Place. From May to October, weather permitting, the lovely outdoor café across from the pier offers delicious burgers and unusual treats like blueberry lemonade. During these months, the Riverside Park South area offers a wealth of free recreational activities: movies under the stars, yoga and Pilates, concerts, fishing, and kayaking (72nd Street). The autumn offers a wonderful County Fair.
3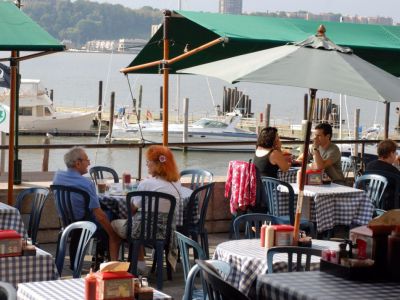 3) Boat Basin
Enjoying your stroll uptown along the Hudson River promenade, you will see an array of pleasure boats docked in the marina and if you look to your right upwards, you will notice an old stone edifice built into a cliff topped with green umbrellas. Follow the stairs into this casual, cavernous restaurant that is divided into three sections: an open-air patio that provides breathtaking views of the marina and Hudson River, or sunsets over New Jersey; a covered rotunda with limestone arches and a bar; and a circular open-air area where parties are held. Open from March through the end of October, weather permitting.
4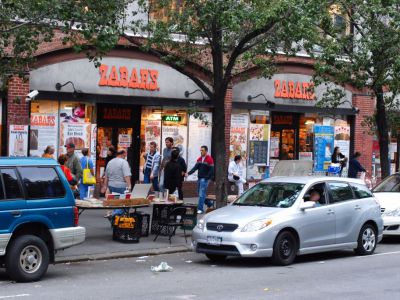 4) Zabar's
To sample the true Upper West Side palette ― and what has become indigenous New York food itself ― enter Zabar's, an area presence for over 70 years. Spanning almost an entire block, this world-renowned store has over 20,000 square feet, including a cheese counter, a ground coffee station (selling over 8,000 pounds a week), a fish counter, and an upstairs housewares division with a huge selection of imported copper cookware. Once inside, you will be swept by crowds of shoppers, elbowing their way through the bins and shelves. You will be amazed at the fish masters slicing thin strips from mounds of Nova lox and other smoked fish. Upper West Siders swear by their favorite place for bagels and lox. Some like H&H (Broadway and 80th); others sidle up to the counter at Zabar's nearby café; and still others, like myself, swear to the superiority of Lenny's on Broadway and 98th Street. Few will dispute, though, that Zabar's is a complete culinary experience.
5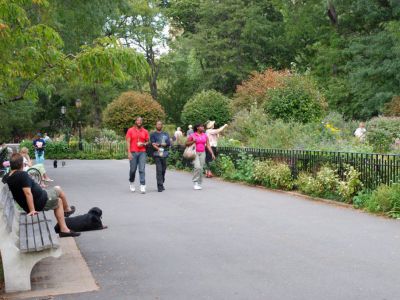 5) People's Garden
Riverside Park is known for its exquisite flowers and trees, including clusters of cherry and crab apples, but one of the most spectacular displays can be found along the inside promenade on 90th-91st Streets. Grab a seat on the many surrounding benches and enjoy the beloved community garden that began at another location in 1977 and was relocated to this spot in 1981. About 40 volunteers from the Garden People tend individual plots within the dual-enclosed gardens, which bloom with bold seasonal arrangements. A popular place to people/dog watch.
6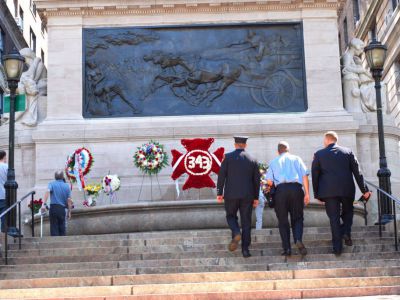 6) Firemen's Memorial
Inspired from the 1908 funeral of Deputy Fire Chief Charles A. Kruger, the memorial was dedicated by Right Reverend Henry C. Potter in 1913 to "our brave citizens who have lost or will sacrifice their lives in a war that never ends." The memorial includes a grand staircase, benches, and a fountain basin. Mounted on a marble plaza, the central monument is a 19-feet long sarcophagus-like structure with a massive bronze bas-relief sculpture of three galloping horses pulling a fire engine to a blaze. Each side sports allegorical marble sculpture groups, with the firefighter's motto, "Duty" on the south side and "Sacrifice" on the north end. Every autumn, the mayor, fire commissioner, and thousands of uniformed firefighters and their families gather at the memorial to honor the memory of firefighters who have lost their lives in the line of duty. After September 11th, when the Fire Department lost 343 firefighters, the monument has become a vigil site for mourners. Living in the shadow of the monument, I hear through my windows the plaintive sounds of bagpipes and the singing of "Amazing Grace" at these occasions.
7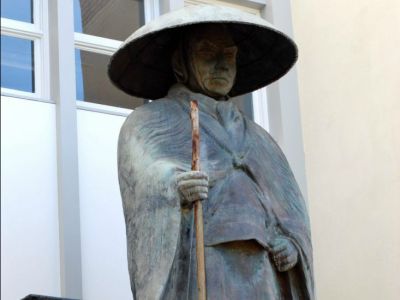 7) Shinran Shonin Statue
Tucked between handsome Riverside Drive homes, surprising many a passerby, this 15-foot-high bronze statue of a Japanese Buddhist monk in his missionary robes with peasant hat and sandals holding a wooden staff, stands proudly in front of the New York Buddhist Church. Born in 1173, Shinran was the founder of Jodo Shinshu (True Pure Land Religion) or Shin Buddhism. Believing in spreading the doctrine of salvation though compassion, Shinran wrote a significant text that includes commentaries on Buddhist sutras. Originally standing in Hiroshima, 2.5 kilometers from ground zero of the first atomic bomb blast, the statue was brought to New York in 1955 and symbolizes survival and hope amidst devastation.
8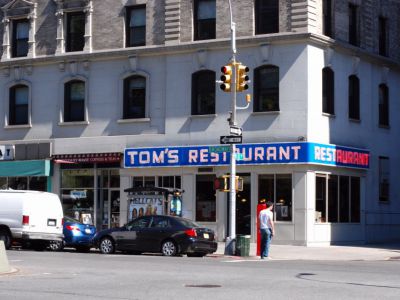 8) Tom's Restaurant
A typical New York Greek diner, reasonably priced and featuring a large menu with daily specials, Tom's is frequented by locals plus students and faculty of Columbia University in the neighborhood known as Morningside Heights. It has been the locale that inspired Suzanne Vega's song, "Tom's Diner," and the exterior was used for the fictional Monk's Café featured as the hangout in the sitcom, Seinfeld. Among the notables who ate here are President Barack Obama and Senator John McCain. The restaurant is a highlight of the Kenny Kramer's (the model for Kramer in Seinfeld) Reality Tour.
9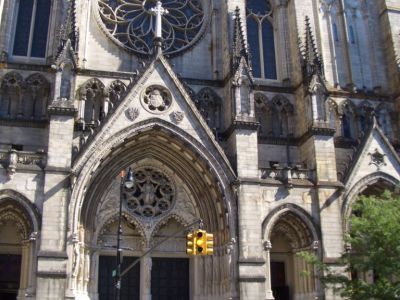 9) The Cathedral Church of Saint John the Divine
The cathedral of the Episcopal Diocese of New York, St. John the Divine is arguably the largest cathedral and Anglican church, and the fourth largest Christian Church, in the world, with an interior that covers 121,000 square feet. In a constant state of restoration and construction, nicknamed "St. John the Unfinished," this historic Gothic Revival masterpiece has a number of chapels, arches, and columns in various architectural styles. Construction began in 1892 and the first services were held in 1899. Architectural highlights: great bronze doors, Great Rose window (largest in the U.S.), Poet's Corner, Gothic nave, Barberini tapestries, two 12-foot menorahs. A major center for musical events in the city, the Cathedral also offers outreach and educational programs. It houses a premier textile conservation laboratory, and has provided memorial services for prominent activists, artists, and writers.
10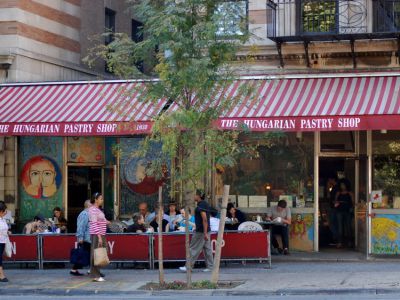 10) Hungarian Pastry Shop
I am not alone in calling this small historic gem my favorite writing place in the city. Normally busy with students and faculty from Columbia University armed with laptops and textbooks, this cozy nook has been the place to study and gossip for neighborhood intellectuals since the '60s. Walk into the shop and gaze at the array of European pastries, such as strudel, sacher torte, linzer torte, baklava (the shop is Greek-owned), chocolate mousse, black forest cake, and mounds of cookies. Tell the waitstaff what you want and find a table (or order takeout). Delve into your work and before long, someone calls your name and delivers your goodies. Pay whenever; there is no pressure. Refills are free. There are also outdoor tables. If the atmosphere becomes claustrophobic and you need a break, cross the street and sit at the Peace Fountain (with no water) and examine this curious and somewhat bizarre winged bronze allegorical statue depicting the struggle of good verses evil; plus a collection of small sculptures, many designed by children.
11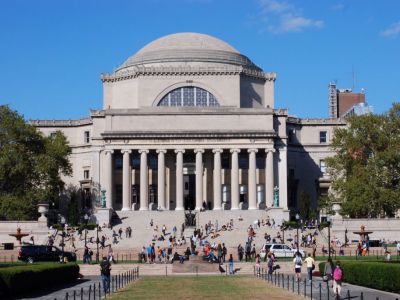 11) Columbia University in the City of New York
With over 4,000 faculty members and 23,000 students, this great Ivy League university has produced 70 Nobel Prize laureates. The birthplace of modern anthropology, academic international relations, and the oral-history movement, the university is renowned for atomic research and journalistic excellence among other disciplines. Designed as an urban village, the Morningside Heights campus houses three undergraduate schools, as well as graduate and professional schools. (The Medical Center is further uptown in Washington Heights.) Some architectural gems: the Low Memorial Library, in Roman classical style and in the N.Y.C. Register of Historic Places and a National Historic Landmark; Pupin Hall, a National Historic landmark because of the atomic research conducted there; St. Paul's Chapel, listed in the N.Y.C. Register of Historic Places; and the statue of Alexander Hamilton.
12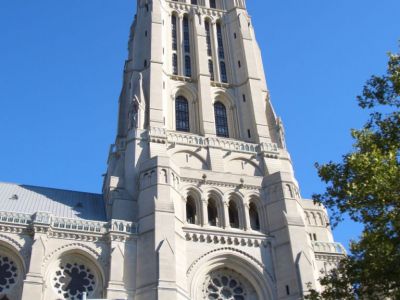 12) The Riverside Church in the City of New York
It's difficult to go anywhere in this neighborhood without seeing the soaring Gothic limestone tower (rising to 392 feet) of Riverside Church, an interdenominational (American Baptist and United Church of Christ), interracial, international congregation, with a rich history (opened main altar in 1930) as a neighborhood institution and tourist destination. Also a center for political activism, Riverside has attracted such luminaries as Martin Luther King, Jr., Nelson Mandela, Fidel Castro, and Kofi Annan. Superlatives abound: it's the tallest church in the U.S. and the 26th tallest in the world; it houses the world's largest and heaviest tuned carillon bell (20 tons, one of 74 bronze bells, and currently closed to the public); and its magnificent organ, the star of many a concert, is the 14th largest in the world (and New York City's second largest pipe organ). Receiving New York City Landmark status in 2000, this elaborate edifice was modeled after France's 13th century Gothic Chartres Cathedral.
13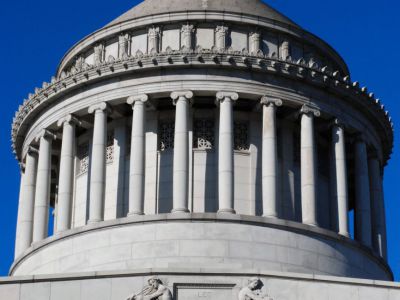 13) Grant's Tomb
Established in 1897, listed in the National Register of Historic Places, the General Grant National Memorial rises 150 feet from a bluff overlooking the Hudson River. This majestic uptown landmark is a classically proportioned mausoleum (the largest in North America) containing the bodies of Ulysses. S. Grant, American Civil War General and the 18th President of the U.S., and his wife, Julia Dent Grant. The bodies rest in red granite coffins in an open crypt filling the center of a circular gallery inside the monument. The main lobby is guarded by busts of Civil War generals. Carved over the entrance is the sentence, "Let us have peace," from Grant's acceptance letter for the Republican nomination of president in 1868. Grant's funeral in 1885 and the tomb's dedication in 1897 attracted international dignitaries and hordes of mourners. In the old game show, You Bet Your Life, as a giveaway question, comedian Groucho Marx would ask contestants "Who is buried in Grant's Tomb?"
Walking Tours in New York, New York
Useful Travel Guides for Planning Your Trip
---