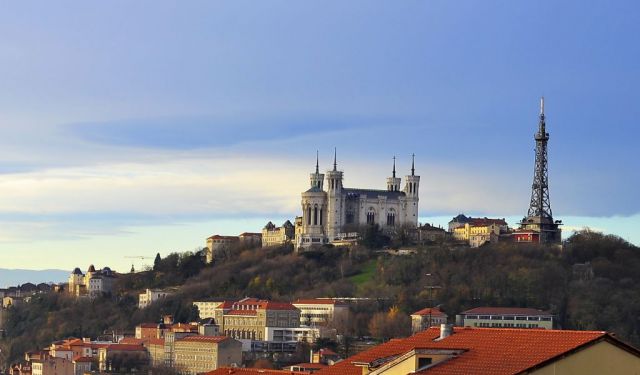 A Taste Bud's Delight, Lyon, France (A)
The city of Lyon is famous for its contribution to the culinary arts. Here food lovers can find hundreds of specialty shops throughout the city that offer some of the world's finest award-winning products to delight one's epicurean palate. Let your taste buds follow this guide on a voyage into the heart of chocolate, cheese and spices.
Image Courtesy of Alex Quici.
How it works:
The full article is featured in the app "GPSmyCity: Walks in 1K+ Cities" on
iTunes App Store
and
Google Play Store
. Download the app to your mobile device to read the article offline and create a self-guided walking tour to visit the sights featured in this article. The app's navigation functions guide you from one sight to the next. The app works offline, so no data plan is needed when traveling abroad.
Sights Featured in This Article
Guide Name:
A Taste Bud's Delight
Guide Location:
France » Lyon
Guide Type:
Self-guided Walking Tour (Article (A))
# of Attractions:
11
Tour Duration:
3.0 Hour(s)
Travel Distance:
5.9 Km or 3.7 Miles
Author:
Alex Quici
Author Bio:
Alex Quici is a freelance writer whose career has taken him to work on three continents - North America, Asia, and now Europe where he lives with his family. When he's not writing, Alex is taking photos of Lyon, rock climbing, or learning to play the violin.
Author Website:
http://www.alexquici.com
Sight(s) Featured in This Guide:
Rolancy Pâtisserie
Chokola
Fromagerie Didier Galland
Bouillet
Marché de la Croix-Rousse
Marché quai Saint Antoine
Sève
Voisin
Bahadourian
Fromagerie Maréchal
Bernachon
1 1) Rolancy Pâtisserie
Your "Taste Bud Delight" tour begins here at the Rolancy chocolate and pastry shop. One step through the door and your eyes will be the first to tell you why Mr. Rolancy has earned the prestigious award know as best artisan, or "Meilleur Ouvrier de France".

Like fine works of art, every item showcased in this boutique is a testament to the artist's imagination and his masterful use of the most exceptional — and sometimes exotic — ingredients.

Choose from a rainbow display of macaroons in a variety of flavors - apple, banana and cinnamon, chocolate, pistachio and much more.

Tempt your taste buds with a rich selection of tarts - chocolate, praline, raspberry, strawberry, kiwi, apricot, blackberry and other seasonal fruit.

You'll also find delicate and appetizing pastries, ice cream, fruit sweets, homemade jams, buttery croissants, and an assortment of handcrafted chocolates.

The only regret you may have when leaving is that it's nearly impossible to taste everything in just one visit; even more reason to come back another day.

Rolancy is open from 8:00 am to 7:00 pm Tuesday through Friday, and until 7:30 pm on Saturdays. On Sundays the boutique is open in the morning only. Rolancy is closed on Mondays.
2 2) Chokola
Chokola is Sebastian Bouillet's new boutique dedicated 100 percent to the pure pleasure and enjoyment of chocolate. One step through the door and you know that a master is hard at work — and play.

Everything about Chokola is fun. From the chocolate fountain and rich aromas to the loft-style decor accentuated with brick and industrial metal, it's easy to think you've just stepped into a modern-day Charlie and the Chocolate Factory.

Like the workshop's interior design, the products are playful too. The lipstick, for example, comes in 12 delicious chocolate-based flavors. There's also a bookcase covering an entire wall that contains more than 40 different types of chocolate bars from around the world.

Chokola is fun and inviting, and most importantly, a chocolate experience your taste buds will remember for a long time to come.

The boutique is open from 9:00 am to 12:30 pm, then again from 2:00 pm to 7:00 pm on Tuesday through Friday. On Saturday they're open from 9:00 am to 7:00 pm and on Sunday from 9:00 am to 1:00 pm. Chokola is closed on Mondays.
3 3) Fromagerie Didier Galland
France is well known the world over for its great variety — and number — of cheeses. To some this comes as a gastronomic blessing. For others it's a source of dismay, as when former French president Charles de Gaulle made the declaration: "How can you govern a country which has two hundred and forty-six varieties of cheese?"

Since opening his boutique in 1984, Didier Galland has become the reference for cheese in the historic Croix-Rousse district of Lyon.

Here you'll find an extraordinary choice of cheeses in various textures and tastes: soft, firm, creamy, sharp, spicy and delicate. Whether you love the taste of goat, cow or sheep cheese, there's enough variety in this boutique to impress even the most demanding palate. You can also order a cheese platter for your dinner parties and other special occasions.

As for the exact number of different cheeses that exist in France, nobody really knows for sure. Some say you can taste a different cheese every day of the year. You might not find every single one of them at Didier Galland, but the quality and choice of what you do find here will not disappoint.

Didier Galland is open from 8:30 am to 12:30 pm, and again from 3:30 pm to 7:30 pm on Tuesdays through Saturdays. On Sundays the shop is open from 8:30 am to 1:00 pm. Didier Galland is closed on Mondays.
4 4) Bouillet
You're about to visit the original pastry shop opened by the Bouillet family in 1977.

Whereas Chokola, run by the son Sebastian, specializes in chocolate, this boutique focuses on pastries, each one a work of art. The window displays alone are known to stop passers by in mid-stride; and it's the promise of a taste sensation that draws them inside.

Beyond their exquisite decorations, the tarts and pastries all share one thing in common: an explosion of flavor with each bite. And there's a remarkable selection to choose from: praline, litchi, vanilla, hazelnut, green tea, apricot, pear, caramel, lemon, mango and pineapple to name just a few.

The macaroons offered by Bouillet vary with the season, so depending on the time of year, you might find such different flavors as caramel banana, honey pecan, chestnut, chocolate and mandarin.

Plan to visit Bouillet from 8:30 am to 7:15 pm on Tuesday through Saturday, or on Sundays from 9:00 am to 1:00 pm. Bouillet is closed on Mondays.
5 5) Marché de la Croix-Rousse
The marché de la Croix-Rousse is one of Lyon's premier open-air markets. On weekends the market spans nearly the entire length of the Boulevard de la Croix-Rousse, with local and regional producers selling their seasonal fruits and vegetables.

You can also find specialty products like honey, locally made cheeses, wine, mushrooms, spices, and more. There's an expanded market on Tuesdays with clothes and household items for sale. And on Saturdays there's a small section of the market, just in front of the Croix-Rousse Square, reserved for organic produce.

You can visit the marché de la Croix-Rousse every day from Tuesday through Sunday, from 8 am to approximately 12:30 pm. There is no market on Mondays.
6 6) Marché quai Saint Antoine
The marché quai Saint Antoine is another of Lyon's well-known open-air markets, this one extending for several city blocks along the picturesque Saône River. Here you'll find fresh seasonal fruits and vegetables, flowers, fish, breads and pastries, dried fruits, olives, spices and other regional specialties.

One of the big attractions of walking though this market, aside from the fabulous food and friendly, animated atmosphere, are the views: scenic bridges and the charming building façades across the river that slope gently up to the Fourvière basilica at the top of the hill.

You can visit the marché Saint Antoine from 6:00 am to 1:00 pm Tuesday through Thursday, and from 6:00 am to 1:30 pm Friday through Sunday. There is no market on Mondays.
7 7) Sève
As you're strolling through the market along the riverside, don't forget to cross the street for a visit to Sève, home to another master chocolate maker and pastry chef.

If you're coming in from the sun, your eyes may need a moment to adjust to the elegantly dark interior: a smart, modern touch that highlights the gems gleaming from under the glass counter tops.

From delicate, sweet crisps and mouthwatering panettone to rich chocolates, tarts and home made fruit jellies, you're sure to find something to satisfy that inner sweet tooth. Or pick and choose from an entire counter filled with macaroons in flavors such as peach, apricot, caramel and rose petal, each stamped with the Sève inignia.

The Sève chocolate and pastry shop is open from 9:30 am to 7:30 pm Tuesday through Friday, 9:00 am to 7:30 pm on Saturday, and from 9:00 am to 1:30 pm on Sunday. Like most other specialty boutiques in Lyon, Sève is closed on Mondays.
8 8) Voisin
100 years ago Léon Voisin opened a specialty boutique to sell tropical products coming from the French colonies in Africa and Asia.

Along with their coffees and teas, today Voisin is also known for their collection of over 60 fine chocolates in a mouth-watering array of flavors. They also produce the sugared almond candies, known as dragées, in a rainbow of colors that are traditionally offered to guests at weddings and other important ceremonies.

You can also find candied fruits, holiday chocolates and the most traditional of Lyonnais sweets, the emerald Coussion de Lyon, made of chocolate and marzipan. The shape of the coussin was inspired by a historical event that took place during the plague epidemic of 1643. At that time city council members walked to Fourvière carrying, among other things, a silk cushion, coussin in French, as a prayer to the Virgin to protect the city. The city was spared and today, thanks to Voisin, we have the "cushion" of Lyon in remembrance of this event.

This particular Voisin boutique sits on the northern side of the largest pedestrian square in Europe, Place Bellecour, and is open from 10:00 am to 7:00 pm on Mondays, and from 9:00 am to 7:00 pm Tuesday through Saturday. Voisin is closed on Sundays.
9 9) Bahadourian
A taste-bud visit to Lyon would not be complete without a stop at Bahadourian, Lyon's foremost supplier of "savors from around the world".

Since it first opened in 1929, the family-run Bahadourian has continued to expand their offer, searching out only the finest traditional, and exotic products from the five continents. Walking through Bahadourian is a voyage to a distant place; the best way to experience it fully is to take your time.

Here you'll find hundreds of novel products on the shelves: spices, breads, sweets, wines, honeys, coffees, teas, salts, peppers, herbs, condiments, chutneys, oils, dried fruits, assorted cookware, and much, much more.

Bahadourian is an oriental bazaar at its finest, packed with treasures just waiting to be discovered.

You can visit Bahadourian from 8:00 am to 7:30 pm Monday through Saturday. Bahadourian is closed on Sundays.
10 10) Fromagerie Maréchal
The cheese shop known as the Fromagerie Maréchal and run by Etienne Boissy, Meiller Ouvrier de France since 2004, is located in the heart of what's often referred to as "the stomach of Lyon" — Les Halles de Lyon.

Les Halles de Lyon, named after Lyon's famous chef Paul Bocuse, is a modern glass structure that brings together 59 of the city's finest and most recognized names in the gastronomic arts. In the Halles you'll find oyster bars, produce stands, chocolate and pastry shops, bakeries, fish mongers, butcher shops, spice boutiques, and of course, cheese.

The Maréchal cheese shop is located in the center of this vast indoor food market and is well known for offering not only some of the country's best cheeses, but advice as well. If you have questions about your favorite French cheese, or want an expert's advice about which cheese to serve with which food and wine, this is the place to ask.

Maréchal is open from 7:30 am to 1:00 pm, and again from 3:00 pm to 7:00 pm Tuesday and Wednesday. From Thursday through Saturday they're open from 7:30 am to 7:00 pm, and on Sundays from 8:00 am to 1:00 pm. Maréchal is closed on Mondays.
11 11) Bernachon
The last stop on our "Taste Bud" tour of Lyon is the artisanal chocolate house called Bernachon. Maurice Bernachon, its founder, is known for having said that chocolate is not just another sweet; it's true gourmet food. And the specialty items produced by this still family-run business are proof of his lifelong passion for this delicacy.

At Bernachon you can choose from a wide assortment of chocolate bars, individual pieces and gift boxes. But even at this level of mastery, certain stand above the rest: like the palet d'or, a sumptuously rich mix of cream and dark chocolate decorated with gold leaf.

At Bernachon you also have The Tea Salon where you can sit for a relaxing lunch after a long walk through Lyon. If you arrive later in the afternoon, you might want to sit for a few quiet moments and savor an exotic tea, a specialty dessert...or one of Bernachon's famously rich hot chocolates with a touch of vanilla and fresh cream.

The Tea Salon is open from 9:00 am to 6:15 pm Tuesday through Saturday.

From May to July, the boutique is open from 8:30 am to 7:00 pm Tuesday through Saturday. For opening times at other periods of the year, please consult the website: www.bernachon.com.
Walking Tours in Lyon, France
Useful Travel Guides for Planning Your Trip
--- Gastronomic Delights: 10 Places to Buy Great Food in Lyon, France
The city of Lyon is famous for its contribution to the culinary arts. Here food lovers will find hundreds of specialty shops throughout the city offering some of the world's finest and award-winning products fit to delight any epicurean palate. Let your taste buds lead you on this voyage into...