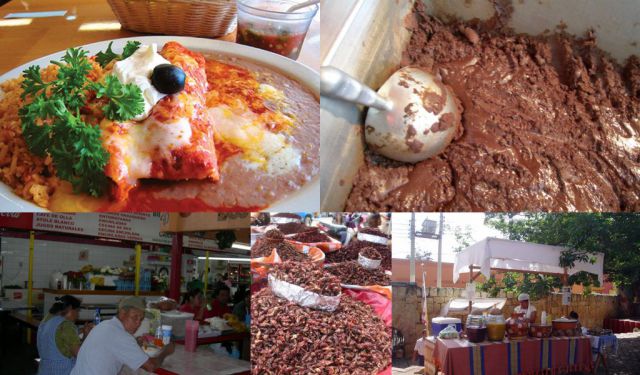 A Taste of Oaxaca, Oaxaca, Mexico (A)
Mexican food is world famous but what most people do not know is most of that distinctly Mexican food comes from Oaxaca. Many famous chefs come to this city to study the art of Mexican cuisine, including top chef Susana Trilling who now calls Oaxaca her home. This tour highlights the best Oaxaca has to off from food markets, to a tortillaria, restaurants, mezcal and chocolate.
This article is featured in the app "GPSmyCity: Walks in 1K+ Cities" on
iTunes App Store
and
Google Play
. You can download the app to your mobile device to read the article offline and create a self-guided walking tour to visit the attractions featured in this article. The app turns your mobile device into a personal tour guide and it works offline, so no data plan is needed when traveling abroad.
Walk Route
Guide Name:
A Taste of Oaxaca
Guide Location:
Mexico » Oaxaca
Guide Type:
Self-guided Walking Tour (Article (A))
# of Attractions:
7
Tour Duration:
2.0 Hour(s)
Travel Distance:
2.0 Km or 1.2 Miles
Author:
Tracy Gaudreau
Author Bio:
My name is Tracy Gaudreau and I am originally from Canada. I have a strong passion for Latin America. After working in the travel industry and backpacking for several years I moved to Oaxaca Mexico where I ran a hostel and wrote for an english newspaper. I fell in love with the vibrance, culture, charm and especially the food of Oaxaca.
Sight(s) Featured in This Guide:
Mercado Sanchez Pascuas
La Olla Verde
Tacos Alvaro
La Biznaga
Don Agave Mezcal Shop
Mercado 20 De Noviembre
Mayordomo Chocolate Shop
1 1) Mercado Sanchez Pascuas
Oaxaca's Sánchez Pascuas Market specializes in fruit, vegetables, meat, diary, crafts and sweets. Markets are the best place to buy local food items for cooking traditional Oaxacan meals. Ladies will be selling flowers and tamales as you enter the market. These steamed hot bundles are a comfort food and an important element in a Mexican Christmas dinner. To the right you will find great family own-restaurants (comedores). Among the comedores are Fondas Oaxaqueña, Normita, Lupita, Nelly, Chonchita and Yolis. The lower half of the market sells dairy products, meat and juices. At the fresh juice stands you can find a large variety of seasonal fruits including mandarin, mango and passion fruit to take away in a bag or a litre jug. If you are feeling under the weather the ladies at Jugos Angelita or Jugos Yesena can put together jugo verde (green juice) a mix of fruit and vegetables that Mexicans drink when they feel a cold coming on. Further up are vendors selling fruit, vegetables, herbs and seasonings. Here you can find chilies of varying heat to punch up your dish. Pick up some Quesillo a stringy cheese that is also known as Oaxaca cheese in other parts of Mexico. It is similar to un-aged Monterey Jack but with a mozzarella-like thread. In Oaxaca it's the quesillo that makes a quesadilla.

Hours of operation; 7:30am – 5:00pm
2 2) La Olla Verde
Tortillas are a Mexican staple and you can find two kinds here; flour or corn. The corn tortillas are more common, it is said that corn is to Mexican cuisine as bread is to French. If you are looking to make your own tortillas or to buy some already made La Olla verde is an excellent place for both. Oaxacans use tortillas for various dishes from chilaquiles at breakfast, a side with their pozole at lunch to tacos in the late evening. At la Olla Verde they make corn tortillas right in front of you so you can see the whole process. They are made by boiling the corn in water with quicklime. It is cooked until the grains are smooth; it is then grinded and pre-cooked. The paste is then kneaded into dough and pressed into flat thin patties and cooked on a comal or industrial machine like they have in the Torillaria. In the one store front you can see this process being completed. You can also bring in your own paste to be processed in the machines. The other store front sells the already finished products and from 6:30am you can see the tortillas rolling right off the hot conveyer belt. Locals will bring markets bags lined with towels to transport their steaming delights home.

Hours of Operation: Daily from 6:30am until 4:00pm
3 3) Tacos Alvaro
Real Mexican tacos; this is by far the best Taco shop in Oaxaca if not all of Mexico. Tacos Alvaro is a busy taco restaurant and has two locations in Oaxaca City. There is a small menu located on all the tables and the waiter comes around with a check list where you just tick off how many of each kind of taco you would like. They have a variety of meat tacos including bistec (thinly cut beef steak), lengua (beef tongue) and and carnitas (little pieces of seasoned pork). They also offer tostadas, gringas and burritos. I recommend Tacos al pastor which is the most popular taco style in Mexico. Al Pastor uses pork cooked on a spit similar to how shawarma is cooked. The dish was brought to Mexico City by Lebanese immigrants who developed it. The pork is cooked in a combination of chilies with pineapple and onion on top. The meat is thinly sliced and served on a small corn tortilla with chopped cilantro, onions, salsa and guacamole. Tacos are a popular late night snack and you can find Tacos Alvaro open and bustling past 1:00am.

Hours of operation: Tuesday to Sunday 2:30pm until 2:00am closed on Mondays
4 4) La Biznaga
Oaxacan cuisine is rich in tradition dating back to pre-Hispanic times. The earth provides abundant ingredients in the region such as hierba santa, cilantro, avocados and plantains. La Biznaga mixes traditional ingredients such as mole with contemporary innovations, in doing so they have crafted culinary works of art. The dining room is in a court yard under the Oaxaca night sky however you can dine in all weather as there is a retractable screen above the court yard in case of rain. The décor is chic and trendy with a local flavor that goes well with the colonial building and the trees that grown in it. In the afternoon they offer a changing set menu of three courses and a beverage with a terrific price. Dining in the evening; you can read off of the menus which are giant black boards hanging at one end of the restaurant or they also offer small printed menus. As for dishes there isn't a bad choice, they do beef dishes well but the Del Eden chicken with gouda cheese and apple sauce is amazing as well as the Zandunga chicken with plantains and guayaba mole. This is by far the best restaurant in Oaxaca and a not to miss despite an unreliable wait staff.

Hours of Operation: 1:00pm to 10:00pm Monday to Thursday and 1:00pm until 11:00pm Friday to Sunday.
5 5) Don Agave Mezcal Shop
Mezcal is an important element in Mexican cooking as well as in the Cantinas. Don Agave is one of the local producers of Mezcal in Oaxaca. Mezcal is a strong smoky drink made from the Agave plant. Tequila is actually a form of mezcal but finely distilled from the blue agave and produced in the state of Jalisco. Mezcal can be produced from 18 different varieties of agave. What is also different about mezcal is that the agave plant after it is harvested and the spines are cut off is roasted in a pit for four days. You will also find the agave worm in some mezcals which is said to add flavour or make you hallucinate but neither is true. Mezcal is sold in various forms: Mezcal Blanco - Not aged or only for up to two months, Mezcal Reposado -Aged six months to one year and Mezcal Anejo - Aged at least one year. Mezcal is consumed straight or in cocktails such as Donaji made with orange juice, grenadine, gusano worm, salt and ice. The salt used with mezcal is a mixture of crushed roasted gusano worm, chilli and salt. There is also the sweet liquor crema de mezcal which comes in endless flavour varieties including passion fruit, Cappuccino and coconut. Many fine restaurants in Oaxaca use this secret ingredient in their dishes such as pork ribs in salsa Barracha translated as drunken sauce and desserts such as orange mousse with mezcal.

Hours of operation: 9:00am to 9:00pm Monday to Saturday, Sunday 9:00am to 8:00pm.
6) Mercado 20 De Noviembre
The 20 de Noviembre market is also called Margarita Maza after Benito Juarez's wife. The building which houses the market used to be the San Juan de Dios church convent and hospital. The market is well known for its comedores where you can try typical Oaxacan food such as mole, pozole and tlayudas. Tlayudas are a traditional dish from Oaxaca made with a large dinner plate size tortilla. The tortilla is baked on a comal or a grill and not fried. It is then topped with refried beans, quesillo cheese, avocados and tomatoes. There are different variations of Tlayudas made with other vegetables or with meat. They will either prepare them for you open faced looking like a pizza or folded over. You may see Tlayudas or other dishes topped with roasted grasshoppers or Chapulines as they are called in Oaxaca. They are a popular snack and sold in massive quantities in the markets of Oaxaca. They are roasted on a comal and seasoned with lemon, garlic or chili. In the 20 de Noviembre market you will also find sweet breads, chocolate, and juice stands. Outside the market,vendors sell the wooden molinillos for preparing the famous Oaxacan hot chocolate as well as pottery ware from the surrounding villages. The market is a buzzing place offering a sensory overload with tastes not to be missed.

Hours of operation: Daily from 7:00am to 6:00pm
Image Courtesy of Thelmadatter.
7 7) Mayordomo Chocolate Shop
Mayordomo is a well known brand selling chocolate in Oaxaca. Mexico has been producing chocolate and chocolate drinks since the time of the Aztecs. Today Oaxaca still produces a bitter or sweet hard table chocolate. Chocolate comes from beans of the cacao tree that only grow in tropical climates. Oaxaca doesn't actually grow much cacao most of the beans come from Chiapas and Tabasco. Mayordomo gives demonstrations on how the chocolate is made from the bean to the bag. They place the cacao bean, almonds and cinnamon in a machine that grinds all the ingredients together with two volcanic stones. The friction from the stones and the oil from the beans turn it into a gooey paste. They grind the mixture again with the desired amount of sugar you would like. The sugar and chocolate is not melted so it remains gritty and not a milky or creamy chocolate. You can buy chocolate here for making mole sauces, they sell mole negro and mole rojo. Also they have chocolate for making hot chocolate drinks and milk shakes. They make the drinks by dissolving the squares in hot milk or water, then whisking it with a molinillo (a wooden Spindale whisk). chocolate is also important for making traditional Oaxacan drinks such as Atole, a warm drink made from ground corn and flavoured with chocolate. As well as the drink Tejate an ancient drink of the gods made from corn, roasted cacao beans, mamey seed and rosita flowers. Chocolate has a long history in Oaxaca and Mayordomo is a great place to taste some of that history.

Hours of operation: 9:00am to 9:00pm Monday to Saturday, Sunday 9:00am to 8:00pm.
Useful Travel Guides for Planning Your Trip
--- Pubs and Clubs of Oaxaca
Oaxaca is a very artistic city, full of musicians and artists trying to get their revolutionary message out. It has a few salsa joints but Oaxaquenos would rather be heard. There are some fantastic funky little pubs that have live music or even at times poetry readings. Later on in the night you can... A Taste of Oaxaca
Mexican food is world famous but what most people do not know is most of that distinctly Mexican food comes from Oaxaca. Many famous chefs come to this city to study the art of Mexican cuisine, including top chef Susana Trilling who now calls Oaxaca her home. This tour highlights the best Oaxaca has...