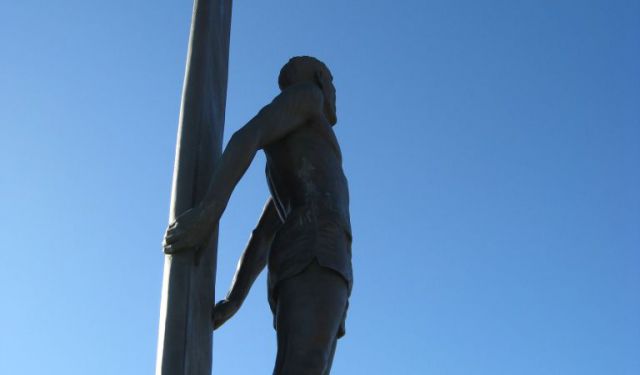 Rad Statues Chocolate & Chai, Santa Cruz, California (A)
The City of Santa Cruz, perched on the Pacific Rim, has at its essence, a distinct whimsy, as well as a real edge, that defines the cultural milieu. The weaving of Santa Cruz statues, monuments, and select 'watering holes', brings to the fore quintessential Santa Cruz; a playful and steady challenge to the status quo, along with home-brewed brilliance publically celebrated.
Image Courtesy of Corrina McFarlane.
This article is featured in the app "GPSmyCity: Walks in 1K+ Cities" on
iTunes App Store
and
Google Play
. You can download the app to your mobile device to read the article offline and create a self-guided walking tour to visit the attractions featured in this article. The app turns your mobile device into a personal tour guide and it works offline, so no data plan is needed when traveling abroad.
Walk Route
Guide Name:
Rad Statues Chocolate & Chai
Guide Location:
USA » Santa Cruz
Guide Type:
Self-guided Walking Tour (Article (A))
# of Attractions:
15
Tour Duration:
2.0 Hour(s)
Travel Distance:
4.5 Km or 2.8 Miles
Author:
Corrina McFarlane
Author Bio:
Corrina is a world traveler, and a long-time member of the International Women's Writing Guild (IWWG). Santa Cruz drew her in in the '90's, during which time she served on the industrial hemp steering committee through 3 expos, acting as moderator for the industrial hemp panel TV broadcast from Santa Cruz City Council Chambers. These days Corrina is also a Santa Cruz wedding officiant with a particular propensity for walk-on-the-wild-side beach/clifftop/redwood/mountain weddings.
Author Website:
http://one-wild-precious-life.blogspot.com/
Sight(s) Featured in This Guide:
Collateral Damage Statue
Sister City Stone Circle
Eagle Monument & Friendship Garden
CHOCOLATE (formerly 'So Say We')
Tom Scribner saw-player statue
Loma Prieta Earthquake Memorials
Changing of the Guard statue
Nickelodeon Movie Theatre
Del Mar Movie Theatre
Penguin statues
Metro Bus Station Mural
The Mill Artisan Building
West Cliff Truss Bridge
Surfer Dude Statue
Surfing Museum Lighthouse
1 1) Collateral Damage Statue
This Tour orients us first at Santa Cruz Town Clock, for in its shadow may be found the Collateral Damage Statue. Designed in 1959 as a gift for the United Nations, the controversial nature of the piece led to a definitive communication from the State Dept. that it was "inappropriate". Finally, decades later in 1995, the statue was instead dedicated in the City of Santa Cruz, now to commemorate the 50th anniversary of the atomic bombing of Hiroshima & Nagasaki. It reads: "Collateral Damage: a reality of war by E.A. Chase; In memory of civilians who have died in all wars" and in appreciation of all who actively "wage peace". It is dedicated by Veterans of Foreign Wars; Bill Motto Post 5888 'fifty-eight eighty eight', The Resource Center for Nonviolence, The City of Santa Cruz, and finally; by the sculptor himself; longtime local E.A. Chase, who donated the statue in full knowledge that it would never be placed in New York's U.N. Plaza.

The historic erection of this statue in Santa Cruz Public Space was preceded by a gun turn-in and a Tibetan singing bowl ringing whereafter, the guns & the bowl were buried beneath. The dedication was followed by a memorable concert attended by 12,000 people. The Commemorative video for the dedication of the Statue; "Collateral Damage: A time for community response", airs periodically on Santa Cruz Community TV. It captures the essence of the historic moment, as well as the stars who graced the stage that day, including Crosby & Nash, and Bonny Rait.
2 2) Sister City Stone Circle
This Circular plaza of marble pillars topped with bronze map of each Sister City, is located on the corner by the main downtown Post Office. Santa Cruz has five Sister Cities; in Japan, Venezuela, Nicaragua, Italy, and the Ukraine.

Santa Cruz City Council and the federal International Sister City program also approved a Sister "Friendship" with Lakota Pine Ridge Indian Reservation in South Dakota; the first step to becoming formal 'Sisters'. This was unprecedented between a First Nation and a U.S. City but this Resolution has not so far made it to formal Sister status.

There is one other Santa Cruz Sister Alliance that does not appear in the marble pillar plaza because it is distinct from the federal Sister City program; - the Sister Alliance of the County of Guamá in Cuba & Santa Cruz County; called "AGuaS", is part of a "citizen diplomacy" movement supported by the US-Cuba Sister Cities Association. Both local Congressmen; Senator & Representative, traveled to Cuba in the first delegation. The Cuban Sister Alliance is commemorated across the San Lorenzo River on the WomenRise Peace Pole in San Lorenzo City Park.
3 3) Eagle Monument & Friendship Garden
The Great War Eagle Monument is one of the older Santa Cruz landmarks, erected on Memorial Day 1928. The inscription reads "Dedicated to the soldiers and sailors of all wars by the County of Santa Cruz" The Monument stands in full sight of the historic Veteran's Building where the notorious "Wage Peace" Bill Motto Post 5888 has had its home since the '60s. Veteran action in this City is defined by these Vietnam Vets.

At the base of the Eagle Monument is a small plaza. Stand in the middle of the stonework pattern and speak; your voice will amplify in your head (that's a secret!). Also in this spot, you are standing by another Sister City installation; a collaborative Friendship Garden, thanks to Shingu, Japan.
4 4) CHOCOLATE (formerly 'So Say We')
CHOCOLATE is a Santa Cruz institution; the place to eat. Beginning life as 'So Say We'; "big time talent, big time food, and big time fun.." CHOCOLATE, you might say, is an evolved version of the original 'So Say We', with all of the character. Open from 11 to 11 daily, the décor includes suspended antique carousel horses akin to the ones that have galloped continuously on the Santa Cruz boardwalk since 1907.

When the movie Chocolat came to town, every movie go-er received a coupon for a free hot chocolate at CHOCOLATE. This isn't your regular cup of cocoa; this is single-origin El Rey cacao from Venezuela, combined in recipes that include variously; chipotle chili, fresh juiced ginger, organic cinnamon, cardamon, and coconut milk. CHOCOLATE is not just for the sweet-toothed; look for chicken 'mole' on the menu, and the rich color/taste of Tuscany in favorite brunch and dinner plates. Tuscany in Italy, you can read on the CHOCOLATE website, is one significant place where owner/chef sharpened his culinary skills.

David Jackman, CHOCOLATE owner, is the flamboyant director of local 'Seventh Sense Fashion Show'; an idiosyncratic and indescribable catwalk. For instance, Emily's Bakery Kiosk's actual baker was inspired to create and model for the 7th Sense catwalk, a costume made from her daily baking paper shapes that would normally be thrown away.

Website says next 7th Sense Show will be in 2039 and $75 tickets will be available from September 15, 2039. This information may or may not be real. Archived videos might be available for money.
5 5) Tom Scribner saw-player statue
The Tom Scribner Statue commemorates a Santa Cruz street musician; a saw- blade player who busked on the street through the '70s until he died in 1982. By all accounts, he wasn't the greatest musician but his very colorful character earned him a place in the public domain. He was a logger and, famously, a labor organizer with 'Industrial Workers of the World, known as "The Wobblies" (of which there is a 1979 documentary).

Thomas Jefferson Scribner was born in 1899. He played his saw blade on Pacific Garden Mall and anyone who engaged with him there got a download of his politics to boot. Bruce Bratton, another Santa Cruz character with opinion and attitude, has been passing comment on all things Santa Cruz since the 1950's. Bruce knew Tom Scribner back in the day. Bruce's Santa Cruz Guide from more than a decade ago, describes Tom Scribner as a 'scrapper'. Tom Scribner edited his own publication through the 1960's; The Redwood Ripsaw, out of a little office on the North shore.

The Tom Scribner statue was actually created some years before his death, in 1978, by Marghe McMahon. Watch the credits in Return of the Jedi, The Abyss and Death Becomes Her, and see Marghe's name now up in lights for her work in special effects.

POI: The stride between CHOCOLATE and Tom Scribner Statue, takes you between Emily's Bakery Kiosk and Bookshop Santa Cruz; both local independent businesses that have produced two Mayors for Santa Cruz City Council.
6 6) Loma Prieta Earthquake Memorials
The 1989 Loma Prieta Earthquake is the one that brought down the Bay Bridge in San Francisco. Santa Cruz was a mere 40 miles from the epicenter of the earthquake. The quake was a magnitude 7.1 with 45 significant aftershocks through the night that followed. The devastation for the City was focused downtown; in the architectural landmarks and aesthetics that defined Pacific Garden Mall. Actual fatalities numbered less than ten; "May their memory as a Beacon shine", reads the inscription on the Beacon Memorial.

Santa Cruz displaced retail district went under canvas and, amidst much contention about how it should be done, the dismantling and re-construction of downtown began. At the 20th Anniversary of the Earthquake, Wallace Baine, longtime reporter for the Santa Cruz Sentinel, earned the credit for "most-emailed" article when he wrote his piece about the rise and demise of "Pacific Garden Mall."

Close to the Earthquake Beacon is "Untitled Clevis #2", a cor-ten steel sculpture by Harold Moodie, chosen by community vote as part of memorializing the City's recovery. Check out the book; Fifteen Seconds: The Great California Earthquake of 1989: A Book to Benefit Earthquake Victims. This was published by The Tides Foundation non profit. In the spirit of Santa Cruz, you may wish to purchase this book at locally owned Bookshop Santa Cruz, rather than from Amazon.

POI: Loma Prieta earthquake monuments are located across the sidewalk from O'Neill's surf shop (local independent Jack O'Neill surf board/leash/wetsuit inventor).
7 7) Changing of the Guard statue
"Changing of the Guard" Statue(by Angelo Grova) at City Hall may strike you as fairly nondescript but it hearkens to and heralds the fundamental transformation of a Community. The statue was commissioned by the City of Santa Cruz and erected in 1984. The University of Santa Cruz (UCSC) was founded in 1965, and the National Voting Age came down to 18 in 1971. In those 20 years the counterculture alumni of the University re-shaped the vision and politics of Santa Cruz. The voting record of the City Council reflects this core shift, especially with regard to sustainability concerns and, sometimes, voting for the record, collective disquiet about Federal policies. Santa Cruz was the first City in the USA to officially oppose the war in Vietnam and, decades later, the first City to officially oppose the use of pre-emptive military force against another sovereign nation. A significant number of USA Cities followed suit in both cases.

POI: Walking from Pacific Ave to City Hall, you pass 'CRUZIO'; local independent internet provider since 1989 (& voted Best ISP in local reader polls every year since). CRUZIO grew big enough to take over what was known for a century and more as 'The Sentinel Building'. The Santa Cruz Sentinel newspaper, the only local daily since 1856, got purchased in 1982, then again.. then again. The new, remote owner moved the Sentinel out of its historic building and out of the downtown hub. It's a sign of the times that an internet provider has become a big downtown player, taking over that original newspaper building.
8 8) Nickelodeon Movie Theatre
The Nickelodeon, or 'The Nick' as it is known locally, is a sweet little independent movie theatre on Lincoln Street, appropriately described in one travel blog as the "art house". Owned & operated since 1992 by local resident Jim Schwenterley, offerings at "The Nick" will always include offbeat, independent and foreign movies. Creative specials includes Holiday fundraisers for local non profits; bring a can of food for Second Harvest Food Bank, for instance, and watch an old classic for free. Such events always draw a full-house and the atmosphere at these show-times is festive and fun.

The founder, Bill Raney, will tell you; The Nick began in Afghanistan, when a couple of 1960's 'beatniks' traveling the world in their VW bus finally gave birth to a idea worth coming home for. Their idea of a local independent movie theatre was a hit, but not before they learned the hard way that Santa Cruzans have very particular tastes; "Santa Cruz", Bill ruminates, "seemed to march to its own drummer. It liked far-out comedies and films about the arts. Musicians, dancers, actors, painters; Santa Cruz ate it up! Best of all were movies about crazies. I can't begin to count the times ("back by popular demand" of course, he said) we played KING OF HEARTS and HAROLD AND MAUDE, often on a double-bill and more often than not to packed house. Finally we had it figured; insanity is where it's at in Santa Cruz!"

Check out the forecourt for a couple of interesting characters who were invited to sink their hands into wet concrete for posterity.
9 9) Del Mar Movie Theatre
The historic Del Mar Movie Theatre on Pacific Avenue, originally opened in 1936, was purchased in 2002 by the owner of The Nick. Movie goers delight in its art deco charm & opulent splendor, comfy seats and real butter on the popcorn. The ambience of this theatre makes it a local's favorite for midnight movies. The Del Mar, like The Nick, has periodic collaborative fundraiser events for local non-profits.

The Del Mar in the 21st century has benefitted from the vibrant enterprise of 'Friends of Del Mar'. Their projects included uncovering/discovering original exquisite décor and restoring the very comfy seats. Speaking of seats; for a price, you could have your name and favorite movie enshrined on a little brass seat back plaque.

Schedule changes every Friday and Santa Cruz Del Mar has its own Facebook page.
10 10) Penguin statues
"The Boys of Summer" penguins populate the sidewalk along Pacific Avenue. There are 9 of these little chaps to espy as you make your way toward Santa Cruz Metro bus station, but they're not taking you to the bus; they are saying explicitly "This way to the beach!" You can see them, on the side walk on both sides of the street, comical and endearing, deliberately at kid's eye level.

The penguins in bronze by sculptor Michael McLaughlin are the first in a project called SculpTOUR, a collaborative vision of local Rotary Club and Downtown Association. SculpTOUR is being planned in stages and will eventually lead the happy meanderer the entire way from downtown to beach by installations such as these.
11 11) Metro Bus Station Mural
Santa Cruz Metro is a one-of-a-kind bus station; a true reflection of Santa Cruz City's ethos. In the waiting area there is a brightly colored tile mural "World Peace Begins With Human Dignity". The mural was gifted by Good Times; the local paper where nationally syndicated astrologer and Pronoia author, Rob Brezsny, got his beginnings.

On the central island of the Metro station is a gourmet coffee kiosk; Santa Cruz Coffee Roasting Company is proudly Fair Trade & organic. Bright evolving stories of their coffee-grower families are a hallmark of this thriving locally owned business. The Metro kiosk serves individually prepped drip coffee, as well as quality local baked goods.

On the Pacific Avenue side of the Metro the atmosphere is defined by classical music piped into street, waiting areas, and environs. This one innovation changed forever the intense hang-out scene that used to be par for the course for anyone entering the Metro.
12 12) The Mill Artisan Building
'The Mill' is an artisan building with a painting on its gable end; "The Nature of Santa Cruz". This is the work of the 'Young Artists studio'; a 'Shared Adventures' program for youth "with and without special needs". Shared Adventures is a local non profit that has orchestrated the annual 'Day On The Beach' for nigh on 20 years; an impressive event where an army of volunteers assist disabled children in every kind of intrepid watersport.

Among the businesses housed at The Mill is Firefly Fair Trade Café; a Cruzio wi-fi hotspot. Sample 'Larry's Famous Chai' (once exclusive only to the real Larry's café; White Raven, in Santa Cruz Mountain town of Felton). If you're lucky you may catch the counter person at Firefly scratch-baking between serving drinks. Regulars have their own mugs hanging on the wall awaiting their swift return. The cafe is open 5:30am to 10.30pm most days and, they will tell you "w/extended hours during midterms, finals, and parties!"

Also located in The Mill is Notorious Teaze; a cultural t-shirt hotspot, open most often late hours, befitting the double life of local rock band musician-cum-silkscreener. On 'First Fridays', a city-wide monthly occurrence, Notorious Teaze regularly offers a print-your-own slot from 5 to 9pm.
13 13) West Cliff Truss Bridge
The modern bridge over the train track was constructed in 2000 and designed specifically to preserve the original Southern Pacific Railroad wooden structure that dates back to 1918. The preservation efforts were all the more diligent because this is the site of the first wagon bridge, constructed in 1849; taking us all the way back to the original '49-ers' and the California Gold Rush.

The train track below is for real; trains from a bygone era still operate, courtesy of Roaring Camp. From the Santa Cruz mountains, down through the redwood trees, the train brings traffic to a halt on Highway 1, on track for the Santa Cruz Boardwalk where the carousel horses & Big Dipper have operated continuously since 1907. The train is a big draw all through Summer but it rolls out also in the winter holidays, all trimmed with festive lights befitting the season, causing a rare burst of joy from halted drivers as it clatters its way across the Highway and on to the sea.
14 14) Surfer Dude Statue
"..flowered wreaths pay homage to the statue of the surfer, his muscular figure beside a tall board—lord of the lighthouse, the perfect waves, and the fog creeping through the fallen cypress, pines and feathered grasses." (

These are the words of California professor, Karen Tei Yamashita, and

this is the 'surfer dude' statue on West Cliff.

Rob Wilson, another University of Santa Cruz (UCSC) professor, states categorically that this statue is not Hawaiian Olympic "father of surfing" Duke Kahanamoku, though it has been mis-identified on occasion as such. The Duke did surf here in one noted visit in the 1930s but he's got his own statue in Honolulu. Both statues though are regularly adorned with Hawaiian tropical flower leis and 19th century Hawaiians surfing in Santa Cruz is definitely key to the surfer craze beginnings in Santa Cruz.

In Rob Wilson's words; "Now you have arrived in surfer territory "….where sky meets the sea in Santa Cruz, this place of holy crossings" but still, the warm Hawaiian waters are categorically not replicated in the Monterey Bay and it took a certain amount of courage to surf in these freezing waters. The surfer dude statue; bare-chested and sporting only swim shorts, honors above all the men who first surfed here, and most readily conjures the title "Mayor of the Icy Waters", applied to one early days surfer but which could apply to all who were crazy enough to surf here in the pre-wetsuit era.

Next time you're in England, by the way, you can check out the full-size replicas of this statue out front of O'Neill's surfer shops; one on London's infamous Carnaby Street.
15 15) Surfing Museum Lighthouse
Lighthouse Point is home to the one-of-a-kind little Surfing Museum, inside the Mark Abbott Memorial Lighthouse. Note here, before you step through the door, that this place is your second Santa Cruz 'beacon' moment: "dedicated to all youth whose ideals are the beacons to the future".

Open year-round Thursday through Monday, Noon to 4: 00 PM, with longer hours in high summer, the surfing museum tells the story, especially through priceless archival photographs, of 100 years of surfing in Santa Cruz. Among the gems you will see depicted the O'Neill's (of both genders and well up in years), and you will learn that shark attacks in these waters are, in quotes, "quite rare".

As you exit the Museum, step forward to take in the Hawaiian-gifted commemorative plaque; The Royal Hawaiian sport of surfing, it says, "was first brought here by three Hawaiian Princes in the summer of 1885…" . The princes, in military school, got the local lumber yard to mill their longboards. Then off they went, riding the chill surf of the Monterey bay and Voila; the rest is history!

Lighthouse Point is where the Santa Cruz Morris Dancers dance up the sun every Spring at sunrise on May 1st. The rest of the year, locals and visitors alike show up at all hours for endlessly fascinating surfer-watching.
Walking Tours in Santa Cruz, California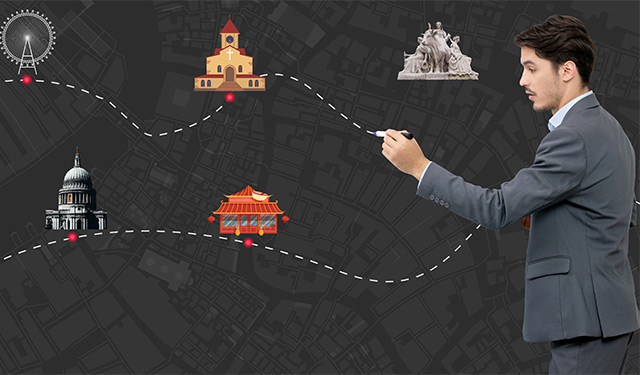 Creating your own self-guided walk in Santa Cruz is easy and fun. Choose the city attractions that you want to see and a walk route map will be created just for you. You can even set your hotel as the start point of the walk.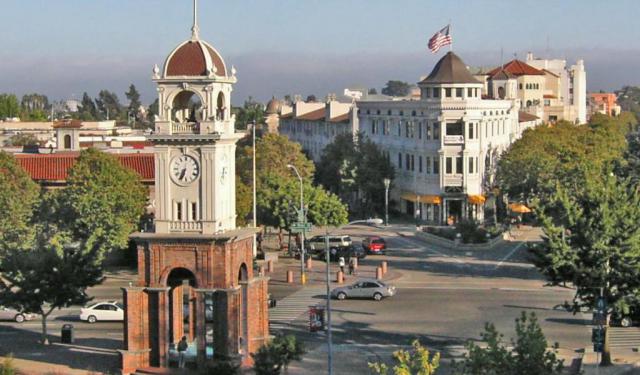 Santa Cruz dates back to the founding of Mission Santa Cruz, founded in 1791. The modern city's incorporation dates back to 1866, and some of the most popular industries were agriculture, lime mining, gunpowder manufacturing, and lumber.
In July 1885, three teenage Hawaiian princes took a break from their boarding school, St. Mathew's Hall in San Mateo, and came to cool off in Santa...
view more
Tour Duration:
1 Hour(s)
Travel Distance:
2.8 Km or 1.7 Miles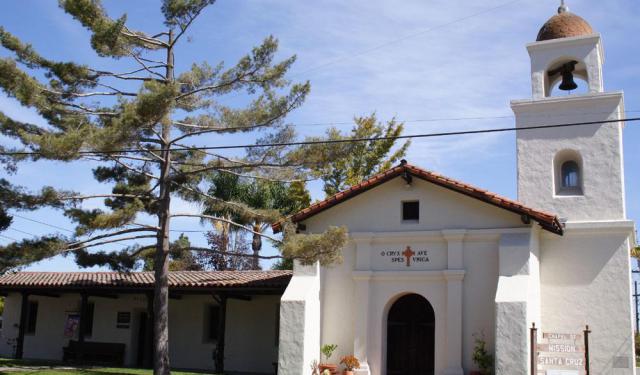 Apart from surfboard-filled shores, Santa Cruz is also rich in history reflected in the old buildings listed on the National Register of Historic Places. While none of Santa Cruz's historic architecture sprang up overnight, a great deal of it was lost, or severely damaged, in a single go on October 17, 1989 as a result of the Loma Prieta earthquake. Still, some of the historic buildings have...
view more
Tour Duration:
2 Hour(s)
Travel Distance:
2.8 Km or 1.7 Miles