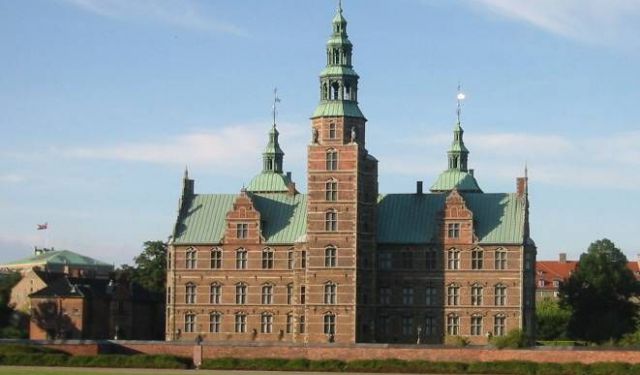 Renaissance Copenhagen, Copenhagen, Denmark (A)
Explore the architecture of Denmark's most well-known monarch, the 'builder king' Christian 4th (1588-1648). This easy four-and-half-mile city walk takes you around some of Copenhagen's best examples of 16th and 17th-century architecture, and offers a fascinating insight into the imagination of one of Scandinavia's most ambitious rulers.
This article is featured in the app "GPSmyCity: Walks in 1K+ Cities" on
iTunes App Store
and
Google Play
. You can download the app to your mobile device to read the article offline and create a self-guided walking tour to visit the attractions featured in this article. The app turns your mobile device into a personal tour guide and it works offline, so no data plan is needed when traveling abroad.
Walk Route
Guide Name:
Renaissance Copenhagen
Guide Location:
Denmark » Copenhagen
Guide Type:
Self-guided Walking Tour (Article (A))
# of Attractions:
11
Tour Duration:
2.0 Hour(s)
Travel Distance:
6.3 Km or 3.9 Miles
Author:
Jane Graham
Author Bio:
Jane Graham relocated from her native northern England to Copenhagen in 2000 and is an expert on the city's culture and history. On her own or with her family, she has spent many hours exploring the city's streets and continues to find it a fascinating city. A freelance travel writer, her regular blogs about Copenhagen are as entertaining as they are informative.
Sight(s) Featured in This Guide:
Kastellet
Nyboder
Rosenborg Slot
Trinitatis Kirke
Caritas Springvandet
Christian IV's Bryghus
Tøjhusmuseet
Provianthuset
Børsen
Holmens Kirke
Christianshavn
1 1) Kastellet
Kastellet, or 'The Citadel' was built as part of Copenhagen's embankments by Christian IV from 1624, though it wasn't finished until his successor, Frederik III had taken the throne. One of best preserved fortifications in Northern Europe, Kastellet is built in the shape of a pentagram and consists of five bastions: the king's bastion, the queen's bastion, the count's, the princess's and the prince's, as well as three ravelins and two counter guards.

The main entrance is through the Kongeporten or King's gate that was built in Dutch baroque style in 1634. It is free to enter and open every day, though visitors are asked to observe a number of rules, including keeping off the grassy areas, as the complex is still owned by the Danish armed forces—and many of the buildings are not open to the public. Kastellet has its own church and a windmill, dating from 1847.

Kastellet has helped to defend Copenhagen twice in its almost 400-year history: first under the English bombardment of 1807 and again during Germany's Nazi invasion in 1940. It was used as a German prison during the subsequent occupation. The disgraced Royal physician J.F. Struensee spent 3 months imprisoned here in 1772 for treason whilst awaiting his execution; and the English explorer and pirate John Norcross was incarcerated here for 32 years, 16 of them spent locked in a wooden cage.
2) Nyboder
The yellow-painted, one and two-storey terraced houses of Nyboder are found in an area bordered by Sølvgade on one side and Østerport on the other. Built on the orders of Christian IV to house naval officers and their families, they are unlike any other buildings in the area, and while they may not seem like much by today's standards, the idea of offering basic housing for the family of military personnel was very radical for its time – both in design and purpose. The complex comprises around 200 houses, each about 40 sq metres in size with three private living rooms and a kitchen shared with the house next door in the back-to-back terraced style common in England. They weren't originally yellow, but were painted in the Danish national colours of red and white. The rather whimsical street names include the names of herbs and exotic animals, for example Elephant st and crocodile street, and are painted onto the walls.

While Nyboder has on numerous occasions been sold off for demolition, it was declared a protected site in 1944. The quarter's local museum, Nyboder mindestuer at Skt. Paulsgade 24 displays a typical Nyboder house anno 1900, and is open to the public on Sunday only between 11am and 2pm, with a 15kr entrance fee.
Image Courtesy of Hans Andersen.
3) Rosenborg Slot
Although now located well within the city center area, Rosenborg Palace was originally built as Christian IV's summer residence. Christian's other castles were either too old and forbidding (Christiansborg) or too far away from Copenhagen (Frederiksborg Castle), and Rosenborg was thus ordered to be built in the King's favorite Dutch Renaissance style. Like many wealthy men and their homes, Christian just couldn't stop building upwards, adding another floor to the original two-storey building along with other extensions between 1613 and 1624, including the spire-crowned towers.

Rosenborg was used as Royal residence until 1710, after which it housed the Royal collections, making it one of the world's earliest museums. It has been lived in by the Royal family twice since, both times being emergencies: once after Christiansborg Palace burned down in 1794 and again during 1801's British bombardment of Copenhagen.

Today, it is mainly visited for its popular grounds, Kongens Have or the Kings Gardens, as well as the Crown Jewels, which can be found in the castle treasury located in the heavily-guarded basement.

Also worth visiting are the marble hall, the Rosen Antechamber, the Long Hall and Christian IV's bedroom.

There is also the Winter Room, where it is believed the King sat and listened to musicians playing in the freezing basement below, aided by special connecting 'speaking tubes'.

Rosenborg is open daily from 11am-4pm and from 10pm to 5pm from June to August, though it is closed on Mondays fom November to April. Entry costs 75kr for adults and is free to students, over 65s and children.
Image Courtesy of Thue.
4) Trinitatis Kirke
Trinitatis Kirke, or Trinitatis Church, is found next door to the Round Tower and is in fact part of the same Trinitatis complex, designed to combine a place of worship with a library and observatory for students and professors at the nearby university. It is possible to have a peek at the church's interior through the glass panel at the foot of the Round Tower, should it not be open when you visit, though the church's actual entrance is located around the corner on Pilestræde. Although the church was commissioned during the reign of Christian IV in 1637, it was not actually completed until Christian's successor Frederik III came to the throne and was inaugurated in 1656.

Along with a large portion of the city's other medieval and renaissance buildings, the original interior of Trinitatis Church was destroyed by the great fire of Copenhagen in 1728. It was rebuilt in 1731: If you get a chance to look inside, check out the dark-wood pulpit in the elaborate baroque style as well as the lavish gold and silver-colored organ. The public are welcome to visit every day from 9.30am until 4.30pm.
Image Courtesy of Ib Rasmussen.
5 5) Caritas Springvandet
One of the oldest statues in Copenhagen, 'the Charity Fountain' or Caritas Springvandet dates from 1608 and is located right in the heart of the city, on Gammeltorv Square on the walking street, Strøget. The elaborate renaissance fountain sits over the last surviving well in Denmark from this era. Although water no longer runs under the fountain, there remains a 20-foot deep hole. The statue displays a number of figures symbolizing the theme of charity, carved by the German sculptor Statius Otto and later cast into bronze by Danish craftsman Peter Hoffmann.

Note the trio of dolphins merrily spurting water into the fountain; these were added much later, in 1890. The so-called 'golden apples' - actually copper balls coated with 24-carat gold – can be seen 'leaping' on two different days of the year: these are the Queen of Denmark Dronning Margrethe's birthday, April sixteenth, and Denmark's constitution day, June fifth.
6 6) Christian IV's Bryghus
Christian IV's Bryghus, also known as Kongens Bryghus, is the oldest brewery building in Denmark. The first mention of a Royal brewery is in 1454, in connection to the nearby Absalon castle, but the Slotshomen brewery still standing today was built in 1618 out of one of the old bastions, to be used as a brewery for the next 150 years. After a fire in 1767 a new brewery was built next to Langebro Bridge; this burnt to the ground in 1960. The original building was then taken over by the Navy and even later by the army; today, it is part of the Royal Danish Armories and is not open to the public.
7 7) Tøjhusmuseet
Tøjhusmuseet is the name given to the Royal Danish Arsenal Museum. Housed in the original arsenal it dates from 1604, when it was built on the orders of Christian IV to store the Danish army and navy's cannons and hand weapons.

At a little over 500-foot long the arsenal hall, where the cannons are exhibited, is believed to be the longest renaissance hall in Europe, while the collection of weapons here is one of the most extensive in the world, with around 8 thousand hand weapons and 300 cannons on display.

The arsenal museum is closed on Mondays and open all other days of the week between noon and 4pm. Entry price is 30 Danish kroner, and free for under 18s as well as to everyone on Wednesdays.
8 8) Provianthuset
Across from the Tøjhusmuseet in an almost identical building, Provianthuset (sometimes referred to as 'Proviantgården')was built in 1603 as a supply depot as part of Christian IV's transformation of Slotsholmen island into a naval yard. It has burnt down three times, in 1626, 1719 and 1992, and all that remains from Christian IV's era is its formidable brick facade. Today, it houses state archives and parliamentary offices and is not open to the public except by special invitation: Note that it is referred to on Slotsholmen maps as 'Rigsarkivet', though the name Provianthuset is visible carved above the door. While you're here, take some time to enjoy the calming atmosphere of the Royal Library Gardens between Provianthuset and Tøjhusmuseet: It was once a small harbor where ships could dock, but was abandoned and filled up between 1867 and 1868.
9 9) Børsen
The grand old stock exchange building, with its famous dragon spire, was built between 1620 and 1624 in Dutch Renaissance style by the Belgian architect Hans Steenwinckel the younger. Originally a simple market hall on two levels (the lower floor was used for storage, while booths and offices were located above), Børsen grew ever grander as the decade progressed. Under the king's supervision, an impressive entrance ramp was added and the building gradually transformed from simple market place to majestic trading house—a kind of shopping mall of its time. The famous spire was designed by Royal firework maker Ludvig Heidtriger and added in 1625. On the advice of the King, it was composed of four interwoven dragon tails. In 1775, after fears the heavy spire would fall down, it was removed and remade exactly as before.

A substantial part of the original lead roof of the stock exchange building was removed and melted down for ammo during the Swedish seige of Copenhagen 1658-9. It was rebuilt in 1883 with the copper roof it has today.

A group of unemployed anarchists stormed Børsen in 1918, armed with clubs and attacking the stockbrokers. The stock exchange ran from here right up until 1974, making it the world's oldest stock exchange building in use at the time. It now houses the offices of the Danish Chamber of Commerce and is not open to the public.
10 10) Holmens Kirke
The church of Holmens Kirke was built originally for seafaring men and remains attached to the Danish Navy. A former anchor forge dating from 1563, it was converted into a small church in 1619 by Christian IV to serve the naval officers and their families living in the nearby Nyboder houses. Additions to the church were made in 1641, expanding the building into a more typical cruciform church design. Its heavy, large spire has caused many problems over the years, and meant that the wooden roof has had to be reinforced several times to avoid a complete collapse, eventually being replaced with an iron one in 1930. Avoiding the great fires that ravaged through Copenhagen in the 1700s, the bulk of the church's interior dates from the 1600s, although the facade dates mainly from a renovation in 1872.

National naval heroes Niels Juel and Peter Tordenskjold are buried in the cemetery. The Queen of Denmark, Margrethe II, was christened here in 1940 and married Prince Henrik in 1967; the new twins of Crown Prince Couple Mary and Frederik are also expected to be christened here in spring 2011.
11 11) Christianshavn
This picturesque Copenhagen district is characterized by its canals and bridges and the brightly painted old houses clustered around them, and is the closest Christian IV ever got to realizing his dream of building a model town. Built during the years 1617 and 1622 to house naval yard workers, it is accessed via the Knippelsbro Bridge from downtown Copenhagen and is now one of the most exclusive neighborhoods in the city. Christian IV invited Dutch engineers to carry out the work, which is probably one of the reasons why this area of the city seems so reminiscent of Amsterdam. Check out Sankt Annæ Gade numbers 28, 30 & 32 – some of the best preserved houses in the area, dating from 1630.
Walking Tours in Copenhagen, Denmark
Useful Travel Guides for Planning Your Trip
--- Copenhagen Shopping: 16 Distinctively Denmark Things to Buy
Denmark is renowned for simple, industrial and functional design, as well as bohemian and everyday fashion-wear for the individual urban living. The capital Copenhagen, home to Copenhagen Fashion Week twice a year and biannual INDEX: Design to Improve Life - the world's biggest design awards, is...