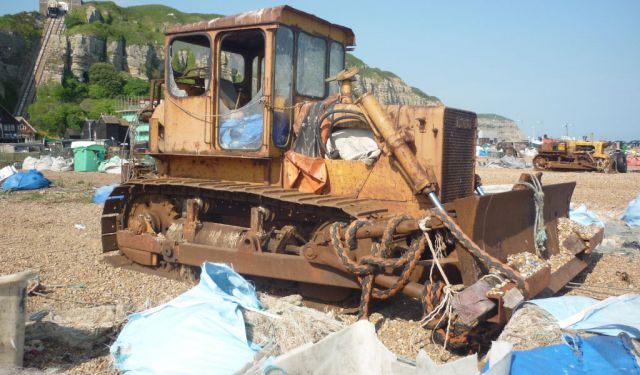 Smugglers, Pubs & The Sea, Hastings, England (A)
Hastings is known for its smuggling connections. In the 18th Century, almost everybody here was involved in it, whether purchasing untaxed goods, smuggling them or working against the smugglers. This guide will take you on a journey of smuggling, beer, and the town's ties with the sea..
How it works:
The full article is featured in the app "GPSmyCity: Walks in 1K+ Cities" on
iTunes App Store
and
Google Play Store
. Download the app to your mobile device to read the article offline and create a self-guided walking tour to visit the sights featured in this article. The app's navigation functions guide you from one sight to the next. The app works offline, so no data plan is needed when traveling abroad.
Sights Featured in This Article
Guide Name:
Smugglers, Pubs & The Sea
Guide Location:
England » Hastings
Guide Type:
Self-guided Walking Tour (Article (A))
# of Attractions:
8
Tour Duration:
4.0 Hour(s)
Travel Distance:
2.2 Km or 1.4 Miles
Author:
Barnaby Davies
Author Bio:
Barnaby has had articles published in various magazines, including gonomad, theexpeditioner and bootsnall.com. He also contributes regularly to UK print magazine, "Trucking". In the summers, he works as rock and roll crew for European stadium tours, and works other times as a freelance trombonist. Happiest as far from a television as possible, he continues to engage in that simple pleasure of exploring by foot.
Author Website:
http://www.barnabywrites.com
Sight(s) Featured in This Guide:
West Hill Railway
Smugglers Adventure Caves
First In Last Out
The Stag Inn
Net Shops
The Fishermen's Museum
Blue Reef Aquarium
Boats on a Working Beach
1 1) West Hill Railway
The West Hill is littered with smuggling caves and tunnels. So what better way to start our adventure than with a funicular railway that cuts through a tunnel, made partly from a natural cave. The West Hill Lift opened in 1871, originally fuelled using a gas engine. Nowadays, electricity powers the carriage up the steep gradient for over 100 metres of track.

This feat of engineering, designed for Victorian tourists, brings us up to a superb view of Hastings Old Town. Look to the left of the fishing boats moored on the beach and you will see the more famous sister railway: the East Hill Lift. Gaze over the English Channel for a moment, and picture bloodthirsty Normans landing their ships here in 1066, the last time that England was successfully invaded.
2 2) Smugglers Adventure Caves
In 1825, a man named Joseph Golding was working in a garden around where you're standing…when something a little unexpected happened: the ground collapsed before him, he peered into the darkness…and discovered what are now called the Smugglers Adventure Caves. Wait for the green light and enter Monk's Walk, a gloomy slope down into the very heart of the West Hill.

Now why was smuggling so popular between 1700 and 1830? Well, with England regularly at war, import taxes soared. Even a simple cup of tea cost a fortune if bought legally. Smugglers could make 800% profit, and still offer a better price than taxed tea. Consequently, even the most upstanding citizen became involved in the industry. Well over a thousand tonnes of tea was smuggled between 1781-84, and some of it was probably stored in these very caves.

In amongst the interactive displays, where you can work a pulley, Thump the Revenue Men or try and hide barrels of illicit goods, you can learn of the murder and mayhem that came with the job of smuggling. Evading Dragoon Officers and Cruiser Commanders led to bloody battles aplenty. After contraband goods were unloaded onto the beach at night, they were distributed to houses with false floors, church vaults, pub cellars…and, of course, these caves. As you'll hear from the ghost of Hairy Jack down here, "Dead Men Tell No Tales".
3 3) First In Last Out
One place that won't be selling smuggled alcohol is the First In Last Out pub – they brew their own beer on the premises. Here, we go back in time, to pint glasses with handles, a roaring fire in the winter and some good old-fashioned stories. Notice a window near the end of the bar? Look through it to see the brewing tanks surrounded by pipes and kegs.

Ask Mike or Tony to explain the workings of this 5-barrel microbrewery, while you sip a pint of home-brewed Crofters, Ginger Tom or Mike's Mild. These beers can be fermented and in the pumps in just 3 weeks…and each 1440-pint batch is drunk well within its shelf life! The occasional barrel goes to a beer festival, but otherwise everything that is brewed here is drunk here. This is the place in Hastings to drink British real ale. They also offer excellent lunches, and souvenirs such as playing cards, mugs and polo shirts.
4 4) The Stag Inn
I hope you didn't have too much beer in that last pub, because now we're popping in to the oldest pub still open in Hastings, the Stag Inn. The date we're offered by the bar staff is 1547, though this is only a guess. Regardless, it is a beautiful pub with whitewashed walls, old oak beams and inglenook fireplaces. And it was almost certainly a haunt for smugglers. As mentioned earlier, pub cellars were notoriously used in the smuggling world, and there is a suspicious hole in the wall downstairs – perhaps a tunnel to the vault of the nearby All Saints Church.

This pub, serving locally sourced food and a good selection of ales, is also a great place for live music during the week. From Mon-Thurs there is always something happening, from folk to shanty singing as well as regular quizzes. But the pub has a spooky past: Ouija boards have been used here, and 79 spirits are said to dwell in the building. Check out the 2 mummified cats and the rat in the display cabinet above the fireplace in the first room. The story goes that a local witch patrolled the skies on a broomstick with her 2 cats as pillion passengers… Well, I'll let you find out the rest for yourself. There is a red folder on a table near the bar giving you a detailed history of the pub.
5 5) Net Shops
These distinctive, black Net Shops are unique to Hastings. They're still used today to store fishing equipment not currently being used. Take a peek at the Net Shop nearest to the Fishermen's Museum and you'll see how they look inside, with examples of stored gear, and a ladder at the side that leads to the second and third storeys.

You may wonder why the buildings are so tall and narrow. That's because the beach was smaller when their predecessors were built in early Victorian times. The sea was closer then, and the land tax was high so they were built upwards instead of outwards. In the 1870s, there were well over 100 of these Net Shops.

Also next to the museum, you'll see Half Sovereign Cottage, an upturned boat hull cut clean in half. Sometimes, the law-enforcing Preventive Men "sawed boats asunder" like this in their efforts to look for hidden goods. Some of the confiscated, sawn-up boats were then used to make houses on the beach.

Just to your right is the fishing boat 'Edward and Mary', the first fishing boat in Hastings to be built with an engine. Can you imagine those days before 1919 when the seas were braved using only sails and oars?
6 6) The Fishermen's Museum
Inside The Fishermen's Museum is an even older boat, the 'Enterprise', built in 1912. This is a great example of how to fit a ship into a bottle, or in this case a museum. She was actually brought into this former mission church by knocking down a sizeable section of the southern wall and then rebuilding it! Surrounding this old lugger are some lovely black and white photos of wrinkled fishermen, bearded and burned by the sun.

At the Enterprise's bow is what's called a capstan. This is a thick wooden post that would have been fixed to both a horse and a fishing vessel. The horse walked around the post, which helped to winch boats up the pebbles to safety. Nowadays, motor-driven winches are used, housed in sheds along the beach. We'll take a look over there in a minute.

If you are lucky enough, you'll catch Mick Barrow in the museum. He owns one of the Net Shops next door and knows everything there is to know about the fishing industry of Hastings. Now retired, he is happy to answer any questions you may have.

There is no fee to enter the museum but please make a donation. And do take a quick look in the back room where you can read about the differences between trawling and netting, scalloping and potting, and to learn how the 'beach boys' of today operate.
7 7) Blue Reef Aquarium
The Blue Reef Aquarium is the sister attraction to the Smugglers Adventure Caves. Feeding displays and informative talks take place throughout the day, and you can come and go as you please – they stamp your hand on entry. Look out for the electric eel and the huge, powerful angel shark at feeding time. And laugh at the rays that tread water, looking like toothless old humans, and splashing you with a funny, butterfly-like swimming stroke.

From anemones to zebra fish, there is something for everyone here. Plus all sorts of quirky marine facts: find out whether lobsters are left- or right-handed, how many babies a male seahorse can squirt from his pouch, and just how fast a 700kg Bluefin tuna can swim. You'll also learn about the most poisonous amphibian, and, at the Toxic Tank, what the difference is between venomous, toxic and poisonous creatures.
8 8) Boats on a Working Beach
You are now on a working beach. Unlike other fishing towns, Hastings no longer has a natural harbour. In 1287 the Great Storm blew in, filling the water with silt. Since then, the boats have had to park on the beach. In fact, Hastings has the largest beach-based fishing fleet in Britain. You'll pass weather-beaten sheds that contain the winches, and you'll notice plenty of rusting yellow bulldozers. Though they look as dead as dodos, these vehicles are actually very much alive, and they're used to push the boats into the sea.

Fishing doesn't follow a fixed timetable: the men leave or arrive at various times, depending on the time of year and whether they're netting or night trawling. Just ask one of the workers in this area when a boat is due in or out, or nip back to one of the fish stalls on Rock-a-Nore Road and ask there.

In the meantime, you'll notice building bags full of stored nets; lobster posts, slack winch cables; and, more than likely, bits of dead fish. See if you can spot an old, clinker built wooden boat – they are gradually being replaced by steel and fibreglass. And once they're gone they're gone. Painted on the vessels is RX, which stands for Rye, our nearest proper harbour.