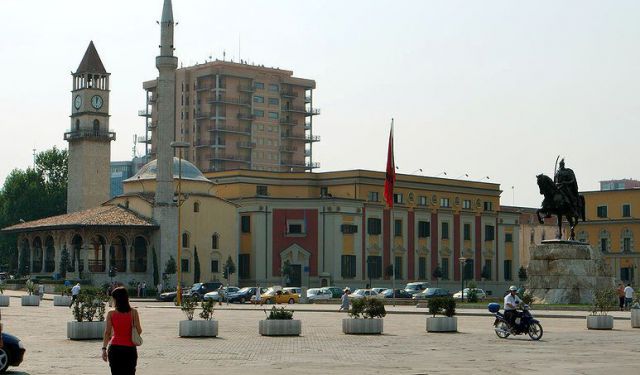 The streets of Tirana., Tirana, Albania (A)
This is my walking tour of Tirana, Albania. My name is Hamzah. I will take you to 12 interesting sites in Tirana. Most of the sites on this tour will show you places you would probably not normally see in a standard travel brochure. As you travel from one site to another you will be able to experience the real Tirana from the inside. So the coolest thing about this tour is not just the sites themselves, but the sites between the sites.
How it works:
The full article is featured in the app "GPSmyCity: Walks in 1K+ Cities" on
iTunes App Store
and
Google Play Store
. Download the app to your mobile device to read the article offline and create a self-guided walking tour to visit the sights featured in this article. The app's navigation functions guide you from one sight to the next. The app works offline, so no data plan is needed when traveling abroad.
Sights Featured in This Article
Guide Name:
The streets of Tirana.
Guide Location:
Albania » Tirana
Guide Type:
Self-guided Walking Tour (Article (A))
# of Attractions:
12
Tour Duration:
3.0 Hour(s)
Travel Distance:
8.8 Km or 5.5 Miles
Author:
Hamzah Hoaglin
Author Bio:
My name is Hamzah, I'm an American citizen from the St. Louis, Missouri area. I love history, religion, food, and travelling to places off the beaten path.
Sight(s) Featured in This Guide:
Xhamia Ethem Bej
Kulla e Sahatit (Tirana Clock Tower)
Xhamia Dine Hoxha
National Museum
Tirana International Hotel
Medreseja e Tiranes
Pazar i ri (New Bazaar)
Tomb of Kaplan Pasha
Stefan Center
Pyramid of Enver Hoxha
Mother Theresa Square
Lake Tirana
1 1) Xhamia Ethem Bej
Let's get started in Skenderbeg square. If you look around you should see a statue of Skenderbeg on a horse, a mosque, the international hotel, the museum and across the street a bunch of random dudes selling cellphones and various whatnots to passersby. If you see all these things you can relax, you're in the right place. At present you will see a lot of construction in this area. The square is under renovation by a partnership between Albania and the government of Kuwait. This is designed to beautify the area and make it more befitting of the main square of a capitol city. There are some signs around that show what the square will look like once renovations are complete.

Now let's start off at the mosque. The name of this mosque is Xhamia Ethem Bej. The word Xhamia means "Mosque" in Albanian. Albania was an important part of the Turkish Empire for over 500 years. Part of the legacy of this time is that the majority of Albanians are Muslims and you'll see a lot of Turkish and Turkish inspired architecture, and elements of Turkish culture such as the food and bazaars. You'll also see a lot of Turkish businesses and tourists as well.

When you walk up to the Xhamia Ethem Bej, it's pretty easy to see that it's a fairly old mosque. Construction started in the 1790's and was finished in 1800. I think the builder was a guy named Ethem Bej who was a bigshot in Tirana at the time. Many photos and souvenirs of Tirana will feature this mosque. It's a small mosque but it's arguably the most important existing mosque in Albania. On Fridays it is normal to see many people praying outside the mosque due to the Ethem Bej's small size. In Bajram, the Muslim holiday at the end of Ramadhan, traffic around the square has to be blocked off because of thousands of people praying in the street. This has led to much discussion about the need of a "supermosque" near the city center. You will probably also see a lot of people outside the mosque selling religious books, perfumes, and various Islamic items. The items may cost a few leke but the conversation is free of charge. These people love to talk and debate religious issues.

The mosque is fully functioning with prayers 5 times per day. But it is open to visitors between prayers. There are some nice murals inside the mosque that show a slice of life in Albania at the time the mosque was built. The minbar (pulpit) is made of wood and is wonderfully crafted and finished. For me, walking in there and just standing where so much history has gone down is pretty cool. It's one of those "if walls could talk..." places.

I have seen many small groups and individual tourists entering and taking pictures. If you decide to go inside, just remember to keep it quiet and respectful because there may be people praying even if it's not prayer time.
2 2) Kulla e Sahatit (Tirana Clock Tower)
If you're standing at Xhamia Ethem Bej, you can't miss the Clock Tower. It's literally a few steps to the left of the mosque. It was built around 1822 by Ethem Bej, the same guy who built the mosque. Like Xhamia Ethem Bej, it is featured in many photos and souvenirs of Tirana. During World War 2 Albania was occupied by the Italians and then the Germans. I've heard the clock tower was damaged in fighting between the Germans and Communist partisans but was repaired after the war. The clock tower was again refurbished in February 2010 by a partnership between the US and Albania. There is a marble plaque commemorating this event as well as a small office providing information about the tower.
3 3) Xhamia Dine Hoxha
Ethem Bej might be the oldest existing mosque in Tirana, but Dine Hoxha is the largest. It was built around 1913 and was officially named Xhamia Haxhi Hafiz Dashi, but because the man who donated the land was called Dine Hoxha, the mosque came to be popularly known as "Xhamia Dine Hoxha". There is a small plaque on the front of the mosque explaining this. It is 3 stories tall, has separate entrances and prayer rooms for men and women, a nice collection of books, one minaret and a shiny dome. The mosque has been expanded and refurbished several times, last Ramadhan some new sliding glass doors were put on the front and it got a new paint job as well. During the Communist times when public worship was outlawed, Dine Hoxha was used as a warehouse to store floats and things used for state parades.

Dine Hoxha is easily within walking distance of Skenderbeg square, it's about 6 blocks away on Kavaja Street (Rruga Kavajes). You can take a bus if you choose, but for me I'd rather just walk than stand on the crowded buses of Tirana which 90% of the time are standing room only and literally shoulder to shoulder.

You can take pictures of the outside of the mosque, but if you want to take pictures inside you may want to tell someone outside the mosque what you want just to avoid any confusion. The Hoxha of the mosque is Ahmed Kalaja, he is famous throughout the Albanian community which includes Kosova, Macedonia and Montenegro. He doesn't speak much English but he is very friendly and if he sees you and is not very busy, he will almost definitely walk up and greet you.

As with Xhamia Ethem Bej, you will see a horde of merchants outside the mosque plying their trade and talking. The selection of perfumes here is second to none, I recommend "Egyptian Musk". There are also some good coffee bars nearby, namely "Princ" which is right next door and "Kafe Dine Hoxha" which is across the street down the alley. I usually hang out at Princ, but both are good. Kafe Dine Hoxha has internet (it costs like 100 leke or 1 dollar per hour) and the Hoxha hangs out there but all my friends go to Princ. If you go to Princ and you're feeling generous, ask for Ejubi and buy him a coffee for me. A coffee costs 50 leke or about 50 cents US. Across the alley from Kafe Dine Hoxha there is a pretty decent restaurant that sells traditional Albanian food.
4) National Museum
For me, this place is a must see. If you're standing in front of Ethem Bej, just turn in the opposite direction and you'll see the museum. It's a large building with a big mural on the front. I don't remember the price, I think they might have actually let me in for free. Regardless, I imagine it's pretty cheap.

Inside the museum, you will see tons of artifacts from Albanian history, from the times of ancient Greece to present. Albania is rich with history, they had their ancestral Illirian tribes, the coastal areas were for a time colonies of ancient Greece and the nation as a whole was part of the Roman and then Byzantine Empire for many centuries and then of course you have the Turkish Empire. So you can imagine all the interesting things you will see in the museum. I think you history buffs out there will really dig this place. There is a helmet and sword of Skenderbeg on display. The helmet is pretty unique, it has the skull of a goat mounted on it. I mentioned it to some friends and was told that they are actually replicas and that the originals are actually at the museum in Vienna. I'm not sure if this story is true or not and I didn't ask at the museum. They also have quite a few artifacts from the Turkish Empire and a replica of the inside of a prison cell from the Communist era. The national museum is really worth visiting. I don't think you'll be disappointed.

On a side note, if you're into museums, they also have a museum in the city of Durres that you should hit up if you're into history. That museum focuses more on the Illirian, Greek and Roman history. They have a statue of Gaia, the mother of the Titans in Greek mythology. The guy at the museum told me it is one of a kind. Unfortunately it is headless, had the head been intact I believe it may have been the find of the century as far as ancient Greek archaeology is concerned. You can catch a bus, minibus or train to Durres with no problem either from the square, bus station or train station. Strangely the buses are much faster than the train. The train is a bit old fashioned and painfully slow. Unless of course you want a slow ride through the Albanian countryside, then by all means take the train.
Image Courtesy of Edi-9/11.
5 5) Tirana International Hotel
While we are still in the the square, I should mention the Tirana International, which is the tall building across the street to the right of the Museum. This is where the heavy hitters and VIPs stay when they come to Tirana. I've never stayed the night there as the rates are a little high for the average budget traveler/backpacker, but I have been to the lobby for a look around. There is a restaurant, conference rooms, an information desk, all the accoutrements of a modern hotel in the capitol of a European country. English is also widely spoken here by the employees. This might come in handy if you don't speak Albanian, as finding a fluent English speaker on the streets of Tirana is somewhat rare.

If you have money to burn or you just want to splurge and enjoy the high life and you decide to stay here, drop me line afterwards and tell me how it was. But If you're looking for a place to stay in Tirana there are many choices. There are hotels everywhere, there is also a backpacker hostel on Elbassan street (Rruga Elbassanit) towards the US embassy from the square. The average hotel in downtown Tirana costs about $30 per night. You can find cheaper and more expensive. Just look around and explore, you can also try one of Tirana's suburbs like Kombinat or Kashar, where you can find a cheaper place but you'll be in for a long walk or a bus ride when you want to go into Tirana.
6) Medreseja e Tiranes
I know what some of you are saying. "Damn Hamzah, why all the religious places?" LOL. You have a point, but there are a couple reasons for this. One, this is middle Albania which is like the "Quran belt" of Albania. You can't be in Tirana without at least mentioning it. I also feel as a Muslim that not many people know about Islam in Southeast Europe, so many people think that Islam is a religion that exists only in the Middle East or North Africa. So I would just like to debunk this stereotype and also show the positive nature of Islam. Also it gives you the chance to walk the streets of Tirana and go to where the "average Joes" of Tirana are. I don't like these cookie cutter travel guides that only hit the well known areas and avoid the common people.

This is Tirana's Islamic school. Tirana's bright young minds (male and female) go here for a religious education. The madrasa also has a mosque and minaret which like all mosques are open to the public. I've been in there because I have a buddy who lives across the street from it. It's a nice place, the mosque itself is small and has kind of a new feel to it, but it has some really sweet blue Arabic calligraphy on white tile that would make a nice picture. There is also a statue of the founder of the madrasa in front of the building. I think he was Turkish but I'm not 100% sure on that, I think there is a plaque on the statue that tells about him.

The madrasa is in a residential neighborhood so this gives you a good excuse to really see the day to day life in Tirana. There is a bazaar nearby and also Tirana's version of "Chinatown" is basically in this neighborhood. You might be surprised to see a few blocks full of Chinese shops, restaurants and people running around the area. If you get a chance, snap a few pics of Chinatown because I think a lot of people don't realize they have Chinese people in Albania and I don't think I've ever seen a pic of it online.
Image Courtesy of goldenboy883.
7 7) Pazar i ri (New Bazaar)
At one time there was an old Turkish style Bazaar in Tirana, but unfortunately it was destroyed by the state during the Communist era because it was seen as old fashioned. The regime wanted to replace old manners with new manners. The area of the old bazaar is now a park located behind the palace of culture.

However, not too far from the site of the old bazaar is "Pazar i ri", the new bazaar. Mostly you will find food there. They have every kind of food you can imagine and it's all fresh. They have fish, cheese, fruit, you name it. If they can grow it or catch it in Albania, you'll find it there. It's best to go in the morning when all the merchants are still there and the food is freshest. You can definitely get a good deal here, especially if you're looking for something to eat.

This is actually not my favorite bazaar. I just mentioned Pazar i ri basically because people are always talking about it and because they have really good food. My favorite is actually Pazar i Çameve, which is one block up from Dine Xoxha going towards the square and across the street. If you go down that alley they will have blocks and blocks of stuff for sale. They don't have as much food as Pazar i ri by a long-shot, but they have everything else you can imagine. Cellphones, electronics, health and beauty products, tools, household goods, T-shirts, clothes, you name it they got it.

While we talking bazaars, if you go one block down from Dine Hoxha (away from the square) and turn right, you will run into a "gypsy market". All the merchants here are Rom people (commonly known as gypsies in much of the world). They exclusively sell clothes and shoes, mostly second hand. The newer the item the higher the price. I seen some fairly new Nikes there for around 3000 leke or about $30. For me this is kinda pricey when you can buy some sandals in the bazaar for way less. But it's up to you. But I would recommend hitting up the gypsy market at least once, if anything just to see the women and their colorful dresses. The gypsies here are also always laughing and having a good time. You'll see gypsies all over Tirana and in every city in Albania for that matter.
8) Tomb of Kaplan Pasha
Not far from Ethem Bej and close to the area of the old bazaar is an area known as Sulejman Square. You'll see the statue of the "Unknown Partisan" and a statue of Sulejman Pasha, the founder of Tirana. This area used to be the location of the Sulejman mosque, but it was badly damaged in a big battle, probably the same battle in which the clock tower was damaged. The partisans came down the street from the right and left and when you're there you can almost imagine how it went down. After the war, the mosque was bulldozed by the government and Sulejman square was created in it's place.

Along with the statues, you will see what looks like a Romanesque altar or something. But it's actually the tomb of Kaplan Pasha, a governor of Tirana in the early 1800's.

It used to sit by itself, but now they are building a huge skyscraper almost directly on top of it! I'm glad they left the tomb intact, but I don't like the new building being so close. When you see it, you'll know what I'm talking about.
Image Courtesy of Sunmaya.
9) Stefan Center
I didn't spend a lot of time here to be honest, but I'm including it for some of you who might be staying in Tirana and longing for a taste of home. There a lot of foreign (mostly Mormon) missionaries and expats who hang out in this area. There are some places there that serve American food and coffee, and you can usually find some random Brits, Germans or Americans hanging out and eating there. American coffee is one thing that is lacking in Albania, Albanian coffee is like Turkish coffee, it comes in a really small cup, for me it's basically just a tease and I can drink it in one gulp. You can get a bigger cup if you ask for your coffee in a tea cup.
Image Courtesy of Edo-9/11.
10 10) Pyramid of Enver Hoxha
From 1945 to 1985, Albania was ruled by one man and his name was Enver Hoxha. You will find both fans and detractors of Enver in today's Albania. The successor party to Enver's PPSh (Labor Party of Albania) is still alive in the form of the Partia Socialist (Socialist Party) and is the majority party of Albania. The mayor of Tirana, Edi Rama is also the head of the party. Rather one likes or dislikes Enver, you can't argue with results. Before Enver, Albania was the only nation in Europe without a University, with Enver Albania builds universities all over the country and gives free education to all. Before Enver, only a handful of rich Albanians could read, with Enver everyone under the age of 50 was required to learn to read free of charge. Before Enver, electricity was confined to a few buildings in the major cities, with Enver the whole nation was electrified. With Enver 100% of the people had guaranteed jobs, healthcare and a place to live. I could go on but if you're interested just do the research or ask around.

The Pyramid was meant to stand as a museum dedicated to Enver after his death. But following the fall of Communism in 1992 and an Anti-Communist backlash the pyramid now is basically, well,...nothing. I've heard rumors they plan to make a civic center out of it and I've also heard they're going to make it into a government building. I've never been inside because it's always locked, but I did notice they stripped the marble off it because they want to put something new on it or something. The plans for it are unknown basically. But if you're a disciple of Enver, a Communist, history buff, or just a lover of unique architecture, I think you'll dig this place. Also it's in a pretty nice area of Tirana that you might enjoy.

A buddy of mine was a kid when it was opened, right after Enver's death and he said that inside were a bunch of Enver's personal effects and a lot of TVs playing films of him.
11) Mother Theresa Square
Named after the famous Mother Theresa, who a lot of people don't know was of Albanian descent. I think she was actually born in Macedonia, but Macedonia has a large Albanian minority.

There is really not a lot to see here but I'm mentioning it because it is a gateway to Tirana University and the cool little coffee shops and bookstores that are the cornerstone of University life the world over.
Image Courtesy of sonjabgd.
12 12) Lake Tirana
This is a park somewhat akin to Central Park in New York. The park itself is very large and surrounds the lake itself. The lake is artificial and was dug during the Communist era. There is a long jogging track along the lake with pedestrian walkways for those who would rather take their time. Several coffee bars and a hotel also dot the interior of the park. There is also a small Neo Roman amphitheater for plays and whatnot. Although large, one can easily see from one side of the lake to the other.

I like the park, but it's not well manicured by American standards. In many places there is a worn out chain link fence along the water line. It doesn't sound like a big deal, but for me seeing some beaten down fence along the water is code for "don't go near the water". I wish they would get rid of that.

Overall it's alright, it's a good place to take a walk and get a taste of nature. It's close to the campus of Tirana University as well.
Walking Tours in Tirana, Albania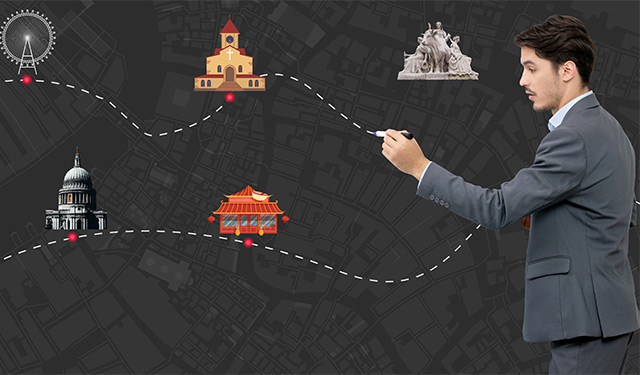 Creating your own self-guided walk in Tirana is easy and fun. Choose the city attractions that you want to see and a walk route map will be created just for you. You can even set your hotel as the start point of the walk.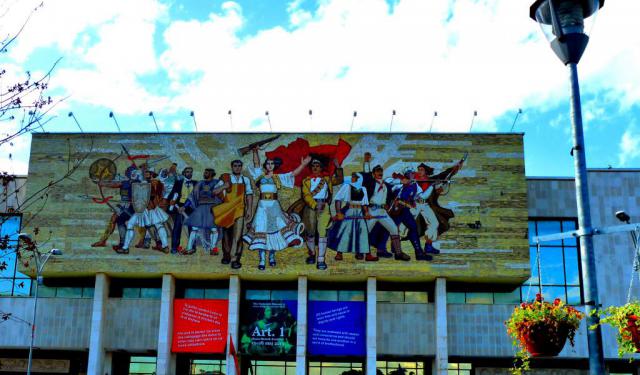 The people of Albania lived in a Communist state from 1976 through 1992. The country was ruled by one party, the Party of Labor of Albania. Dictator Enver Hoxha held power over the country and established a Stalinist-style of administration.
Citizens were oppressed by the secret police, known as the Sigurimi. They would spy on anyone who they believed to be an enemy of the state. Those who were...
view more
Tour Duration:
1 Hour(s)
Travel Distance:
1.8 Km or 1.1 Miles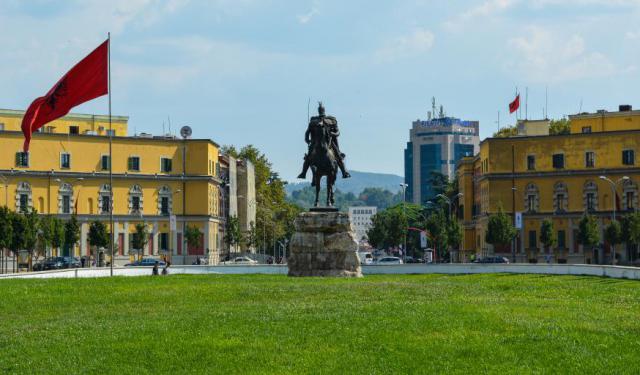 Tirana is Albania's largest city. It is also the country's center of culture and government. Though the city itself was founded by the Ottomans in 1614, its history goes back to earlier times.
The Romans settled in the area that would become Tirana in the 3rd century. The Byzantine Emperor Justinian I built a castle that has some remnants left for tourists to see today. Tirana Castle,...
view more
Tour Duration:
1 Hour(s)
Travel Distance:
0.9 Km or 0.6 Miles