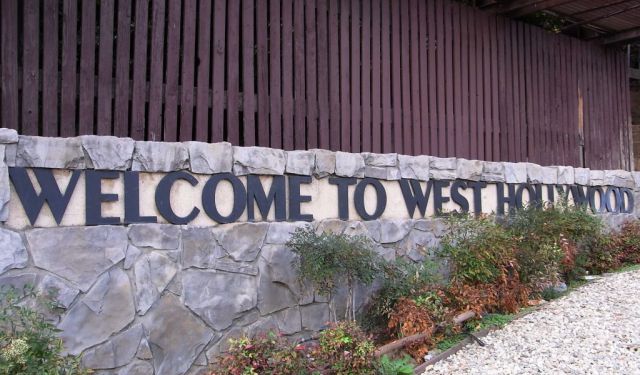 West Hollywood Walking Tour, Los Angeles, California (A)
In part two we will explore West Hollywood. West Hollywood is home to the Sunset Strip and part of the legendary Route 66. Many famous musicians and comedians have gotten their big start in this area. Sights highlighted will include The Roxy Theatre, The Viper Room, Whisky A Go Go, The Comedy Store, House of Blues, Sunset Tower, The Troubadour, Route 66, the Pacific Design Center and the Museum of Contemporary Art.
How it works:
The full article is featured in the app "GPSmyCity: Walks in 1K+ Cities" on
iTunes App Store
and
Google Play Store
. Download the app to your mobile device to read the article offline and create a self-guided walking tour to visit the sights featured in this article. The app's navigation functions guide you from one sight to the next. The app works offline, so no data plan is needed when traveling abroad.
Sights Featured in This Article
Guide Name:
West Hollywood Walking Tour
Guide Location:
USA » Los Angeles
Guide Type:
Self-guided Walking Tour (Article (A))
# of Attractions:
17
Tour Duration:
2.0 Hour(s)
Travel Distance:
6.8 Km or 4.2 Miles
Author:
Grace Takade
Author Bio:
I was born and raised in Los Angeles and have lived here all my life. I have enjoyed traveling to many great locations worldwide, but I have also made it my mission to explore my native city and see its many wonderful sights.
Sight(s) Featured in This Guide:
Carney's
Saddle Ranch Chop House
Sunset Tower
House of Blues
The Comedy Store
Piazza Del Sol
Tower Records
The Viper Room
Whisky A Go Go
Roxy
Troubadour
Pacific Design Center
West Hollywood Memorial Walk/Rock Hudson Plaque
City Hall
Circus Of Books
Laugh Factory
TMZ
1 1) Carney's
Carney's was founded in 1975 by John Wolfe, Sr. and his wife Pat and is still a family owned and run business. The restaurant is located inside an old Pacific Railroad passenger train car. Mr. Wolfe chose this rather unusual domicile to house his restaurant for two reasons. The first was to stand out from the crowd and create a lasting impression. The second reason was in case they ever lost their Sunset Blvd. lease, they could easily pick up and move the entire restaurant to a new location.

This hot dog and burger joint has become quite the LA landmark, so much so that they established a second Carney's location in Studio City in 1981. The food is reasonably priced and if you like your chili dogs messy, this is the place for you.
2 2) Saddle Ranch Chop House
Founded in 1999 by Larry Pollack, this rock western themed restaurant and bar features one of the few mechanical bulls in Los Angeles. Old West style mannequins, wagon replica and stone fire pits decorate the outside and make for a distinctly styled building. The inside decor is western style ranch home meets Aspen ski lodge. The food is billed as "cowboy food", which is basically steaks, burgers and other down home staples.

It has been featured in TV shows such as Sex in the City, The Bachelor and Desperate Housewives. The staff was also featured in its own reality TV show, which aired on VH1 in 2011.

Prior to 1999 this was the location of another restaurant called Thunder Roadhouse, which was owned by Dennis Hopper and Peter Fonda and featured a motorcycle western theme.
3 3) Sunset Tower
This Streamline Moderne Art Deco style hotel opened in 1931 as the St. James' Club. It then became The Argyle, The Sunset Tower Hotel and finally Sunset Tower. It was originally designed to be a luxury apartment hotel and was home to various celebrities such as John Wayne, Clark Gable, Marilyn Monroe, Errol Flynn, Quincy Jones and Roger Moore. Mobster Bugsy Siegel was charged with running a bookmaking operation from his suite in the hotel in 1944 and eventually "asked to leave" by the management.

The building was added to the National Register of Historic Places in 1980, but it had fallen into decline. However, by the mid 1980's through 2006 the hotel was restored to its former glory by its last two owners. In 2009 Vanity Fair hosted its A-list Oscar party here.

The Sunset Tower has been featured in a number of movies and TV shows. In the 1970's detective show "Cannon" it was seen as Cannon's apartment building. It can also be seen in "The Italian Job" and "Get Shorty".
4 4) House of Blues
The House of Blues opened in 1994 and was founded in part by Dan Aykroyd, James Belushi, rock group Aerosmith and Paul Shaffer of David Letterman fame. It's tin shack motif was inspired by an old cotton gin in Clarksdale, Mississippi and its dinner club format holds an audience of about 1000 people.

Many famous blues, rock and gospel singers have performed here and the celebrity set has been spotted not just on stage, but in the audience as well. President Obama hosted a fundraiser here in September of 2011 and President Clinton did a spontaneous song here back in 1995.

The original and now closed House of Blues was opened in Cambridge Massachusetts. This West Hollywood location was the second of about a dozen locations to open. In 2006 it and the other House of Blues locations were bought and are now run by Live Nation, but it remains a venue for good music in an intimate setting.
5 5) The Comedy Store
The West Hollywood area began as an unincorporated area of Los Angeles County, which made it not subject to the anti-gambling laws of the city and in the 1920's Sunset Blvd. became populated by a series of casinos, night clubs and saloons. Though it eventually fell out of favor with the party set, it rose again in the 1960's and '70's with its cutting edge music scene and comedy clubs.

The Comedy Store was founded in 1972 by comedians Sammy Shore and Rudy Deluca. After Sammy and his wife Mitzi divorced in 1973, Mitzi received complete ownership and control of the club and subsequently built it into the comedy mecca it is today. Mitzi and Sammy also happen to be the parents of comedian Pauly Shore.

Johnny Carson, Richard Pryor and many more have all performed here. Jim Carey and Michael Keaton got their start here. David Letterman was the emcee at the club for three years.

Prior to 1979 none of the comedians that performed at this club as well as many other comedy clubs were paid. The comedians decided to stage a strike and picket line in front of the Comedy Club, joined by many now famous comedians such as Jay Leno. Mitzi Shore and other comedy clubs finally capitulated and started paying the comedy hopefuls trying to catch their big break, although certain comedians found themselves blackballed by Mitzi at the end of the strike.

The Comedy Store occupies the site of the once legendary nightclub Ciro's, which was founded in the 1940's and was a popular spot for celebrities of the day. Nat King Cole, Duke Ellington, Sammy Davis, Jr., and many other notables performed to star studded crowds.

Ciro's closed in 1957 and in the 1960's reopened as a rock and roll club. This too eventually closed and following several expansions by Mitzi, survives in its present comedy incarnation.
6 6) Piazza Del Sol
This lovely Italian Renaissance building is currently a luxury office building and is home to several production companies such as Miramax Films.

However, it started out as Hacienda Arms, a luxury apartment built in 1927 and then in the 1930's gain notoriety as perhaps the most famous brothel in Los Angeles. Clark Gable and Errol Flynn were regular customers and the high class prostitutes, who had initially come to Hollywood seeking movie roles, made $1,000 a week - a fortune during the Great Depression.

The brothel was finally shut down in 1940. The building changed hands many times, fell into decline and disrepair, was nearly destroyed by fire in the early 1980's (when it was owned by Rod Stewart, who was attempting to turn it into a luxury hotel) and was finally successfully renovated by the Westcap Financial Group in the mid 1980's. It was added to the National Register of Historic Places in 1983. The trendy Japanese restaurant Katana located inside the building is owned in part by Ryan Seacrest and Tori Spelling.
7 7) Tower Records
In the category of landmarks that are no longer here, we have Tower Records. Tower Records was started in Sacramento, California in 1960 by Russell Solomon and eventually expanded across the world. The store that was located here on the Sunset Strip was arguably the most famous store of the chain. It was named after Russell's father's drugstore. The Sunset Strip store opened in 1971 and closed in 2006, when the company went into bankruptcy for the last time. Before MP3s, online stores and downloading spelled the end of the mega music store, this Tower Records was the mecca for rock music lovers. Practically every kid in Los Angeles and beyond made the trek to this store to buy the latest hits or, if they were lucky, see an impromptu concert in the parking lot by a famous band.
8 8) The Viper Room
The Viper Room was opened in 1993 by actor Johnny Depp and other business partners. It unfortunately became known as the place actor River Phoenix (of "Stand By Me" movie fame and older brother of Joaquin Phoenix) died of a drug overdose, on the sidewalk right in front of the club, in October of 1993.

In spite of River Phoenix's death, the place remained a hot spot for the young celebrity set. Jennifer Aniston, Angelina Jolie and Leonardo DiCaprio were all regulars here during its heyday in the 1990s. Johnny Depp no longer owns the club, but it continues to be a place to see local metal and punk rock bands.
9 9) Whisky A Go Go
Whisky A Go Go is one of three famous Sunset Strip nightclubs founded by Elmer Valentine, along with various business partners. The club opened in 1964 and featured live bands, along with a female DJ suspended from a cage next to the stage. The suspended cage was initially a practical idea, as there was not enough room on the stage for the DJ, but as audience members thought the dancing DJ was part of the act, the concept of go-go dancers suspended in cages was born and soon became a national craze.

The rock group The Doors was the house band at one point in their early career. Motley Crue's song "Down At The Whisky" referred to this famous club.

The Whisky was an important venue for up and coming rock bands in the 1960's, such as The Byrds, Frank Zappa, The Kinks, Led Zeppelin and many more. Then in the 1970's it was new wave, punk and heavy metal, featuring the likes of Van Halen, Blondie, Patti Smith, The Police and the Germs. In the 1980's the club hosted bands like Guns N' Roses and The Red Hot Chili Peppers, but nonetheless ran into financial difficulties and closed from 1982 to 1986. In the 1990's it hosted acts from the grunge movement such as Soundgarden and Nirvana and today continues to be an important venue for new rock and metal musicians.
10 10) Roxy
The Roxy is the second of the three famous clubs founded in part by Elmer Valentine and opened in 1973. It lays claim to many notable performances and recordings. However, it has perhaps become best known as the last place John Belushi partied before overdosing in his hotel room later than night. Specifically, he was in the exclusive club/viewing area inside The Roxy called "On The Rox".

In the first few months of its existence both Neil Young and the original lineup of Genesis played here. Paul Rubens introduced his Pee Wee Herman character to the world here in 1981.

Some notable music you might have heard from the 1970s: Frank Zappa And The Mothers of Invention recorded part of their "Roxy and Elsewhere" album, Bob Marley And The Wailers recorded "Live At The Roxy" and Bruce Springsteen And the E Street Band recorded part of Live/1975-85 here. In the 1990s punk rock band NOFX recorded "I Hear They Suck Live!!" and Social Distortion recorded "Live At The Roxy" at this venue.

If you're curious to see what a little of the inside looks like without going in, metal band Korn filmed part of the video for their song "Narcissistic Cannibal" here in the latter part of 2011.

The third club founded by Elmer Valentine, in 1972, is the Rainbow Bar and Grill, located next door to The Roxy. It features a restaurant on the first floor and an exclusive club on the second floor, which was the favorite hang out of the rock and roll celebrity set through the 1970's and the heavy metal set in the 1980's.
11 11) Troubadour
The Troubadour was founded in 1957 by Doug Weston and moved to this location in 1961. It is particularly notable for the famous singer-songwriters it has promoted and featured early in their careers.

Doug Weston had a clause put into the contracts of little known singers booked to perform here. They agreed that in return for being featured, they would perform here again after they were famous, before they played any other Los Angeles concerts, for the same fee as when they were unknowns. He was said to be very vigilant about enforcing those terms.

Elton John's first American concert was at the Troubadour. James Taylor made his solo debut and met his future wife, singer Carly Simon here. The Eagles' Don Henley and Glenn Fry met here. On our theme of where famous people partied right before they died, Janis Joplin partied here the night before she was found dead in her hotel room.

Examples of great music inspired by The Troubadour: "Killing Me Softly With His Song" was written about singer Don McLean (of "Bye Bye Miss American Pie" fame) and inspired by his performance at this club. Rickie Lee Jones' "Chuck E.'s in Love" was written about musician and former Troubadour employee, Chuck E. Weiss. The Eagles' "Sad Cafe" was written about the Troubadour. Artists who released albums recorded at The Troubadour include Neil Diamond, Miles Davis and Elvis Costello.

The club also featured and discovered iconic comics such as Cheech and Chong, Steve Martin and Randy Newman. Richard Pryor recorded his live debut album at The Troubadour.

In the late 1970s and 1980s the club featured New Wave, punk and heavy metal bands and continues to feature a wide variety of performers. Cold Play, The Killers and Prince have all dropped by for surprise performances.
12 12) Pacific Design Center
The Pacific Design Center was launched in 1975, starting with the distinctive Center Blue building, known as "The Blue Whale". It houses over 100 showrooms of decorating and furniture markets. It caters to professional interior designers, architects and dealers, but is also open to the public. Exhibitions, lectures and special events are held throughout the year.

The center was expanded in 1988 with the Center Green building and again in 2011 with Center Red. This has resulted in over one million square feet devoted to interior decorating and design. This facility also houses a branch of MOCA, the Museum Of Contemporary Art, and also two restaurants owned and operated by Wolfgang Puck. If you like window shopping for new home decor ideas and or like modern art, this place is worth a separate trip.
13 13) West Hollywood Memorial Walk/Rock Hudson Plaque
In 1985 the AIDS epidemic got a lot more sympathy and research funds, when movie star Rock Hudson died from the disease. His homosexuality had long been kept secret, for fear of ruining his leading ladies man reputation and fame.

In 1993, this Memorial Walk was created to honor some who had succumbed to AIDS and to raise money for a cure. These small bronze plaques line Santa Monica Blvd., starting from Doheny Drive and ending at Fairfax Avenue. Elizabeth Taylor arranged for one of the most notable of these plaques, in honor of her friend Rock Hudson, to be placed here.
14 14) City Hall
Incorporated in 1984, West Hollywood became the first city in America to offer same gender domestic partnership registration for its residents, as well as domestic partner benefits for its city employees. It is also the first city in America to have a city council made up of a majority of gay members.

West Hollywood leans heavily toward a social justice agenda and bans the sale of handguns or items made of fur, prohibits smoking in public places, outlawed de-clawing of cats and restricts the city from doing business with any country known to violate human rights.

It is perhaps best known for its heavily gay male population and annual Halloween Carnival. It is the largest Halloween street party in the U.S., at 1.6 miles, taking place on Santa Monica Blvd. from Doheny on the west to La Cienega on the east.

Santa Monica Blvd. itself is also notable for being part of the legendary Route 66, which stretches from Chicago, Illinois, through Missouri, Kansas, Oklahoma, Texas, New Mexico, Arizona and finally California, through Los Angeles, West Hollywood, Beverly Hills and the city of Santa Monica. It was the major migration path for those wanting to move west. As you walk along this street, keep an eye out for the historic Route 66 markers dotting the way.
15 15) Circus Of Books
Opened in 1960, Circus Of Books is a book and novelty store which specializes in adult themed erotica, especially of the gay variety. It has calendars, magazines and greeting cards which cater to the LGBT crowd (though admittedly more toward gay men than gay women) and even has a section of vintage "fitness" magazines from the 1950s-60s. It's a relatively tame introduction to the lifestyle, as long as you don't actually open the magazines and some of the greeting cards are worth the chuckle.
16 16) Laugh Factory
The Laugh Factory was opened in 1979 by owner Jamie Masada. It is a staple of the comedy circuit and the launching pad of many famous comedians. Richard Pryor performed here, Robin Williams, Jay Leno, Eddie Murphy, the list is endless. The Laugh Factory is still one of the best places to see well-known as well as up and coming comics plying their trade up close and personal.

Seinfeld's Michael Richards' infamous incident occurred at this club back in 2006, when he launched into his unfortunate tirade against some hecklers who happened to be African Americans.

Of special note, every Thanksgiving and Christmas Day, the Laugh Factory has a longstanding tradition of serving up free meals and free comedy to anyone in need that shows up. Out of work actors, families, the homeless, all are welcome. Many well-known comedians volunteer their time on these two days to serve up free comedy after the meals.
17 17) TMZ
TMZ is a gossip and entertainment news program created by Harvey Levine, which airs daily on the Fox network. TMZ refers to the "thirty mile zone", which is an insider term for the 30 mile radius from the intersection of west Beverly Blvd. and north La Cienega Blvd. Filming locations outside of this zone are subject to mileage and travel charges by union crew members and actors.

This building looks like a shopping center, and it is, but it also has a studio on the third floor that serves as the offices and filming location for the TMZ TV show.

Now, from here it's a short walk back to your starting point and car. I hope you enjoyed the tour and learned some interesting facts about this town.
Walking Tours in Los Angeles, California
Useful Travel Guides for Planning Your Trip
---