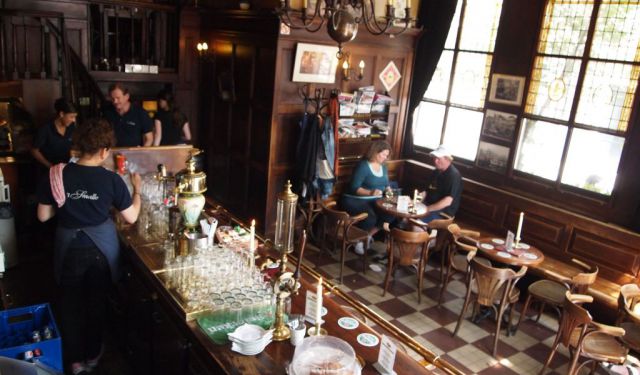 Netherlands, Amsterdam Guide (D): Amsterdam's Oldest Pubs
Amsterdam is a stunningly beautiful city, steeped in history, with hidden treasures and fascinating tales practically around every corner. Like all marvelous cities, Amsterdam has its share of dining and drinking establishments from the modern to the ancient. This guide will assist you in exploring some of the oldest pubs and bars that The Venice of the North has to offer.
This article is featured in the app "GPSmyCity: Walks in 1K+ Cities" on
iTunes App Store
and
Google Play
. You can download the app to your mobile device to read the article offline and create a self-guided walking tour to visit the attractions featured in this article. The app turns your mobile device into a personal tour guide and it works offline so no data plan is needed when traveling abroad.
Attractions Map
Guide Name:
Amsterdam's Oldest Pubs
Guide Location:
Netherlands » Amsterdam
Guide Type:
Self-guided Walking Tour (Article (D))
# of Destinations:
15
Sight(s) featured in this guide:
De Karpershoek
Papeneiland
't Smalle
Hoppe
De Drie Fleisches
In De Wildeman
In Het Aepjen
Cafe 't Doktertje
Cafe Chris
Wijnand Fockink
De Ooievaar
Cafe Kalkhoven
Cafe Oosterling
Cafe De Dam
De Druif
Author:
John Clifford
Author Bio
: I'm a lover of cities....but moreso a lover of places to relax in cities. Every town, city, village has a little secret cafe or dodgy pub or hidden cafe...away from the numbers. That's where I go for an afternoon before I have to report back to my woman and go dancing or some such nonsense.
1 1) De Karpershoek
Beginning your Amsterdam Old Pub Odyssey is "De Karpershoek". This incredible tavern dates back to 1606 and will set the mood for a voyage through this beautiful city's oldest, most "gezellig" (meaning cosy, classy, gentle, and so much more) and most characteristic drinking establishments.

De Karpershoek is officially the oldest bar in Amsterdam by reason of possessing the first, and therefore oldest, trading license. Originally founded to quench the thirst of sailors ensconced with...
2 2) Papeneiland
"Papeneiland" named so after The Pope is steeped in history. During the Reformation Amsterdam experienced the transition from being predominantly Catholic to mostly Protestant and the city's legendary tolerance of other beliefs and lifestyles gave birth to this tavern being unique in its own right. The premises even has a hidden tunnel to the Singel Canal to smuggle priests in the event of discovery and possible reprisal.

The bar is, as you should now know, located on the...
3 3) 't Smalle
Café 't Smalle meaning "narrow" harkens back to 1786 and is located in the gorgeous and sleepy Jordaan vicinity of Amsterdam. As an aside, the Jordaan is thus titled as it literally means The Garden and many of the streets are named after various flowers and blooms.

This alcohol dispensary is sited where the one and only Mr. Pieter Hoppe developed his legendary Jenever spirit drink, a classic Dutch tipple made from juniper berries along the lines of British Gin. Drink one. It's a...
4 4) Hoppe
Our next port of call is the Café Hoppe. This establishment is essentially divided in two, the "standing" Hoppe for the menfolk and the "sitting" Hoppe for the ladies.

The staff at the Hoppe are consummate professionals and this spot is ideal for a snack to soak up a little of the beer you've thus far been enjoying. Our recommendation is to sample a portion of Dutch "bitterballen" with mustard..to be washed down with another fresh and frosty lager, of course.

The Hoppe was a...
5 5) De Drie Fleisches
De Drie Fleisches (The Three Bottles) on the Gravenstraat dates back to 1650. Located close to the Royal Palace, which was originally the Town Hall, it was a favourite amongst the mayors and municipal dignitaries of Amsterdam. As recognition of their patronage the proprietors of De Drie Fleisches would award each mayor with his own personal bottle, a custom that continues to this very day.

To the right interior of this café is an array of kegs with individual taps and locks. These luxurious...
6 6) In De Wildeman
With an absolutely glorious selection of beers from all over the world, In De Wildeman is a veritable Shangri-La for connoisseurs of the fine art of brewing and imbibing. There are some seventeen beers on draught/tap and over two hundred in bottles.

In De Wildeman is a classic beer hall and was born in 1690. If at this stage you fancy a temporary change of drink from Dutch flavours then In De Wildeman boasts a superb selection of Belgian Trappists, Czech Pilsners and German Lagers.

It is...
7 7) In Het Aepjen
This incredible inn is essentially the oldest bar in Amsterdam. Although the license for "De Karpershoek" was granted first, In Het Aepjen was trading much earlier…as early as 1519.

Unlike many of the taverns of the period, In Het Aepjen was a traditional "inn".

Back in the 16th century the site of this house was at the very centre of the old port of Amsterdam and was an obligatory stop-off for sailors, deckhands and all manner of maritime workers. These men would squander their...
8 8) Cafe 't Doktertje
Café 't Doktertje (the doctor) is a beautiful little sleepy tavern just off the Kalverstraat. It is the second smallest pub in Amsterdam and stepping into this establishment you get the feeling that you are entering an old Berlin or Paris cabaret lounge. Although the décor and music feel a little more modern and eclectic than other hostelries, the pub still dates back to 1798. There are central ornate ceramic beer taps and the famous "drankorgel".

Just around the corner is the...
9 9) Cafe Chris
Café Chris is a quintessential blue-collar old Amsterdam pub that provides one of the best views of the West Tower of the Westerkerk. This amazing ale-house is just that..amazing. If you're a fan of tradition and authenticity then this has to be on your agenda. The bar boasts low beams with mottos and old sayings embossed upon them as well as steins and tankards hanging from the ceiling. It has the feel of the captain's quarters in an old galley ship. There is a kitchen for snacks and...
10 10) Wijnand Fockink
Now this is the place to come to if you want to sample some of the vast variety of fine dutch liquors and bitters. Located behind the famous Krasnapolsky Hotel on the Pijlsteeg alley this beautiful little bar has been quenching the thirst of Amsterdammers and visitors since 1679. The décor is modest but you're not here to stare at the walls. You're here to drink. The exterior of this gabled gem boasts wooden shuttered windows and benches if you'd like to take your beverage outside. The...
11 11) De Ooievaar
Owned by the original Ooievaar distillery, this charming corner tavern was specifically a jenever tasting hall. The Ooievaar distillery is the last authentic distillery in Amsterdam and supplies the bar with high-quality liquors. The Ooievaar bar is small but cosy and welcoming again attired with wooden floorboards, tiled walls and of course a fine selecton of spirits. The draft beers available include lagers, blonde beers and bocks. Boiled eggs on the bar provide the important energy boost and...
12 12) Cafe Kalkhoven
The Kalkhoven is a beautiful, warm and friendly tavern right on the corner of the Prinsengracht (Prince's Canal) and the Westermarkt and dates back to 1670. The interior is again traditional wooden beamed ceilings and original jenever, rum and cognac barrels behind the bar. Because of the location of this fantastic establishment (it is mere yards from the Anne Frank House) it may be a little busier than other establishments in this guide but don't let that deter you. It has plenty of...
13 13) Cafe Oosterling
Café Oosterling is located at the very start (or very end, depending upon your perspective) of the Utrechtsestraat. It is a wonderful pub at the corner of the Fredricksplein. Enormous rum, jenever and cognac casks adorn the rafters and behind the bar is a spectacular selection of spirits. There are magnificent old bottles for Crème de Cacao, Peppermint Liqeur and not just Dutch potables but drinks from all over the world. The beer on tap is Brand and also Affligem. There is no music or...
14 14) Cafe De Dam
This is officially the smallest bar in Amsterdam being approximately 1 sq. metre smaller than the delightful Doktertje. Amstel Beer is the house pilsner and there is an impressive collection of football scarves from over the years decorating the walls along with Delft plates and other adornments. The building dates from 1600 but was previously an apotheke (chemist) before becoming a tavern in 1805. The current proprietor, Louis, has been quenching thirsts for nearly 30 years and at one stage...
15 15) De Druif
Located on the Rapenburgerplein, De Druif (The Grape) is a little out of the way but that should not deter you. In Amsterdam if something is off the beaten track it means it is 5 minutes extra to get there. The lovely pub is quiet and welcoming. It was originally a distillery and dates back to 1631. There is an excellent jenever selection and old distilling equipment above the casks behind the bar. These barrels were to hold annisette, triple-sec and other great spirits and there are also lovely...
Useful Travel Guides for Planning Your Trip
---