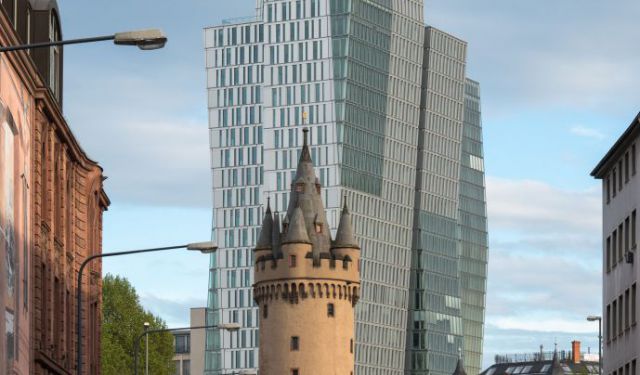 Best Authentic Restaurants, Frankfurt, Germany (D)
Frankfurt is Germany's most international city, but also an old-fashioned place with dozens of traditional "apple cider joints", where you are sure to meet locals while you enjoy a hearty meal. This guide focuses on the many original, authentic, and attractive places to eat and drink in Frankfurt. Among your choices will be a Uzbeki restaurant, or a Japanese place that's like straight out of 1970s Tokyo, or a youthful veggie paradise. Enjoy!
This article is featured in the app "GPSmyCity: Walks in 1K+ Cities" on
iTunes App Store
and
Google Play
. You can download the app to your mobile device to read the article offline and create a self-guided walking tour to visit the attractions featured in this article. The app turns your mobile device into a personal tour guide and it works offline, so no data plan is needed when traveling abroad.
Attractions Map
Guide Name:
Best Authentic Restaurants
Guide Location:
Germany » Frankfurt
Guide Type:
Self-guided Walking Tour (Article (D))
# of Attractions:
37
Author:
Martin Schwoerer
Author Bio
: Martin has been living in Frankfurt since 1972. He worked as a consultant for decades, and has been glad to be able to call himself a journalist too, for the past eight-or-so years. Martin is a pretty good musician as well as a determined private investor. One of his major passions is cities: what makes them work, what makes them beautiful, what makes them pleasurable. And, all over the world: the incredible food they offer!
Sight(s) Featured in This Guide:
Ariston
Aroma
Aroydee
Atschel
Buenos Aires
Caravan
China Garden
Daniel's
Dax
Don Juan
Drei Steuber
Eichkatzerl
Frankfurter Küche
Gojo
Grössenwahn
Gutding
Jasper's
Kaliko
Lamoraga
Lobster
Mikuni
Mr Lee
Nummer 16
Pak Choi
Paninoteca
Pepe
Portofino
Rama V
Saravanaa Bhavan
Sonamu
Sümela 2
Tacohaus
Tawaraya
Walon & Rosetti
Wondergood
Yam Yam Döner
Zum Gemalten Haus
1 1) Ariston
Over the years, several Greek restaurants have operated in these elegant, high-ceilinged rooms in Frankfurt's judicial quarter, of which we would call Ariston the best yet. You might consider it a quite suitable place for a business dinner or a romantic tete-a-tete; patrons are often lawyers and judges, and the atmosphere is both hushed and cheerful. I ordered Psito, roast leg of lamb, and it was was juicy and fragrant, topped with fresh Mediterranean herbs, with a generous side dish of grilled vegetables (€16.20). My girlfriend selected the classic Bifteki (€13.50) in a new interpretation: small steaks in a feta sauce, accompanied by grilled vegetables, which she said was excellent indeed. Ariston offers by-the-glas Greek wines which are strong and sumptuous and not pricey (€4.20 for my inky 'Naoussa'; same for her fresh 'August'). Service was mixed. A young lady who helped serve our table was smilingly friendly and helpful, but our main waiter was one of the most arrogant we had experienced in recent weeks. In his defense, he was quick and pleasingly attentive, offering new drinks as soon as we were quite low, but not before. Beware if you are highly sensitive about music: during our stay, the sound of screeching melodic-rock guitars (albeit in the background) was slightly unnerving.

In sum: great food, great rooms; a slight lack of attention to details.
2 2) Aroma
Frankfurt doesn't have a tradition of delis where you can get a tasty sandwich made on-the-go. There are plenty of butchers that offer a quick meal, but quite honestly, if you don't like your meals to be 95% meat, then you'd better look elsewhere. Ethnic fast food joints are an alternative, of which Aroma is one of the best. It may look like a shack but they actually make quite excellent vegan Falafels that have the right amount of spiciness, taste clean, and are served with pleasant Lebanese efficiency. In addition: Shawarma, Houmus, and Haloumi. You can have 'em served in Pita bread or on a plate. Falafel with Pita for €5.00.

In sum: best Falafel fast-food in town
3 3) Aroydee
This rather new Thai restaurant has gained an enthusiastic following in a short time, earning it (on some evaluation platforms) the highest score of all restaurants in Frankfurt. I can see why: Aroydee serves interesting, fresh Thai food, in a lively ambiance, for good prices. We had Pad Sam Ros Gai: chicken with chilis, garlic and vegetables served with the chef's chili/tomato sauce, for €7.50: spicy, succulent and with good bite. Also, a good vegetarian dish: Som Tam, a papaya salad with chili, tomatoes, peanuts and lemon juice, which was juicy and aromatic, for €9.50. Located quite conveniently close to town center, this is a good everyday restaurant: not too loud, not too pricey, lots of variety on the menu, and quite quick. (Service is not exactly heart-warmingly friendly, but we didn't really mind).

In sum: Convenient, reliable and tasty Thai.
4 4) Atschel
Traditional Frankfurt-style restaurants are not necessarily limited to Sauerkraut, sausages and apple cider. If you prefer a bit more variety, but still want to spend time in the kind of place you would only find in Frankfurt, then check out Atschel (and while you are at it, please also look into Atschel's next-door neighbor, Fichtekränzi, which is just about equally good). Food is not quite as rustic (and cheap) as in other apple wine places; some examples: Pork-Medaillons with sliced apples and calvados-cream, fried potatoes and salad (€13.50), grilled spare ribs with sauerkraut and bread (€8.80), fresh trout "Müllerin" fried with boiled potatoes and mixed salad (€12.90). Very pleasant garden for summer evenings! Flawless service, also accustomed to international guests.

In sum: reliable and pleasant and not overly rustic Apple Cider locale.
5 5) Buenos Aires
Germans love their meat, but they don't really understand steak the way Americans do, and all efforts to the contrary, importing US-style steak houses hasn't worked out in Frankfurt quite yet. Not to worry: here's something similar that is very nice. This Argentinian steak house is booked most nights of the week, so be sure to make a reservation. High occupancy for a good reason: Every of the many times we have been there over the years, most plates were flawless. Let's start with the Bife de Chorizo (Argentinian rump steak). You pay according to weight, and state your rare/medium-preference, which is followed religiously. Side dishes such as the home-made fried potatoes or mixed vegetables, are prepared properly and to our satisfaction. Fish is also offered, for instance: Pez Espada (grilled swordfish with garlic, salad and fried potatoes). Finally, not all is lost for vegetarians: Buenos Aires always has a few no-meat dishes, such as Canelones de humita (home made Argentine Canelloni filled with cornmeal). Buenos Aires has very good indeed wines from their own adjacent shop "La Vinería" that are reasonably priced. We recently had a bottle of Malbec for €18.00 that was memorable. Main dishes cost €8-28.

In sum: best steak house in town
6 6) Caravan
Judging by how many nationalities live in the very international city of Frankfurt, there should be more restaurants like Caravan. Meaning: exoticly different and well worth a try, just for the experience. Even if the experience is not necessarily on the level of tried-and-true Italian or Japanese restaurants. But what to expect from an Uzbeki place? Well, it's pretty Russian, with a semi-Mongolian slant. We started with a Borscht red-beet soup (€6.50) that was very nice: just the right levels of sweet and sour. My girlfriend then proceeded to Manty (€12.90): steamed Uzbek ravioli that were quite tasty, with fragrant spices, served with the right amount of bite. My Plov (€10,90): Uzbek rice with beef and carrots was a disappointment, however -- oily and really nothing special. The third member of our party said her Pelmeny (Uzbek Dim Sum, €10.90) were flawless. Service is attentive, quick and friendly. The restaurant has a slightly kitschy but pleasant Silk-Road decor, and a nice garden for eating outside in the summer months. Patrons are in the majority ex-Soviet: a sign that this restaurant is authentic, but on the other hand they do tend to play the music on their mobile phones a tad too loudly.

In sum: an authentic and pleasant ex-Soviet experience, but no haute cuisine here.
7 7) China Garden
Frankfurt is different from many cities: most Chinese restaurants were not founded 30+ years ago by emigrants, but are rather new, and cater to the many Chinese tourists who spend a night or so on account of Frankfurt's air travel hub. China Garden is the kind of place where the guests are 70% Chinese nationals, 25% Bohème and 5% various others. We belonged to the last group, and found that China Garden is quite excellent. I had a Kung Pao Chicken that was succulent, crunchy and to-the-point spicy. A friend had a Pepperpot that was quite exotic: large marinated chilis in superior numbers (hopefully, one isn't expected to eat all of them) combined with crunchy pork: sumptuous, he said. All this, and two large (tasty!) beers and a glass of pleasant white wine for €30.00: quite reasonable.

For those who are adventurous in spirit, the menu has a wide selection of exotic Chinese dishes such as duck tongue's soup, or pig's feet, or Steamed Fish Head w/ Diced Hot Red Peppers. No specific veggie main dishes, but large (and quite good) veggie side dishes. Dishes on menu are ordered according to spiciness: there is plenty of interesting hot cuisine. Service was quick, friendly and reliable. The ambience is no-nonsense: harsh light, no tablecloths, no music, but general cleanliness was good. Reservations are recommended: Chinese travel groups sometimes book to capacity.

In sum: Authentic Chinese food with real "bite" in a friendly, yet rather spartan, atmosphere.
8 8) Daniel's
We focus on tried-and-true restaurants, in order to filter out the straw fires that shine brightly and then disappear. But for a place a lovely as Daniel's, we are willing to make an exception and include a new entry. This reviewer appreciates what is called Scottish Warmth (unfortunately not to be found in Frankfurt), and Italian true-to-the-heart hospitality (of which Daniel's is an excellent example). "Well, this is a pleasant surprise", said my girlfriend upon arriving: the restaurant is cozy, well-lit, with a nice chatty yet not loud ambient. Service by members of Daniel's family is immediate and friendly. On offer are both the simple stuff such as Pizza (reputed to be quite good), as well as more formal cuisine. Excellent pizza bread and olives are served as amuse geules right after choosing your selection. I had veal liver which was accompanied by generous amounts of vegetables and a elegant onion sauce, all cooked to the proper point, lucious and aromatic due to the Mediterranean herbs involved. My girlfriend's Osso Bucco was old-style rich and juicy. Daniel's has a special level of attention to detail, of making sure that everything is OK, that made us want to come back for more, quite soon.

In sum: excellent, charming new family-run Italian.
9 9) Dax
If Gemaltes Haus is like Frankfurt's Hofbräuhaus, and Drei Steuber a crazy time-capsule, then Dax is the everyday cider house for 40ish Everymen. Go there if you like the idea of the stereotypical Frankfurt pub that offers not only apple cider, but also beer and wines. The food menu offers more variety, too. Some examples from when we were there: the menu had as an autumn specialty roast leg of goose with home-made dumplings and cooked apples for €17.80, but also an assortment of rump steaks for 15-19 Euros, and lots of kinds of Schnitzels (for 12-15 Euros). I had fried beef liver with apple and onions which nice and crusty and priced OK at €15. My friend had "Schäufelchen", which is boiled pig's knuckle (€10.80), to which he commented: nice clean taste, well prepared, not too salty. As is normal in Germany, the Sauerkraut was slightly soft, but still quite acceptable. Service is quick and professional. All in all, this is quite a nice place, and you'll probably be the only tourist. (With garden seating in the summer).

In sum: Typical Frankfurt pub with quite OK food. Similar to a few, but better than most.
10 10) Don Juan
Surprisingly, Frankfurt is not a great town for Spanish food. Perhaps it is that emigrants from the 1960s tend to err on the side of greasy and home-fried, or that the typical Frankfurt yuppie preference for overpriced Tapas has spoilt the market for honest and fresh cuisine? But all is not lost, and Don Juan serves as an example of how good Spanish cuisine can be. "Sepia in honey, rosemary, chili and grapes" is as delicious as it sounds, the summer asparagus Tapas are hard to be improved upon, the patatas bravas (for €3.50) are a good economical salty starter, there are numerous kinds of Gambas (all delicious, such as the "Strawberry-chili shrimps"), and the general standard of quality is very reliable. Portions are not large and the more special Tapas cost up to €15, so a hungry person will leave the restaurant heavier in weight but lighter in wallet. Service is friendly and prompt, but some patrons have reported excessively long waiting times for food (but then again, everything is freshly made). Reserve for outside seating in warm weather whenever possible.

In sum: delightful small Tapas restaurant
11 11) Drei Steuber
The 1970s Western Germany lives on in movies by Fassbinder, and in this apple cider house. (The only change being that smoking is no longer allowed). Zu den drei Steubern, as it is properly known, is like a museum, except that it is lively, and quite nice. We played a game of guessing when the interior had last been painted -- in the 1950s, 1960s or 1970s? Service is quick, and in contrast to many cider joints in Frankfurt, not ostentatiously sassy. They have a simple system: when your drink is empty, they bring you a new one, unless you clearly state your opposition. Their cider is home-made and well-rounded. Food is old-fashioned but with attention to quality; I had a rib of pork with sauerkraut (Rippchen mit Kraut) that was tender and not too salty, while the sauerkraut was not overly overcooked. Prices are low, at less than €2.00 per glas of cider, while my meal cost €6.80. Don't order beer, don't call the waiter (he'll be at your service when he has made his way to you), enjoy your food and drinks, and be glad that such a heritage place still exists.

In sum: Blast from the past
12 12) Eichkatzerl
A pleasant dining hall, a charming garden, good drinks, friendly service: this is the kind of place that makes you over-use the word "pleasant". Similar to its neighbor "Dax", in that it is a place where normal folks go to get hearty, somewhat old-fashioned local food and drinks in a lively atmosphere. Slight difference: people are a bit younger in the "Squirrel", even though this is one of the oldest such establishments in Frankfurt (it was founded well before 1880). The food is of the same conscientious quality, with a strong anti-modern element, as at Dax's. My "Schnitzel with green herb sauce", a local and ancient specialty, was fine, at €12.80. The Frankfurters with Sauerkraut and bread that my not-so-hungry friend had (€5.20) were flawless, he says. Stay out of the not-so-pretty new annex in the back, and you'll be fine.

In sum: a quite pretty place to enjoy normal meaty Frankfurt food with nice, normal folks.
13 13) Frankfurter Küche
Certain restaurants have successfully made the transformation from old-fashioned to modern German. In other words, from sausage & sauerkraut to something… somewhat more enticing, hopefully in a less-dark, less yellow-and-brown ambient. The "Frankfurt Kitchen" has some of the hearty old stuff, but also the new, and caters to all kinds of people. Decoration is rejuvenated-rustic and quite pleasant; service is often accompanied with a smile and is usually quick enough. For a taste of the golden oldies, try Himmel und Erde (fried blood sausage with apples and onions, served with mashed potatos, for €10.50), or Frankfurter Platte (mixed assortment of meats and sausages, with sauerkraut and mashed potatoes, for €14,50). Or if you are feeling more like trying the new stuff, the veggie burger (€8.80) is one pretty nice example. There are economical midday specials, for example a lemon-mushroom Risotto (€6.90) or a wild-boar goulash (€8.90).

In sum: reliable mix of old-fashioned German, and modern-German style and food
14 14) Gojo
Some lessons I have learnt: When in doubt, always select an ethnic restaurant that is patronized by its own folks. Bias towards localities in old buildings, and go for established institutions and not fly-by-night operations. Which is why Gojo is our Ethiopian/Eritrean restaurant of preference. Eating there is different: you get a freshly-baked kind of pancake, on which your cooked food is served; you eat with your hands and use the pancake as a kind of ladle. Last time we were there, I had Yebeg Wet, which is lamb cooked in Ethiopian hot sauce, for €9.00, and I liked it very much. For two Euros less, my girlfriend had Misser Wot: spicy lentils. Once earlier, I had Mehaberawi, which is assorted vegetables and meats, for €9.50. Gojo do not serve alcohol, so you can spend the money you save by going to this economical, tasty restaurant, in a bar, later on.

In sum: our favorite Ethiopian restaurant
15 15) Grössenwahn
What remains of Frankfurt's famous APO -- the famous boomer-generation counter-culture movement? In terms of restaurants, not much. There's the expensive, Michelin-starred, no-so-likeable Tigerpalast, and then there's Cafe Grössenwahn. Possessing something akin to a monopoly, Grössenwahn is highly popular amongst the Bobos and Boomers, and booked to full nearly every evening. Its foodie reputation is great and you can even purchase a "Grössenwahn Cook Book". However, our experience was mixed. I had a deer ragout with home-made pumpkin gnocci and brussel sprouts that, with a glass of excellent Primitivo, felt like the perfect winter dinner. However, my girlfriend's swiss chard w/vegetables à la Rome tasted "boring". The atmosphere at Grössenwahn is attractive and lively, with charming decor, but service was unattentive and the music (endless Christmas medleys on December 8) was miserable. Grössenwahn is an authentic and interesting place for mingling with Frankfurt's old-leftist, intellectual elite, but don't expect a perfect dining experience.

In sum: Authentic elite boomer restaurant, great when you're lucky, so-so if not.
16) Gutding
Where are all the hipsters? Where do you get Brooklyn-style grub, or Portlandish niceness in Frankfurt? There are some spots here and there, but most suffer from a lack of attention to detail, and occasionally horrendous service. Gutding is a glorious exception 100% befitting its name (meaning, "good thing"). Owned and operated by a charming German-American guy, this tiny place is great for delicious everyday-different dishes that never fail to satisfy. Some examples: Grill veggie, pesto & hummus & crispy corn bread, for €6.30. Quesadillas w/small salad, €5.20. Or, grilled chicken filet w/cheddar, tomato and salad, €7.90.

In sum: Best young urban place.
Image Courtesy of unknown.
17 17) Jasper's
This has been my favorite place to celebrate something -- a major birthday, a promotion -- since around 1992. Rather hidden in a back alley in Sachsenhausen, it feels like an extremely cozy and inviting French bistro. Food is marvellous and pricey and well worth what you pay. Home-made lobster tortellini, €16.30. Argentine entrecote with potato gratin, €22. Coq au cidre with mushrooms, carrots, echalottes, €15,60. Deserts are excellent: a first-class creme brulée for €7.20, a Breton pancake with salty caramel butter for €7.20. White wines by-the-glass cost between €5 and €9, and you are not expected to buy a bottle. Service is attentive, occasionally slightly stiff, but nobody's perfect.

In sum: If a bistro-restaurant this good were in every major city in the world, I'd be happy.
18) Kaliko
Are you fed up with meat, have enough of boisterous-pub atmosphere, don't want to rub shoulders with strangers -- you just want some nice pub grub in a friendly place frequented by locals? Then head for Sachsenhausen and pay Kali a visit. Just around the corner from the Harmonie cinema (which, by the way, has an excellent English-language selection), this is a place where you can sit at the bar and have a beer or glass of very drinkable wine, listen to very good music (Belle & Sebastian, Nick Drake anybody?), or have a table for yourself and enjoy nice modern food with a good value-for-money ratio. Examples: Spinach Lasagne (fresh, very nice, €9), home-made Spätzle (Swabian noodles) with Schnitzel for €12, a vegetarian soup of the day for around €8, vegetarian Chili (€9), fried potatoes with feta (€8), and an assortment of seasonal dishes of the day. Kali and his team are really nice folks, too.

In sum: best in town for non-apple-cider pub grub.
Image Courtesy of unknown.
19 19) Lamoraga
New, high-concept restaurants are suspect. High capital costs, large marketing charges, unproven personnel — Jane Jacobs was right when she said you get the best steaks in old buildings. That said, Lamoraga's concept is intriguing: Convince a dozen Michelin star-cooks to develop a world-class selection of Tapas, and then offer them in a world-wide chain of restaurants. Frankfurt is the first location outside of Spain (where three Lamoragas are already established). So, does the concept work? Well, Lomoraga really does have delicious food. Our party of three started with sumptuous Bacalao crevettes, large shrimps in a peanut sauce, and a eggplant-bonito concoction that was exceptionally aromatic and pleasing. For a main dish, the open-view kitchen delivered a fine mini burger, and perfectly tempuraed beans that were Japan-level tasty. And, a sea urchin with a lemon-custard sauce that looked excitingly exotic and tasted exquisite. For dessert, a Creme Catalan pie with ice cream that looked beautiful and satisfied all three of our party. With five glasses of very good white wine, and a large bottle of sparkling water, we arrived at a tab of €33 per person, which felt appropriate. Downsides? Generic ambient lounge music, anonymous (but mostly quick and competent) customer relations, a rather high level of noise, and an overhang of unattractive Yuppie patrons wearing fur coats.

In sum: Not cheap, but delicious, modern-Spanish. As good as anything this side of Barcelona.
20 20) Lobster
Excellent French bistro-type food? Check. Good-natured, chatty staff and patrons? Large, high-quality selection of by-the-glas wines? Got it. If you like a lively and unusually fun atmosphere, and don't mind paying €15 to €30 for a main dish, then "Weinbistrot Lobster" is your place. We have been there several times, with never a disappointment. Some examples of flawless food: grilled oyster mushrooms with garlic: succulent and not oily. Filet of lamb Provencale: juicy, aromatic. Loup de Mer in lobster sauce: beautiful. For desert, a fruit gratin: totally satisfying. This restaurant has been providing reliable quality since 1978. Best to reserve well in advance.

In sum: go there for a great bistro experience
21 21) Mikuni
This reviewer prefers restaurants that have a good track record. It's easy to entice patrons with the newest high-concept culinary inventions and stylish furniture, but if you want people to come again year after year, you need to offer quality that is more than skin deep. Mikuni is a place that does this. The menu, as well as the interior decoration, looks unchanged from the early 1980s. "It's like somewhere 200 miles from Tokyo" said a visitor who knows Japan, but was first-time in Germany. The place are undecorated to a fault, service is old-school, and the food is enjoyably no-nonsense. Over the past few years, whenever we tried Tempura or Sushi, we were never disappointed. Prices are not low (Nami Chirashi Sushi for €21; vegetarian Tempura for €14), but we accept the value-for-money ratio. Usually, over 50% of patrons are Japanese.

In sum: Old-school Japanese, tried and true.
22 22) Mr Lee
Mr Lee is to traditional Korean food as Frankfurt's Sonamu is to contemporary. One additional difference: the majority of patrons at Mr Lee's are Korean nationals. And the location: while Sonamu is still-somewhat-hip Bornheim, Mr Lee is on a busy, industrial street quite near the central train station, which adds to the 1974ish vibe. But these are all superficialities: what matters is the food, which we like very much. I tried the classical Bulgogi, Korean barbecue, which is prepared at your table if a minimum of two people order it. Served with ten sauces and side dishes, this was juicy, wonderfully spicy, non-chewy yet with a good bite, and fully satisfying (as could be expected for €18.00). My girlfriend was ordered the grilled Mackerel, which was beautiful: shiny and tasting much more elegant than you would expect from such a prosaic fish (€16.00). Mr Lee also offers a weekday lunch menu for €10.00, which includes a large bottle of sparkling water. Service was quick and businesslike. I have never been to Korea, but if this kind of food is normal there, then I want to go soon.

In sum: high-quality, slightly pricey, old-school Korean.
23 23) Nummer 16
By now, about three generations of Frankfurters have experienced the wonderful world of Luana and Luigi. Previously at Rohrbachstrasse number 16 (hence the name), they were a Sardinian couple that cooked up the kind of food you would imagine to get at an Italian country wedding: fragrant salads, Pasta oozing with the most luscious sauces, meat and fish with that extra level of specialness, deserts that tasted as if somebody spent hours preparing them. If you were low on cash, you'd share one main dish with a friend -- Luigi didn't mind, and since the dishes were country-style generous in volume, you'd get sated. Upon their retiring, the couple's kids have taken over the helm, and as far as we can tell, the food is as much an experience as ever. Examples: Penne with suckling pig: beautiful. Spagghittu dela casa (a bolognese made of three different kinds of meat): sumptuous. Main dishes cost around €15.00. Decor is old-fashioned rustic. Reserve in advance, don't be in a rush, and arrive hungry unless you want to leave half your plate untouched. Nr. 16 can get rather sticky in the summer; going tie-less is preferable.

In sum: real country-style Italian food, with a level of authenticity hard to find outside of Italy.
24 24) Pak Choi
Many people say this is Frankfurt's best northern-Chinese restaurant, in terms of value-for-money and authenticity. Personally, I prefer 'China Garden', but Pak Choi, located in the up-and-coming train station area, is still pretty impressive, and more comfortable to boot. The percentage of Chinese patrons is similarly high; decor is more modern and less spartan, while the food (of which there is a very large selection) is slightly more pricey, and very tasty. I had Eel with ginger (€13) which was less sweet than the Eel I know from Japanese restaurants, and rather crunchy. I would have preferred a bit more of the ginger taste, but it was still quite good. My girlfriend selected "fish with vegetables, hot" for 12 Euros with which she was extremely satisfied: served in a very large bowl, the sauce was delicious and clean, and the Pangasius filets were cooked just right. A liter of beer (yes, Chinese food makes me thirsty) set us back 7 Euros, and the quite good house-brand white wine cost €3.50.

In sum: one of two impressive Chinese restaurants that mostly cater to compatriots.
25 25) Paninoteca
This is the place to go to if you want excellent Pasta, served fresh in five minutes, for a very reasonable price, in the center of Frankfurt. Beware that we are talking about the quick-service-to-go Paninoteca, and not the proper Paninoteca Restaurant, which is around the corner, and utilizes the same kitchen. On warm days you can sit outside at unfortunately not very clean tables; otherwise use the bar stools inside. Pennete all'Arrabiata (6.50€) and Spaghetti alla Calabrese (€6.50) are two quite spicy recommendations; try the very nice Spaghetti alla Rucola with fresh tomatoes (€9) for something fortifying and mild. Both the house red and white wines are pleasant (while in the summertime, we like the Rosato).

In sum: best quick-meal Pasta in town. Nice for sitting outside in central Frankfurt.
26 26) Pepe
There is something about the dough… Pepe's Pizzas are not cheap; the toppings you can see, waiting to be added to the pies, don't look particularly good; and when you are unlucky, it can take well over 30 minutes to receive your order. It is very tight inside this Pizzeria (although pleasant seating al fresco is available in the summer months, where you can watch the sidewalk scene in this lively part of Frankfurt's north end). Pepe's has no rest room (you need to go next door to the, incidentally, excellent ice cream café). The wines are rustic and have a so-so value for money. But after one slice of our favorites -- Pizza Pepe (vegetarian with eggplant) or Pizza Natalie (vegetarian, Gorgonzola with Zucchini and garlic) -- I am pretty sure you'll agree it is a delight. Pepe himself is a got-to-know-Frankfurter, an all-round nice guy/kitchen philosopher. Just don't order a Capucchino with your Pizza.

In sum: best Pizza in town
27 27) Portofino
Frankfurt has a multitude of old-school Italian restaurants. They originate from the 1960s and 1970s, when the first-wave of immigrants found they could leave their industrial jobs and make money with southern-Italian home cooking. Many suffer from the Frankfurt Curse: There's Plenty Money Here, So You Don't Really Have to Try Hard. Some are pearls, though. Portofino is a favorite. It is located in a pleasant street, ten minutes walk north of the town center. Personnel is quite charming, relaxed, informed, and friendly with none of that "Signore/Signorino"-theatrality. The food is reliable and delightful, with a nice assortment of Pizza, Pasta, seafood, carne and fresh desert. Pricing examples: Pizza Vegetale (€7), Filet of Sole (€21.5), Milanese (€10.5), home-made tortelloni "alla Sorentina" (€9.5). Patrons are quiet, middle-aged, both business and leisure. If it's warm, sit outside and enjoy the street view. One warning: if you use the cloak area, beware that the near-bye kitchen's aroma might attach itself to your textiles.

In sum: Affordable old-school Italian niceness; we've been there a dozen times.
28 28) Rama V
The Curse of the Frankfurt Thai Restaurant: that is the strange phenomenon whereas a restaurant opens, offers terrific food at great prices to enthusiastic reviews, and then gets… sloppy. Indifferent service, boring food, bad-value-for-money: give a Thai place a few months, and all goes to pot. Why is that? Who knows. Is it a matter of natural law? No, as Rama V proves. This elegant restaurant has been serving Royal Thai cuisine for over fifteen years, to consistently high standards. Some examples: Gai Pad Met Mamuang (stir-fried chicken with cashews, onions, shallots and dried spur chilis, €14): delicate, not too hot, fragrant. Gaeng Kua Gung (cooked prawns in red curry with coconut milk and mixed exotic fruit, €21): fruity, juicy, complex, interesting. Downsides: it can get a bit tight when the house is full; discreet conversation is difficult when you are sitting quite close to your neighbors. Also, temperatures are somewhat high during the warmest summer evenings. Advance reservation recommended.

In sum: luxury Thai
29 29) Saravanaa Bhavan
Indian restaurants in Frankfurt come and go; even when they stay for longer than a few months, they tend to try to survive by adapting to local taste, which I think is a mistake. Germans do appreciate authenticity -- as the success of this vegetarian Indian restaurant proves. This is the first German subsidiary of a chain of vegetarian Indian places that operate all over the world, in places such as Paris, Singapore, Malaysia, the U.S., and Kuwait. The menu is apparently the same all over the world, and you have a large selection of wonderfully spicy, fresh, authentic dishes. English is spoken; German not always so well; waiters are high in number and excellent in helpfulness. This is not the most elegant of restaurants, but the family-friendly atmosphere characterized by many Indian immigrants and businessmen is very pleasing. Highly recommended.

In sum: best Indian restaurant in Frankfurt; one of the best vegetarian places you'll find anywhere.
30 30) Sonamu
This quite lovely Korean restaurant is what happens when intelligent, bi-cultural young people know about food. From the outside, Somomu's raw-wood facade looks fresh and nicely out-of-place in Bornheim's upper Berger Strasse: as if someone with an artistic slant thought hard about how to transform a standard-issue German pub into something special. Inside, the pleasant surprise continues with more raw wood: a bit like some place in Finland, but quite different, and very nice. Service is very friendly and informed: we received excellent recommendations which wine would fit which dishes. (Somomu has a good selection of economical, per-glass wines). I had a spicy squid pot (for €14.90) that was as aromatic as anything I have eaten this side of San Sebastian, while my girlfriend enjoyed her Galbi (marinated spare ribs, for €13.90), which were delicate and sumptuous. Side dishes of kimchi and other pickled veggies come free of charge. The ambience is chatty, lively yet not loud; music is pop of the un-annoying type. "This is the kind of restaurant I want to show all my friends!", is how my girlfriend sums it up. Reservation recommended.

In sum: According to friends in the know, this is just how modern restaurants in Korea are. Highly recommended.
31 31) Sümela 2
Anybody who has been to Istanbul will confirm that Turkish cuisine is wonderful: fresh, spicy, yoghurt-oriented, with delicious vegetables, wonderful soups, and deserts to dream of. Surprisingly however when you consider how many people of Turkish descent live here, there isn't that much decent Turkish food to be had in Frankfurt. Sümela is the exception. Decor is traditional-oriental, slightly over the top, but not kitschy. Service is attentive and happy to explain the various dishes. And the food is tasty indeed. We started with Humus (just the right consistency, €5.90) and Mercimekli Köfte, which are vegetarian meat balls with bulgur and parsley: fresh-tasting and enjoyable. As a main dish, I tried the traditional Kuru Dolma: stuffed spicy paprika and eggplant, which was quite satisfying, for €17.50. Other members of our party ordered Ispanakli Manti: home-made ravioli filled with creamed spinach, for €15.50. Yoghurts are home-made. If we had a complaint, then it might be that the value-for-money seems to be not quite up to par -- but then, you do pay for an elegant, exotic interior in a center-of-town location. Still a recommendation for a festive dinner. Many weekend evenings have live music: if you like Turkish sounds, you will enjoy it.

In sum: best Turkish restaurant, slightly pricey.
32 32) Tacohaus
Frankfurt is not exactly an oasis for Mexican food, so Tacohaus's opening is most welcome. This is a small, pleasant place with a youthful vibe. As you might imagine, focus is on tacos, which they serve fresh and spicy, made of corn or wheat flour. Their selection is based on Mexican regions -- Norte, Sur or Centro. Being a northern type myself, I tried the Burrito with fried potatoes and Chorizo sausage, which was zesty and strong. My girlfriend went for the Centro, and liked very much her Taco Nopal con Frijoles -- cactus leaf with black beans, served with additional goat's cheese. Bottled Mexican beer was on offer, but I had German draught, which was served fresh and cool. We were served by charming Mexican students who were highly efficient and attentive. The main dishes cost less than €10.00, which is quite good given the food's quality.

In sum: Tasty food in a friendly place.
33 33) Tawaraya
When some people go out for dinner, they want to be pampered, and spend their time in a luxurious, comfy surrounding. I am different: I don't care about the comfort, but I love it when I feel I am being transported to another place, maybe also to another time. As a matter of fact, I like to get the impression that a place is spending my money on food, preparation and service, and not on rent, capital costs and marketing. If you are like me, then you'll like this Japanese restaurant. Operating since the early 1980s, in a part of town that used to be run-down industrial but is now becoming gentrified due to the new ECB's premises, you get old-style Japanese food delivered in an old-style provincial ambiance. Old-style, and high-quality: my Kaki Furai (breaded deep-fried oysters, for €10.50) were crisp on the outside and juicy on the inside. My second dish, stomach of beef (for €8), was tender and subtle and aromatic, not unlike the best tripe I've experienced in France. My friend said his Tempura Udon was quite excellent (cost: €13) -- it certainly looked delicious.

In sum: Delicious, reliable, old-school, no-nonsense Japanese.
34 34) Walon & Rosetti
Frankfurt doesn't do Stylish so well — Frankfurt is great at Yuppie, good at Ethnic, excellent at Old-fashioned — so if you're looking for the kind of chic diner you would find in the newer parts of Brooklyn or Paris, then you'd be advised to check out Walon & Rosetti. It's dark inside, with well-placed mood lighting, generic-ambient (yet unannoying) music, a well-stocked bar, and a good-looking open kitchen. Many table spaces are communal, meaning you join the people already sitting there. The atmosphere is chatty, 30ish, friendly, with not too much attitude from personnel or patronage. The menu is limited to about five standards, about five seasonals, and around two dishes of the day. Being suckers for venison (the seasonal choice), we tried wild-boar meatballs with fresh french fries, while my girlfriend ordered deer ravioli. Both dishes were sumptuous, slightly heavy and original, befitting Walon & Rosetti's reputation for fine, hearty meals. The wine selection is excellent, too: fruity yet unsweet German whites and reds with just enough body and acid to cut through the strong food.

W&R is located in Frankfurt's seedy train station area which is slowly becoming a Mecca for hipsters. This place is good for late dinners for the jet-lagged: kitchen often open till midnight. Beware that it has only a small door sign, and disregard the obsolete soccer fan's pub signage outside.

In sum: Good food and good service in a stylish, if rather dark, place.
35 35) Wondergood
Outside of Berlin, Germany doesn't really do veggie. With a little (bad) luck, even your highly enlightened German friends will quote ludicrous theories of how vegetarianism is a Nazi invention. And those who reject the mountains of meat tend to have a Quijottish vein, so veggie restaurants are often dreary spots for sad grain-munchers. So it was with slight aversion that we sat down at Wondergood, Frankfurt's new veggie hotspot. Lighting was of the depressing yellow energy-saving type, and nasty synthetic blankets were draped over the massive-wood chairs. But service (though unsmiling) was quick, and my first course, a decorative and very ample "small" salad, was delicious. The main dish I ordered was excellent: a "potato-pan" with macarons and pumpkins and soy-wheat medallions in a pineapple-chili sauce: absolutely delicious, very satisfying with a lot of different textures, and good value for money at €13.90. My friend had Wan-Tans filled with 'butter' and sage that he liked very much, for €12.20. Other patrons were pleasant, music was unbothersome, so this is a place I will gladly return to, and I can certainly recommend.

In sum: One of two truly excellent veggie restaurants in Frankfurt.
36 36) Yam Yam Döner
Who still eats Döner Kebabs? There was a time in the 1980s when a Döner was an excellent, fortifying, tasty, fast-food alternative, but the only people in Frankfurt I know who consume the Turkish-German invention on a regular basis are young folks who just need something heavy and cheap before a night of drinking. And who don't mind the obligatory, sticky garlic sauce, the oddly greasy-dry meat that wedges between your teeth for hours, the sad salad… So you might think calling Yam Yam "best in town" is akin to damning with faint praise. But actually, it is quite good. The "Yam Yam Döner" my girlfriend tried, with fried onions, was juicy, non-stinky, with pleasant toasted bread and clean greens. I opted for the veggie Döner, with goat's cheese instead of meat, and was impressed with the fried/grilled vegetables and general wholesomeness of the thing. The sauce that ran into my hands was not unpleasant, and easy to wash off.

Don't expect this to be some kind of a gourmand temple, though: it is a small, loud, over-bright place in which high-talkers and mobile-phone yellers feel at home. But tables are clean. Excellent price-value: 5-7 Euros for a Döner, which should get you sated. The only booze is Heineken. Arriving late is fine: this is a great cure for midnight munchies.

In sum: best Döners in Town
37 37) Zum Gemalten Haus
There is a certain kind of German restaurant that is traditional, has a strong heritage, and is popular among both tourists and locals. It may no longer be the absolutely most authentic place ever, but is still rather nice. Think "Hofbräuhaus" in Munich. This is the kind of place that Zum Gemalten Haus has become (and even more so, its still quite acceptable next-door neighbor, Wagner's). On the one hand, the atmosphere is friendly and communicative, everyone talks to strangers and nobody stays lonely for long. Service is quick, food is generally quite OK, and you get the vibe of a place that has about a century of tradition to live up to. On the other hand: value for money is not so hot, waiters tend to be a little full of themselves, and the slightly conservative (albeit tolerant) scene is not to every young person's liking. Main dishes €6-18; per-glas cider €1.80.

In sum: An institution worth knowing, but I wouldn't go there every week.
Useful Travel Guides for Planning Your Trip
--- 15 Distinctively German Things to Buy in Frankfurt
Home to the European currency (ECB) and namesake sausages, Frankfurt is undoubtedly one of, if not "the", most known destination in Germany. For this there are quite a few reasons. Listed here are some of the things behind those reasons, which now can be picked up as... Frankfurt's Best Authentic Restaurants
Frankfurt is a dynamic and popular city located right in the center of western Europe. More than 10,000 people move to Frankfurt every year; over the past decades, it has become a highly international city -- about half of all children born here had non-German parents. Being the main hub for the...