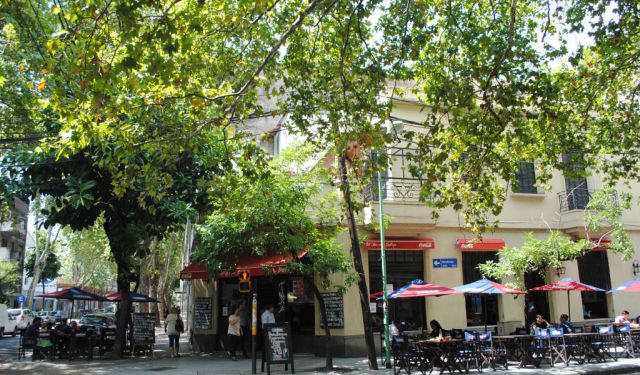 Best Cafes In Palermo, Buenos Aires, Argentina (D)
The barrio (neighborhood) of Palermo in Buenos Aires is the largest in the city and is renowned for boutique shopping, cafes, restaurants, bars, and nightclubs. For this reason it is the most popular area for tourists and residents alike. The trendy buildings, tree-lined cobblestone streets, museums, galleries and parks are world renowned.
How it works:
The full article is featured in the app "GPSmyCity: Walks in 1K+ Cities" on
iTunes App Store
and
Google Play Store
. Download the app to your mobile device to read the article offline and create a self-guided walking tour to visit the sights featured in this article. The app's navigation functions guide you from one sight to the next. The app works offline, so no data plan is needed when traveling abroad.
Sights Featured in This Article
Guide Name:
Best Cafes In Palermo
Guide Location:
Argentina » Buenos Aires
Guide Type:
Self-guided Walking Tour (Article (D))
# of Attractions:
15
Author:
Roy Heale
Author Bio
: I was born, raised and educated in London, England but spent the next forty years living in Canada. Five years ago I decided to relocate to Buenos Aires, Argentina for my semi-retirement days. My work experience has been in all levels of advertising, marketing, public relations, and publishing. I am now based in Buenos Aires and occupy myself as a freelance travel journalist for global magazines and websites.
Author Website:
http://www.royheale.blogspot.com
Sight(s) Featured in This Guide:
Cafe Tonno Soho
Porota, Cocina de Herencia
Sans Panes y Cervezas
Meraviglia
Antonio Cafe at Libros del Pasaje
Baraka
Q Resto Bar
Oui Oui
Pani
Voltaire
Eterna Cadencia
Pride Cafe
b-Blue Deli and Natural Bar
Dain Usina Cultural & Cafe
el Frances Cafe
1 1) Cafe Tonno Soho
This corner café is renowned for its thin crust pizza, pasta dishes, empanadas, sandwiches, and more. It is reasonably priced with a diverse menu and is suitable for everyday snacks and relaxing moments. The staff are friendly and most speak some English. It is located close to Plaza Italia, the Palermo Woods and La Rural Exhibition Grounds. Here you will find locals and tourists coming together to enjoy simple dining out. There are a few outdoor tables but this can be a noisy street corner during rush hour traffic times. The food is never disappointing for good quality and value plus the pizza is a must!
2 2) Porota, Cocina de Herencia
This tiny café may be small, but you'd be surprised to see the wide selection of delicacies that come out of Porota's efficient kitchen. Sandwiches, tartas, amazing lunch specials, creamy soups, salads, muffins, cupcakes, breads, scones, cakes, fresh fruit juices---there's nothing missing at Porota. Owner Miren Algañaras cooks very rich fare according to her grandmother's recipes, occasionally adding a personal touch to make them unique. Offerings include daily hot lunch specials. However, this cafe is renowned for the rich, sweet desserts and cakes served in an atmosphere that brings back childhood memories of birthday parties from the homemade truffles in little colored paper cuffs to the classic glasses of chocolate milk. There's a mouth-watering selection including banana and dulce de leche muffins, chocolate raspberry cupcakes and sprinkle-covered truffles. With a huge menu of excellent freshly brewed teas, it's the perfect place for an afternoon break. Inside is intimate and pretty, or at the outside tables you can enjoy the sidewalk action. Popular with locals and tourists alike, this gem is sure to please any palate.
3 3) Sans Panes y Cervezas
Located in the heart of Palermo Soho on the edge of the very popular and touristy Plaza Cortazar the Sans cafe is a pleasant surprise. The inside is charmingly decorated with cheerful colors and wooden furniture plus the sunny upstairs terrace has a great view of the Plaza. The clientele includes tourists and plenty of local Argentines. As the name suggests, their specialty is sandwiches and beers but the menu offerings include much more. Unique breads include Baguettin Mini (mini French baguette bread), Baguettin integral (Rye mini French baguette bread), Pan de molde multi-cereal (Mixed grain loaf) Focaccia de hierbas, olivas negras y romero (Herb, black olives, and rosemary focaccia), Pan rústico de espinaca (Spinach homemade bread), Pan de queso parmesano y albahaca (Parmesan cheese and basil bread), Pan de campo (Country style bread), Pan árabe (Pitta bread), and Pan inglés (English style bread). Of course the list of sandwich fillings is even more extensive. Relax and enjoy a simple lunch or dinner beside the Plaza Cortazar----sure to please.
4) Meraviglia
Argentina is renowned for a traditional meat and potatoes diet. This has changed to some degree and now it's common to find vegetarian options in the city. But it is often still a challenge to find restaurants that offer an entirely organic menu. Health-conscious eaters can check out Meraviglia which offers all natural breakfast, lunch and merienda (tea time) options.

This little corner cafe is best enjoyed in the sun when you can take advantage of the pavement tables and roof terrace. The menu is short but has some great food including a good tofu sandwich and a hearty stir-fry. There are also daily specials such as tarts and burgers. The house specialty is a courgette and onion tart dusted with seeds and accompanied by a salad with a sweet dressing. It's a popular place for breakfast, to sit reading the papers and watching the world go by. Even the most carnivorous beings need a break from the Argentine meat-centered diet once in a while.

Menu highlights include a lentil and rice salad, grilled vegetable sandwich and a fresh apple juice served with a pinch of mint. For those looking to learn how to cook their own healthy food, Meraviglia also hosts cooking classes. With its huge windows, whitewashed walls, wooden tables with green place mats and wheatgrass plants, it's a really bright welcoming space.
Image Courtesy of Meraviglia.
5 5) Antonio Cafe at Libros del Pasaje
Libros del Pasaje epitomizes Buenos Aires like few other places. Located in Palermo in a historic building, this charming bookstore and Antonia Café boasts high ceilings and massive wooden bookshelves showing carefully selected literature. As you walk in, you are overcome by the bohemian atmosphere. This is undoubtedly one of Buenos Aires best bookshops, but it also has to be included on this list as the cafe is one of the main features. It's at the back of the bookshop, next to a small music section so you can sit surrounded by books and music. It's wonderfully cosy and a favorite place to sit and read in the city with a light and bright patio courtyard. The menu is quite extensive with traditional Argentine breakfasts of pastries and coffee, lunch sandwiches and salads plus daily specials. The postries and desserts are all home made and the cheesecake with berries is amazing. Opened in May 2004 this is more than just a bookstore because it hosts cultural events, children's activities, gallery showings, photographic exhibits, and recycling opportunities. Slip into the store's sun room and settle in at one of the many tables with a good cup of coffee or tea. The bar also has a well-priced but basic alcohol and food menu.
6 6) Baraka
This quaint Palermo café located a few blocks from the hustle and bustle of Plaza Cortazar offers a much-needed break from empanadas and jamón y queso (ham and cheese) sandwiches. The space is one of many unique things about this cafe. Situated on a street corner, the cafe sits right by a beautiful colorful wall mural, which fits perfectly with the ambiance of the cafe itself. The interior with large windows is bright and vibrantly decorated, with sofas in the rear and has an open terrace upstairs.

Delicious organic coffee and made-from-scratch desserts accompany the filling sandwiches and salads. The multi-grain home-made bread is some of the best in the city, and can be purchased by the loaf.

Sample their extensive menu including tortillas, bruschetta, soup of the day, wok dishes, sorrentinos, noquis, fish, lamb, beef, and chicken dishes. It should be noted that no alcoholic beverages are served.

The inside is a bit sparse, but the terrace (if it's not too hot out) is a nice spot to settle in after a hard day's shopping.
7 7) Q Resto Bar
This charming cafe and bar is located in the heart of Palermo Hollywood on the quiet, tree-lined Humboldt Street. Inside the wooden tables and chairs or alcoves provide ample seating in a bright atmosphere due to the large floor to ceiling windows looking out onto the street. The outside patio accommodates about 40 people at tables and chairs plus a few benches with padded seats. The large mature trees provide plenty of shade on the hot Buenos Aires summer days.

An extensive menu affords many choices for breakfast, lunch, dinner, or anytime snacks. Try the traditional Croque Monsieur sandwich or even the Croque Madame with an additional fried egg. A wide range of salads, quiches, pizzas, Milanesas, tortillas, sandwiches, and pastas are available all day long and desserts include a cheesecake or lemon pie. Every day there are special promotions for hot and cold items.

This cafe is extremely popular with Argentines on the weekends and it is always very busy at brunch times. It is a quiet and relaxing venue away from the noisy Palermo main streets.
8 8) Oui Oui
Oui Oui is a corner café that is almost entirely pink, with the menu spelled out colorfully on chalkboards around the restaurant. Specialties include fresh-baked pastries of every size and shape imaginable—from waffles to medialunas (Argentina's popular croissants) plus pan au chocolat.

A good brunch choice any day of the week, this charming cafe seems perfect for weekend mornings. It's the ideal place to enjoy a breakfast of eggs and coffee amid the bustling Palermo streets. It serves the best submarine (a glass of hot milk with chocolate to melt into it) with lots of crumbly chocolate. Oui Oui offers honest, down-to-earth Gallic fare of the kind the French actually eat rather than just talk about.

Chef Rocío García Orza works magic in the kitchen with his filled croissants, fresh baguettes, vichyssoise, and pan au chocolat. All of this is served amidst a colorful environment of dried flowers and pastel pink picnic tables, which is strangely apropos for this restaurant.
9 9) Pani
This elegant cafe is a rare design and culinary success story. The owners attention to detail in every way makes heading out for a coffee or croissant an actual delight. Faultlessly chosen furnishings and knicknacks create a majestic high tea feel, with abundant classic floral upholstery. There is a variety of seating options starting with a unique use of ironing boards at the café entrance. The long narrow café affords traditional tables and chairs or comfortable sofas. To the rear a spacious rooftop area allows for the enjoyment of a Gatsby-style garden party atmosphere, or makes a perfect place for working during the hot Argentine summer months. Finally the rear garden patio is a breath of fresh air. This is a great example of imported style well executed.

Pani is a delicate delight, full of pretty crockery, and even prettier cakes. The pink lemonade even comes in a pink jug in the shape of a penguin. When you visit this cafe it is a must pleasure to try something sweet like one of the tempting macaroons. There is a also a menu of savory dishes such as pizza, wraps, and salad. The inside seats are placed beside shelves full of cute teapots.

There is also a deli counter for take-out or home delivery of their wonderful home cooked menu items.
10 10) Voltaire
This petite, cosy deli and country kitchen, located on the corner of its namesake street, serves up simple, tasty and reasonably priced items for breakfast and lunch. The staff are attentive and the fresh pumpkin salad, with poached egg and sun-dried tomatoes might just be one of the best light meals in the city. Also, the popular Pepepe sandwich contains chicken, bacon, and avocado on ciabatta bread. Plus, in the deli section you can buy local products like olive oil and salts to take home with you. Ask for a table outside and watch Palermo's hipsters parade by as you sip a freshly squeezed juice. This is a small place and you need to get there early, especially on weekends.

Sitting here on a sunny day is a wonderful way to appreciate Palermo's charms. Outside the cafe, the lamp posts and trees are typical of Palermo and inside is snug and inviting.
11 11) Eterna Cadencia
Located on a quiet tree-lined street is another cafe within a traditional bookstore named Eterna Cadencia in Palermo Hollywood. This classic bookstore offering hundreds of titles is small with floor to ceiling bookshelves and the cafe feels rather more grand with high ceilings and a glass roof. Light lunches and pastries are offered with good service in a unique, relaxed atmosphere. A favorite place to sit is at the back on the sofas where you can peek into the bookshop and stare up to the sky.
12 12) Pride Cafe
Owner Carlos Daniel Franco pioneered Pride Cafe years ago with the original venue in the bohemian neighborhood of San Telmo, becoming the first and only gay cafe option Buenos Aires. This is the second location for Pride Cafe in the city of Buenos Aires, this time Palermo Hollywood was chosen. With a very reasonably priced menu that includes multiple classic options for hot entrees, pastries, daily specials and sandwiches for which Pride Cafe had become famous. A local favorite is the Patagonia bruschetta with heaps of smoked salmon and cream cheese on ciabatta.The corner location with plenty of trees for shade from the hot sun offers a very large outdoor seating capacity and a bright interior with full length windows on the world.

It is a popular place on weekends for late Saturday and Sunday brunches. Although catering to the gay and lesbian crowd it is also very hetero-friendly and the clientele is extremely mixed due to great food at reasonable prices served with flair.
13 13) b-Blue Deli and Natural Bar
Located close to the popular Plaza Cortazar b-Blue is very popular with tourists and locals. The light filled, yet cosy, place is owned by a blueberry farmer and serves a delicious crumble. The breakfasts are huge, and there's also a great tea menu. Specialties include the b-Salmon salad (leaf lettuce, French endive, candied citrus slices, red onions, slices of smoked salmon and cream cheese with toasted sesame seeds) and the Lemon Cream Cake (mass sablée on limes and cream condensed milk). b-Blue has a great menu of home made lunch items and fresh squeezed juices, as well as an array of natural products for purchase. The ambiance is calm, and they offer indoor and outdoor seating on their lovely patio. Their menu has an extensive array of fresh salads, tasty sandwiches or wraps, several varieties of bruschetta, stir-fried 'woks' and baked goods. They have a good variety of vegetarian options as well.

In the center of Palermo this is an excellent rest stop.
14 14) Dain Usina Cultural & Cafe
The expansive ground floor cafe and stacks of books welcome customers to the Dain Usina Cultural center and cafe. The historic colonial house has been completely renovated in order to house the bookstore, cafe, and cultural center where one can enjoy live entertainment on the weekends, book readings, poetry recitals, art exhibitions, and book signings, plus short-courses and workshops during the week.

The white walls, tall glass windows and heavy black steel door create a modern atmosphere in this historic building. The cathedral ceilings, alcoves and balconies are topped with a third floor rooftop terrace.

The cafe is led by Chef Guadalupe creating an interesting cuisine. The gourmet menu includes options for breakfast and snacks with salads, sandwiches and tapas for brunch, lunch or dinner and a delicious pastry to accompany a coffee at any time of day. They also have a variety of cocktails, including classics like the Mojito, and innovative creations like the 'Tangerine Raspberry Caipri' or the 'Mule'.

Endy Dain, co-owner and co-founder of Dain Usina Cultura is dedicated to her unique creation of a cultural center in the heart of Palermo.

Here you will also find English books, and there will soon be more translations of Argentine and Latin-American books into English.

This is another Palermo distinctive cafe experience.
15 15) el Frances Cafe
Reminiscent of a french corner store, this unpretentious Palermo bistro, operates as a café during the day, serves up excellent genuine French food at reasonable prices. The menu is long, French, and covers everything from snacks and (creative) sandwiches to cocktails and specialty coffees.

Typically French and rare in Buenos Aires,the house pâté is coarse and meaty, served with fresh dill and a piquant tomato relish or the cognac pate is served with fresh fruits. Light fluffy omelettes are available with a variety of fillings. The lomo bourguinon, which involves chunks of tender fillet steak in an oregano pastry basket are superb. Sample the bondiola de cerdo in a citrus fruits sauce and, for vegans the raviolis de queso de cabra (goat's cheese) are an excellent choice. Indulge in heavenly crème brûlée de Bailey's dessert, which is a creamy, liquer filled delight large enough for any big appetite and can easily be shared between two.

Whatever time of day this is a cozy French delight in the heart of Palermo. Dine al fresco on the quiet street corner or enjoy the white and bright interior tables with chairs or sumptuous booths.
Useful Travel Guides for Planning Your Trip
---