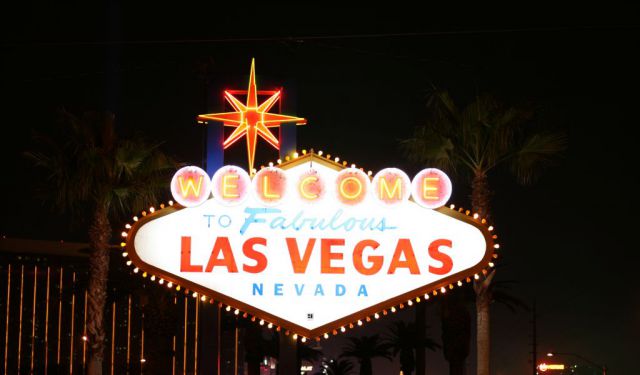 Buffets & Vegas Favorites, Las Vegas, Nevada (D)
In 1941, Thomas Hull, the man behind the Strip's first hotel the El Rancho Vegas, realized that even though he might lose a few dollars by offering an "all you can eat" buffet," the reward of funneling thousands of hungry gamblers through his casino to get to the buffet would more than pay itself. He was right, and like any successful venture in Vegas, every hotel and casino adopted the idea. Today, buffets and especially free buffets are one of the primary reasons gamblers go to, or stay at certain hotels. In this guide, we'll look at 11 of the most popular and unique buffets in Las Vegas as well as 13 of the most popular local's favorites and several "Old Vegas Classics." For the best upscale restaurants, please refer to out Top 20 Las Vegas Restaurants guide.
How it works:
The full article is featured in the app "GPSmyCity: Walks in 1K+ Cities" on
iTunes App Store
and
Google Play Store
. Download the app to your mobile device to read the article offline and create a self-guided walking tour to visit the sights featured in this article. The app's navigation functions guide you from one sight to the next. The app works offline, so no data plan is needed when traveling abroad.
Sights Featured in This Article
Guide Name:
Buffets & Vegas Favorites
Guide Location:
USA » Las Vegas
Guide Type:
Self-guided Walking Tour (Article (D))
# of Attractions:
22
Author:
Scott Weber
Author Bio
: Scott has lived in the southwest all of his life and loves to help visitors find the best and most unique attractions, exhibits, and restaurants on their travels. Please check out his other guides at GPSmyCity and itunes for San Clemente, Dana Point, Newport Beach, Laguna Beach, Las Vegas and Boulder City.
Sight(s) Featured in This Guide:
Buffet - Bellagio Hotel
Buffet – Wicked Spoon - Cosmopolitan
Buffet - Golden Nugget – Downtown
Buffet - House of Blues Gospel Brunch - Mandalay Bay
Buffet - Main Street Station Garden Court Buffet - Downtown
Buffet – Cravings - Mirage Hotel
Buffet - Village Seafood Buffet - Rio Hotel
Buffet - Spice Market at Planet Hollywood
Buffet - Village Buffet at the Paris Hotel Las Vegas
Buffet – Wynn Hotel
BLT Burger at the Mirage - The Strip
Burger Bar at Mandalay Bay - The Strip
Binion's Ranch Steakhouse - Downtown
Capriotti's Delicatessen - The Strip
Dona Maria Tamales - Downtown
Golden Gate Hotel Shrimp Cocktail Bar - Downtown
Golden Steer - The Strip
Hoffbrauhaus- Off Strip
Jean Philippe Patisserie at Bellagio - Strip
Lotus of Siam - Off Strip
Luv-it Frozen Custard- The Strip
Peppermill - The Strip
1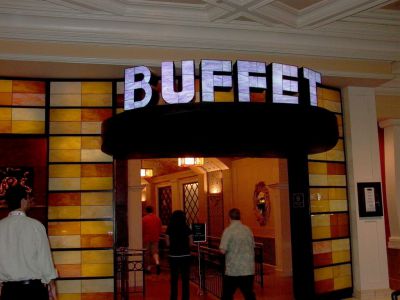 1) Buffet - Bellagio Hotel
What else would you expect from the Bellagio other than the best buffet in Las Vegas. The Bellagio brought elegance to the Las Vegas Strip and they don't scrimp when it comes to laying out a feast of foods for their guests. This is one of those buffets where you'll be surprised at every food station. Built on a foundation of superb selection of classic America cuisine, they also offer ethnic delicacies you never knew existed or have only tasted a few times before. The Bellagio isn't cheap, but when you can indulge in scallops, smoked salmon, shrimp, oysters and king crab claws for under thirty bucks, it's not such a bad deal after all. Choose from the best of Italian, Chinese, Japanese, American, and a bounty of seafood specialties. Expect a line so arrive early if you don't want to wait.
2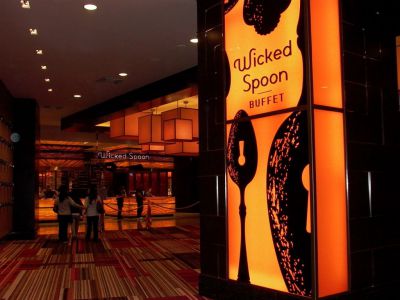 2) Buffet – Wicked Spoon - Cosmopolitan
The newest darling to rise from the desert sands of Las Vegas, the Cosmopolitan has wasted no time making a name for itself in all of the town's gourmet culinary circles. With a name like Wicked Spoon Buffet, you better do something well and it better have something to do with food. Styled as a culinary hall, the buffet delivers original selections for every appetite, and the modern upscale motif is evident in everything they do. Even the flatware and plates are a notch above the rest. But you'd expect that considering the Cosmopolitan is one of the cleanest architectural designs on the Strip. And like most buffets, the Wicked Spoon has its share of specialties, but you'll be hard pressed to find a more alluring desert station in town. No expense is spared to provide an extensive selection of sweets and each is decorated to perfection. Check out the Wicked Spoon Buffet, it's a great buffet experience.
3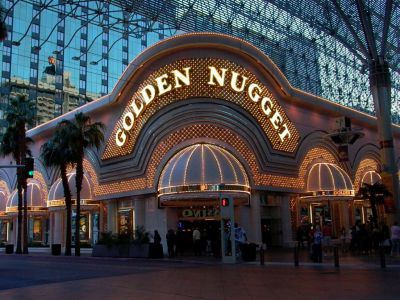 3) Buffet - Golden Nugget – Downtown
The Golden Nugget is one of the oldest hotels in Las Vegas. It was originally a gambling hall, and then a rooming house was added. When Steve Wynn bought it, downtown Las Vegas was on the skids, but that was about to change. Wynn brought service and amenities to his guests and put out the best buffet around. Today the Nugget is owned by Landry's and the once undersized Buffet tried to keep up with the big boys, but with a new home on the second floor and a view of the pool, the Golden Nugget can once again stake it's claim to having one of the best buffets downtown. And as a sign of respect, Landry's still uses Steve Wynn's Mom's recipe for their Bread Pudding. Laundry's has expanded the buffet with an over-sized salad bar, fresh seafood, and a great selection of deserts. It's not the best downtown buffet, but it's at the biggest and most popular downtown hotel and casino and the price is more than fair.
4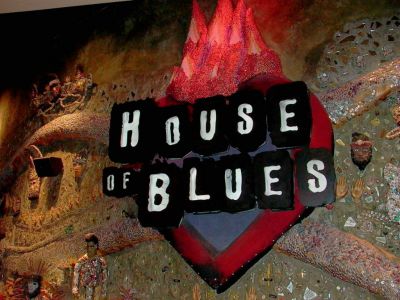 4) Buffet - House of Blues Gospel Brunch - Mandalay Bay
From the city that elevated the dinner theater experience to new stratosphere, the Mandalay Bay's House of Blues brings music and food back to earth with something they call a Gospel Brunch every Sunday. Not quite a traditional buffet and not really like anything else, the Gospel Brunch combines southern-inspired cuisine and gospel performances between the hours of 10am and 1pm. And face it; you're not going to find creamy cheese grits, spicy Jambalaya or New Orleans Bearled Shrimp Cocktail at any other buffet this side of the Mississippi. And the bar is open for that much needed Sunday hair-of-the-dog, the Bloody Mary. Hallelujah! The Gospel Brunch sells out quick and advance tickets can be purchased online or at their box office. Prices aren't cheap, $37 for adults and $19 for kids, but where on earth are you going get an experience like this. The must be Las Vegas! Open Sunday 10am to 1pm. $37 adults - $19 under 17.
5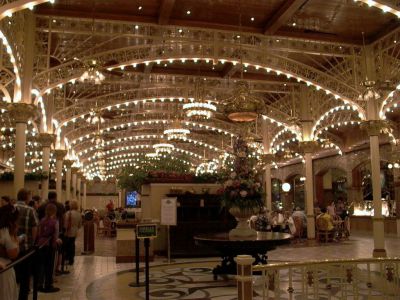 5) Buffet - Main Street Station Garden Court Buffet - Downtown
Not to be associated with the popular chain of Station Casino's, the Main Street Station has long held the crown of "Best Downtown Buffet." Heralded as the best buffet in Las Vegas, an always hotly debated subject, the Main Street Station not only offers some of the best food, you actually get real windows with real sunlight while you're dining. What a unique concept! Only the highest quality food is prepared at a multitude of stations from Barbecue, Chinese, Soul food, traditional, and Hawaiian specialties. They even have brick-fired ovens for their pizza. And take advantage of their themed buffet specails, T-bone Tuesdays, Steak and Scampi Thursdays, and if you're in town on the weekend, the Friday night dinner buffet features lobster and plenty of other fresh fish selections. Main Street Station also has a microbrewery and their vast selection of beer is available at the buffet.
6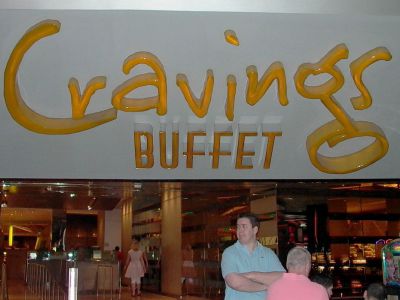 6) Buffet – Cravings - Mirage Hotel
Cravings at the Mirage is on everyone's best buffet list for good reason; high quality food at a moderate price. Best known for having the largest salad bar around, you can pick from more than 25 types of salad. And with a name like Cravings, you'd expect an assortment of meats to choose from and they deliver, but they also complement their buffet staples with a fajita station, an Asian station, and an Italian station. Cravings also has plenty of other ethnic selections and boasts one of the best-stocked desert tables. Celebrate the art of eating and experience the unique cuisine created at one of their eleven cooking stations. The Mirage has always been at the forefront of style and service, and Cravings is no exception.
7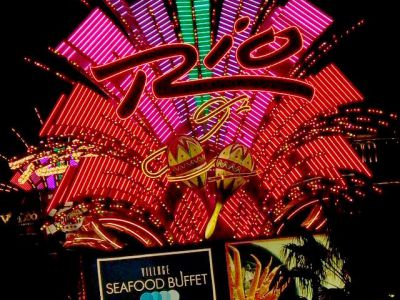 7) Buffet - Village Seafood Buffet - Rio Hotel
Proclaiming itself as the only all-seafood, all-the-time, all-you-can-eat experience in Las Vegas the Village Buffet at the Rio is back after extensive remodeling of its 13,000 square-foot restaurant. The Rio is a bright and exciting hotel and if you've never been there and experienced the faux-carnival, it's worth a trip over there, especially if you love seafood. Their Seven Seas spread is a true trip around the world with delicacies prepared in the culinary styles: Mediterranean, Pacific Rim, Baja California, South and North America. Whether it's lobster, snow crab legs, shrimp, fresh-shucked oysters, sushi or octopus, you'll find it at the Village Seafood Buffet. And for those hot summer months, join them for their special Baja Seafood and Cerveza Festival with all-you-can-eat lobster tails, crab legs, seafood enchiladas, and ceviche. And wash it all down with a 99-cent Sauza margarita. Is it summer yet?
8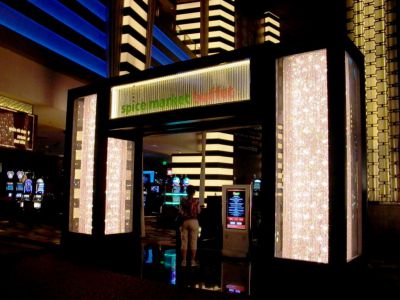 8) Buffet - Spice Market at Planet Hollywood
Considered by many as one of the best buffets on the Strip, the Spice Market Buffet at Planet Hollywood holds nothing back when it comes to providing a variety of choices to its devotees. Variety is in fact the "Spice of life," at least that's what they're banking on. Spice Market prides itself on having actual chefs working at each of their stations. Cuisine options include: Mediterranean, Italian, American, Middle Eastern, Asian, Mexican, 2 salad bars, and their self-proclaimed world famous desert station where you can indulge yourself with creations ranging from sinful to salacious smoothies, or both! And if you just want to chow down on some good-old-fashioned comfort food, Spice Market offers Prime Rib and King Crab every night of the week.
9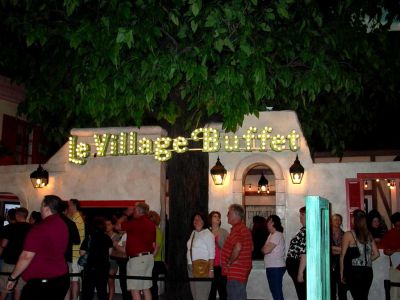 9) Buffet - Village Buffet at the Paris Hotel Las Vegas
Las Vegas is famous for a lot of things and one of them is food, and you don't have to travel the world to get a taste of it. Sure, Anthony Bourdain gets a first-hand look at the best cuisine on the planet, but Las Vegas and its multitude of themed resorts is closing the gap. The Village Buffet is a perfect example. Here, they bring to life the flavors and nuances of five French provinces through culinary expertise and attention to visual details. And each of their five stations focuses on one of the region's particular specialties. Even the façade of each station represents the architectural style of that particular region. Obviously, at the Roquefort Station you're faced with a smelly old cave! Kidding aside, few countries in the western hemisphere have had as much influence on the culinary arts as the French and you won't be disappointed at the Village Buffet. The atmosphere alone is worth the price. And stay away from the desert and pastry station; you might not come out alive.
10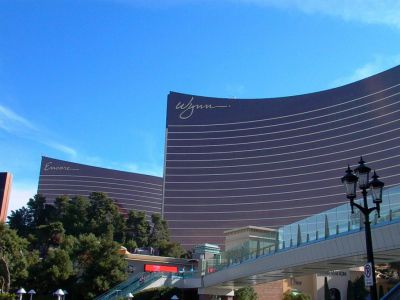 10) Buffet – Wynn Hotel
Steve Wynn single-handedly resurrected the Golden Nugget Hotel, sold it to build the Mirage and Treasure Island, and then sold those to build the Bellagio. When the world thought no finer hotel could be built, he erected the Wynn and the Encore Hotels, which ushered in a new concept of resort and hospitality services. It's one thing to invent new architectural standards and I applaud Mr. Wynn's genius, but re-inventing the buffet is something no mortal man can accomplish, but he tried and probably deserves 4.9 stars for his effort. The Wynn Buffet has sixteen live action cooking stations and real chefs manning cooking up a sumptuous array of specialties. And don't be surprised by the tandoori chicken, the honey glazed pork or the cooked to order pastries, when it come to one-of-a kind dining experiences, the Wynn is hard to beat.
11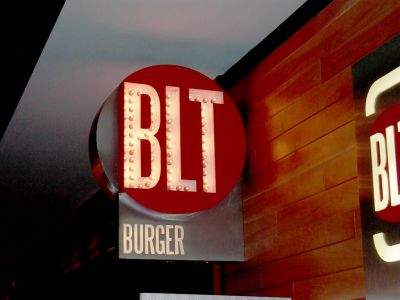 11) BLT Burger at the Mirage - The Strip
The Mirage Hotel was at one time the jewel of the Strip, but with all of the resort hotels coming in, the Mirage lost some of its luster. But it still ranks as one of the best when it comes to food services. The Mirage now hosts acclaimed Chef Laurent Tourondel's interpretation of the American burger joint at the BLT Burger. The restaurant's casual attitude and cool milkshakes are complemented by beef, American Kobe, lamb and turkey burgers served on soft, no-frills buns with all the burger trimmings, including burger staples like cheese, bacon, avocado, and homemade chili. A circular open grill kitchen lets guests watch while their burgers are being cooked. BLT Burger's bar offers over 20 beers on tap, enticing cocktails, an extensive wine list, and a series of flat-screens offering a 180-degree window for the best in sports viewing. This is a great family restaurant and there's something here for everyone.
12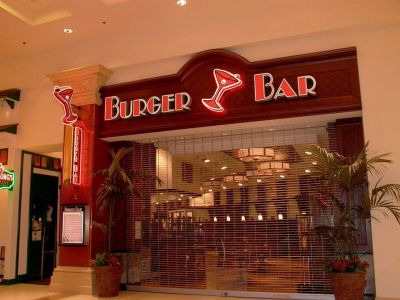 12) Burger Bar at Mandalay Bay - The Strip
Since when did hamburgers become a gourmet item? Well, this is Las Vegas and anything and everything with some commercial value is glamourized. And why not glamorize America's trademark food? Have you ever had a Kobe Beef Hamburger? At the Burger Bar at Mandalay Bay you literally build your own hamburger, and it goes way beyond a pickle, lettuce, tomato on a sesame seed bun. How about lobster, liver pate, anchovies on a Black Angus patty with some of the best fries and shakes you can imagine. Take a break from Mandalay's beach and come in for a bite. Whatever you want, it's here, and this is one of the few places the kids won't complain about. Cheers!
13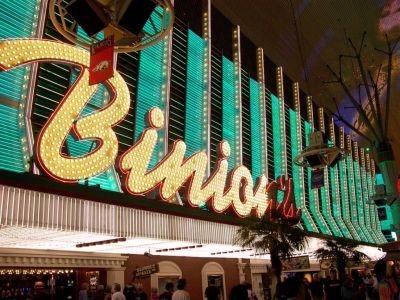 13) Binion's Ranch Steakhouse - Downtown
Located at the top of Binion's Hotel and Casino in downtown Las Vegas, Binion's Steakhouse has a spectacular view of Downtown Las Vegas and the Strip. Located on the 24th floor, this gourmet restaurant is a step back in time with its vintage Vegas décor, romantic atmosphere, and first class service. Enjoy USDA prime aged steaks prepared to your request, Filet Mignon, Australian Lobster Tail, Prime Rib of Beef, 21 ounce Porterhouse Steaks, Salmon, or their signature dish Chicken Fried Lobster. Top of Binion's Steakhouse also offers a grand wine selection to compliment any entrée choice. Top of Binion's Steakhouse is Vegas' best kept secret by the locals. Open for dinner daily from 5:30pm to 10:30pm. Reservations suggested.
14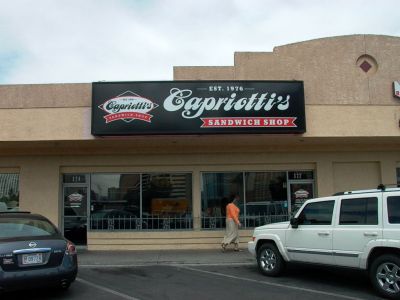 14) Capriotti's Delicatessen - The Strip
Sometimes you just have to find a great delicatessen, and yeah, all hotels have a coffee shop with sandwiches, but it's just not the same. And fortunately, one of the best delis in town is also only a half-block off the Strip on Sahara Avenue. Capriotti's Delicatessen has a strong following with the locals, probably because they roast their own beef and turkey and then make monstrous-sized sandwiches with every possible kind of cold-cut, meatball, and sausage. Don't be fooled by their advertised submarine sandwich sizes. Even a small is large enough for a party of two. And if you've got a hankering for your favorite deli concoction, Capriotti's has an answer. This is also a great place to load up on food if your making your own personal sight-seeing adventure. It get's our vote.
15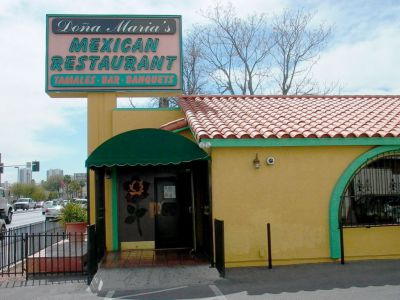 15) Dona Maria Tamales - Downtown
Some Mexican restaurants taste alike, but at Dona Maria's you have the rare opportunity to taste Mexican cuisine from someone who has mastered the sauces and above all, the art of the tamale. And it's rare to find a group of tamale aficionados' who unanimously approve of any one cook, but Dona Maria is Las Vegas' tamale queen. Due to Dona Maria's downtown location it's always busy for breakfast, lunch, happy hour, and dinner due to all of the businesses, lawyers, and civil servants working downtown, but don't let that dissuade you, go anyway. You'll get a table and some of the best Mexican food in the valley. And if you're traveling from abroad and never has a tamale, you gotta go! Dona Maria's features 4 tamales: Pork in a mild sauce, Chicken in a spicy sauce, a special Chili- Cheese tamale, and Pineapple and raisins tamale for desert. If you're mouth isn't watering by now, you can't read English. Make the trip. You'll be glad you did. They even have hamburgers for fussy children.
16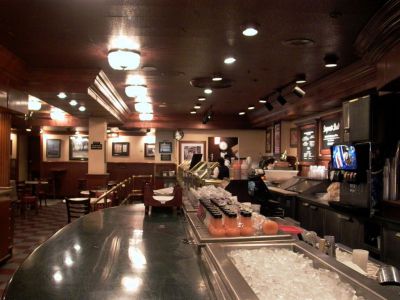 16) Golden Gate Hotel Shrimp Cocktail Bar - Downtown
As much as I'd like to tout the Golden Gate's famous $1.99 shrimp cocktail, everything about the Golden Gate Hotel is special. The Golden Gate has 2 great food services and each is well known and well visited by locals and those in-the-know. Get the shrimp cocktail at the Bay City Deli, or go to Du Par's Diner to get some of the best home-style pies, meatloaf, chicken-pot-pies, and their breakfast aren't bad either. I'm not kidding when I say this, but they make the largest glazed donuts on the planet and USA Today proclaimed that Du Par's makes the best flapjacks in America. This corner is where Las Vegas got its start and has probably seen more changes in the city's diverse history than any other spot in town and the historic Golden Gate has weathered it all. And best of all, their parking lot is only 50 feet from the deli and 100 feet from the donuts. What more could you ask for? The deli is open for lunch and dinner and Du Par's Diner is open 24 hours.
17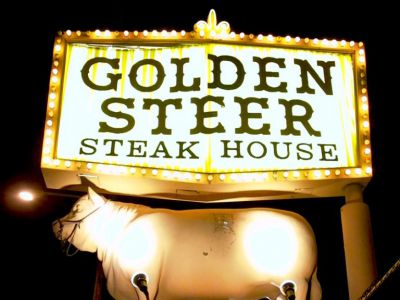 17) Golden Steer - The Strip
What says "Old Vegas" more than low lights, a sweating dry martini, Naugahyde upholstery, and a steak the size of an old 1962 Mercury hubcap? If you didn't know the Golden Steer was here, you'd probably miss one of the Rat Packs haunts and a favorite of Hollywood celebrities and mobsters alike. Frank, Sammy, Dino, Elvis, and Liberace all ate here. Hey! Everyone has to eat. Founded in 1958, this place has seen a lot of trends come and go and it still makes somebody's "Best of Las Vegas" list every year. Don't expect to find food with foo-foo names you can't pronounce, this place is steak, seafood and pasta all the way, and plenty of it. The service isn't too shabby either. If you want to get away from the neon jungle, and catch your breath where Howard Hughes might have pondered his next conquest, I'd suggest a trip to the Golden Steer is in your future. Open from 11:30am to 11pm
18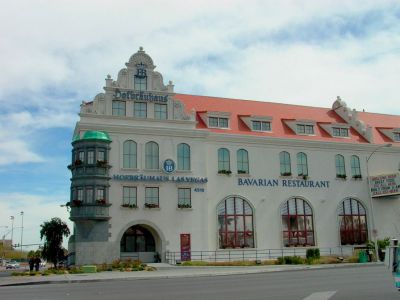 18) Hoffbrauhaus- Off Strip
If you're a living, breathing, human being, the Hoffbrauhaus is guaranteed to bring a smile to your face and after a few steins of their famous lagers, you'll be dancing the polka with your frauline as the Oom-Pah band entertains. In fact, if you love good German lagers, there's probably no better place to sample their more than 30 varieties. The pretzels aren't bad either. The Hoffbrauhaus is really one place you have to see to believe. Almost an exact replica of Munich's Hoffbrauhaus, this classic building features an enormous dining hall with long tables and benches, and is always filled with revelers. And this is a great place to host a special event or a wedding reception. Although the Germans have never been known for their cuisine, the Hoffbrauhaus is faithful to its Bavarian roots and also offers traditional American cuisine too. They also import different bands from Germany to entertain the guests nights and weekends. The Hoffbrauhaus is open daily from 11am to 11pm
19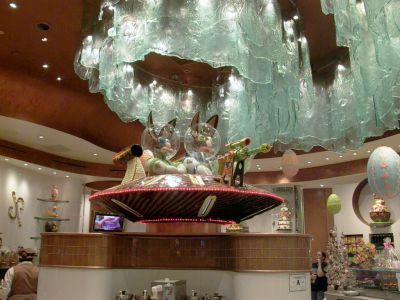 19) Jean Philippe Patisserie at Bellagio - Strip
Did you know that there's an award for the best pastry chef in the world? And who else other than the Bellagio would invite him to create his magic? Treat yourself to Jean Philippe Patisserie in the main arcade. From the moment you arrive you're treated to a 20-foot high fountain with 2 tons of liquid chocolate cascading over glass flower petals. It's literally the largest chocolate milk shake, gone wild. But don't stop there. The Patisserie is famous for their gourmet candies, ice cream, sorbets, handmade waffle cones, cookies, and of course the pastries. Lemon merengue, chocolate hazelnut bombe, crepes, brioches, unbelievably delicious muffins, and they even make a limited selection of sandwiches. And I've been told that none of the calories will stick to your love handles, but I don't believe it. See for yourself and report back. And check out their chocolate sculptures. They're changed seasonally and are incredible. Open 7am to 11pm
20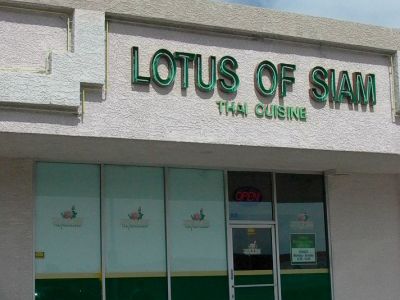 20) Lotus of Siam - Off Strip
Jonathan Gold of Gourmet Magazine called Lotus of Siam the single best Thai restaurant in North America and he's not alone in his high praise. Just about every restaurant guide places Lotus of Siam in the top echelon of Las Vegas eateries. And don't let the bland strip-mall exterior dissuade you, it's all about the food so go on in. With an emphasis on northern Thai cuisine, the chef, Saipin Chutima is known for these specialties: Kanom-Jean-Nam-Ngaew (vermicelli in curry sauce), Kang Hung Lay )pork stew), Green chili dip (fire extinguisher hot), and Nam Kao Tod( minced sour sausage to die for). I know that variety is the spice of life, but very few restaurants blend them together as deliciously as Lotus of Siam. Lotus of Siam is open for lunch 11am to 2pm Mon – Fri, and dinner 5:30pm to 10pm daily. Reservations are recommended.
21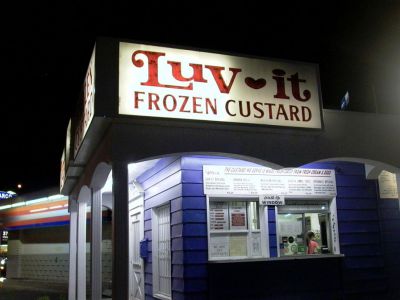 21) Luv-it Frozen Custard- The Strip
This is hardly a dining spot, but when you make the best frozen custard on the planet and you're voted best ice cream in Las Vegas year after year, you deserve a spot in our best of Las Vegas guide. There is absolutely nothing fancy or even convenient about Luv-it, but once the custard hits your taste buds, any criticism you might have about their non-descript blue building and lack of seating flies right out the window. Made fresh every day for 37 years, Luv-it always has the staple flavors on hand, but rotates 2 or 3 specialty flavors in each day so check their website to see when or if your favorite is on the menu. They offer their custard in cones, cups, sundaes, malts, and several super-sundaes. Located a few steps from the Strip just north of the Stratosphere, this is a must-visit stop while you're out and about in Las Vegas. They're open 1pm to 10pm daily – later on Friday and Saturday.
22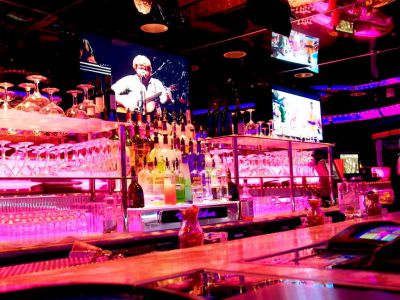 22) Peppermill - The Strip
The Peppermill is actually 2 restaurants in one and their Coffee Shop and Lounge are always on several "Top 10 - Best of Las Vegas, "must-visit" lists. Centrally located on "The Strip," the Peppermill has been a favorite for late night revelers, and celebrity sightings are quite common in the ultra cozy and stylish fireside lounge. It's been used for location scenes in more than one movie so you may recognize the decor. The Peppermill opened 30 years ago across the street from the once famous Stardust Hotel and immediately became a favorite of locals and repeat tourists. It's known for its great breakfasts, good service, and a relaxed old-style Las Vegas atmosphere. I don't know how they do it, but their eggs and hash browns actually taste like real eggs and hash browns and are second to none. At peak hours, you'll likely find yourself waiting for a table, so plan your visit accordingly. Open 24 hours a day.
Useful Travel Guides for Planning Your Trip
---