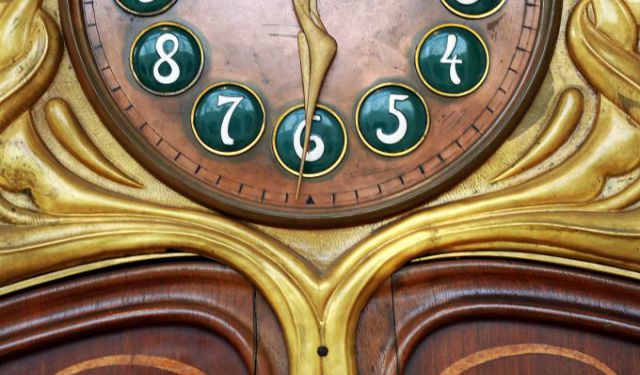 Time for Art Nouveau, Budapest, Hungary (D)
Budapest, one of the most impressive cities in Europe, boasts a wonderful range of sites for visitors to enjoy. Likewise, its vast collection of Art Nouveau buildings and objects is among the best in Europe. These jewels of the Art Nouveau movement date back to a time when Hungary was at its wealthiest and most creative. This guide helps you to take time for Hungarian Art Nouveau and experience one of the golden eras of Budapest life.
This article is featured in the app "GPSmyCity: Walks in 1K+ Cities" on
iTunes App Store
and
Google Play
. You can download the app to your mobile device to read the article offline and create a self-guided walking tour to visit the attractions featured in this article. The app turns your mobile device into a personal tour guide and it works offline, so no data plan is needed when traveling abroad.
Attractions Map
Guide Name:
Time for Art Nouveau
Guide Location:
Hungary » Budapest
Guide Type:
Self-guided Walking Tour (Article (D))
# of Attractions:
15
Author:
Liam Cleary
Author Bio
: Liam Cleary is the author of many travel and educational publications as well as literary translations.
Sight(s) Featured in This Guide:
The Museum of Applied Arts
Hungarian State Treasury
Szabadság tér
Bedö House ( Magyar Szecesszió Háza)
Hungarian National Bank
Gresham Palace
Parisian Warehouse (Parisi Nagy Aruház)
Liszt Academy of Music
Parisi Uadvár
Novotel Hotel
Philanthia Shop
Geological Institute of Hungary
Városligeti fasor
Fasor Reform Church
Corinthia Hotel, Budapest
1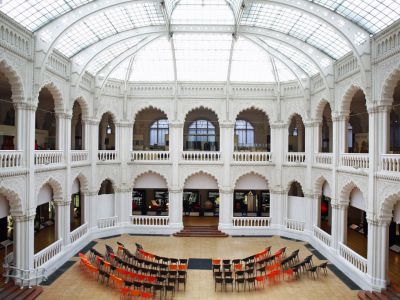 1) The Museum of Applied Arts
One of the great masterpieces of Hungarian Art Nouveau and a must-see for any art lover! The museum, preceded only by those in London and Vienna, was officially opened by Emperor Franz Josef of Austria in October 1896. The building is the work of Ödön Lechner, a visionary who apprenticed in France and Italy before returning to Budapest to champion a distinctly Hungarian style of architecture. His buildings show many diverse influences, Indian and Islamic for instance, as well as incorporating numerous Hungarian folk motifs, to produce a highly individualistic style. At the heart of Lechner's work was a desire to confirm the advantage of the Austrian connection but also to further Hungarian identity in architecture. The glazed bricks in the building come from the Zsolnay factory in Pecs where new coloured ceramic tiles were being produced and whose contribution to the Art Nouveau movement cannot be understated. From the start the museum set out to house its many collections in one place but also to encourage local Hungarian arts and crafts industries. Today, the museum is home to hundreds of artworks in forms such as glass, metal, furniture and ceramics as well as to the Esterhazy Treasure. Highlights include the tiled main entrance, the white pyrogranite columns and the spacious exhibition hall which shares its reliance on glass and metal with the Crystal Palace in England. Allow some extra time to find the tall case clock and to try out the cafe and book shop.
2 2) Hungarian State Treasury
Ödön Lechner created many wonderful buildings in the course of the Art Nouveau period. The Hungarian State Treasury is seen by many experts as his finest work. Built between 1900 and 1901, the façade of the building has a wavy design with ornamental motifs many based on Hungarian folk life. The colourful roof, decorated with beautiful bee-hives, can also be seen from the cupola of Saint Stephen's Bascilica. Not for the first time, Lechner relied on the ceramics of the Zsolnay company and the wrought-iron craftsmanship of Ede Alpar (1859-1912). The furniture for the building was manufactured by the Hungarian company of Endre Thek. For many years the building served as a Royal Postal Savings Bank and of all of Lechner's work, it is perhaps the building which best encapsulates his determination to introduce a distinctive Hungarian form to the modern architecture of the day. Unfortunately, as the building is currently in use, it is only possible to view the outside and to visit the large entrance hall which in itself is well worth the trip.
3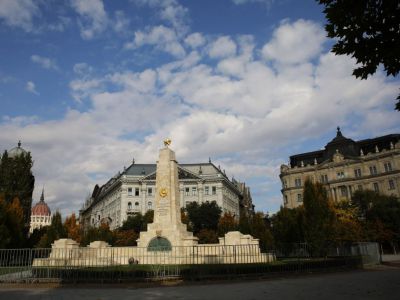 3) Szabadság tér
Szabadség Tér, or Freedom Square as it translates into English, is right beside Kossuth Lajos tér and the parliament and is one of the most delightful parts of Budapest. It is perfect for a stroll, day or night. It also contains three excellent examples of Art Nouveau which may be viewed from outside, Numbers 10,11,12. Number 12, which houses the US embassy, is a beautiful yellow building and the wrought iron, which one can see at the entrance, is particularly eye-catching. The history of Number 12 is also of interest in that it is said that Consul Karl Lutz, who had offices there from 1942-1945, assisted the Swedish diplomat Raoul Wallenberg in hiding Jews during the war and that lower floors of the building were used for this purpose at the time. The Ambassador's current office also served as the home of Cardinal József Mindszenty, who took refuge here during and after the failed Hungarian rising of 1956. The work of Otto Wagner, Aladár Kármánn and Gyula Ullman went into these three buildings and the influence of Vienna is clearly obvious in the façade and flowing lines and shapes. Of special interest to American visitors is the Ronald Reagan statue also located in the square.
4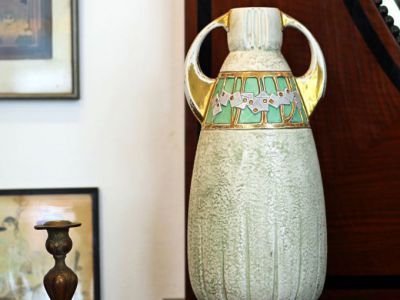 4) Bedö House ( Magyar Szecesszió Háza)
The Hungarian Art Nouveau House was originally known as Bedö House after the industrial giant and art collector Béla Bedö. This building in Honvéd utca is the work of Emil Vidor (1867-1952) and dates back to 1903. It incorporates many styles, particular French, Belgian and German, a fact that reflects Vidor's travels and the influences he came under. The closed balconies are very much a French characteristic while German Jugendstil is to be found in the stylish façade. The glass work is particularly fetching. The museum inside, though quite small, has many different Art Nouveau objects on view. In fact, for anyone interested in Art Nouveau furniture, clocks, vases, sculptures, lamps and other ornate decoration in general this is the best place imaginable to get a sense of the atmosphere and secessionist philosophy of the day and what it must have been like to live in such a house. An adult ticket for the museum costs 1500 Ft, seniors and students 1000 Ft.

There is also a coffee shop to relax in which is ideal for a quiet chat and a well-made café latte. There is also a wide selection of original books and magazines to look at, as well as portraits and illustrations. Loved by many! (Tip: After you have had a rest why not pop round the corner and have a look at Bathori utca Number 5 and Aulich utca Number 3, both interesting Art Nouveau buildings.)
5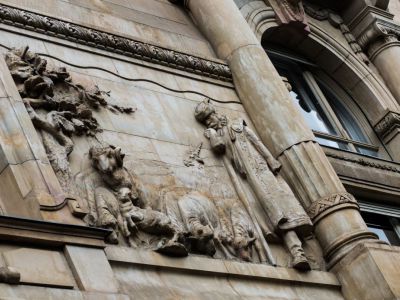 5) Hungarian National Bank
There is often a great deal of discussion regarding this building and whether or not it falls into the Art Nouveau category. What is certain is that it is a magnificent building well worth looking at and that it does display Art Nouveau influences both on the outside facade and inside as well. Built at a time when the Austro-Hungarian empire was at it height and Hungary was becoming increasingly conscious of the need to display its nationality, wealth and power in architecture, many professions, economic efforts and a whole range of people are displayed on the outside walls. The stone displays show Hungarians and other nationalities at work and their strength and power in economic activities is emphasized. Eastern scenes are also depicted. We find camels, goats, beautiful women and even Alpár the architect on the walls of this magnificent structure. The influence of Art Nouveau is more pronounced inside where the glasswork for instance is by Miksa Roth.
6) Gresham Palace
One of Budapest's most splendid venues, the property was originally the site of a neo-classical building but was bought by the Gresham Life Assurance company in 1880. The company, desiring a new building, commissioned Zsigmond Quittner to design a new structure which was then completed between 1904 and 1906. At that time it was an example of the finest structure that builders of the day were capable of. Above the entrance a bust of Sir Thomas Gresham, the original founder of the company. Wrought-iron work on the building was carried out by Gyula Jungfer and Miksa Róth did the glass. The Kossuth staircase is a highlight as are the Zsolnay ceramics.
Image Courtesy of Alex Proimos.
7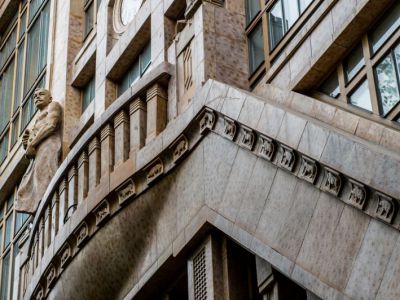 7) Parisian Warehouse (Parisi Nagy Aruház)
Andrássy út is Budapest's most elegant boulevard and the Parisian warehouse is one of the contenders for its most elegant store. Today it contains a bookshop downstairs and a wonderfully spacious cafe upstairs. Alone the frescoes and chandeliers on the ceiling in the cafe make the latte great value for money. The architect responsible for this masterpiece was Zsigmond Sziklai and the work took three years. (1909-12)
8) Liszt Academy of Music
The work of Flóris Korb and Kálmán Giergl on this jewel of Art Nouveau was carried out between 1904 and 1907. The Music Academy was set up over 25 years previously in 1875. The influence of Vienna is stronger than that of Hungarian Art Nouveau in this building. Perhaps the most striking aspect of the building facade is the statue of Liszt himself, work carried out by Hungary's finest sculptor Alajos Stróbl. Strobl's work is to be found throughout Budapest in places such as the Opera and in statues such as the Deak Ferenc Statue close to the chain bridge. The highlight of the building is the great hall. There is also a smaller hall and Zsolnay ceramic tiles are also to be found here. This building was considered one of the finest ever created at the time and the glasswork was done by Miksa Róth. The Acadmey was renovated in 2013 and reopened by the Prime Minister on October 22nd.

When you have seen this building it is worth having a look at the Mai Mano House nearby at Nagymező utca 20 which also houses photography exhibitions.
Image Courtesy of Villanueva.
9 9) Parisi Uadvár
Due to the fact that this shopping arcade is mainly in disuse and in great need of renovation most visitors never get to see it. Yet of all the art nouveau buildings, this is a must see. It was built by Henrik Schmahl and has an Oriental flavour to it. Schmahl, born in Hamburg in 1846, was a self-taught Hungarian architect. He spent many years working with Ybl. This building however was the one where he enjoyed the greatest freedom to give his talents free reign, and although the building is now run-down it has survived almost completely. Commissioned by a bank and built between 1909 and 1912, it combines Moorish, Gothic and Arabic influences. The internal passage ways and roof of coloured glass are highlights not to be missed as are the two towers facing on to the square.
10) Novotel Hotel
This hotel was formerly known as the Palace Hotel. It was built in 1911 and the architects were Komor Marcell and Jakab Dezsó. Built in the later days of Art Nouveau, it has a wonderful facade and beautiful balconies and recesses. Zolnay tiling, folk motifs and flowing curves and shapes all help make this a splendid example of Art Nouveau.
Image Courtesy of KovacsDaniel.
11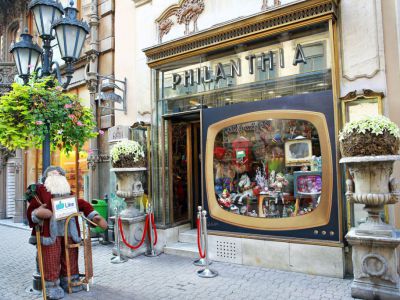 11) Philanthia Shop
The shopfront and internal design here show the work of Albert Körössy and it is one of the most attractive shopfronts in Budapest. The building itself was designed by József Hild who studied in Vienna. This is a shop to lose yourself in and to go back in time. It is very narrow inside so be careful with camera bags, handbags and other belongings for fear of knocking against something. Once you have finished here why not go on and look at Váci utca 11 and Váci utca 15, both lovely Art Nouveau buildings also.
12) Geological Institute of Hungary
Yet another work built by Ödön Lechner, the man who many believe did more to create the country's national style than anyone else. The Geological Institute started in 1899. This is a beautiful building well worth seeing. The Institute is visible from a good distance and is, undoubtedly, one of Lechner's greatest creations. It has a distinctive blue-tiled roof which contains many of the typical Hungarian folk motifs of the age and there are all sorts of windows in varying sizes which give the building great character. The entrance hall, the corridors and the staircase are well-worth a close look. Also not to be missed is the delicately-created globe resting on the shoulders of famous Hungarian figures.
Image Courtesy of Yelkrokoyade.
13) Városligeti fasor
Városligeti fasor is one of the most pleasant streets to walk if one wants to get a good idea of how Art Nouveau manifested itself in the houses of the wealthy in Budapest at the turn of the century. The work of great architects such as Körössy, Vidor and Sebestyén can be seen here simply by walking this beautiful wide boulevard. The best time of year for doing so is probably from late September to March as the trees that line this street do block the view in places. Albert Körössy was one of the main architects of Hungarian Art Nouveau. There is a great deal of Belgian influence to be seen in his villa at Number 47, which the architect built for his own family. There is a peacock to be seen on both sides and attractive figures on the gables. It is thought that Miksa Roth did the glass-work and the wrought-iron craftsmanship is outstanding. In the early 1900s many city-dwellers longed for a closer link to nature and so flowers and vegetation was often depicted in Art Nouveau. This trend is very evident in this building. Miksa Roth pioneered the use of marble-like glass as developed by Louis Tiffany of America and this allowed him and others to design vivid window colours such as those here.Other works in this street which are worth viewing include the Villa Vidor at Number 33 and the Villa Székács at Number 31. However you should look at every building along the way including the secondary school as you make your way towards the second church in this street.
Image Courtesy of gallery.
14) Fasor Reform Church
The Fasor Reform church, a massive building in good condition, was built by Aladár Àrkay between 1912 and 1913 and he used Zsolnay ceramics to tile the doorway. In contrast to the outside of the church, the inside is magnificently tiled in Zsolnay ceramics. A cockerel, a symbol of reformist churches, is to be found frequently in the church. Plants often decorate the stone and there is a beautiful bronze chandelier on show also. While you are here also look at Number 24 in this street.
15) Corinthia Hotel, Budapest
Located on Erzsébet Körút, the Corinthia Hotel is a building in which one finds a number of architectural styles including Art Nouveau. In particular as you approach the building note the original wrought-iron gates and façade. Built for the Millenium Exhibition, the hotel was the result of a collaboration between the Swiss-born architect Rezsö Ray and the Glück brothers. The basic area came to a huge 31,500 square metres and the official opening took place in 1896. At that time the hotel was known as the Grand Hotel Royal and was the largest in Europe. Moving pictures by the Lumiere brothers were shown here in 1896 and it was here that the first Hungarian movie was shown in 1931. Murals by Zsigmond Varga were to be seen on the first floor and this hotel has had a fascinating history that included war and revolution, poets and playwrights, film stars and musicians. Under new owners, restoration and some building work were carried out a decade ago. Visitors to the hotel can now view a well thought-out exhibition which by means of original photos and text relate the hotel's many ups and downs over the past 120 years. The food, and in particular the Sunday brunch, is excellent. In my experience service has always been professional and friendly, and it is recommended you set aside a few minutes to soak up the atmosphere in the lobby or Atrium over a cup of coffee.
Image Courtesy of unknown.
Useful Travel Guides for Planning Your Trip
--- 15 Must Buy Hungarian Things in Budapest
Other than the standalone language and catchy Czardas tune, there's a lot more to memorize Hungary by. Here are some of the things you might want to carry from Budapest to your family and friends back...