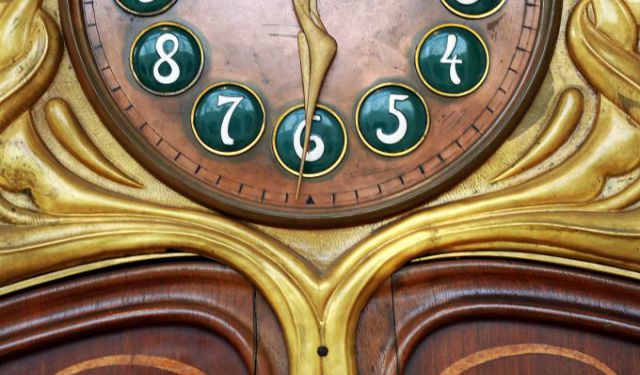 Hungary, Budapest Guide (D): Time for Art Nouveau
Budapest, one of the most impressive cities in Europe, boasts a wonderful range of sites for visitors to enjoy. Likewise, its vast collection of Art Nouveau buildings and objects is among the best in Europe. These jewels of the Art Nouveau movement date back to a time when Hungary was at its wealthiest and most creative. This guide helps you to take time for Hungarian Art Nouveau and experience one of the golden eras of Budapest life.
This article is featured in the app "GPSmyCity: Walks in 1K+ Cities" on
iTunes App Store
and
Google Play
. You can download the app to your mobile device to read the article offline and create a self-guided walking tour to visit the attractions featured in this article. The app turns your mobile device into a personal tour guide and it works offline, so no data plan is needed when traveling abroad.
Attractions Map
Guide Name:
Time for Art Nouveau
Guide Location:
Hungary » Budapest
Guide Type:
Self-guided Walking Tour (Article (D))
# of Destinations:
15
Sight(s) featured in this guide:
•
The Museum of Applied Arts
•
Hungarian State Treasury
•
Szabadság tér
•
Bedö House ( Magyar Szecesszió Háza)
•
Hungarian National Bank
•
Gresham Palace
•
Parisian Warehouse (Parisi Nagy Aruház)
•
Liszt Academy of Music
•
Parisi Uadvár
•
Novotel Hotel
•
Philanthia Shop
•
Geological Institute of Hungary
•
Városligeti fasor
•
Fasor Reform Church
•
Corinthia Hotel, Budapest

Author: Liam Cleary
Author Bio: Liam Cleary is the author of many travel and educational publications as well as literary translations.
1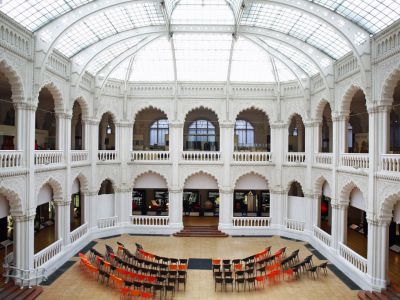 1) The Museum of Applied Arts
One of the great masterpieces of Hungarian Art Nouveau and a must-see for any art lover! The museum, preceded only by those in London and Vienna, was officially opened by Emperor Franz Josef of Austria in October 1896. The building is the work of Ödön Lechner, a visionary who apprenticed in France and Italy before returning to Budapest to champion a distinctly Hungarian style of architecture. His buildings show many diverse influences, Indian and Islamic for instance, as well as incorporating...
2 2) Hungarian State Treasury
Ödön Lechner created many wonderful buildings in the course of the Art Nouveau period. The Hungarian State Treasury is seen by many experts as his finest work. Built between 1900 and 1901, the façade of the building has a wavy design with ornamental motifs many based on Hungarian folk life. The colourful roof, decorated with beautiful bee-hives, can also be seen from the cupola of Saint Stephen's Bascilica. Not for the first time, Lechner relied on the ceramics of the Zsolnay company and...
3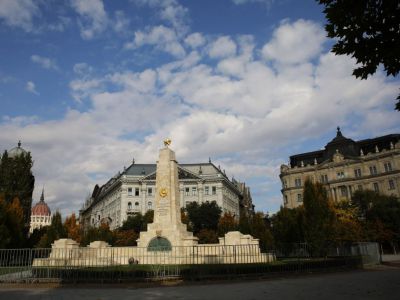 3) Szabadság tér
Szabadség Tér, or Freedom Square as it translates into English, is right beside Kossuth Lajos tér and the parliament and is one of the most delightful parts of Budapest. It is perfect for a stroll, day or night. It also contains three excellent examples of Art Nouveau which may be viewed from outside, Numbers 10,11,12. Number 12, which houses the US embassy, is a beautiful yellow building and the wrought iron, which one can see at the entrance, is particularly eye-catching. The history of...
4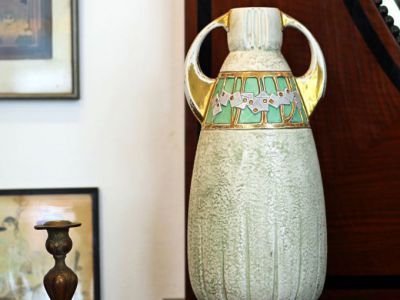 4) Bedö House ( Magyar Szecesszió Háza)
The Hungarian Art Nouveau House was originally known as Bedö House after the industrial giant and art collector Béla Bedö. This building in Honvéd utca is the work of Emil Vidor (1867-1952) and dates back to 1903. It incorporates many styles, particular French, Belgian and German, a fact that reflects Vidor's travels and the influences he came under. The closed balconies are very much a French characteristic while German Jugendstil is to be found in the stylish façade. The glass work...
5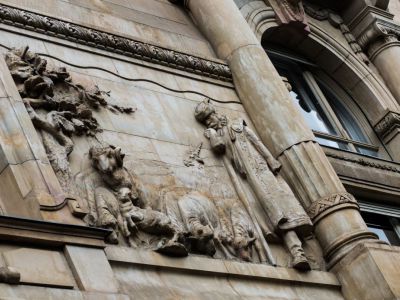 5) Hungarian National Bank
There is often a great deal of discussion regarding this building and whether or not it falls into the Art Nouveau category. What is certain is that it is a magnificent building well worth looking at and that it does display Art Nouveau influences both on the outside facade and inside as well. Built at a time when the Austro-Hungarian empire was at it height and Hungary was becoming increasingly conscious of the need to display its nationality, wealth and power in architecture, many professions,...
6) Gresham Palace
One of Budapest's most splendid venues, the property was originally the site of a neo-classical building but was bought by the Gresham Life Assurance company in 1880. The company, desiring a new building, commissioned Zsigmond Quittner to design a new structure which was then completed between 1904 and 1906. At that time it was an example of the finest structure that builders of the day were capable of. Above the entrance a bust of Sir Thomas Gresham, the original founder of the company....
Image by Alex Proimos under Creative Commons License.
7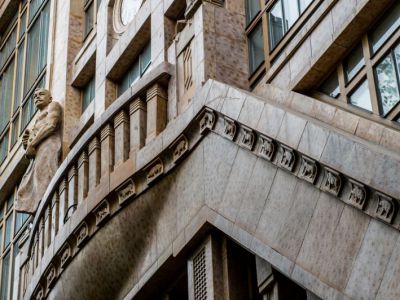 7) Parisian Warehouse (Parisi Nagy Aruház)
Andrássy út is Budapest's most elegant boulevard and the Parisian warehouse is one of the contenders for its most elegant store. Today it contains a bookshop downstairs and a wonderfully spacious cafe upstairs. Alone the frescoes and chandeliers on the ceiling in the cafe make the latte great value for money. The architect responsible for this masterpiece was Zsigmond Sziklai and the work took three years....
8) Liszt Academy of Music
The work of Flóris Korb and Kálmán Giergl on this jewel of Art Nouveau was carried out between 1904 and 1907. The Music Academy was set up over 25 years previously in 1875. The influence of Vienna is stronger than that of Hungarian Art Nouveau in this building. Perhaps the most striking aspect of the building facade is the statue of Liszt himself, work carried out by Hungary's finest sculptor Alajos Stróbl. Strobl's work is to be found throughout Budapest in places such as the...
Image by Villanueva under Creative Commons License.
9 9) Parisi Uadvár
Due to the fact that this shopping arcade is mainly in disuse and in great need of renovation most visitors never get to see it. Yet of all the art nouveau buildings, this is a must see. It was built by Henrik Schmahl and has an Oriental flavour to it. Schmahl, born in Hamburg in 1846, was a self-taught Hungarian architect. He spent many years working with Ybl. This building however was the one where he enjoyed the greatest freedom to give his talents free reign, and although the building is now...
10) Novotel Hotel
This hotel was formerly known as the Palace Hotel. It was built in 1911 and the architects were Komor Marcell and Jakab Dezsó. Built in the later days of Art Nouveau, it has a wonderful facade and beautiful balconies and recesses. Zolnay tiling, folk motifs and flowing curves and shapes all help make this a splendid example of Art...
Image by KovacsDaniel under Creative Commons License.
11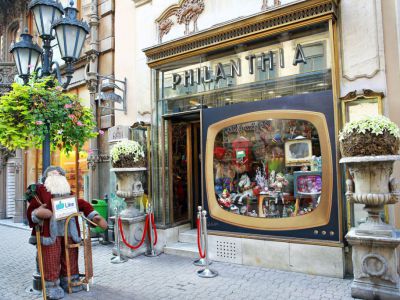 11) Philanthia Shop
The shopfront and internal design here show the work of Albert Körössy and it is one of the most attractive shopfronts in Budapest. The building itself was designed by József Hild who studied in Vienna. This is a shop to lose yourself in and to go back in time. It is very narrow inside so be careful with camera bags, handbags and other belongings for fear of knocking against something. Once you have finished here why not go on and look at Váci utca 11 and Váci utca 15, both lovely Art...
12) Geological Institute of Hungary
Yet another work built by Ödön Lechner, the man who many believe did more to create the country's national style than anyone else. The Geological Institute started in 1899. This is a beautiful building well worth seeing. The Institute is visible from a good distance and is, undoubtedly, one of Lechner's greatest creations. It has a distinctive blue-tiled roof which contains many of the typical Hungarian folk motifs of the age and there are all sorts of windows in varying sizes which...
Image by Yelkrokoyade under Creative Commons License.
13) Városligeti fasor
Városligeti fasor is one of the most pleasant streets to walk if one wants to get a good idea of how Art Nouveau manifested itself in the houses of the wealthy in Budapest at the turn of the century. The work of great architects such as Körössy, Vidor and Sebestyén can be seen here simply by walking this beautiful wide boulevard. The best time of year for doing so is probably from late September to March as the trees that line this street do block the view in places. Albert Körössy was one...
Image by gallery under Creative Commons License.
14) Fasor Reform Church
The Fasor Reform church, a massive building in good condition, was built by Aladár Àrkay between 1912 and 1913 and he used Zsolnay ceramics to tile the doorway. In contrast to the outside of the church, the inside is magnificently tiled in Zsolnay ceramics. A cockerel, a symbol of reformist churches, is to be found frequently in the church. Plants often decorate the stone and there is a beautiful bronze chandelier on show also. While you are here also look at Number 24 in this...
15) Corinthia Hotel, Budapest
Located on Erzsébet Körút, the Corinthia Hotel is a building in which one finds a number of architectural styles including Art Nouveau. In particular as you approach the building note the original wrought-iron gates and façade. Built for the Millenium Exhibition, the hotel was the result of a collaboration between the Swiss-born architect Rezsö Ray and the Glück brothers. The basic area came to a huge 31,500 square metres and the official opening took place in 1896. At that time the hotel...
Image by unknown under Creative Commons License.
Useful Travel Guides for Planning Your Trip
--- 15 Must Buy Hungarian Things in Budapest
Other than the standalone language and catchy Czardas tune, there's a lot more to memorize Hungary by. Here are some of the things you might want to carry from Budapest to your family and friends back...