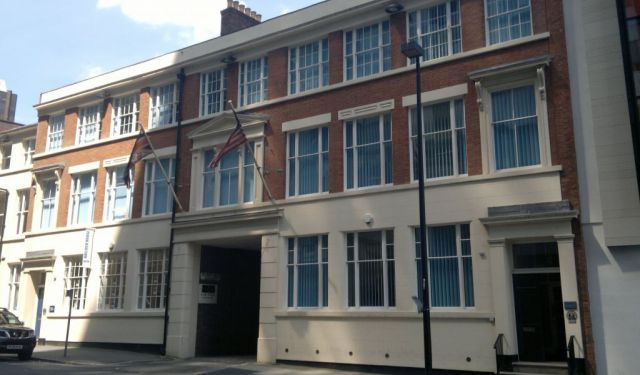 American Civil War Trail 1, Liverpool, England (A)
This guide takes you round locations in Liverpool city centre connected with the American Civil War. As an importer of cotton, it was in Liverpool's interest to back the Southern Confederate states and it became a place where Confederate agents sought to raise funds and purchase supplies for their war effort. The guide takes you to where those involved lived and worked during their time in Liverpool.
This article is featured in the app "GPSmyCity: Walks in 1K+ Cities" on
iTunes App Store
and
Google Play
. You can download the app to your mobile device to read the article offline and create a self-guided walking tour to visit the attractions featured in this article. The app turns your mobile device into a personal tour guide and it works offline, so no data plan is needed when traveling abroad.
Walk Route
Guide Name:
American Civil War Trail 1
Guide Location:
England » Liverpool
Guide Type:
Self-guided Walking Tour (Article (A))
# of Attractions:
10
Tour Duration:
2.0 Hour(s)
Travel Distance:
6.7 Km or 4.2 Miles
Author:
Steven Horton
Author Bio:
I am 39 years old and lived in Liverpool all my life, I am passionate about what my city has given to the world and wish to share my knowledge with others.
Author Website:
http://www.stevenhortonfreelancewriter.co.uk
Sight(s) Featured in This Guide:
The Unofficial Confederate Embassy
US Consul Offices
River Mersey
Nathaniel Hawthorne's Residence
James Dunwoody Bulloch's Death Place
Charles K. Prioleau's Home
Ulysses S. Grant's Hotel
The Grand Southern Bazaar
John Surratt's Hideout
Confederate Club
1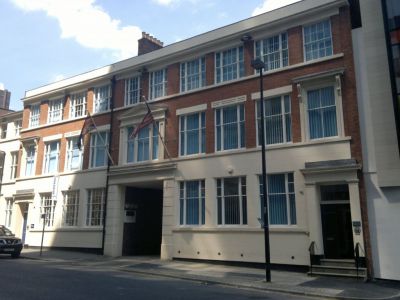 1) The Unofficial Confederate Embassy
This site was a hive of activity during the American Civil War. When James Dunwoody Bulloch came to Liverpool in 1861, sent by Confederate president Jefferson Davis, he immediately established contact with shipping firm Fraser, Trenholm & Co who were located in 10 Rumford Place and also had offices in Charleston. Bulloch then took offices himself in number 6 and set about securing funds and contracts for the building of warships by selling southern cotton, making Fraser & Trenholm effectively the Confederates international bankers. However with the UK being neutral he was being closely watched by both the US consul and British government, so he had to ensure that any ships in which he was involved in the purchase of were solely for merchant purposes. This would involve sending them out to sea disguised as non warships and rendezvousing in mid ocean to take arms on board. Today the buildings are owned by law firm Keppie and Messie, who have ensured their role in the Civil War is not forgotten, with the individual buildings being named after Bulloch, Confederate ships Alabama and Enrica, as well as captains Semmes of the Alabama and Winslow of the Kearsage, and the city of Charleston. Ironically Rumford Place runs into Union Street, although this has no Civil War connections, having been named to commemorate the union in marriage of local landowner Cleave Moore in the early 18th century.
2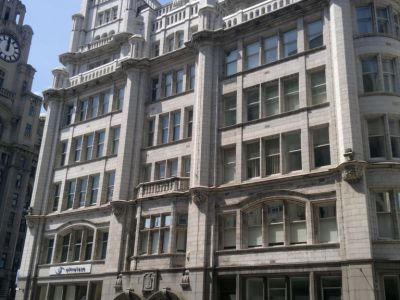 2) US Consul Offices
It was in Tower Buildings that the US Consul to Liverpool Thomas Haines Dudley had his offices during the war. From here, he was close enough to both the port and to the offices of Confederate sympathizers so he could keep an eye on their activities. After the war Dudley wished to return to America, but such was his knowledge of Confederate assets in Liverpool that he remained as consul until 1872, seizing what he could and returning the proceeds of sales to the US government. Dudley's offices were not in the building that you see now, which was built in 1908. They were situated in a building that had been built in 1819 and also called Tower Buildings, after the Liverpool Tower that had stood for 500 years on the site. This site also has a connection with the Napoleonic Wars, the original tower having held French prisoners of war there.
3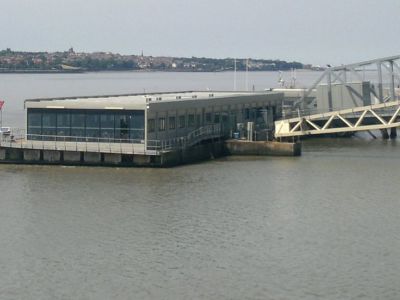 3) River Mersey
Looking across the River Mersey to Birkenhead you can see Cammell Lairds shipyard, from where the Enrica was launched in 1862. With James Dunwoody Bulloch on board it travelled to international waters off the Azores, where it met with other ships and took on the necessary equipment to convert it to a military vessel, becoming the CSS Alabama. Over the next two years this warship captured over 65 Union ships, causing worldwide devastation and losses before being sank off the coast of France in June 1864.

Another Confederate raider was the CSS Shenandoah, which was built in Glasgow and acquired by the Confederates in 1864. This vessel went on raiding ships off Alaska after the war ended in April 1865, the captain claiming not to have known about the surrender. Knowing he and his crew faced execution if they landed in America, they sailed across the Pacific and eventually to Liverpool, arriving in November 1865 and surrendering in mid Mersey to the British navy, the final act of the Civil War. The ship eventually docked at Herculaneum Dock, about one and a half miles south of here and US consul Thomas H Dudley took possession of it. It's crew, who the British government refused to hand over to the US authorities, were brought ashore by steamer and discharged at the George's Landing Stage, which was at the site from where the Mersey Ferries now begin their cruises. If you wish to take a ferry onto the Mersey, tickets cost £6.70 and ferries run every hour from 10am to 3pm for the fifty minute cruise.
4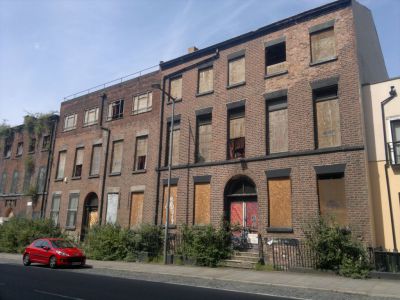 4) Nathaniel Hawthorne's Residence
These buildings which are now sadly in a severe state of disrepair were a boarding house in the 19th century. Author Nathaniel Hawthorne, who wrote the The Scarlet Letter and The Marble Faun, was US consul in Liverpool from 1853 to 1857 and lived here during periods when his wife was abroad. After he finished his period as consul, he toured France and Italy before returning to America, where he visited a number of battlefields. He then wrote an essay Chiefly About War Matters that was published under the pseudonym The Peaceable Man in 1862. The essay received a lot of criticism due to its anti was stance and pro Southern tendencies, something Hawthorne may well have picked up during his time in Liverpool. In 1856 for instance he was invited to an Independence Day gathering of Americans by Charles Prioleau, whose home is the fifth sight on this tour.
5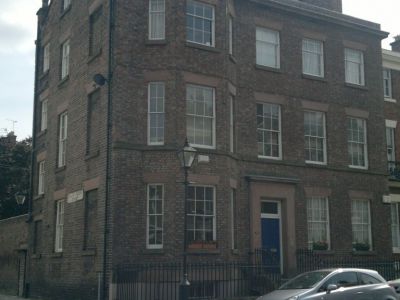 5) James Dunwoody Bulloch's Death Place
After the war James Dunwoody Bulloch stayed in the Liverpool, becoming a British citizen and living in Sydenham Avenue in Toxteth, about 2 miles south of the city centre. He made his living from trading cotton in business with his brother Irvine. He died at 76 Canning Street, the home of his son in law Alderman Maxwell Hyslop Maxwell on 7th January 1901. His death certificate listed the cause of death as cancer of the rectum and cardiac failure and his occupation as 'Naval Representative of the late Confederate States of America (retired)' showing he never forgot the reason why he had first come to Liverpool. He was buried in Toxteth Cemetery and left $30,000 in his will to his nephew Theodore Roosevelt, who would become the 26th President of the United States later that year. 76 Canning Street is now split up into separate flats.
6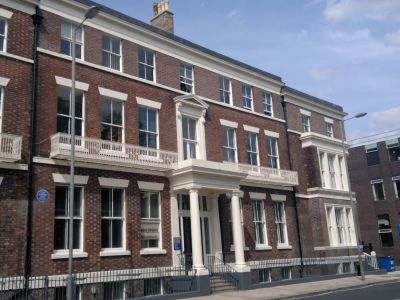 6) Charles K. Prioleau's Home
Prioleau was a landowner from Savannah, Georgia who came to Liverpool in 1856 to work as a manager and partner for Fraser Trenholm & Co. He married a local girl in 1860 and became a naturalised British citizen but remained a keen participant in the Confederate war effort, acting as treasurer for the Grand Southern Bazaar. 19 Abercromby Square was built for Prioleau in 1863 and his Southern origins are evident. Bonnie Blue Stars are over a first floor window and the columns of the front portico while inside the vestibule ceiling is decorated with a cabbage palmetto tree, the state tree of South Carolina. After the war Prioleau and his family moved to London and Major Norman Walker, a merchant from Virginia, moved in. In the 1890s the house was converted to a residence for the Bishop of Liverpool. One of the first Bishops to live here was the Reverend Francis Chevasse, whose son Noel is one of only three men to receive the Victoria Cross twice. These were earned for acts of extreme bravery in the 1st World War, rescuing soldiers from near the German lines, dying from his wounds in the second rescue in 1917. The English Heritage blue plaque you can see on the wall remembers him. This building is now part of the University of Liverpool.
7) Ulysses S. Grant's Hotel
Ulysses S. Grant was commander of the Union army at the end of the war and was then American president from 1869 to 1877. On ending his presidency he visited the UK, staying at the Adelphi on his way to meeting Queen Victoria at Windsor. The Adelphi that Grant stayed at stood on this site from 1826 to 1912, before it was knocked down and the present hotel of the same name built. Should you wish to look inside the hotel the Adelphi's bars and restaurants are open to the general public.
Image Courtesy of Sue Adair.
8) The Grand Southern Bazaar
In October 1864 a four day fundraising event was held in St George's Hall to raise money for the families of southern prisoners of war. The event, of which Charles Prioleau of Fraser & Trenholm was treasurer, included concert performances, market stalls with goods from the southern states and raffles, whilst the hall was adorned with flags and portraits of confederate generals. The event raised £20,000, the equivalent of £12,500,000 today. Designed by Harvey Lonsdale Elmes, St George's Hall had been opened in 1854 as a venue for concerts and events, with the southern end of it being used as a court room. In 1889 a famous trial took place here involving American citizen Florence Maybrick, who originated from Mobile Alabama and was accused of murdering her husband James by administering arsenic. Florence was found guilty and sentenced to death, but this was later commuted to life imprisonment of which she served fifteen years before returning to America. Should you wish to look inside the hall, it's heritage centre entrance can be found by heading round to the left into St Johns Lane towards the Marriot Hotel. Admission is free, opening times are 10am to 5pm Tuesday to Saturday.
Image Courtesy of Martin Clark.
9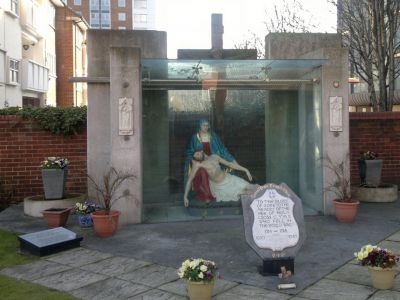 9) John Surratt's Hideout
Just 5 days after the end of the American Civil War President Abraham Lincoln was assassinated in Washington DC by John Wilkes Booth on 14th April 1865. John Surratt had been a Confederate courier and spy during the war and was suspected of involvement in the assassination, having earlier been in a plot to kidnap the president. After the shooting he immediately fled for Montreal and on hearing that his mother Mary had been hanged in July for her part in the conspiracy to kill Lincoln, took a ship to Liverpool. When Surratt arrived in Liverpool in September 1865 he sought refuge in Holy Cross Church, which was demolished in 2004 and is now the site of student accommodation. However a matter of yards away from where it stood the churches pieta statue has been housed in glass casing in a memorial garden. The church had been built in 1860 and was on the site where St Patrick had supposedly preached on his way to Ireland. From Liverpool, Surratt moved on to Italy and Egypt, where he was arrested by US officials in November 1866 and returned to America to face trial. He was found not guilty of murder and subsequently released, due to the statute of limitations having run out on any other charges he could have faced.
10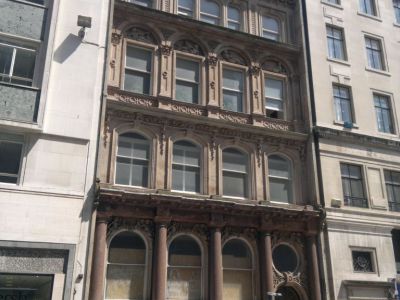 10) Confederate Club
It was in these buildings that Confederates in Liverpool intended to open a club where they could hold regular meetings and raise funds. However as the tide turned against them in the war the idea was shelved. Designed by John Cunningham the buildings were eventually completed in 1868 and became a pub named the Crooked Billet, a popular music venue in which many local bands performed.
Walking Tours in Liverpool, England