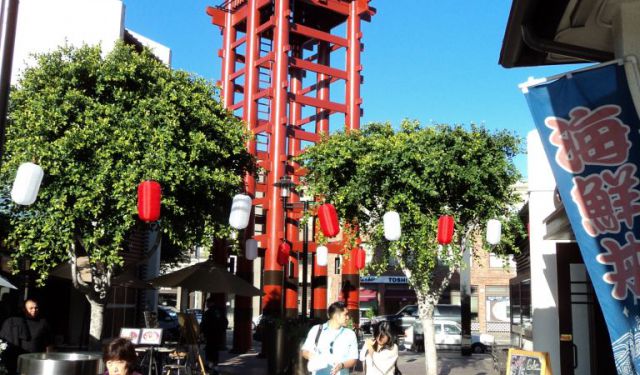 Historic LA: Little Tokyo, Los Angeles, California (A)
Japanese immigrants began arriving to LA in the 1860s. After the 1906 San Francisco earthquake, immigration doubled to over 5000. The Immigration Act of 1924 ended this migration and Little Tokyo settled into a quiet prosperity. Everything changed when Japan attacked Pearl Harbor on December 7, 1941. Three months later President Roosevelt signed Executive Order 9066. Little Tokyo residents had 5 days before moving to internment camps.
This article is featured in the app "GPSmyCity: Walks in 1K+ Cities" on
iTunes App Store
and
Google Play
. You can download the app to your mobile device to read the article offline and create a self-guided walking tour to visit the attractions featured in this article. The app turns your mobile device into a personal tour guide and it works offline, so no data plan is needed when traveling abroad.
Walk Route
Guide Name:
Historic LA: Little Tokyo
Guide Location:
USA » Los Angeles
Guide Type:
Self-guided Walking Tour (Article (A))
# of Attractions:
8
Tour Duration:
2.0 Hour(s)
Travel Distance:
1.4 Km or 0.9 Miles
Author:
Michael Thal
Author Bio:
Michael L. Thal is an accomplished freelance writer. He has written and published over sixty articles for magazines and newspapers including Highlights for Children, The Los Angeles Times, and San Diego Family Magazine. Look for his novel, Good-Bye Tchaikovsky, at a bookstore near you.
Author Website:
http://www.michaelthal.com
Sight(s) Featured in This Guide:
Astronaut Ellison S Onizuka Memorial
Friendship Knot
Japanese American Cultural Community Center
The George and Sakaye Aratani Japan America Theater
Chiune Sugihara Monument
Koyasan Buddhist Temple
Japanese American National Museum
Go For Broke National Monument
1 1) Astronaut Ellison S Onizuka Memorial
Ellison Onizuka grew up near the coffee fields of Kona, Hawaii. He flew in the 1985 Discover mission. The Challenger was his 2nd space shuttle assignment. He once said, "Your visions are not limited by what your eyes can see, but by what your mind can imagine. Make your life count and the world will be a better place because you tried."

Four other astronauts, a payload specialist and a teacher observer, joined Onizuka on his January 28, 1986 flight. It lifted from Cape Canaveral in Florida at 11:39 AM. Seventy-three seconds after lift off, and nine miles above the Atlantic Ocean, the Challenger exploded due to stiff O-ring seals. The loss of the Challenger and its crew was a shock wave that went across our country and around the world.
2 2) Friendship Knot
The early Japanese Americans were severely discriminated against. After the 1906 San Francisco earthquake thousands fled the racial tensions in that city. Though state law prevented them from owning property and they were discriminated against for housing and job opportunities, the Issei (first generation Japanese Americans) became successful farmers, and in wholesale produce and retail businesses.

Even within that negative historical context, Japanese Americans have maintained a positive outlook toward their adopted country. Sculptured by Shinkichi Tajiri in 1972, this sculpture signifies the unity of American and Japanese cultures. The Friendship Knot was dedicated to the memory of Dr. Morinosoke Kajima, a diplomat, scholar, and international businessman. Kajima's vision and generosity initiated the revitalization of Little Tokyo. Note how the white fiberglass knot contrasts with the grey building and cement surroundings. It allows the Friendship Knot to stand out welcoming you to the Weller Court and the Astronaut Ellison S Onizuka Memorial.
3 3) Japanese American Cultural Community Center
The Japanese American Cultural and Community Center (JACCC), founded in 1971, is the largest Asian American cultural center in the United States. It serves the needs of many civic and arts organizations as well as being the point of convergence for Japanese Americans living in Southern California. The JACCC provides office space to a variety of nonprofit cultural, educational, and community based Los Angeles organizations such as ARC International, a home-stay service for Japanese students in the US, the Consulate General of Japan, and Sushi Saki, a magazine introducing Japanese culture to Japanese Americans.

The JACCC opened its doors in 1980. The center building houses the George J Doizaki Gallery, a 2000 sq. feet museum presenting exhibits like "Living National Treasures of Japan," Bugaku costumes from Kasuga Grand Shrine in Nara, as well as treasures from the Tokugawa Shogunate. Closed Mondays, the gallery is opened Tuesday-Sunday. Exhibits frequently change, so check it out.

Placed in Little Tokyo, because this community is the historic heart of the Japanese American community in Southrn California, the JACCC was the dream of first and second generation (Issei and Nisei) Japanese immigrants and their children.
4 4) The George and Sakaye Aratani Japan America Theater
The Japan America Theater opened April 1983. Its first show was kabuki, a stylized classical Japanese dance-drama. It is an 880-seat auditorium costing $6.4 million. The theater's curtain or doncho is quite unique. Made in Kyoto from hand-woven silk, it features a huge peacock flying over floating cherry blossom petals. There are only two other donchos in the United States—one in Washington DC's John F. Kennedy Center for the Performing Arts and New York City's Radio City Music Hall. The auditorium is fan-shaped with excellent viewing from every corner of the theater. It also has an excellent acoustic system, a gift of the Matsushita Electric Industrial Corporation of Japan.
5 5) Chiune Sugihara Monument
According to the Talmud, a collection of Jewish religious and civil laws, "He who saves one life saves the entire world." Chiune Sugihara was a Japanese consul in Lithuania during the Holocaust. He issued thousands of handwritten visas to Jewish refugees against the orders of his government. Doing so put his job at risk and the possibility of being disgraced. However, he said, "I may have to disobey my Government, but if I do not, I will be disobeying God." From July 31 to August 28, 1940, Sugihara sat for hours composing transit visas. He wrote and signed 300 per day, all by hand, not stopping for meals. He managed to compose 6000 visas for Jews to flee to Japan, China, and assorted other countries. Today these refugees are called Sugihara Survivors. During the war, Sugihara was captured by the Soviets and imprisoned with his wife and son in a Rumanian internment camp. After the war, the Japanese Foreign Ministry fired him. Jobless, Sugihara entered into a life of poverty and hunger.

Sugihara never told anyone of his wartime deeds. He lived his life never knowing if his efforts during the summer of 1940 ever bore fruit. Joshua Nishri, an Economic Attache to the Israeli Embassy in Tokyo, tracked him down. With the knowledge that so many survived, Sugihara cried with tears of joy. If only one life was saved, he knew his life of hardship was worth it. As of today, 80,000 descendants owe their lives to Sugihara.
6 6) Koyasan Buddhist Temple
This is the first Shingon temple ever built in North America for Koyasan Shingon Buddhism. This Buddhist temple teaches the religious teachings of one of the eighteen schools of the Shingon Sect of Japanese Buddhism. The Koyasan Shingon Mission was founded by Kobo-Daishi (774-835 A.D.). Koyasan Shingon Buddhists believe in the cultivation of three secrets—the actions of the body, speech, and mind. If all three secrets are cultivated we can attain enlightenment in our own bodies. Sustaining this level of nirvana, we can become one with Mahavairocana Buddha, the universal life force. The Shingon Buddhist practitioner utilizes the same techniques first used 1,200 years ago by Kukai, the Japanese poet, scholar, and monk who founded the Shingon. The Shingon Buddhist believe we have three promises to fulfill during our lifetimes—Realizing Buddhahood, dedicating our lives for the betterment of others, and establishing the World of Buddha on this earth.

This temple serves as the Koyasan Shingon Mission headquarters for the mainland United States. It is open weekends from 10:00 AM- 4:00 PM and weekdays from 10:00 AM – 2:00 PM.
7 7) Japanese American National Museum
The Japanese American National Museum shares the story of Japanese Americans to honor our nation's diversity. It is the largest museum of its kind sharing the history of Americans of Japanese descent. It provides a forum for Americans to understand the historical and cultural heritage of Japanese Americans. One visitor said, "The exhibits are powerful and deep, and show an insight into a history of America not acknowledged in most textbooks." A student wrote, "The museum made me realize we have a say in this world and what we say and do can make a difference." The museum is open Tuesday, Wednesday, Friday, Saturday, and Sunday from 11:00 AM – 5:00 PM, and Thursday from 12:00 PM – 8:00 PM. It is closed on Monday.
8 8) Go For Broke National Monument
The Go for Broke National Monument recognizes the sixteen thousand Japanese men of American descent who left their families in internment camps to fight in Europe and the Pacific during World War II. After the bombing of Pearl Harbor by Japan, Japanese Americans were declared enemy combatants and imprisoned in concentration camps without due process of law. Though these Americans were deprived of their constitutional rights, they served our nation with an "indomitable spirit and uncommon valor." They not only fought the enemy, they fought to prove their loyalty to their country.

Major General Willoughby, General Mac Arthur's intelligence chief said, "The Nisei saved countless lives and shortened the war by two years."

President Harry S Truman welcomed the 100/442 RCT home saying, "You fought not only the enemy…you fought prejudice and won."

"Go for broke!" was the motto of the 100th battalion and accepted by the segregated, all Nisei soldiers. These 16000 soldiers who fought the Axis Powers during World War II also fought for civil liberties. Those human rights should never be denied to any American no matter their race or ancestry.
Walking Tours in Los Angeles, California
Useful Travel Guides for Planning Your Trip
---