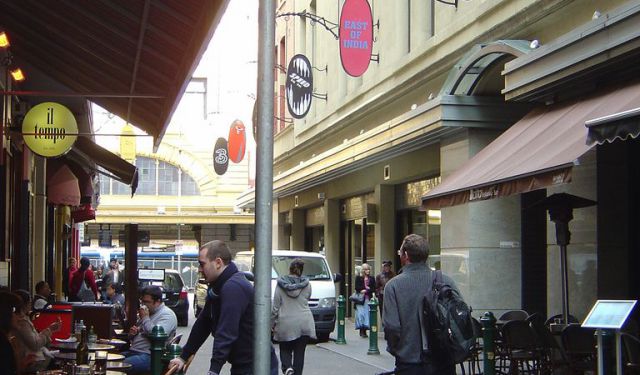 Melbourne Laneways, Melbourne, Australia (A)
Melbourne's historic city laneways were once home to thieves, prostitutes and cheap boarding houses. These days, the alleys bustle with office workers, students, shoppers and tourists. A featured visitor attraction, in Australia and overseas, the lanes are home to shops, cafes, literary events, festivals and street art. Take a walk through Melbourne's laneways, where history and modern life mingle.
How it works:
The full article is featured in the app "GPSmyCity: Walks in 1K+ Cities" on
iTunes App Store
and
Google Play Store
. Download the app to your mobile device to read the article offline and create a self-guided walking tour to visit the sights featured in this article. The app's navigation functions guide you from one sight to the next. The app works offline, so no data plan is needed when traveling abroad.
Sights Featured in This Article
Guide Name:
Melbourne Laneways
Guide Location:
Australia » Melbourne
Guide Type:
Self-guided Walking Tour (Article (A))
# of Attractions:
12
Tour Duration:
1.0 Hour(s)
Travel Distance:
2.5 Km or 1.6 Miles
Author:
Liz Sinclair
Author Bio:
Liz Sinclair is a award-winning travel writer who writes about people and places in Indonesia and Australia. She divides her time between Melbourne and Bali.
Author Website:
http://www.lizsinclair.com
Sight(s) Featured in This Guide:
DeGraves Street
Centre Place
Block Arcade
Block Place
McKillop Street
Hardware Lane
Niagara Lane
GPO Lane
The Causeway
Howey Place
Manchester Lane
Scott Alley
1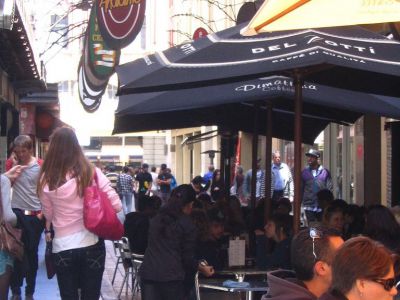 1) DeGraves Street
DeGraves Street runs between Flinders Street and Flinders Lane, and is filled with outdoor seating for cafes lining the alley. Stop for a latte at Degraves Espresso, named one of the top ten coffee houses in the city by readers of Melbourne's newspaper, The Age. This bluestone alley dates from the 1850s and was named after the Degraves brothers, merchants who arrived in Melbourne from Tasmania in 1849. In the 1850s, William and Charles DeGraves had a stream-powered flour mill on the corner of Flinders Lane and DeGraves Street. The DeGraves Building, as it was called, was also occupied by importers, agents and other manufacturers. William DeGraves went on to become a Legislative Council Representative. DeGraves Place, a small alley running off DeGraves Street, was a site for temporary art installations during the 2007 City of Melbourne's Laneway Commissions Program. The best known of these artworks was Heather Swann's "Gates of Hell", a sculpture of Cerberus, a dog with multiple heads, who guarded the entrance to Hades in Greek Mythology. At the top of Degraves Street, look straight ahead and admire the Spanish-influenced faience facade of Majorca House, an Art Deco era residential building. The Majorca Building was designed by Harry Norris in the 1920's. Norris also designed the Nicholas Building, a pre-World War Two skyscraper, at Swanston Street and Flinders Lane.
2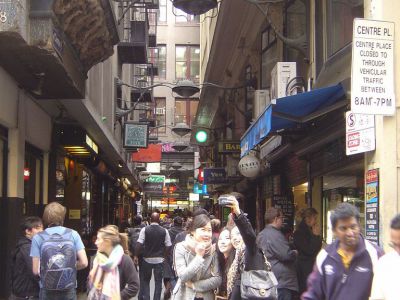 2) Centre Place
In the 1890's, Centre Place was known as Cummings Alley, and was lined with warehouses. The western side of the alley once held public urinals. In 1915, Cummings Alley was extended through Centreway Arcade, to meet Collins Street, and renamed Centre Place. This alley is probably the most photographed laneway in Melbourne and often features in tourism promotions. You will find some of Melbourne's smallest coffee houses here. As you walk towards the Centre Way building at the other end of Centre Place, look up to see city-dweller gardens flourishing on tiny steel balconies. Just before entering Centre Way, turn left into a short dead end alley and have a look at the street art on the walls. The stencil graffiti you'll see is influenced by similar street art in Europe and is called "City Lights." A number of famous European graffiti artists have left their marks here. Continue on through Centre Way, one of Melbourne's earliest steel-framed buildings, built in 1913. Several stores in this arcade have been here since the 1930s. At that time, banks lined the arcade's entrance to Collins Street.
3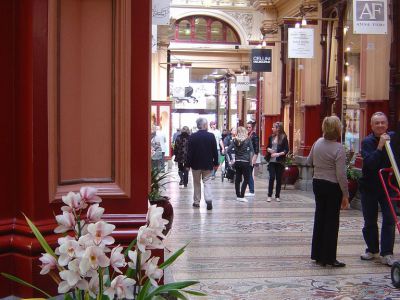 3) Block Arcade
Built between 1891 and 1893, the Block Arcade and Block Place, which runs off it, were named after the popular nineteenth century habit of 'doing the block', in which fashionable Melburnians promenaded along Collins Street to see and be seen. The architect who designed Block Place, David Askew, was commissioned to make a covered arcade reminiscent of the Galeria Vittoria in Milan. The tiled mosaic floor, vaulted glass and wrought iron canopy overhead and carved stone finials of the Block Arcade all combine to give it a decided Italianate feel. It's no coincidence that the central cafe in the arcade is called Cafe Doumo. The arcade sits on the site of an old laneway, once known as 'Carpenter's Lane.'
4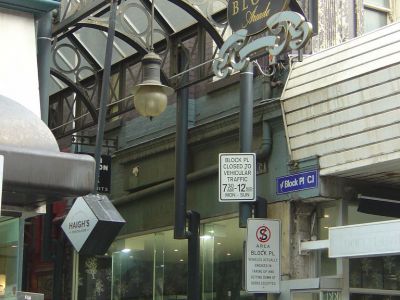 4) Block Place
This laneway runs between the Block Arcade and Little Collins Street. Block Place is one of the most crowded on the tour, filled with sidewalk seating from small, cozy cafes, and the Dinkum Pie shop, that line the small alley. In 1895, the Colonial Bank Hotel stood at the northern entrance to the lane, named after the Colonial Bank which once stood nearby on Little Collins Street. The Victorian era glass and wrought-iron canopy runs the length of Block Place, ensuring that shoppers and diners stay dry during Melbourne's frequent winter rainstorms, while they 'do the Block.' In the 1920s, this laneway was filled with shops selling shoes, stamps, office fittings and a dry cleaners. Both Block Place and the Block Arcade are listed on Victoria's Heritage Register.
5) McKillop Street
McKillop Street originally dates from 1839. It was named in 1865 after J.P. McKillop, a prosperous local accountant and estate agent. By 1910, the laneway was home to the Victorian Associated Vineyards Company, as well as a cork manufacturer, early merchants in Victoria's growing wine industry, and several printers. Unusual for a Melbourne laneway, McKillop has small trees planted along its length. Look out for the historic Victorian lampposts and heritage-listed buildings, now turned into fashionable inner-city apartments. McKillop Street is also home to some unusual shops, including The Haunted Bookstore and Man What A Fuss, Melbourne's first day-spa for men.
Image Courtesy of biatch.
6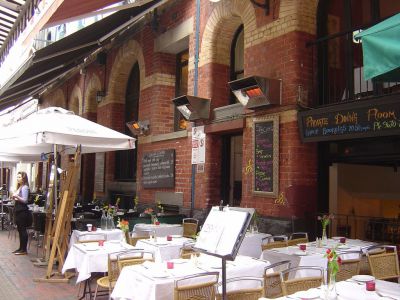 6) Hardware Lane
Hardware Lane is is one of Melbourne's longest laneways, running two full city blocks. The first block is known as Hardware Lane South, and the second Hardware Lane North. The land where Hardware Lane South sits was once home to a horse market, called Kirk's Horse Bazaar, built in 1840 by James Bowie Kirk. He was a founding member of the Melbourne Racing Club and his Bazaar had the reputation for selling the best horses in the city. Hardware Lane North was originally called Wright's Lane, and was occupied by pubs: the Kirk's Bazaar Hotel, the Governor Arthur Hotel and the Shamrock Hotel. In 1925, the southern end of the laneway was created, joined to the existing Wright's Lane, and the entire laneway re-named Hardware Lane after the historic Hardware House, on Little Bourke Street. Dynon's Building, located at 63-73 Hardware Lane, is a set of four warehouses designed by William Pitt, the architect of the Princess Theatre and famous for his Gothic Revival style. At night, the laneway echoes with the sounds of a live jazz band that plays at one of the cafes lining the street.
7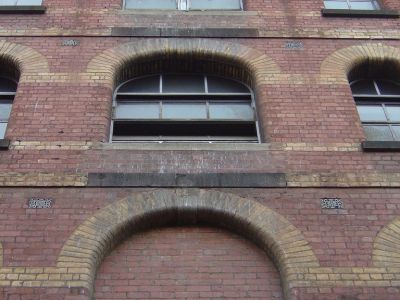 7) Niagara Lane
Niagara Lane was named in the 1860s for the now-vanished Niagara Hotel, built in 1856, once located nearby in Lonsdale Street. The hotel was named after the ship that brought its owners to Melbourne. Previously, the alley had been known as Millers Lane. By the 1890s, Niagara Lane was home to restaurants, sweet shops, plumbers and gasfitters, as well as importers offices and merchants shops. At 23-31 Niagara Lane is a block of historic warehouses, built in 1887 for local merchant Henry Marks, and now converted to apartments. Look out for the barrel pulleys still on the side of the old brick buildings. There is also more stencil art, or 'City Lights,' in this laneway. Niagara is the favorite laneway of Professor Weston Bate, past President of the Royal Historical Society of Victoria, and author of a history of Melbourne's laneways, called Essential But Unplanned.
8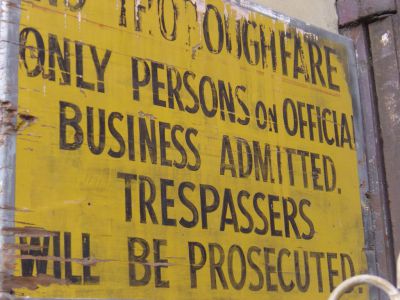 8) GPO Lane
The landmark General Post Office, or GPO, on Bourke Street, was once Melbourne's central post office. It was built in 1864, in the neo-Renaissance style popular during Victoria's gold rush. After a devastating fire, the GPO was transformed in 2004 into a boutique shopping centre. GPO Lane, running alongside the GPO, is one of Melbourne's newest laneways. Due to the fact that many lanes were built over in the 1950s and 1960s, the City of Melbourne is now creating new laneways to replace many that were lost. Prior to the GPO's conversion, this laneway was used for mail delivery, served as an employee entrance and was closed to the public. Look for old, weathered signs and historic photographs, showing the building's previous life as a post office. The covered lane is now lined with cafes, including a small French wine bar.
9) The Causeway
Causeway Lane is an uncovered alley, lined with small shops and cafes. It is known both as Causeway Lane and also simply as The Causeway. It was once called Craigs Lane, and in 1895, a pub called the Mechanic's Hotel was located here. Tenants in Craigs Lane in the 1890s also included a carpenter and a cabinetmaker. At the end of the lane, at the intersection with Little Collins Street, is a heritage-listed Italianate-style building. Built in the 1920's, this was once the home of the Union Bank. Laurent's Patisserie now occupies the bottom and mezzanine floors, and is worth a stop for their delicious French pastries.
Image Courtesy of Biatch.
10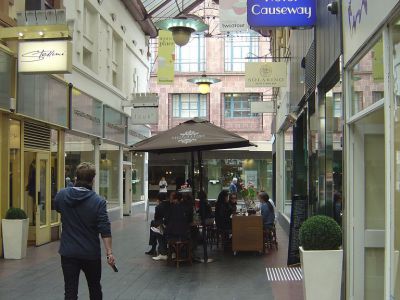 10) Howey Place
Howey Place dates originally to 1829. In 1896, Edward Cole built his famous Coles Book Arcade next door, which occupied two whole city blocks between Collins and Bourke Streets. Cole covered the alley with a glass and wrought-iron canopy, similar to the one over Block Place, and the laneway became known as Cole's Walk. Cole's Walk was one of the first lanes in the city to be roofed-in against the elements. In its heydey, between the 1890s and the 1920s, Coles Book Arcade is thought to have been the largest book store in the world, stocking over 2 million titles. A toy department store and printers also stood along Coles Walk, as well as home decorator shops and a ladies' hairdresser. The alley was later renamed Howey Place after the art-deco Howey House (now gone), built in the 1930's, that stood nearby on Collins Street.
11) Manchester Lane
Manchester Lane is reached by going through the Capital Arcade and along Swanston Street. The Capital Arcade was built in the 1960s around the historic Capital Theatre, and named after it. The theatre was originally built in 1924, and designed by Walter Burley Griffin and Marion Mahoney Griffin, the husband-and-wife team that laid out Canberra. Step into the foyer of the Capital Theatre for a look at what architect Robin Boyd called "the best cinema that was ever built or is ever likely to be built." Manchester Lane once housed many fabric and soft goods merchants, part of the 'rag trade' that was centred around Flinders Lane. The name Manchester is used in British and Australian English to describe soft household goods, such as sheets and towels. The laneway once contained shops for tailors, hat makers and clothing outfitters, as well as several drugstores. The alley is still home to several clothing shops today.
Image Courtesy of Simon Laird.
12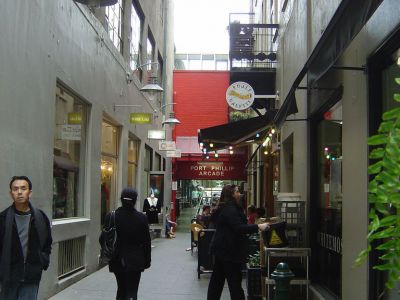 12) Scott Alley
Scott Alley runs between Flinders Lane and Flinders Street. This laneway was originally named Hotham Place, after Sir Charles Hotham, the second Governor of Victoria, in office from 1854 to 1855. Hotham was famous for reforming the finances of the early colony, and once stopped all new public construction works in order to eliminate corruption in the tendering process. Hotham Place was renamed Scott Alley in 1906. The reason for the re-naming is unknown. The British and Foreign Bible Society, and various manufacturing agents, occupied Scott Alley in the 1920s and 1930s. A modern tenant, the Matt Irwin Photography Gallery, on the east side of Scott Alley, specializes in city shots, with a special focus on laneways and alleys. Continue on through the Port Philip Arcade, built in the 1960s, to reach the end of the walk back at Flinders Street.
Walking Tours in Melbourne, Australia
Useful Travel Guides for Planning Your Trip
--- Chocolate Indulgence Tour of Melbourne
Melbourne has a reputation for cafés and fine restaurants, and lately a chocolate fever has taken over the city. This tour takes you through the alleyways and arcades of the city center whilst stopping at selected chocolate indulgence points. Take your senses on a unique experience through six of...