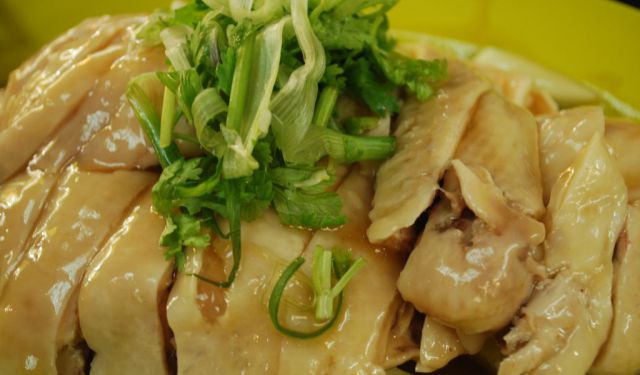 Authentic Singaporean Food, Singapore, Singapore (D)
Food is a passion for Singaporeans. Locals think nothing of travelling for miles across the island and queuing for hours to taste their favourite dish. Singaporeans abroad bemoan being parted from their favourite foods, much of which is simple but delicious street food sold from food centres and cafés. This guide looks at the 'Die-Die Must-Try' dishes which typify Singapore's culinary character and 15 of the best places to find them.
How it works:
The full article is featured in the app "GPSmyCity: Walks in 1K+ Cities" on
iTunes App Store
and
Google Play Store
. Download the app to your mobile device to read the article offline and create a self-guided walking tour to visit the sights featured in this article. The app's navigation functions guide you from one sight to the next. The app works offline, so no data plan is needed when traveling abroad.
Sights Featured in This Article
Guide Name:
Authentic Singaporean Food
Guide Location:
Singapore » Singapore
Guide Type:
Self-guided Walking Tour (Article (D))
# of Attractions:
15
Author:
Fiona Philip
Author Bio
: Based in Singapore, Fiona Philip is a British freelance writer with a passion for the written word. She writes for print and digital media publications and is adept at covering subjects ranging from travel to technology, food to fashion and entertainment to the environment, although her major interests are food and travel. Fiona is almost Singaporean in terms of her love of food and is passionate about exploring Asia. She is available for freelance work.
Sight(s) Featured in This Guide:
Annie's Peanut Ice Kachang
Balestier Road Hoover Rojak
Chin Mee Chin Confectionery
Heng Fried Carrot Cake
Hill Street Fried Kway Teow
328 Katong Laksa
Kway Guan Huat
Lau Pa Sat
No Signboard Seafood Mattar Road
Selera Rasa Nasi Lemak
Sin Heng Claypot Bak Koot Teh
Sin Ming Roti Prata
The Banana Leaf Apolo
Tian Tian Hainanese Chicken Rice
Zam Zam Singapore
1 1) Annie's Peanut Ice Kachang
Nestling in the bustling Ghim Moh Market is this small and unassuming hawker stall, manned by the charismatic Annie. Shaved ice kachang (ice with beans) is a refreshing dessert, frequently hunted down by those desperate for respite from Singapore's hot, steamy climate. Annie dispenses sundae glasses overflowing with towering mountains of ice, covered in coconut milk, condensed milk, syrups and generous lashings of roasted peanuts. Delve into the ice to uncover a host of favourite local treats, including green jelly, palm seeds and red beans. The Strawberry, kiwi and mango flavours are popular, while the durian kachang remains a best seller.
2 2) Balestier Road Hoover Rojak
In the heart of the sense-assaulting Whampoa Drive Makan Place Food Centre, rojak is deftly whipped up at a minute stall. Rojak is a Malay word used to describe something made from a mixture of different things. The ingredients of what the owner of Balestier Road Hoover Rojak describes as a Chinese salad are certainly electic. Hong Kong film star Chow Yun Fat gives a thumbs up to the turnip, peanuts, pineapple, ginger flower, lime, dough fritters, jellyfish, beansprouts and cucumber that are combined within a rich, dark sauce. The end product is a taste-bud busting combination of sweet, sour and spicy flavours – it is eaten using wooden sticks while sitting at yellow plastic tables.
3 3) Chin Mee Chin Confectionery
For a truly authentic local breakfast and a taste of the 1950s, make a beeline for Chin Mee Chin Confectionery, a modest but hugely popular café on the East Coast Road. The tantalising smell of warm cakes and pastries will lure you inside and you must not leave before tucking into the perennial Singapore favourite, kaya toast. Kaya is a sweet coconut custard jam made from coconut milk, eggs and sugar, which should be spread liberally onto hot buttered toast. Accompany with two soft-boiled eggs seasoned with pepper and soy sauce and a cup of their delicious steaming black coffee.
4 4) Heng Fried Carrot Cake
Heng is a trusty stall that has been going since 1971 and somewhere you can be guaranteed some of the island's best carrot cake. Located within one of Singapore's most popular hawker centres, the place is constantly abuzz with locals and tourists alike. But a word of warning: before you pitch up expecting a succulent cake-shop style gateau slathered with butter icing, think again. This fried carrot cake (chye tow kueh) doesn't contain a single carrot – it is made by combining rice flour and radish to make large slabs, which are cut up and fried with eggs, garlic, spring onions, turnip, fish sauce and soy sauce. It is served 'white' or 'black' with sweet dark soy sauce and tastes surprisingly good. Their oyster omelette is worth a try too.
5 5) Hill Street Fried Kway Teow
You can be guaranteed a taste of the truly original version of Char Kway Teow at both Hill Street hawker stalls in the heart of Chinatown and further east in Bedok. Traditionally Char Kway Teow was made by wok-frying flat rice noodles with lard over a high heat and combining with soy sauce, chilli, cockles, bean sprouts, Chinese sausage and chives and occasionally egg and prawns. While many establishments now choose to replace the lard with oil and additional greenery, the Hill Street hawkers have remained true to their history, producing a dish with a clever balance between flavour and texture – it is not too oily, savoury or sweet, just mouth-wateringly delicious.

Hill Street Fried Kway Teow can also be found at #01-187, Bedok South Road, Block 16, Singapore, 460016.
6 6) 328 Katong Laksa
As you enter the main branch of 328 Laksa at 216 East Coast Road you are assaulted by the heady scent of coconut and spice and greeted by the charming pink-haired Nancy. 328 is an auspicious number in Chinese, apparently selected in the hope that business would prosper. Judging by the queues and the five branches now operating in Singapore, it seems to have done the trick. Laksa is a hearty coconut-based curry soup loaded with rice noodles, prawns, cockles, mussels, dried shrimp and strips of fish cake. Flavoured with chili and laksa leaf, it can be made spicier by the addition of chili sambal. Nancy can be found cooking in the kitchens daily, creating an exceptional dish that she has adapted over time to cater to her customers' tastes.

328 Katong Laksa can also be found at:

53 East Coast Road, Singapore, 428770, with sub-outlets at

101 Thomson Road, United Square, #01-K1 Singapore, 307591 and Queensway Shopping Centre, 1 Queensway, #01-60, Singapore 149053.
7 7) Kway Guan Huat
Behind the modest façade of a small pre-war shophouse in the historical neighbourhood of Joo Chiat, there exists a thriving family business that has been churning out popiah, the Asian answer to the burrito, since 1938. Mr Quek Tren Wen originally brought the trade of popiah skin making to Singapore from China's Fujian Province – his family still hand-make the paper-thin soft skins from a viscous dough made out of flour and water. Rather like a spring roll that is not deep-fried, popiah are spread generously with aromatic sauces and garlic and used to encase crab, shrimp, Chinese sausage, vegetables, peanuts and omelette. Kway Guan Huat is one of Singapore's undisputed popiah-making masters and produces a premium popiah for the Formula One in Singapore in September. An outlet is due to open at Tang's shopping centre on Orchard Road in November 2013.
8 8) Lau Pa Sat
Lau Pa Sat was Singapore's first wet market. It dates back to the time of Sir Stamford Raffles, who founded Singapore in 1819. Situated in the heart of the CBD, by day Lau Pa Sat is a hectic hawker and a magnet for city workers; by night it is converted into 'Satay Street', a vibrant satay centre filled with outdoor stalls and the intoxicating smells of Asia. Head for 'Best Satay' at stalls 7 and 8 and load up on skewers packed with chicken, prawn, mutton and beef – fresh and delicious seafood and meats that are marinated in local spices and tenderised before being grilled on a piping hot charcoal barbecue. The skewers are accompanied with a rich, sweet peanut dipping sauce, fresh onion and cucumber and ketupat (rice cakes steamed in coconut leaves).
9 9) No Signboard Seafood Mattar Road
The eclectic quarter of Geylang on Singapore's east coast is home to some of the best local food on the island. At night the popular No Signboard Seafood restaurant illuminates the bustling Geylang Road with its 80s' style neon lights. Huge round tables are packed with punters and loaded with a bewildering array of seafood, when only hours earlier the contents of the plates were dancing around in the giant tanks by the entrance. No Signboard is a great place to try chili crab, which is a Singapore staple and one of the most requested dishes by visitors to the city-state. The restaurant offers fresh crab cooked in 13 different ways, including black pepper, butter, cheese and salted egg but chili crab is the bestseller. It's no mean feat working your way through the crab which arrives loaded with spicy-sweet chili-tomato sauce – more often than not you'll end up covered in the stuff – but it's a rite of passage in Singapore. If crab isn't your thing, why not try lobster, shark's fin, abalone, crocodile or bull frog?

Further branches of No Signboard Seafood can be found at Esplanade Mall, Raffles Avenue, 8 #01-14 to #01-16, Singapore, 039802 and VivoCity, Harbourfront Walk, 1 #03-02, Singapore, 098585.
10 10) Selera Rasa Nasi Lemak
If it's good enough for royalty, it's good enough for us. Stall 2 at this unassuming hawker centre off Adam Road is a popular port of call for the Sultan of Brunei – he places large orders for nasi lemak, one of Singapore's beloved dishes – whenever he comes to Singapore. Traditionally a Malay breakfast dish, nasi lemak is rich rice cooked in coconut milk and served with a selection of side dishes, including fried chicken, peanuts, anchovies, ikan bilis, otah, egg and a sweet and spicy sambal. Abdul Malik Hassan is the third-generation owner of Selera Rasa Nasi Lemak who presides over a dish that has evolved hugely from the original version. Unusually, fragrant basmati rice is used – it is mildly scented with coconut milk and pandan – the end result is deliciously light and fluffy with an excellent texture. If you're on a low GI diet, choose Selera Rasa's nasi lemak – basmati rice has a low glycemic index so it's a healthier option. If the queues at Stall 2 are anything to go by, this remains a firm local favourite.
11 11) Sin Heng Claypot Bak Koot Teh
Nestling in the heart of Joo Chiat, well known for its good food and shophouses, is Sin Heng Claypot Bak Koot Teh. It's a light, bright, no-frills restaurant, serving an array of Hokkien dishes, the most popular of which is the signature soup-like bak kut teh, meaning 'pork rib tea'. Succulent pork ribs bubble away for hours in a dark herbal broth containing pepper, garlic, medicinal Chinese herbs and spices. In the past, bak kut teh was used as a health-boosting tonic, but today it is more likely to be enjoyed for its light, yet flavoursome taste. You tiao (fried crullers) are croutons ideal for soaking up the soup, while drinking a hot pot of Chinese tea helps mitigate the impact of the fat found on the meaty ribs. If you're feeling daring, why not try the restaurant's pig's trotters or mixed spare parts?
12 12) Sin Ming Roti Prata
Father and son duo, Haji Mohammed and Al Malik Faisal run the excellent Sin Ming Roti Prata, churning out prata (flat bread) daily by following a failsafe family recipe. The team begins work daily at 5am, making the stretchy prata dough by combining flour, eggs, sugar, salt and water. The dough is kneaded and left to rest before being stretched into a vast tissue-thin sheet, which is flipped and folded into multi-layered pancakes and fried on a baking hot griddle until crisp. The end product has a light and flaky exterior and a soft, elastic, chewy interior. The prata tastes deliciously sweet, salty and buttery, yet never greasy. Roti prata is ubiquitous in Singapore and usually served with a curry sauce. Sin Ming Roti Prata offers an impressive array of alternative fillings, ranging from sausage to sardine, chicken floss to cheese and chocolate to cashew nut.
13 13) The Banana Leaf Apolo
It doesn't get more authentic than this – a curry gravy stew containing an entire red snapper head, served atop steamed rice on banana leaves. Fish head curry is a Singaporean creation that remains hugely popular with locals and The Banana Leaf Apolo, which has been going since 1974, is the perfect place to tuck in. Fish heads are cooked until tender with a host of aromatic spices and curry powder blends, and, according to the blurb on the restaurant menu, 'skilfully skinning the flesh off the fish head is already an experience'. The bony fish head offers a surprising amount of meat, while the cheeks are beautifully tender. If you're lucky, your waiter will ceremoniously scoop out the fish eye for you.
14 14) Tian Tian Hainanese Chicken Rice
Tian Tian Hainanese Chicken Rice began as an anonymous hawker stall, but today, thanks to the efforts of the savvy owner, Madam Foo Kui Lian, it is one the best places in Singapore for Hainanese chicken rice. Chicken rice is everywhere, appearing on virtually every menu and Singaporeans go mad for what surely constitutes the city-state's national dish. It is deliberately served slightly chilled, which is surprisingly light and refreshing in the steamy Singapore climate. Succulent steamed or roasted chicken is served with oily, aromatic rice cooked in chicken stock. Vegetable accompaniments are usually restricted to a few cucumber slices but you'll probably find a few token rings of spring onion floating in the bowl of steaming hot, clear soup served on the side. Dipping sauces include soy sauce, chili, garlic and crushed ginger. Chicken rice is undeniably moreish – a diner on the adjacent table to us at the legendary Maxwell Food Centre branch worked his way through two helpings in about as many minutes. If the queues and mayhem at stall 10 are too much for you, you could always opt for peaceful, air-conditioned comfort at the Joo Chiat branch – the chicken rice is just as delicious.
15 15) Zam Zam Singapore
One of Singapore's best-known Muslim restaurants and now something of an institution, having been operational for more than a century, Zam Zam Singapore is located on the edge of the Arab quarter. It's a humble but celebrated eatery specialising in authentic Indian-Muslim food. The Zam Zam murtabak (a type of prata stuffed with eggs, onion and meat) is reputed to be one of the best in Singapore. It is huge, so work up an appetite before embarking on one of these super-sized wraps, often fried in ghee or oil and filled with chicken, mutton, beef, sardine or deer.
Useful Travel Guides for Planning Your Trip
--- 12 Singapore Foods You Should Not Miss
Food is a national passion for Singaporeans. Locals think and talk about food incessantly, often thinking nothing of travelling for miles across the island and queuing for hours just to taste one of their favourite dishes. Singaporeans abroad will bemoan being parted from their favourite foods,... Traveler's Guide to Singapore: 15 Souvenirs to Bring Home
Known as one of the Four Asian Tigers (or Dragons), Singapore is a thriving metropolis and one of the most fascinating tourist destinations in Asia. Home to multi-ethnic community, the city carefully preserves and proudly exhibits its colorful identity, manifested - among other forms - in the...