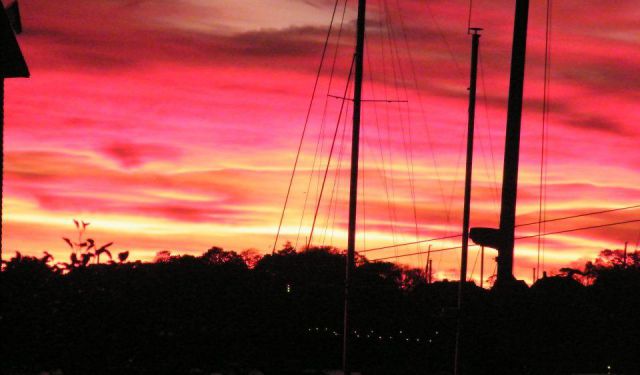 Historic Landmarks, Marblehead, Massachusetts (D)
Marblehead, a destination of distinction offering a wide array of landmarks with something to appeal to everyone. A virtual treasure chest of historic jewels. Historian? Many locations remain unchanged and date back nearly 4 centuries. Like exploring cemeteries? Some of the nation's first burial points are here. Have an artistic flare? Check out our many eclectic gates, monuments and statues. Marblehead, A Little Town with a Lot of History!
Image Courtesy of Ana Steele.
How it works:
The full article is featured in the app "GPSmyCity: Walks in 1K+ Cities" on
iTunes App Store
and
Google Play Store
. Download the app to your mobile device to read the article offline and create a self-guided walking tour to visit the sights featured in this article. The app's navigation functions guide you from one sight to the next. The app works offline, so no data plan is needed when traveling abroad.
Sights Featured in This Article
Guide Name:
Historic Landmarks
Guide Location:
USA » Marblehead
Guide Type:
Self-guided Walking Tour (Article (D))
# of Attractions:
16
Author:
Ana Steele
Author Bio
: An avid traveler and adventurer, she enjoys such activities as jumping out of perfectly good airplanes and rappelling when ever possible. A life-long writer, she has been published over 180 times as an online research writer for hire. Ana has recently collaborated with m i keaton on the recently released original play entitled Anatomy of a Love Affair(c). More works coming soon.... remember the name... Ana Steele
Sight(s) Featured in This Guide:
Abbot Hall
Castle Rock Park
Chandler Hovey Park
Crocker Park
Devereux Beach
Fort Sewall
Lookout Court
Marblehead Light Tower
Market Square
Monument Square
Old Burial Hill
Old Powder House
Redd's Pond
Tucker's Wharf
Herresoff Castle
Fountain Park
1 1) Abbot Hall
Perhaps, the town's most prominent metaphorical diamond is Abbot Hall. Its majestic bell tower is a dominant visual and audible fixture throughout town. The looming clock tower tolls the passing of every hour for all to hear as it has for nearly two centuries. The clock is a Howard #2S and was installed in 1877. Weekly maintenance and the winding of the movements is performed by town workers. The clock tower is a local favorite and featured in many tales written about Marblehead. It is one of the most photographed spots in town. On a personal note, I have been lucky enough to have been in the bell tower and have actually tolled the bell. While it is typically run via a modern day computer system, the original rope system remains and every now and then a few lucky locals get to ring the bell. My most memorable time was in 1997 during the visit of the USS Constitution to Marblehead to celebrate 300 years of service.

Serving as not only a historical museum, Abbot Hall is also the present seat of the local government for the town of Marblehead, Massachusetts. The original painting of Spirit of '76, a painting of Marbleheaders rowing Washington across the Delaware, as well as the deed for the town of Marblehead purchased from the Nanapashemet Tribe in 1684 for the sale price of 16 pounds, and many other priceless historical artifacts are here on permanent display.

Open Year-round with limited hours in the colder months.
2 2) Castle Rock Park
Located on Marblehead Neck and once known as Great Head, it has long been referred to as Castle Rock because of the private castle that abuts the public walk way. A narrow rocky path leads you out to a craggy bluff and it becomes easy to see where Marblehead got its name. Castle Rock is a 1.2 acre public park and observation point that offers spectacular and uninterrupted views of the sweeping Atlantic Ocean. Once used as lookout against enemy ships and pirates as well as a watch for returning sailors. Today it is a popular wedding locale as well as a great spot for a picnic or to take in one of the many sailing events that take place in Marblehead throughout the warmer months.
3 3) Chandler Hovey Park
Chandler Hovey Park is often called Lighthouse Point because it is home to the Marblehead Light Tower. Located at the land's end of Marblehead Neck. The craggy headway gives sweeping and endless views of the Atlantic Ocean. The waters doted with a kaleidoscope of colorful sails during the summer months. It is easy to see why they call Marblehead the "Yachting Capital of the America."

The park was donated to the town in 1948 by long time resident Chandler Hovey after he purchased the more than 3 acres of land from the U.S. Government. Reached via the causeway and off of Ocean Avenue at the end of Follett Street. It is a very popular picnic area, dog walking area (pets must be curbed and leashed) and observation destination for locals and tourists alike. Many outdoor weddings have taken place here over the years. There is ample free parking, pavilions, benches and picnic tables. It is also a popular swimming hole during the summer and fishing sight. Swimmers take note, the waters here rarely reach above 70 degrees, even during the hottest days of summer. Public restrooms are available.

Open Year-round Sunrise to sunset

FREE
4 4) Crocker Park
Offering perhaps some of the best views of Marblehead's Inner Harbor and Marblehead Neck, Crocker Park is nearly three acres of protected and public town owned land. Originally known as Bartoll's Head the name was changed in honor of Uriel Crocker after he donated much of the land to the town in 1885.

As with many other sights around town, there is a large plaque honoring Marblehead's service and contributions to the U.S. Navy.

Today the park is an ideal observation deck with a pavilion, benches, a gazebo, public restrooms, and a floating deck for swimmers(seasonal). It is also an extremely popular outdoor wedding locale and hosts many free concerts during the summer. The Herresoff Castle now serving as a seasonal B&B and year-round private residence is also located at the main entrance. A must see on any visit to Marblehead.

Open Year-round Sunrise to Sunset

FREE
5 5) Devereux Beach
Located on Beach and Ocean Avenues on the causeway out to Marblehead Neck, Devereux Beach is a wonderful spot to picnic, stroll the rocky shore and or to swim. There is really no sand to speak of as it is a very rocky shore, but don't let that detract. The views alone are worth the trip. There are covered picnic areas, public restrooms, a children's playground area and a seasonal restaurant. Local schools hold annual carnivals here and it is one of the best spots in town from which to view the Fourth of July fireworks. It also offers sweeping view of Boston's skyline in the distance. The causeway separates the public beach from a public landing that is the home to a statue of a shell sundial and offers wonderful views of the inner harbor, Abbot Hall and Old Town as well as the craggy cliffs of Seaside Park. Marblehead is often referred to as the Yachting Capital of America and a glance at the thousands of yachts moored here in season is a clear indication of its immense popularity.

When I was younger, there were only 8,000 permanent residents in town and 24,000 boats moored in the harbor during the season. I would laugh and marvel that there were 3 boats per resident and wondered where was mine?
6 6) Fort Sewall
First established on Gale's Head as a defensive breastwork in 1644. It has been enlarged many times over the centuries including in 1742 when defending against attacks by the French, at the time of the Civil War, and then again in 1794 with the construction of barracks.

A key player and stand out during the Revolutionary War, Fort Sewall is credited with defending the U.S.S. Constitution (Old Ironside) against attack from four British Frigates. Old Ironside made a visit to Marblehead in 1997 to commemorate the victory. I was lucky enough to be home at the time and it was a truly amazing sight to see, first just the tallest mast barely visible above the rocks and then to see the 200 year old Tall Ship round the point and sail into the Inner Harbor as it did in 1797 was nothing short of amazing.

Today it is a very popular walking area for locals as well as wonderful observation area. It affords majestic views of the open Atlantic as well as Marblehead Neck, the off-shore islands such as Baker's Island (a private island considered part of Marblehead with about a dozen permanent residences) and the islands of Cape Ann.

Many annual Revolutionary War re-enactments take place here as well as a number of free musical performances throughout each summer. Fort Sewall is the prefect spot to relax and enjoy a picnic while listening to the sounds of the waves crashing against the rocky shores and enjoying the endless views.
7 7) Lookout Court
A rarely found vista on your typical tourist directory, Lookout Court also known as Prospect Alley is located in Marblehead's Historic Old Town, off of Tucker Street and not far from Abbot Hall. This foot path has been in use since the Colonial days when fisherman first used it to for flacking (fish drying). They would carry the catch to the crest of the hill and lay out the fish to dry in the sun. It is strictly a walking path. This public alley leads to stone steps between private homes turning into a small path. Climb to the top to witness some of the most awe inspiring views of Old Town Marblehead and Marblehead Harbor that few outside the local residents ever enjoy. A must see on any visit to Marblehead.
8 8) Marblehead Light Tower
There are so many historic gems in town and the Marblehead Light Tower is another sparkling jewel. A guiding light to sailors for a century and a half, the station was first manned in 1835 when a simple light was placed atop a 20-foot mast. As the town grew, a new light was placed atop a 100 foot mast next to the original post, that remained in place until the structure was replaced with the present day tower in 1896.

The Marblehead Light with its exoskeleton type structure is very rare and the only one of its style in all of New England, and only about a dozen in all of the Untied States. It stands 105 feet tall with a central tower atop housing the light. Today it continues to guide sailors to the safe and welcoming harbor of Marblehead, Massachusetts.

Open year-round Sunrise to Sunset

FREE
9 9) Market Square
Located in Old Town Marblehead, (some times called the Historic District) Market Square, is where time has seemed to come to a stand still as far as architecture is concerned. You will notice the gas fired lamp posts that light the way and the total lack of neon (none is allowed in all of town, nor will there ever be a fast food drive thru in town). The bells of nearby Abbot Hall still toll the passing of each hour, as it has for nearly two centuries. Designated a National Historic Sight, the entire original village maintains strict codes and no new construction has taken place here since the 1800s.

The heart of Old Town is Market Square. A prefect place to start as you take in the immense history of the Old Town. The narrow, winding roads invite and entice you to take a walk though the village. The original Town Hall stands center stage (literally, it is a traffic rotary) surrounded by a sheer cacophony of quaint boutiques, unique furnishings shops, kids stores, pet stops, art galleries and a wonderful selection of casual eateries and fine dining establishments abound and are sure to please any culinary palate and satisfy even the most discriminating of shopper.
10 10) Monument Square
A town settled in the earlier 1600s by a select few families led by John Peach Sr., after they fled Salem, Massachusetts to escape strict religious orders and Puritan ways (sound a bit familiar?). Marbleheaders have always been independent thinkers and great Patriots as evident throughout history. The oft disputed birth place of the American Navy. (A centuries old battle still brews with nearby Beverly.) The Hannah was the very first nautical vessel commissioned. It was built and manned by Marbleheaders, but launched out of Beverly waters. So, who holds rightful claim as the birthplace? That is the point of an argument and rivalry that is almost as old as the towns themselves.

For me the answer is as simple, Marblehead undoubtedly. There is a plaque in Abbot Hall proudly stating the same. There is also a painting which still hangs today in the Selectman Chamber in Abbot Hall depicting Marblehead mariners ferrying George Washington across the Delaware.

Marbleheaders have proudly fought in every major conflict. Freedom is never free. The cost is priceless. Marblehead takes great pride in honoring their dead lost in the defense of America. Monument Square is the town's public display of remembrance.

Also see statues for the following memorials here as well...

911 Statue

Vietnam War Memorial

WWI Memorial

WWII

Korean War Memorial
11 11) Old Burial Hill
Undoubtedly one of the oldest and most picturesque burial points in all of New England if not the nation. Located on the site of the town's first meeting house, Old Burial Hill was first established in 1638.

Offering not only awe inspiring views of the harbor, Old Town Marblehead and the open sea, it is also the home to nearly 600 unmarked graves believed to be the final resting place of local Revolutionary soldiers who gave their lives for this nation's freedom and independence from Britain.

Many of the tombs date back to the Seventeenth century and are adorned with some wonderfully preserved artistic cravings, while others have slowly vanished with time. The symbols are representative of the life and times of early New Englanders. The eclectic and often very interesting epitaphs offer a different look into the life and death of some of the town's and the nation's earliest American settlers.

As a local and resident of Old Town, Marblehead, I have spent countless hours exploring the hill and have enjoyed many a sunrises at this majestic final resting place.



Open Year Round Sunrise to Sunset FREE
12 12) Old Powder House
Another rare gem in Marblehead's vast treasure chest of historic jewels, and a must see for the history buff in all of us, is the unique circular structure of the Old Powder House. Located on Green Street, it is one of only three per-Revolutionary powder houses that remain intact in the entire nation. Its brick construction and uncommon spherical design make it a popular photo stop for tourist and locals alike. Originally built to warehouse ammunition and muskets in 1755. It served as a powder storage facility during the French and Indian War and The American Revolution. It was last used during the War of 1812.
13 13) Redd's Pond
Named after the infamous Marblehead resident Wilmont Redd. She was affectionately known to the town folks as "Mammy" Redd. Poor "Mammy" was arrested during the witch hysteria and the Salem Witch Trials of 1692 for "detestable acts of Witchcraft and Sorcery wickedly, maliciously and feloniously used, practiced and exercised at the Towne of Salem." She was found guilty as charged and condemned to " hang by the neck till dead." Her sentence was carried out on Gallows Hill in Salem, Massachusetts on September 12, 1692. Her legend even inspired a local rhyme, "Old Mammy Redd of Marblehead hung by the neck till she was dead."

Today is it much more reminiscent of a Norman Rockwell painting of children sailing model boats a popular past time since the 1920s. Many many model boat clubs meet, sail and compete at Redd's Pond throughout the summers. Inspiration to many a painting and a picture prefect spot. It is just steps away from Old Burial Hill.
14 14) Tucker's Wharf
If the heart of Old Town is Market Square than the pulse is surely Tucker's Wharf. Also, know as The Landing and most famously as the location of Blackler's Saltbox. The boat that carried George Washington across the Delaware was built here by and manned by a descendent of Blackler's. Washington made two visits to town to thank him and other locals for their service in the Revolutionary War.

Undoubtedly, this landing has played and continues to play a vital role in Marblehead. In the words of the Marblehead Historical Commission "The importance of this site in the fight for independence of our country cannot be overstated, cannon, gunpowder and supplies for privateer vessels were stored here during the Revolutionary War. The wharf was also the backbone of the famous Marblehead fishing fleet, and was the site for shipping dried codfish as early as 1630."

Patrick's Wharf is one of the oldest continuously operating wharfs in America. There are covered and open benches, public restrooms and shower facilities are available for visiting boaters.

Today it is a popular observation deck as well as the home to Santa's annual water landing. He makes his yearly visit to town by Lobster Boat. Four generations of my family partake in this annual tradition. It is a favorite past time for local children and those young at heart. The Christmas Parade starts here, launching the Yuletide Season.
15 15) Herresoff Castle
Built by local Marblehead artist Waldo Ballard from a description taken from a book and from studying castles across Northern Europe. He and his wife used their travels to gather design elements of various medieval architectural types that they later incorporated into their plans. It is based on Viking Erik the Red's castle. The castle was purchased by the famed yacht designer L. Francis Herresoff in 1945. Today it is a private residence and working B&B from April to November.(The Castle will be closed for the 2012 season)
16 16) Fountain Park
Fountain Park

Once known as Baily's Head and home to a Revolutionary War fort and used once again during the War of 1812 when it was referred to as Fort Washington. Today it is known as Fountain Park, and is located directly across from Old Burial Hill on Orne Street in Old Town Marblehead. The land was donated to the inhabitants of Marblehead by James J.H. Gregory in 1888. It is a wonderful overlook that offers majestic views on all sides.