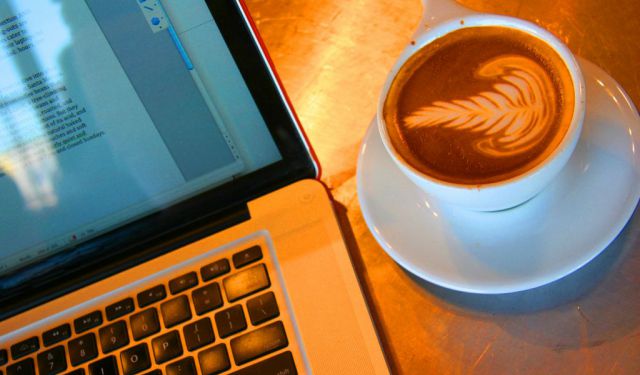 Los Angeles Wi-Fi Cafes, Los Angeles, California (D)
Need to find free wireless connection AND a great cup of coffee? These charming cafes, hot-spots and writers' hang-outs are scattered across LA but catalogued by neighborhood. These indie cafes cater to screenwriters, students and tourists who want to set up camp with their laptops for a few hours to write that book, take a meeting, or check email. Included: hours, the vibe, food, noise level, parking and of course, the coffee.
How it works:
The full article is featured in the app "GPSmyCity: Walks in 1K+ Cities" on
iTunes App Store
and
Google Play Store
. Download the app to your mobile device to read the article offline and create a self-guided walking tour to visit the sights featured in this article. The app's navigation functions guide you from one sight to the next. The app works offline, so no data plan is needed when traveling abroad.
Sights Featured in This Article
Guide Name:
Los Angeles Wi-Fi Cafes
Guide Location:
USA » Los Angeles
Guide Type:
Self-guided Walking Tour (Article (D))
# of Attractions:
21
Author:
Julie Grist
Author Bio
: Julie Grist is a photographer, writer and social animal who has lived in Hollywood for 20 years with her husband, a television director, and three active children. She enjoys sharing the cutting-edge mad milieu of all that is Los Angeles with others as she explores the hinterland of LA.
Author Website:
http://under construction
Sight(s) Featured in This Guide:
Funnel Mill Cafe SM
Paper or Plastik
Stir Crazy Coffee House
Caffe Bello
Solar de Cahuenga
Sabor y Cultura
Cafe Muse
King's Cafe
Tanner's Coffee Co.
LA Mill Coffee
The Spot Cafe and Lounge
Casbah Cafe
Intelligentsia-Silverlake Coffeebar
Lyric Cafe
Silverlake Coffee Co.
Tea Forest
Buzz Coffee
Espresso Cielo
Bricks & Scones
Insomnia Cafe
Ten Forward Coffee
1 1) Funnel Mill Cafe SM
With its industrial loft feeling, the Funnel Mill is a nice dark spot to dive into after too much sun out on a nondescript segment of Broadway (at 9th) in Santa Monica. Best known for its $73/cup Kopi Luwak which is brewed from coffee beans that have made their way through the digestive system of the Luwak, a tree-climbing impish mammal who lives in the Indonesian jungles eating coffee beans and chemically altering, then discharging them, only to be gathered up, roasted, and blended into the guaranteed smoothest cup of coffee known to humans. But they have regular joe on the premises also, syphon-brewed to strip most of its acid, and augmented with milk if you like. Exotic loose-leaf teas and a few natural baked goods offered but no menu. Seven nice-sized tables inside, five couches and soft seats in the window, and a solo table outside on the sidewalk. Fairly quiet and contemplative. Free wifi. Open Mo-Fri 9am-7pm, Sat 10am-7pm and closed Sundays.
2 2) Paper or Plastik
Flanked by a beautiful dance studio in the back and a pulsing Pico Blvd on the front, Paper or Plastik Café (and the dance studio) are run by a family eager to become a cultural hot-spot in the Mid-City area. The industrial feeling space is bright and airy with window and center tables reserved for "No Laptop" guests while students and writers take up residence at the (very) small tables along the wall and back. Coffee is nice and creamy with their use of organic Strauss Family Creamery products and Intelligentsia beans. The cherry pie from Sweet Lady Jane is unbelievably decadent and the simple cold sandwiches are modest and very European. Though there's a very limited food menu the place is always packed, perhaps because of the dancers that flock to classes in the back studio and are great for people-watching. There are often performances in dance, music and readings that take place in the dance studio in the evenings. Open 7am-10pm daily, parking on the street at meters and in the surrounding residential neighborhood.
3 3) Stir Crazy Coffee House
This small café has one of the best names in the coffee shop business and is a hangout for all of us creative types who can't stand another minute at home. A Melrose institution on the edge of Hollywood, it was once a dark hole-in-the-wall, but has been refurbed just enough to be comfortable without losing its wood-paneled rustic feel. Real writers seem to congregate here in great numbers, because the coffee and service are great and the clientele is relatively quiet and focused. Twelve two-top tables inside with sufficient power outlets around the rim, four tables in the small covered patio out front with the buzz of cars and some great pedestrian traffic to take in. Very reasonably priced sandwich menu for breakfast or lunch and a decent cup of joe. Open daily 7 am – 11 pm, 2 hour free parking on the side street.
4 4) Caffe Bello
Housed in a cheery corner building on a rather blah block of Santa Monica, Café Bello has a bit of the feel of modern spots in Italy: clean and crisp with lots of light, a long wall soft banquette bench, and a tight urban feel. It serves all things Italian including: pastries and sandwiches; Manuel Caffe brews; 37 Italian teas and 18 kinds of specialty Italian hot chocolate drinks. You can use their free wifi at any of the 6 tables indoors or 6 outside in the sun, but it's a big bright and noisy on the street. Open Mon-Fri 7:30am-6pm, Sat 8am-6pm and Sunday a civil 9am-6pm. Street parking only, some metered, some not.
5 5) Solar de Cahuenga
This hipster hangout is always teeming with people on computers, oftentimes there is only one table available out of the 45 on the premises. It can be a bit noisy with soccer games on the tele and writers collaborating over coffee, but there's also a nice vibe to the place: it makes you want to get some work done. The food is delicious: paninis, crepes and salads are the mainstay, along with fantastic thin-cut crisp French fries with a special dipping sauce. The coffee's decent and if you feel like laying back, sneak into the "Persian Room" and sprawl out on pillows on the floor and order a beer or glass of wine (also on the menu.)

20 tables inside, 12 outside in front covered porch and another 12 in back covered patio. Open daily 7am – 1am. Parking is in small (pay) lot and on the street.
6 6) Sabor y Cultura
This is a favorite spot as it's always laid back, never noisy, and you don't feel like you're bothering anyone by hanging there for a good chunk of time. The 25 tables indoors (10 outside) are spaced far apart and of decent size so no one is looking over your shoulder or breathing down your neck. They even have a set of old-school computers in a side area for those without their laptops who may need to check email. Most appreciated offerings are the Korean style BBQ Pork sandwich (yum!) and the Mexican Mochas. East of Vine on Hollywood Boulevard in a not-so-happening part of Hollywood (Little Armenia) so parking on the street is not too tough. Open weekdays 6:30am-11pm, Sat-Sun 7:30am-10pm.
7 7) Cafe Muse
Named for the sisterhood of Classical goddesses who inspire the creative process, Café Muse is in a calm industrial corner space with a comfortable feel to it that may just inspire your creative juices. It's on the small side, but is open and airy and there's even a piano and guitar for patrons to pick up and play. Located on a corner of Santa Monica Blvd. between Vine and Highland known as Hollywood's Theater Row, Muse shares a lobby with a theater and serves wine and beer. The coffee is first-rate from a local beanery, the menu extensive (with many vegetarian options) and famous for its sweet potato fries and southwest veggie chili. Parking on the street is sometimes a bit tough to find, but not metered. Open Mon-Thurs 9am-11pm, Sat 9am-12am, and Sun 9am-10pm.
8 8) King's Cafe
This is not your glam coffee bar, but a small family-run spot tucked away next to its brother, the late-night falafel house King's Kabob. The place is tiny but friendly, though tough to hang at one of their 8 small tables for too long. Known for his Turkish coffee and real Mexican hot chocolate, owner Omar is friendly and welcoming and encourages you to bring in food from the Kabob house if the limited bagel and pastry menu doesn't meet your needs. Occasional art openings in the evening, but really a local dive in most aspects. Open weekdays 7am-9pm, Sat 8am-10pm, Sun 8am-8pm. Street parking and a small lot in the back.
9 9) Tanner's Coffee Co.
On the outside it looks like a coffee shop from the 1950s , but inside it has contemporary comfort with free wifi and a couple sets of lounging couches in the window. The place seems big but only offers six indoor tables plus a bar to sit at, so you have to grab one fast as it's a favorite with the locals in Culver City (one author is said to have started and finished her book at the establishment.) Tanners has a limited food menu and pretty much the regular coffee offerings. Very little pretention, lots of color, and good music, though loud. Open Mon-Sat 6am – 11pm, Sun 7am-10pm. Parking in the back lot and along the street is easy with a two hour time limit.
10 10) LA Mill Coffee
A coffee connoisseur's delight, LAMill roasts its own specialty beans from around the world and takes its coffee seriously, very seriously. The coffee menu alone is a couple pages long and can be served via the Japanese siphon technique, the fancy-dancy Clover machine or whatever way you like. This is not your regular hang-out coffee shop, however, as there are waiters and a full menu of breakfast dishes, sandwiches and salads in a somewhat elegant windowed location on trendy Silver Lake Blvd. But sit outside at one of the ten tables street-side and you'll find computers (no outlets though) sucking up the wifi for a few hours till the sun hits the patio. Hours are Sun-Thurs: 7am-10pm, Fri-Sat:7am-11pm. Ample free parking in the lot behind.
11 11) The Spot Cafe and Lounge
This backwater space on Overland Blvd in Culver City doesn't even have a sign outside, but the locals all know and love it for its simple front room with lending library, and the hidden lounge off the back alley where there's often Open Mike nights for comedy and music (including the Monday evening "Stitch 'n Bitch.") Breakfast served all day and the Athenian salad in a panini seems to be the favorite lunch dish. Coffee is okay. Mon-Fri 7am-10pm, weeknds 9am-10pm. Parking in small lot and on the street.
12 12) Casbah Cafe
Walking into this warm bohemian corner spot gives you the feeling you just may be in another part of the world, perhaps an old city somewhere in northern Africa or central America. The café features pungent smells and succulent snacks of sweet and savory tarts, empanadas, chocolate mousses and the like. A barista steams up the usual hot coffee and tea drinks and 'curbside service' for those on the run is also available if you call 323-664-7000. There are fifteen tables inside and a couple out on very busy Sunset Blvd if you're into people watching. The place is bright and busy so may be hard to get any work done, though there are usually a half dozen writers zoned in on their computers at any given time. Open daily 7am-10pm. Street parking only.
13 13) Intelligentsia-Silverlake Coffeebar
An import from Chicago, Intelligentsia is known for roasting its own beans (in nearby Glassell Park) and serving single-origin premium coffee at this hot spot on Sunset Blvd in Silverlake.. The coffeebar is in a soaring room with only minimal counter service, but the blue and white Nicaraguan tilework leads to the giant shaded patio out front. With more than 20 tables and an active scene of walkers, talkers and gawkers, it's a delightful scene for sipping the famous Intelligentsia brew and perhaps taking a gander at your computer. Come pre-charged and without deadlines, however, as there are no outlets to plug into and the local scenery is definitely distracting. Light fare is offered (scones, muffins, pastries) as are beans by the pound. Open Sun-Wed: 6am-8pm, Thurs-Sat: 6am–11 pm. Parking in the neighborhood can be tight. Also locations in Pasadena and Venice, CA.
14 14) Lyric Cafe
This sweet spot is attached to the Hyperion Lyric Theater . While tiny inside, it mainly serves its daytime customers out on the large wooden deck replete with outlet strips for charging up and umbrellas for shade. Known for café con leche and many organic flavored syrups, the Lyric also serves up a soup of the day, pastries, and some hearty sandwiches. Dogs welcome on the deck and the staff is super friendly and won't move you on quickly. Hours are 8:30am-7pm Mon-Thurs, and 8:30am-8pm Fri-Sun. Free parking in the rear.
15 15) Silverlake Coffee Co.
If you're looking for easy parking, lots of outdoor work space and friendly staff, Silverlake Coffee on busy Glendale Blvd may just be the answer. A decent cup of Joe, some tasty sandwiches, unpretentious surroundings and great soundtrack in the air makes this a favorite for the laptop crowd who usually appear quiet and focused. Mon-Fri 6:30am-9pm, Sat-Sun7:30-9pm.
16 16) Tea Forest
With a Japanese minimalist feeling, this coffee and tea house doesn't distract, the owners are friendly toward laptop loungers, and it's rarely too busy. They serve the Italian Ili brew but focus more on loose-leaf teas. Particularly popular is the Green Tea Genmaicha but there are dozens of choices to keep you coming back and trying new tastes. Nine tables indoors and just two outside, they have a fairly brisk lunch biz serving reasonably-priced sandwiches, salads and pastries. Open Mon-Fri 7:30am-6pm, Sat 9am-2pm, closed Sundays. Small side lot or street parking.
17 17) Buzz Coffee
This corner brew stop, very close to the bustling shopping center The Grove, is always jam-packed with writers and workers tapping away on their keyboards: many times it's almost impossible to find a spot. The place is kind of sloppy casual and the menu is limited, it's more of a coffee house than an eatery. Very moderate prices on the pastries and Groundworks joe, the place is abuzz with people taking meetings and talking projects. Mon-Sat 6am-9pm, Sun 7am-7pm. Street parking only, watch you don't stay more than 2 hours.
18 18) Espresso Cielo
Located on the corner below the Sail House Lofts on happening Main Street, this Santa Monica charm is within sight of the blue Pacific Ocean so you have the option to shop or beach it after enjoying the delicate ambiance of Espresso Cielo. Its small footprint allows only 7 tables inside and 10 outside so don't plan on staying too long if it's busy. They have an outstanding selection of teas, and coffee from a Vancouver roaster, is served in blue porcelain cups to match the blue waters down the block. The 19th century French clock which dominates, and the marble tables and café chairs, make you feel like you just may be in Paris in an earlier time. Friendly baristas who take their coffee seriously. Open 7am-7pm daily. Small lot in back and street parking.
19 19) Bricks & Scones
A relatively new spot on upper Larchmont Blvd, Bricks & Scones has quickly become a mecca for writers who want some quiet in the upstairs "Study Room" which is off limits for discussion and cell calls. But it also offers a comfortable meeting spot for those who want to gab and grab a coffee – there are 10 tables in the darkened, cozy room inside as well as a slew of 15 nice-sized tables outside on the sun-drenched patio (with umbrellas) that are protected from the street by a screen of green. The original light menu of scones and baked items, has been beefed up and now offers hot scrumptious panninis, salads and really tasty homemade desserts, even late into the evening. Open 8am-10pm Mon-Sat and 8:30am-10pm Sundays. Small parking lot in the back and metered 2 hour parking on the street.
20 20) Insomnia Cafe
One of the older establishments that is a serious haven for writers, quiet is the key here and everyone takes their cell calls outside so as not to bother other patrons. A long skinny shop in the heart of the Beverly Blvd shopping district, the tables are a bit cramped but gives the flavor of a true Bohemian coffee house in the Village. Insomnia brews LAMill roasted beans and doesn't spend too much time on food although there's a limited sandwich menu. The 15 tables and two couches are almost always occupied, even into the night hours as free wifi now is offered with a coffee purchase. Open daily 10am-1am. Street parking.
21 21) Ten Forward Coffee
If you're stuck in the heart of Hollywood and need a place to get out of the heat and hubbub, head into Ten Forward (named surprisingly after the lounge on Deck 10 of the Galaxy starship, Star Trek.) This place feels more like a small Parisian bistro than a Trek deck, and it's good-natured owner/barista welcomes all with her buoyant smile and hot coffees. It's a cozy spot with two levels of tables (all small) and a few small tables right outside perched on a couple of real life Hollywood stars (embedded in the sidewalk.) Light menu, mostly pastries. There are readings and music occasionally at night. Parking is on street and tough. Open Mon-Fri 6:45am-12am, Sat-Sun 10am-11pm.
Useful Travel Guides for Planning Your Trip
---