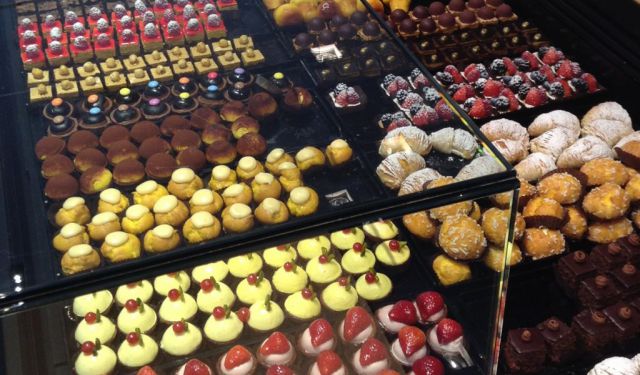 Milan's Best Pastry Shops, Milan, Italy (D)
Are you looking to satisfy your sweet tooth with locally-made Italian pastries? This guide covers the best pastry shops/cafes in Milan. We'll visit shops offering tortes, chocolates, biscotti (cookies), cakes, and pastries: ones filled with delicious creams (cannoncini), fresh fruit (tarts), light ricotta cheese (cannoli); eat wonderful pralines, or small cakes infused with rum (babà). This is a feast for the eyes as well as for the stomach!
How it works:
The full article is featured in the app "GPSmyCity: Walks in 1K+ Cities" on
iTunes App Store
and
Google Play Store
. Download the app to your mobile device to read the article offline and create a self-guided walking tour to visit the sights featured in this article. The app's navigation functions guide you from one sight to the next. The app works offline, so no data plan is needed when traveling abroad.
Sights Featured in This Article
Guide Name:
Milan's Best Pastry Shops
Guide Location:
Italy » Milan
Guide Type:
Self-guided Walking Tour (Article (D))
# of Attractions:
16
Author:
John Mylius
Author Bio
: John Mylius is an American freelance consultant who has lived in Milan for eight years and a total of fifteen years in northern Italy with his family. He remains close to the Milanese spirit of living, which also espouses doing it with style and with good food to eat. John has greatly enjoyed putting together this guide to help visitors to Milan find the authentic Milanese pastry shops where quality and taste still reign supreme.
Sight(s) Featured in This Guide:
Pasticceria Castelnuovo
Pasticceria Martesana
Pastericcia Elli
Pasticceria Viscontea
Pavè
Le Dolci Tradizioni
Alvin's
Vecchia Milano
Cremeria Buonarroti
I Dolci Namura
Pasticceria Confetteria COVA
Gattullo Pasticceria
Cucchi
Pasticceria Marchesi
Sant Ambroeus
Pasticceria Massimo
1 1) Pasticceria Castelnuovo
Passing in front of this shop you will be intoxicated by the scent of vanilla and pastry. Despite the fact that it is slightly off the beaten path (accessible via the Metro and by bus from the centre), Pasticceria Castelnuovo, which is still operated by the original founding family, offers wonderful treats, such as the ricotta cream tartlet, the rum raisin tart or many other fruit tarts. Also famous for "La Torta Enrico" which is a variation on the classic pear and chocolate torte, but made with extra dark chocolate, pure butter and egg pastry, and chunks of bartlett pears flavored with cinnamon making them as unforgettable as the chocolate that surrounds them. Or the "FiordiPesco" torte, which is made from high-class pasta frolla (pastry), small pieces of fruit scattered in a wonderful peach cream filling; above all, it has a thin sugar baked crust that melts in your mouth to have you scream with pleasure. The Castelnuovo "cannoncini" are pastries filled with vanilla cream and the ends are topped with fresh whipped cream. To die for! Don't forget the savory pastries as they are equally as delicious. With excellent service and a welcoming atmosphere, put this on your itinerary of places to visit!
2 2) Pasticceria Martesana
The hand-made pastries here leave nothing to chance: tarts, krumiri (italian cornmeal cookies), fresh Chantilly cream puffs, mousse concentrated in small glasses which go down as pure pleasure. Even the simplest pastry tarts here are really good, always with the right amount of sugar and butter complimented with tart, tasty jam. And then there it is: the "Martesana", the mascot of the place, which is a soft paradise cake with creamy custard filling. This is also a great place to have an aperitif, with as many types of savory snacks that you want, and often available are pieces of savory pies and delicacies like breadsticks with goat cheese and wrapped in cured prosciutto or spring rolls with pieces of zucchini and soft cheeses.

Pasticceria Martesana, modern and attractive, is operated by Vincenzo Santoro and David Comaschi, who are academic (the Pasticceria Martesana belongs to the Italian Pastry Academy), and a bit slavish, yet very respectful of the excellence of raw materials and customers. Too bad that one of the best pastry shops in Milan is bit out of the way, but you can get there from the Central Train Station by taking bus 42 and asking for the bus stop right in front of the shop. Oh, and don't forget to try the heavenly raspberry cheesecake, available in small, individual portions…
3 3) Pastericcia Elli
Hasn't it been said that the simplest things are the most complicated to do? When it comes to the "Millefoglie" pastry, every Italian has an opinion on the best way to make it. Well, Pasticceria Elli makes all of them agree on this point, if only for the time it takes to eat it. The Pasticceria Elli "Millefoglie" is a many-layered puff pastry filled with cream or alternatively with "zabaione" (egg yolk and marsala whipped into a cream) and coffee, that is dense with flavor yet light in consistency at the same time. Unforgettable.

The pastries are a delight, from the classic chocolate cream puffs, or ones filled with whipped cream, rum babà and the sicilian cannoli. Excellent pastries and fruit tarts, as well as the almond "Delizia", made with sponge cake and almond cream. Finally, two noted protagonists in the area of semi-frozen cakes: the "Zuccotto" and the Meringue, the last one is made in two versions: marron glacé and chocolate or with wild berries. Also the "chiacchiere" (Mardi Gras fritters) by Elli are fantastic, among the best in Milan. A destination which is a must for lovers of the traditional pastry of quality.
4 4) Pasticceria Viscontea
Viscontea is a traditionally-styled milanese pastry shop which has remained in the shadow of the great mistresses of the area (Sant'Ambrogio / Carrobbio). Though its style is out of fashion, Viscontea's rooms are spacious but not too big, with soft lighting, intimate ambience, and impeccable service. The wild card of this place and which is worthy of illustrious rivals, is the "Bavarese al Limone", a lemon bavarian cream dessert which is sweetly tart and persuasive in its absolute delight. Other mouth-watering delicacies include: white chocolate mousse with raspberries and wild strawberries, sugar or chocolate covered cherries and strawberries, fruit tarts, cream puffs covered with crushed hazelnuts or pistachio nuts and filled with cream, chocolate or zabaione…the list goes on.

In summertime they also prepare fresh gelato: it's all good, but the fruit ones are better than the cream-based ones. If you drink coffee, try the "affogato" (gelato with coffee or liqueur poured on top)!
5 5) Pavè
Pavé is a place where you feel at home, as it is very comfortable: big tables, chairs all different, benches, a large bar; a place with lots of character and charm, but without being too snobbish. The kitchen staff, the cashier and the waiters are really nice and friendly, always with a smile.

If it's for breakfast ("colazione"), when you can buy freshly baked fantastic "brioche" and eat them with your cappuccino, for lunch or for an aperitif in the old Milan style, with white wine, spritzers, peanuts and olives before dinner, Pavè doesn't disappoint.

Various recommended specialties: Chocolate ganache, the perfect solution (together with the vegan brownie) to satisfy a great craving for chocolate; or the hot chocolate with whipped cream (and what cream!); "panini": try the vegetarian sandwich made with apple compote, fragrant taleggio cheese and walnuts; or the vegan sandwich which is made with lightly marinated eggplant, cream of chickpeas and dried tomatoes; other sweets: pastry with almonds, pistachios, raspberry jam, white chocolate mousse, and flavored with tonka beans; "Tiramisuper": mascarpone cheese mousse, a layer of coffee gelatin, and chocolate streusel on top, wow! Finally the individual portion of the "Saint Honoré" cake is a sugary blissful pleasure... which blends into your soul, whisks you away and tells you to BUY ANOTHER PIECE....

And Pavè bakes one of the best breads sold in Milan!
6 6) Le Dolci Tradizioni
The original Le Dolci Tradizioni pastry shop has been renovated into an inviting café in modern shades of cool green and grays, and available with Wi-Fi, but continues to offer the same excellent quality pastries.

This pasticceria offers one of the best "Tarte Tatin" you'll ever taste: caramelized apples with puff pastry baked to sublime perfection. The pastry chef Marcello is inspired by high French pastry, and in the workshop which is co-located with the store, he prepares exquisite Bavarian Creams in many different ways, and also produces all of the traditional pastries and sweets of Milan.

But he's not afraid of innovation: be sure to try the "bignè parigino" which is a delicious, fragrant sweet made from a light, rum-infused almond paste with either a black cherry, pine nuts or lemon zest on top. Devine.

The desserts are delicious, presented in a masterly way and wrapped simply and elegantly for take-away, but you do pay dearly. Chef Marcello does, however, pay a good deal of attention to his customers and their needs. His products reflect this.
7 7) Alvin's
Alvin's has very good pastries and cakes with great variety of choice, such as about a dozen different pastries with one or more combinations of flavors (jams, creams, chocolate, hazelnut cream, apples, plain with granulated sugar, whole wheat with honey, light, savory braids, donuts), as well as about 60 types of cakes, with as many as 100 different types of pastries.

Alvin's is a bit expensive, and the service can be inconsistent. But if you do find yourself a little outside the tourist area of Milan, stop by Alvin's because the quality of its pastries is superior to many of its competitors. Sunday brunch is also very well done.

For fluffy sponge cake, Alvin's is second to none. The "Valentina" cake is a kind of Paradise cake, filled with cream, strawberries and raspberries. Otherwise, you can veer towards tasting the classic pear and chocolate cake, the exemplary cannoncini or also the bignè (cream puffs), which are some of the most delicious you'll taste. And for lovers of "panettone" or "pandoro", this is one of the best addresses in Milan.
8 8) Vecchia Milano
As the name says, this pastry shop really is the temple of "old Milan", serving up "panettone". The Vecchia Milano Pasticceria is one of the monuments of the traditional confectionery Milan, on the scene since the early twentieth century and with something legitimate to brag about, because anything you try will not disappoint you: the cakes, for example the traditional panettone, or the Sacher Torte, and marrons glacé (candied chestnuts) stand out from the rest who do them well: Vecchia Milano's versions are superb. But even the cream puffs and the pastries are equally unsurpassed.

From breakfast with coffee, cappuccino and a thousand different pastries, maybe on Saturday morning when there is a unreal quiet in the area, to the homemade gelato which you can clearly taste that the ingredients used here are different from the usual ones, to an aperitif with a sparkling prosecco. If you wish to make a good impression at any time of the day with friends, go here without fail: fruit cake with cream or mouth-watering chocolates and cookies, all packaged exquisitely for take-away pleasure. It 's a little expensive, but it's worth it.
9 9) Cremeria Buonarroti
Cremeria Buonarroti is old-style Milan: there are still old ladies who come in to drink tea in the afternoon, but any hour is a good time to come here. The beautiful window displays betray the true age of this historic shop, which was founded in 1920. This is a meeting place for generations of Milanese at any time of day.

For breakfast you can enjoy different crumbly and fragrant croissants from the counter or a delectable cream puff or slice of cake with a frothy cappuccino; for lunch they make salads and sandwiches and also make delicious ice cream. There is a seemingly endless assortment of high-quality pastries and frozen desserts too. This pasticceria is open in the evening, and after dinner you can enter the traditionally inviting tea room and enjoy a favorite specialty: "la cialda", a thin waffle filled with vanilla cream and strawberries, yummy! The prices are high, but the quality and history are worth it.
10 10) I Dolci Namura
The pasticceria I Dolci Namura has a lot going for it: courtesy, fresh pastries, often organic ingredients, and owners who are always looking for new niche products to serve their clients.

Namura makes a point of offering you very delicious, authentic and high-quality pastries. They do this by using carefully selected natural ingredients - free of pesticides, dyes and preservatives – derived almost exclusively from organic farming. You can taste the quality in the only organic "chiacchiere" (fritters) available in the city. Or the vegan cappuccino, made with rice milk, almond, a hint of cocoa and one of cinnamon, or the croissants with vanilla cream and dark chocolate...exquisite.

Namura also produces excellent pastries, Parisian macaroons, pralines, and the "tortelli" (fried cream puffs) filled with vanilla or chocolate cream, "cannoncini", ginger frangipane and cheesecake...as well as many other baked cakes and fruit tarts that are very good and some of them quite sophisticated.

The shop itself is quite small but very characteristic, and if it were bigger it might lose some of its character, which may remind one of a Parisian cafe, with impeccable service and courtesy. Namura is a way to make pastries, with an outcome of undoubted high quality.
11 11) Pasticceria Confetteria COVA
This historic bakery, founded in 1817, is in fact one of the oldest in Milan. Pasticceria COVA is located in a luxurious area of Milan which is considered by many to be the most exclusive shopping area in the city and home to all the top names in fashion and design. And the pasticceria fits in with the setting: its richly decorated window displays with sumptuous cakes and pastries lend an air of refined nobility. Inside you'll find the café spacious and elegant, filled with clientele who revel in it.

Pasticceria COVA serves the"breakfast set", and a "light lunch" with salads, canapés and sandwiches with homemade bread. There is a wide selection of cakes and pastries (takeaway) for breakfast or tea time, to the classic Milanese aperitif with appetizers served at the bar. Prices are not popular given the area, but this is largely offset by the courtesy and service offered and the charm of the place.

It is not a place for everyone, but if your wallet will allow it, the "sacher torte" is a must, a journey in taste and pure chocolate. Pasticceria COVA is as much a place to visit for its luxuriant atmosphere as it is for its wonderful pastries.
12 12) Gattullo Pasticceria
Gattullo is a very beautiful, elegant, bright pastry shop in Milan, renowned for its freshness and goodness. It's also a tea room, with very elegant furniture, brass tables and cool furnishings that are used outside during the summer months.

Going by Gattullo at any time of day you can breathe the delicious aroma of freshly baked pastries and sweets of all kinds. They specialize in the preparation of "panettone", and Gattullo's is an institution that every Milanese hopes to find among the gifts under the Christmas tree. In addition to the creation of desserts, Gatullo has made it a welcome habit of serving up savory pastries every day with an aperitif. Do not imagine the typical cold pasta Milanese aperitif, but delicious canapès served with cocktails prepared with care. In addition to its many awards for high quality, Gattullo has made a name for itself in Milan with its clientele: characters in the Italian film and entertainment industry who, starting in the 70's, gathered here for a drink or to buy its scrumptious pastries and cakes. Successes and glories are deserved given the quality of all you can eat, drink or buy from Gattullo. From breakfast where you can eat soft croissants to lunch offering delectable sandwiches and cold dishes, and rich aperitifs in the evening, the choice of pastries is of great refinement. Gattullo has been synonymous with taste, and quality craftsmanship since 1961.

The only flaw is that all this goodness is paid for dearly...
13 13) Cucchi
Operated by its original and very genteel owners, The pastry shop and bar Cucchi has always been a certainty for the Milanese. It's a historical place which has been turning out sweet and savory delights since 1936.

The focus on quality and authenticity of its products has made this a superb and elegant place. The atmosphere is familiar, friendly and a little 'retro (which should absolutely be preserved and passed on) and one that puts a beautiful and loyal customer base at ease.

Cucchi is known for its pastries and croissants, but also offers a wide range of products, such as refined packaging, catering, refreshments, food and much more.

This is an ideal place for business lunches and to bring its customers. But not only is a great place to start the day with confidence with a nice juice and croissants, calmly reading the Sunday paper.

Cucchi belongs to another era altogether.
14 14) Pasticceria Marchesi
One of the three pastry shops in Milan's historical centre that is owned and operated by the original founding family, Pasticceria Marchesi has been in business since 1824, including the building it is in: the decorated coffered ceilings, the exposed wooden beams, the furniture, lamps, mirrors and the wooden bar with steel and brass fittings all give Marchesi an air of a romantic time gone by.

Marchesi puts quality pastry as a first priority, and for this it is much sought after by gourmets. And the espresso at the bar, what can one say? The espresso here is one of the most popular in the city

Come to Marchesi to taste the real Milanese panettone. At Christmastime, Marchesi produces the traditional panettone, a type of buttery sweet bread which contains candied orange, citron, and lemon zest, as well as raisins, which are added dry and not soaked. They also produce a mouth-watering "veneziana" cake, which is shaped similarly to a panettone, but is imbedded only with candied orange and the top covered with grains of sugar and whole almonds.

You can also choose between a multitude of sweet and savory delicacies, chocolate pralines and cakes of all sorts (the Sacher Torte is amazing!) Try the rice pudding: shortbread filled with rice cooked in milk with candied raisins, and vanilla cream. Fabulous! Special attention should be also paid to the exquisitely wrapped and delicious chocolates, bags of bon bons, and sweets of all kinds. Good and... expensive!
15 15) Sant Ambroeus
There are many generations of Milanese that have been enchanted in front of the windows of this elegant pastry shop, winter or summer, night or day. Sant'Ambroeus has been here for over 73 years, the symbol of the Italian "Belle Epoque", amidst the Milanese centre of creativity and finance. It is famous for its multi-layered cakes, its chocolate cakes, its chocolates and its truffles.

There are so many delights this Milanese pastry shop offers which can be enjoyed in the restaurant or in the dining veranda. The atmosphere is very stylish, in keeping with the history and tradition of the area. From breakfast to lunch, from aperitif to dinner.

Most importantly, you can find delicious things to eat: from the unavoidable "panettone" to fabulously decorated chocolate Easter eggs, from croissants, inviting pastries, sandwiches, and hand-sculpted pralines, marrons glacé, chocolate creams, truffles, candied fruit, Ambrogini and Ambrogiotti (six or nine pieces of heaven) and a mini Sacher Torte for two. The very sophisticated appetizer buffet is tantalizing, or lunch with things like zucchini and almond dumplings – delicious…or scrumptious sliced beef. Also recommended are the cookies, savory and buttery, to lose one's head (and waistline).

The price range is average, despite the history and ambitious appearance of the place. And to sit on the veranda in winter enjoying a cup of hot chocolate with fresh whipped cream while it's snowing outside, is sublime.
16 16) Pasticceria Massimo
For lovers of hot chocolate, this is an address to write on the back of the subway ticket. The chocolate nectar is divine and upon the first sip, it doesn't fail to put you at peace with the rest of the world. If you prefer to bite into something, opt for the homemade chocolates and pralines . But the secret of Massimo's success is called "Mousse Francesca", 36 Euros per kilo of pure lust.

And if you want to start your Sunday morning in an oasis of peace and serenity, you're in the right place. The "latte macchiato" (steamed milk with a splash of espresso) is a work of art , not too hot and with the right amount of coffee, garnished with a high and consistent milk foam that is a pleasure . The cappuccino does not disappoint.

The assortment of pastries for breakfast has few equals: there are flaky croissants, cakes and biscuits to satisfy every individual's taste. Try the chocolate croissant and sink your teeth into a rare creature in the world of Milanese breakfast: wonderful ,soft and crispy pastry stuffed with real dark chocolate cream. Could one ask for more?

Pasticceria Massimo, a historic pastry shop in the Porta Romana neighborhood , in recent years has renovated its premises to become a cafè and bar which offer the same high level of quality as the pastries it produces. Prices are commensurate with the quality and service provided. Within walking distance from the center, for a breakfast that does not disappoint and will keep you from being in a bad mood.
Useful Travel Guides for Planning Your Trip
---