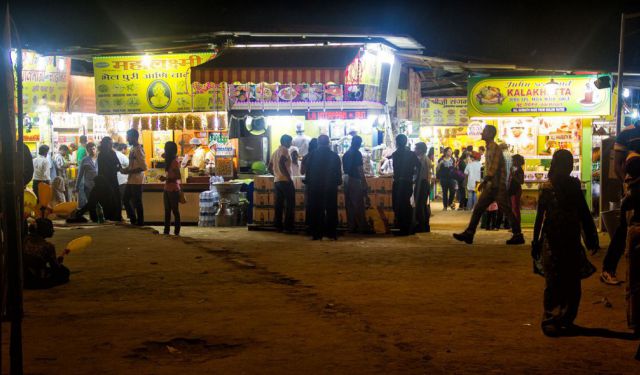 Places to eat local food, Mumbai, India (D)
As its said, in a city like Mumbai, anybody wanting a good meal any time of the day, there's always a rush and a stomach will always be fed. Whether its a quick bite or to indulge yourself, there's different types of food, 24/7, vying to satiate your taste buds. This food guide will help you peek inside this city through it's distinct local food culture, popular for local food items with unique culinary treats dipped in homely traditional taste.
How it works:
The full article is featured in the app "GPSmyCity: Walks in 1K+ Cities" on
iTunes App Store
and
Google Play Store
. Download the app to your mobile device to read the article offline and create a self-guided walking tour to visit the sights featured in this article. The app's navigation functions guide you from one sight to the next. The app works offline, so no data plan is needed when traveling abroad.
Sights Featured in This Article
Guide Name:
Places to eat local food
Guide Location:
India » Mumbai
Guide Type:
Self-guided Walking Tour (Article (D))
# of Attractions:
20
Author:
Kapil Suvarna
Author Bio
: I am a writer with internet research and photography skills along with 16 ½ years of experience in creative field – Multimedia, Web-Designing, Content Writing, Graphics.
Sight(s) Featured in This Guide:
Diva Maharashtracha
Mani's Lunch Home
Gazalee
Food Street OPP V T Station
Food Street near Cross Maidan
Ayyappan Idli Stall
Mama Kane's Swatcha Upahar Griha
Prakash Shakahari Upahar Kendra
Shree Krishna BatataVada House
Vidya Dairy Farm
Dayaram Damodar Mithaiwala
Tewari Bros Mithaiwala
Juhu Beach Food Stalls
Bade Miya
Ideal Corner
Aaswad Upahar and Mithai Place
Shree Thaker Bhojanalay
HajiAli Juice Centre
Trupti
Chaupati Beach Food Stalls
1 1) Diva Maharashtracha
Diva Maharashtracha is a restaurant which serves some exhaustive number of dishes from almost all the regions in Maharashtra state. Mumbai, which is also known as Bombay, is the capital city of Maharashtra state, a state in the western region of India. When in Maharashtra, try not to miss the authentic "Maharashtrian Jevan", which means food in Marathi language.

Must try items : Maharashtrian Food (meals): Varan Bhaat - rice with lentil curry and dash of lime,Valeche Birdhe - bean curry with Rice or Chapati (kind of Pita bread but very thin), Chicken Rassa - A spicy chicken curry. (VEG/NON-VEG) Price : Rs 500 per head
2 2) Mani's Lunch Home
South Indian people never start their day without having South Indian dishes like Idli or Dosa for breakfast and never finish their meals without having rice and curd. Mani's Lunch Home, since 1937, gives you authentic South Indian food for a reasonable price. If you don't mind waiting for your turn to be served on a banana leaf, this branch, surrounded by some great temples, is a great place to taste some traditional South Indian delicacies which have carved a niche in Mumbai's local food culture. Must try items : South Indian food (Snacks): Dosa, Idli, Uttappa. Meals: Traditional South Indian Thali-(South Indian meal is usually served on a banana leaf and "Thali" is a selection of various dishes served course by course) and South Indian Filter coffee. (PureVEG) Price : Rs 100 per head
3 3) Gazalee
Gazalee restaurant, close to the domestic airport and buzzing Vile-Parle market, delivers on what it promises, authentic sea food from Malvan, a small coastal town in Sindhudurg district of Maharashtra famous for traditional fish delicacies, mangoes and beautiful beaches. Food from this region is lovingly called Malvani food, Mumbai's favourite meal! Once your taste buds are tickled with Malvani food, you might even want to visit this coastal town, for more rice and fish curry !! Must try items: Malvani Food (Meals)- Rice and Fish Curry,Fried Fish,Prawns Curry/Fry,Bombil Fry(Bombay Duck),Tisrya(clams)Masala, Tandoori/Stuffed crabs and Sol Kadi- works as a digestive drink. (NON-VEG) Price : Rs 850 per head
4 4) Food Street OPP V T Station
Food street is locally known as "Khau Galli" in Mumbai. Khau means Food treat and Galli means Street, hence food street filled with goodies to eat. This "Khau Galli" is one of the major food streets in Mumbai feeding thousands of people everyday from morning to late evening, mostly office goers, who use this food street as a quick transit stop to eat on-the-go culinary treats. Best time to go and have food here is in the evening to enjoy the night view of the busiest stations in Mumbai, Chhatrapati Shivaji Terminus Building, also known as V T Train Station a UNESCO World Heritage Site. Must try items (street food): Masala Cheese Grilled Sandwich and other varieties of Toasted Sandwich, Dahi Samosa(a fried veg dish with curd),Red Rose Drink (VEG/NON-VEG) Price : Rs 50 per head
5 5) Food Street near Cross Maidan
This food street or Khau Galli as locals call it, sandwiched between Churchgate and Marine Lines train stations, is a lifeline for thousands of people literally, connecting people with food, work and leisure. Street food, plays a major role in Mumbai's food culture and is like a magnet for two reasons - reasonably priced with incredible variety of snacks, fastfood, cuisine, sweets, juices etc. These days, street food in Mumbai is not confined to Indian cuisine alone, you can get Chinese, Continental and even Thai food, which are suitably fusioned with the local food items to suit local palate. If you don't get your hands buttered eating a dish called Pav Bhaji, on the streets, then you haven't been to Mumbai. Try it, at this food street which is also a good starting point to explore South Mumbai ! Must try items (street food): Pav Bhaji - mashed veg dish with bread, topped with butter, varieties of fried rice. (VEG/NON-VEG) Price : Rs 50 per head
6 6) Ayyappan Idli Stall
Ayyappan food stall primarily offers WIDE range of South Indian delicacies like Idli and Dosa. A staple diet for every South Indian, has the distinction of becoming most preferred on-the-go dishes amongst other local dishes in Mumbai. This stall is located in the busy Matunga market area which is full of lovely temples, flower markets and shops uniquely catering to South Indian tastes. If you don't mind waiting, standing and eating different versions of Idlis and Dosas, Ayyappan is the place. Must try items : South Indian food (snacks) - Varieties of Idli and Dosa (food items made of rice and black lentils) (PureVEG) Price : Rs 80 per head
7 7) Mama Kane's Swatcha Upahar Griha
With little jostling to find your next step, in the busiest market area of Mumbai, Dadar, right next to the railway station in a small bylane stands, Mama Kane's Swatcha Upahar Griha, which means Uncle Kane's Clean Eating House. This modest eatery is one of the oldest establishments, more than 100 years, known for their traditional Maharashtrian meals and snacks, especially known for King of street food, Vada Pao, a traditional dish from the state of Maharashtra, which everyone wants to make their own. Must try items (snacks): Vada Pao with masala tea - This is a roundish patty with spicy potato filling, sandwiched between two slices of bread with various Indian sauces called "Chutney".

Kanda Bhaji with hot tea - a indemand combination during rainy season - deep fried onion cuts served with chutneys. (PureVEG) Price : Rs 100 per head
8 8) Prakash Shakahari Upahar Kendra
PLS NOTE - The original place is under construction hence this shop has moved in a building exactly opp the street, hence giving the new address.

Prakash Shakahari Uphar Kendra which means Sunlight Veg Eating Place, represents what Dadar area in Mumbai is, a typical Maharashtrian eatery who serves only traditional dishes people quite literally, start their day with. Some people break their fast by visiting this eatery to eat traditional fasting dishes. You might even have to share a table to bite into their delicious offerings, a very common sight in Mumbai eateries due to rush. Have their Sabudana Vada with Chutney which they are famous for and you would be happy to even stand and eat in the hot sun ! Must try items (snacks): Dahi Misal (mixture of various grains topped with Curd), Sabudana Khichdi and Sabudana Vada - Dishes made from Sago, peanut pieces, spices and served with Chutney (Indian sauces) (Pure VEG) Price : Rs 75 per head
9 9) Shree Krishna BatataVada House
Mention "BatataVada" and probably a person will leave his full meal to take a bite out of your BatataVada. Few steps away from Dadar railway station, walking through the Dadar flower market, let the aroma of piping-hot BatataVada guide you to Shree Krishna BatataVada House. This food item is a traditional Maharashtrian local dish, considered a treat and has many in raptures at the mention of "garama garam" (piping hot) BatataVadas, especially, if they are from Shree Krishna BatataVada House. Best way to enjoy this snack is to eat it standing on the streets with your hands, from a piece of paper they pack it in, dipped in sweet n spicy chutney. If you find it too spicy for your taste, wash it down with a cool drink called Kala Khatta! Must try items (snacks): BatataVada - deep fried spicy potato filling stuffed in a dumpling like shape given with Chutney (Indian sauces) and Kala Khatta - tangy flavoured cool drink made from blackberry fruit and topped with black salt (Pure VEG) Price : Rs 40 per head
10 10) Vidya Dairy Farm
Sweet dish called Jilbee (as called in Mumbai,Maharashtra State) and Jalebi (as called in North India) is considered a premium product in all the sweets all over India. Vidya Dairy Farm, a 40 year shop, sells traditional dairy products but their speciality is fresh from the pan, Jalebi. This shop is in the heart of Fort, a area in Mumbai, seeped in history. Must try items (Sweetdish):- Jilbee or Jalebi - is a sweet dish made of refined flour, skillfully put in a huge frying wok in circular shapes and then, the Jalebi is dipped in a sugar syrup (you can see the actual process since the person who makes it, sits at the entrance of the shop) (Pure VEG) Price : Rs 10 for 7 to 8 Jalebis per head
11 11) Dayaram Damodar Mithaiwala
Dadar T.T area is the heart of Mumbai - main hub for transportation services, shopping and eating, tilting more towards local goods and services. If you don't get anything here, you will perhaps not find it anywhere in Mumbai and the best place to get the sweet taste of this part of Mumbai is from Dayaram Damodar Mithaiwala - "Mithai" means Sweets and "wala" is a local word for someone who deals in selling something. Dayaram Damodar is a 75 year old shop, known for their varieties in lip-smacking traditional local mithai. For more sweetness, visit the "sugar cane" juice seller next to this mithai shop. Besides the juice, it is interesting to see the process of making sugar cane juice, a common sight all over Mumbai. Must try items (sweetmeat): Chocolate Barfi, Sutarfeni, Gold Ice Halwa, Bombay or Chikat Halwa, Varieties of Pedhas (All dry sweets in various shapes and colours) Sugar free sweets and Usaa Cha Ras (Sugar Cane Juice) (PureVEG) Price : Rs 250 per head (cost depending on Kg basis)
12 12) Tewari Bros Mithaiwala
Spoken Bengali (East Indian language), is a very sweet sounding language. Whenever a Bengali person speaks, they sound as though they are eating a Bengali sweet while speaking. The words flow out so softly and smoothly. This same sweetness has perhaps translated in making Bengali sweets so delicious. They just melt in the mouth ! Bengali Sweets are wanted as much as any local sweet dish in Mumbai, any time of the year. To savour this taste of traditional Bengali sweets, a visit to Tewari Bros Mithaiwala (Mithai means sweets and wala means who sells something) can be a overwhelming experience ! All you need is a sweet tooth !

Must try items (sweetmeat) : Various types of Bengali Sweets - Cham Cham, Ras Gulla, Gulab Jamun, Ras Malai - (Pure VEG) Price : Rs 200 per head (price per piece or kg)
13 13) Juhu Beach Food Stalls
Street food by the sea, on the sand and it will be very easy to hear the name Juhu Beach in Mumbai.Juhu beach is part of a suburb in Mumbai called Juhu, which is close to many hotels, restaurants, shopping streets and malls. But, the Juhu area, is more synonymous with it's Juhu beach food stalls. These food stalls are like a temple for some locals who religiously visit this beach with their family and friends, to have the famous, must have Juhu Beach Bhel Puri. Bhel Puri is one of the members of the street food family, called Chaat. Other than Bhel Puri three other mouth watering items from the Chaat family are, Sev Puri, Dahi Batata Puri and Pani Puri. Chaat family is a concoction of boiled mixed vegetables, raw fruits and topped with various spicy Chutneys (Indian sauces). Chaat is the be all and end all of Mumbai street food and Juhu beach food stalls are like the head branch ! Ofcourse, Juhu beach also has other street food goodies which come along when one mentions Mumbai street food. Make sure you jot down to have Chaat at Juhu beach and round it up with Juhu beach special, Gola Sharbat and Kulfi ! Must try items (street food) : Bhel Puri, Sev Puri, Dahi Batata Puri and Pani Puri. Gola Sharbat - choice of flavoured drink is poured on a blob of mashed ice on a small wooden stick(Gola), then keep dipping it in a glass of flavoured drink to eat. Kulfi - frozen dairy dessert in different flavours. (Pure VEG) Price : Rs 100 per head
14 14) Bade Miya
Bade Miya's food stall is exactly behind the famous Taj Mahal Hotel and offers Mughlai fast food. Bade Miya which means Big Brother, defines what is "Food on Wheels" and is one of the first food stalls in Mumbai to have started this kind of food business, which has grown by leaps and bounds on the strength of this original stall, which people still flock to. Inspite of the expansion, such eateries keep their essence intact without any change in their food taste. Bade Miya is a night eater's paradise. Highly recommended when in Mumbai ! Must try items (street food): Mughlai fast food - Barbeque, Tandoori, Grilled items : Rumali Roti, Various Rolls, VEG/NON-VEG Price : Rs 250 per head
15 15) Ideal Corner
Parsi community has a unique place in a city like Mumbai, which is also spelled as Parsee. As their community,their food is one of a kind and loved by all. There are many places who dish up Parsi food, but very few serve authentic Parsi food and Ideal Corner tops the list. Parsi people are very kind, good hearted people, so if a Parsi restaurant owner takes your order or serves you,consider its your lucky day!! Also,a ideal place to have a nice Parsi breakfast in a colonial era atmosphere and building.Must try items : Parsi Food(meals)- Dhansak, Patra Fish, Chicken Pulao Dal, Akuri Omlette, Chicken Sali. VEG/NON-VEG Price:Rs 200 per head
16 16) Aaswad Upahar and Mithai Place
Some eateries in Mumbai are made to satisfy the urge of local Maharashtrians wanting to eat homemade food items, Aaswad restaurant is one of them, which means - taste of food. This restaurant has range of local dishes, but most loved and in demand traditional food items from Maharashtra state which even non locals love - Pithla Bhakri and Thalipeeth should be on your try list ! Pithla Bhakri is called as farmer's or common man's meal and Thalipeeth is usually had for breakfast. After a good meal, this restaurant is a good starting point to start exploring the heart of Mumbai, Dadar area, filled with local and traditional things! Must try items: Maharashtrian snacks and meals - Pithla Bhakri - Pita like uneven thick bread with semi-solid vegetable garnished with onion and spices. Thali Peeth - a sort of pancake made from multi grains and is served with dollops of butter, Aamras - seasonal mango dish, Kothimbir Wadi - made from steamed and fried coriandar.

Price : Rs 100 per head
17 17) Shree Thaker Bhojanalay
Gujarat state lies in the North-West coast of India and is often referred to as Jewel of the West. Gujarati community have been and are a integral part to the growth of Mumbai city, since time immemorial. Gujarati people, their culture, their food are fiercely entrenched in the heart of Mumbai. If you don't mind elbowing a stream of people and vehicles, the end result will be piping-hot, delicious array of authentic Gujarati dishes at Shree Thaker Bhojanalay (Bhojanaley means a place to eat)located in one of the oldest and busiest areas of Mumbai,named after a Goddess, Kalbadevi. As their tag line says - "Even if your stomach gets filled, your heart will want more". Must try items : Gujarati Food Thali (meals)-"Thali" is a selection of various dishes served course by course. (Pure VEG) Price : Rs 250 per head.
18 18) HajiAli Juice Centre
HajiAli Juice Centre has incredible variety of Juices, Milkshakes and Faloodas, undoubtedly one of the best juice centres in Mumbai. This juice centre is located in a area called HajiAli, door to South Mumbai and is named after the famous landmark HajiAli Mosque, which stands in the middle of the sea, behind this juice centre. Must try items (sweetmeat): Variety of Juices, Dry Fruit Milkshakes and Falooda/with fresh cream - concoction of different ingredients - ice creams, milk-shakes,fruits,garden cress seeds.(PureVEG) Price : Rs 150 per head
19 19) Trupti
Kande Pohe is a traditional local dish which is identified as a welcome dish when a girl and a boy meet first time at the girl's house, with their respective families, to approve each other for marriage. On a daily basis, Kande Pohe is mostly preferred as a breakfast or a evening snack. Since this is the most commonest local dish in Mumbai lot of eateries have it on their menu, but at Trupti, which means Satisfaction, they whip up Kande Pohe just like home-made ! This eatery is in the midst of art scene, in Dadar area next to popular theatres for local plays and movies. Must try items (snacks) : Kande Pohe with hot cup of tea - dish made out of flattened rice (pohe) and onions (Kande) with liberal toppings of grated coconut, coriander and a dash of lime. Sweet Kachori - snack time item like a flattened patty. (PureVEG) Price : Rs 120 per head
20 20) Chaupati Beach Food Stalls
A 4km long Marine Drive promenade along the curve of the sea, starting from the foot of Malabar Hill, passing the famous Chaupati beach and ending at Nariman Point. Even though the promenade is dotted with several attractions, the main draw for locals remain the various food stalls at Mumbai's favourite Chaupati beach, which is also pronounced as Chowpatty beach. When you are off to explore this side of South Mumbai, best time to visit Chaupati beach is early evening to enjoy it's vicinity and food stalls which come alive in the evening. Chaupati food stalls are open all day serving the cream of street food, fast food and a unique item called MilkMaid Gola, a different variety amongst the famous Mumbai Sherbat Golas which are similar to ice lolly, try it ! Must try items (snacks): Chaat (Bhel, SevPuri, Pani Puri), Pav Bhaji and MilkMaid Gola - a thick blob of mashed ice on a small wooden stick (Gola) is smothered with Milk Maid (condensed milk) and then keep dipping it in rose syrup to eat.
Useful Travel Guides for Planning Your Trip
--- Mumbai Shopping: 16 Souvenir Ideas for Travelers
In India, a foreigner can't get far without insider knowledge, whether it's for souvenir shopping or something else. Mumbai (formerly known as Bombay) is by far the most popular and the largest of Indian cities, teeming with a plethora of things representative of India's millenia-long... Places to Eat Local Food in Mumbai
As its said, in a city like Mumbai, anybody wanting a good meal any time of the day, there's always a rush and a stomach will always be fed. Whether its a quick bite or to indulge yourself, there is a plethora of tastes and flavours, 24/7, vying to satiate your taste buds. Multifaceted,...