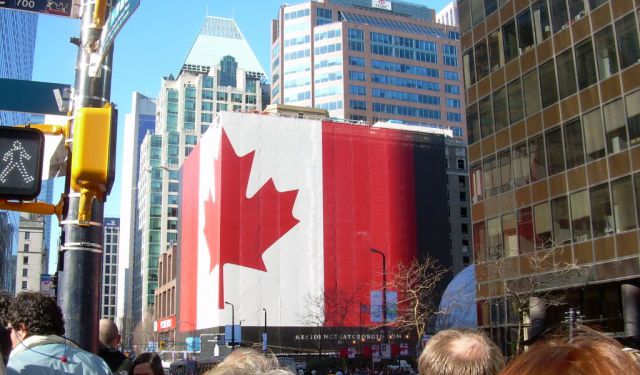 Shop Robson St and Area, Vancouver, Canada (D)
Robson Street, commonly referred to as "Robsonstrause", is a relatively large downtown Vancouver shopping area of exclusive shops, a large mall, and several small speciality shops and restaurants. Although this guide highlights Robson Street in particular, some addresses are slightly away from this main street. All shops are open daily, including statutory holidays.
Image Courtesy of Susan Carr.
How it works:
The full article is featured in the app "GPSmyCity: Walks in 1K+ Cities" on
iTunes App Store
and
Google Play Store
. Download the app to your mobile device to read the article offline and create a self-guided walking tour to visit the sights featured in this article. The app's navigation functions guide you from one sight to the next. The app works offline, so no data plan is needed when traveling abroad.
Sights Featured in This Article
Guide Name:
Shop Robson St and Area
Guide Location:
Canada » Vancouver
Guide Type:
Self-guided Walking Tour (Article (D))
# of Attractions:
20
Author:
Susan Carr
Author Bio
: Susan Carr is a freelance writer and native of British Columbia Canada. Her writing very often focuses on tourism in and around the province specializing in the City of Vancouver. Susan has a certificate as a tourism councillor from the province of BC as well as a certificate in Liberal Arts from Simon Fraser University. In promoting the province as a tourism destination, Susan shares her passion for this outstandingly beautiful location in Canada.
Sight(s) Featured in This Guide:
Pacific Center Mall featuring The Hudson's Bay Company
The Vancouver Art Gallery - Gallery Store
Bang On Custom T-Shirts
Roots
Rocky Mountain Chocolate Factory
Forever 21
Blue Ruby
Saje Natural Wellness
NB New Balance Vancouver
Birks
Saatchi & Saatchi
Canucks Team Store
CB2
Stewart Stephenson Modern Art Gallery
Silver Gallery
Lululemon Athelitca
Browns
Grand Maple Gifts
Lush Handmade Cosmetics
Chapters/Indigo Books
1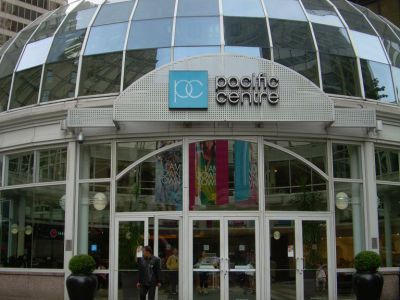 1) Pacific Center Mall featuring The Hudson's Bay Company
Pacific Center is one of Vancouver's largest shopping centers. The center is home to over 90 shops of every kind and description that include high end quality stores such Holt Renfrew, along with well recognized chain stores. Every shopping need can be found in this mall from electronics to fashion. Across the street is the famous Canadian store the Hudson's Bay Company. You will easily make your way there by taking the pass through beneath Pacific Center. The Hudson's Bay Company has a history not only dating back to Canada's beginnings but to Vancouver's as well. This particular store was designated as the "2010 Olympic Superstore ". During that time, thousands of visitors made their way here and it was out of necessity open 24 hours a day. This is a 6-story original building merchandising items that are available in major department stores and you will find many strictly Canadian iconic "made in Canada" items. The Bay is known for high quality and exceptional customer service. Visit guest services if you are a tourist and if you have spent $200 and have your receipts you will be eligible to receive a gift. Offers and promotions are ongoing and are found online year round. By taking the West Seymour Street exit we will continue on our way to Robson Street.
2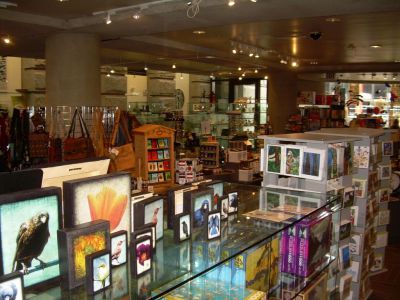 2) The Vancouver Art Gallery - Gallery Store
The Vancouver Art Gallery showcases not only the works of well known Canadian artists but artists from around the world with year round changing displays. If you are looking for that special gift there is no better place to purchase one that will highlight your eye for the arts and the eclectic than the Gallery Store. The store features books, magazines, greeting cards, notebooks and journals, posters, post cards and reproductions, textiles, accessories, jewellery, gift ware, toys and activities for the youngsters on your list as well as gift cards. If you don't have the time for a visit to the Art Gallery and you are interested in taking home a catalogue of the current work on display you can also purchase a hardcover beautifully designed photographic catalogue to take back home with you. Limited Edition artworks are offered for sale by both local and international artists. All proceeds go towards supporting the Vancouver Art Gallery. Hours of operation are daily 10-5 and Tuesdays until 9 PM.
3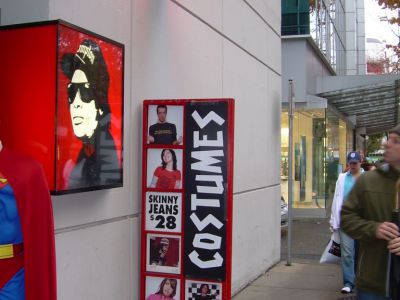 3) Bang On Custom T-Shirts
Anything goes at Bang on Custom T-shirts! With virtually thousands of designs to choose from as well as those you choose with personal photographs and images, there is absolutely nothing that you cannot purchase or create at Bang On. There is also a vintage section along with selections for holidays such as Halloween. Choose from a variety of colors and designs, wait a few minutes and you will have a "bang on" shirt that has matched your expectations to a "T". This company calls themselves the "world's coolest custom T-shirt shop". Bang On also has the best sunglasses with styles to frame any face and a price that will always meet up with your budget. If you have someone on your list that you want to remember with a customized gift this just might be the answer.
4 4) Roots
Since 1973 Roots has been a part of the great Canadian landscape of shops, and I do mean landscape since the original founders were inspired by their affinity for Ontario's Algonquin Park. This resulted in the production of sports and athletic wear which includes a line of genuine hand-made leather products. The original goal of these innovative owners was to promote an active lifestyle with great appreciation for the environment. Roots are especially known for their good quality and comfortable athletic wear that are exceptionally well made and should last for a very long time. There is a general store section to the store which includes accessories, candy, linen, tools, cards and even crayons. Vancouverites and visitors alike often head to Roots, especially if they want to be assured of good customer service along with a variety of items that have been created with the customer's comfort in mind.
5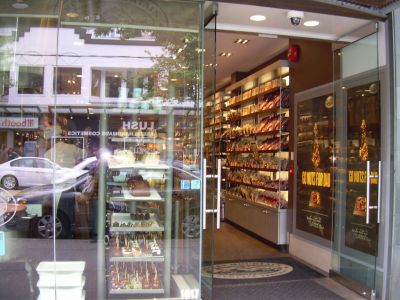 5) Rocky Mountain Chocolate Factory
There is only one word for this place and that is "wow"! It will be difficult to continue on Robson Street once you spot this store which appears to extend its arms right out to you as you go buy. Rocky Mountain Chocolate began in Whistler in 1988. Since then, a number of other stores have cropped up across Canada and for a very good reason – the chocolate and selections are out of this world! This is the place that you can watch them make the fudge, while you are standing by and eating it at the same time. Not only do they sell quality chocolates from creams to truffles but also a selection of ice cream and sorbet. There is a special array of products that are "sugarless" made especially for diabetics. Don't worry about bringing along your furry friend for a treat either, since Rocky Mountain has also created a safe and special dog bone just for Fido. There really is no excuse not to take some time out and go on in and see the delightful people at the Rocky Mountain Chocolate Factory.
6 6) Forever 21
Not only is Forever 21 a beautiful store with two floors of outstanding fashion design, it is also one in which the "bargain hunter" will experience the joy of shopping when it comes to finding prices that fit anyone's budget. In fact, prices range from as low as $1.80 up to between $12.00 to $15.00 maximum. Yes, you did get that right. While edgy and definitely "fashion forward" there is a section for absolutely any preference and taste in clothing and accessories found within these walls. Forever 21 is a family owned and operated company and today the children are the primary designers, movers and shakers for this outstanding group of stores. It will be difficult to leave these premises without a purchase of either a pair of earrings to match that new outfit or a T simply to wear while out and about.
7 7) Blue Ruby
There are a number of shops and shop owners on the street that are "family" and or family owned and operated and Blue Ruby is no exception. The owners of this shop are a brother and sister team well known within the city. This shop features a large array of mid-priced jewellery items. There is a selection of crystal items along with semi-precious stones which are definitely eye catching. Five of the designers are local and well known, while others are from around the world. Price points range from as low as $2.00 up to about $1000.00+. It is important to note that 100% of the purchase of the jewelled bandanas sold in the shop goes to BC Children's Hospital and Ovarian Cancer Canada.
8 8) Saje Natural Wellness
You may just smell this shop before you actually see it. The pleasant odors begin right on the street with the faint smell of essential oils. This shop is all about "wellness" and using the most natural products to improve your overall well being. The product focus is on providing the most natural products which are sourced from around the world. Special attention is paid to customer service support which is designed to welcome your questions and provide you with the best answers. Saje is yet another truly Canadian owned and operated business with a focus on the environment and special attention to our environmental footprint. Promotions are on offer regularly within the store. Like so many others on Robson Street Saje believes in giving back to the community and does so by forwarding contributions to local charities during the year.
9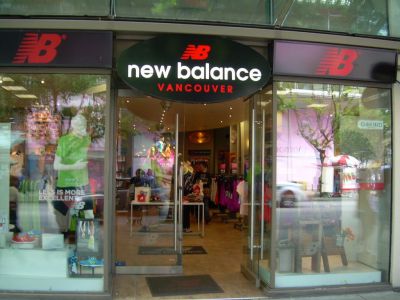 9) NB New Balance Vancouver
Vancouver is well known as a place where there is definitely a focus on physical fitness, sports and athletics by residents and visitors alike. New Balance is a relatively new kid on the block but certainly is reflective of this focus and the need for good quality outfitting. When it comes to running and jogging, it is sometimes a challenge for many of us to find the most comfortable foot wear. New Balances specializes in helping you find the best fit of athletic shoe and this includes expertise in gait analysis by the savvy shop assistants. They guarantee that they will replace your shoes within the month if they don't get it right the first time. Along with a wide selection of shoes for men, women and children, NB also carries a clothing line designed specifically for your athletic needs with materials that "wick away moisture". Their selection of clothing items includes jackets, T-shirts, pants, shorts and even socks. As an added plus by looking on their website you will "walk away" with many good tips and suggestions on how to keep your feet in "top running order" year round and of course, you are guaranteed a future with very "happy feet".
10 10) Birks
Founded in Montreal in 1879, Birks has been a presence in Vancouver since 1907. Birks is a retail chain of stores, but in Vancouver it is widely recognized for the clock on the street outside the building. The clock stands 6.7 meters tall and is one of Vancouver's most beloved landmarks. If you wanted to meet someone downtown you would often just tell them to go to the Birks clock since everyone in the city knew where it was located. Birks is an "all-Canadian" jewellery store and today all of their diamonds are mined near Lac de Gras in the Northwest Territories. In days past and right up until the present time, a gift of jewellery bearing the Birks name was indicative of quality and assurance that you have either purchased or received the best in a jewellery item available in Canada. Birks specializes in diamond rings, gold, gemstones, pearls and precious metals and has an extensive sterling silver collection. Vintage jewellery is also on offer featuring an array of earrings, bracelets, broaches, necklaces and almost anything of value from the past.
11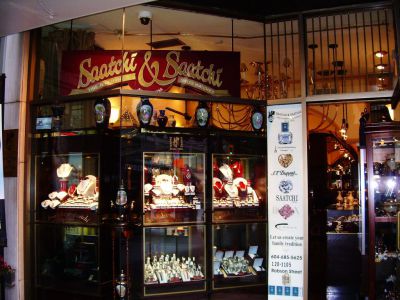 11) Saatchi & Saatchi
Since 1925 and now into the 5th generation, the Saatchi family have been a presence in Vancouver and have been in this location on Robson Street for the past 27 years. Their fine jewellery is presented in shows around the world. Specializing in Canadian diamonds and Italian gold along with precious stones such as sapphires and rubies, Saatchi & Saatchi offer a dazzling display of exquisite items. Also available in this store is a selection of Limoge imported from France as well as a display cabinet showcasing only the finest in Swiss watches. Saatchi & Saatchi take special pride in the fact that they offer only "real stones" and timeless designs that will captivate. If your list includes a special gift of the highest quality then Saatchi & Saatchi will not disappoint.
12 12) Canucks Team Store
No trip to Vancouver would be complete without a visit to the Canuck Team Store on Robson Street. Hockey is now and always has been Canada's favorite sport. This store is adequately supplied with a large selection of items such as jerseys, name and number RBK tees, Canucks branded Nike golf shirts, under armour Canucks merchandise along with hats, old fashioned hockey items, towels, key chains and the list goes on. For the real enthusiast, you can even purchase a game worn authentic jersey with an accompanying Letter of Authenticity. All jerseys come with a tracking number that is used to reference the exact date the jersey was worn. This just might be the perfect place for that perfect souvenir of Vancouver
13 13) CB2
CB2 is definitely an eye catching, and for Robson Street, a relatively large store. This is where you will find unique designs of both outdoor and indoor furnishings with unusual and artistic flair. Streamlined colorful pieces, accessories and attention to detail are in play throughout this store. From small bird feeders, to glasses, beds and bedding this store is as innovative and upbeat as it gets. "Edition LMTD" offers works by original artists that are signed limited editions. You will find these artworks on display throughout the store and all areas are set up so that you can "visualize" your purchase in place. Some of the items are made from reclaimed wood such as teak while others are modular in design and therefore suitable for either a small or large space. Speciality material items such as pillows are designed so that they can be used both indoors and out. In one word, "innovation" is the big seller in this oh so Robson Street store.
14 14) Stewart Stephenson Modern Art Gallery
Stewart Stephenson is a local painter who specializes in large scale resin paintings in a number of different styles such as abstract, flowers, landscapes and narrative. These one of a kind works of art can range in price from $400 to $10,000+. This is high-end, world-renowned original artwork is produced right on site. Stephenson is "reinventing the way people experience art" with his focus on innovation and interaction. While Stephenson's work is mainly on display in the Gallery, sharing "space" with other artists coincides with the Gallery mission of providing visitors with a globally social experience. Custom work is also on offer and can be provided to a customer within a few weeks time.
15 15) Silver Gallery
The Silver Gallery is one of the largest silver jewellery stores in Canada. Specializing in native art and hand-carved original pieces by BC artists, the Silver Gallery is a place you will not want to miss. Local BC artists are represented from around the province and include work originating from the Tlingit, Haida Gwaii, Haida, Nisga'a, Tsimshian, Heiltsuik, Kwakutl and coast mountain Salish native tribes. Each piece is hand crafted. Thousands of years of culture, tradition and symbolism are represented in this artwork. Wood carvings can also be purchased along with natural gemstone jewellery. If you are looking for a truly Canadian gift especially from BC, then this is definitely the place to take a look around.
16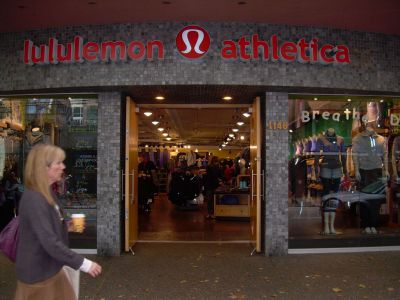 16) Lululemon Athelitca
While simply the brainchild of one man, Chip Wilson, Lululemon was destined to become a leader in sportswear that is today recognized around the world for fashion, comfort and of course, price. An outfit or yoga pant with the distinctive Lululemon design will instantly set you apart from "average" notwithstanding you will be more comfortable than most as you work towards that perfect fitness challenge. What sets Lululemon apart from the rest of the crowd is not only the beautiful, stretchy, bright colored fabric but you will definitely look distinctively "west coast" and decidedly "in" while wearing them. Even if fitness is not your goal, wearing Lululemon ensures that you will always look and be "cool".
17 17) Browns
It is always all about "the shoes" and Browns Shoe store is our next stop. With seven locations and 40 stores across Canada Browns offers variety, quality and design which is by now well recognized by discerning shoppers not only in Vancouver but across the country. Browns also began as a family owned business originating in Montreal and owned and operated by the Brownstein family. Along with so many others in this neighborhood, the Brownsteins have been generous contributors to their community, having raised millions of dollars for hospitals over the years. But, back to the shoes, what you will find in Browns is a superlative mix of exclusive collections of the latest shoe fashions for both men and women. Browns offers a variety of price ranges and there is no doubt that whatever your foot needs happen to be you will find the right fit with the best selection at Browns.
18 18) Grand Maple Gifts
Just the name Grand Maple Gifts would imply that the items in this store are strictly Canadian and of course, they are. From T-shirts and hoodies with logos right down to maple crème cookies there is no small gift or souvenir that you can't find here. There is also a jewellery section of silver handmade pieces by native artists such as Nancy Dawson. Genuine BC jade and Inukshuk sculptures along with hand carved totem poles are also available for purchase. This is a great place to purchase that small gift, souvenir or memento of your trip to Vancouver. Prices are low to medium range but there is definitely something for anyone your shopping list.
19 19) Lush Handmade Cosmetics
You will once again, smell it long before you see it, but ah, the aroma is out of this world! Lush specializes in soaps and cosmetics made from fresh organic fruits and vegetables along with essential oils. These look "good enough to eat" since they are made into a variety of shapes and colors, some made especially for the changing seasons such as Christmas. Lush offers "made to suit" gifts that can be shipped from the store. Products can be used by both men and women and the variety is endless. Products are all made by hand and this includes labelling as well as fragrances. There is an unbelievable selection of speciality gifts as well as gift packaging. Prices begin as low as $1.25 for speciality soaps.
20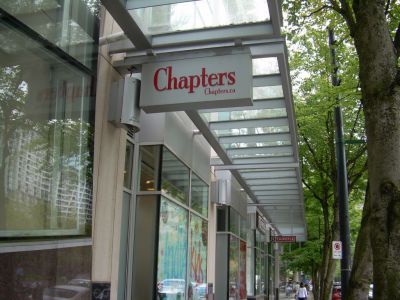 20) Chapters/Indigo Books
Since this is our final tour stop, a visit to Chapters will ensure that you have found the perfect book for your continued enjoyment and relaxation. Chapters/Indigo is a Canadian owned and operated company offering thousands of books in every category. If you need help in finding or selecting a book, this is definitely the place to find it, since they are known for their exceptional service. Chapters also has an extensive selection of merchandise and gifts such as cards, candles, soaps, DVDs, book bags, and an array of speciality items. Starbucks Coffee has a presence in every Chapters store and you may just want to take a break with the perfect cup of java after a long day on the shopping circuit.
Useful Travel Guides for Planning Your Trip
--- 16 Distinctively Canadian Things to Buy in Vancouver
British Columbia, in general, and Vancouver, in particular, are among the top Canadian destinations worth being explored. The amalgam of aboriginal and western cultures, Vancouver is a treasure trove of distinctively Canadian delights that are not found anywhere else. Most of these items make for an...