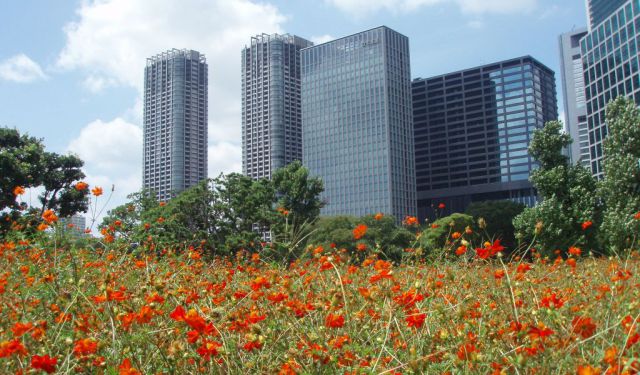 Tokyo's Parks and Gardens, Tokyo, Japan (D)
The world's largest urban area is an unlikely place to find an abundance of incredible parks and gardens, but with this guide visitors to Tokyo will be able to discover an amazing range of green spaces hidden among the city's neon canyons. Whether you want to join the throngs at one of the marquee spots or be let in on one of the best kept secrets, this comprehensive guide will ensure you don't miss out.
How it works:
The full article is featured in the app "GPSmyCity: Walks in 1K+ Cities" on
iTunes App Store
and
Google Play Store
. Download the app to your mobile device to read the article offline and create a self-guided walking tour to visit the sights featured in this article. The app's navigation functions guide you from one sight to the next. The app works offline, so no data plan is needed when traveling abroad.
Sights Featured in This Article
Guide Name:
Tokyo's Parks and Gardens
Guide Location:
Japan » Tokyo
Guide Type:
Self-guided Walking Tour (Article (D))
# of Attractions:
20
Author:
Thomas Shuttleworth
Author Bio
: Tom Shuttleworth is a British born freelance writer based in Tokyo, Japan. After graduating with a degree in Philosophy, he did about the only thing one can do with such a qualification, traveled the world. Numerous trips over five continents eventually brought him to Japan where he has been based for the last five years. He now, tentatively, calls Tokyo home and has published numerous articles covering 'expat' life in the world's largest urban area.
Sight(s) Featured in This Guide:
Shinjuku Gyoen
Yoyogi Park
Ueno Park
Kasai Rinkai Park
Odaiba Kaihin Park
Hibiya Park
Kitanomaru Park
Imperial Palace East Gardens
Shirokanedai National Park
Rinshi no Mori Park
Kinuta Park
Nogawa Park
Koganei Park
Jindai Botanical Gardens
Shinjuku Chuo Park
Inokashira Park
Kiyosumi Teien
Hama-rikyu Gardens
Rikugien Gardens
Koishikawa Korakuen Gardens
1) Shinjuku Gyoen
Most visitors to Shinjuku are siphoned out of the world's busiest train station into a mecca of shopping and sleaze and never get to see Shinjuku Gyoen. It's crying shame as this grand park is the perfect antidote to tired wallets and maxed-out credit cards. The grounds cover nearly 150 acres and are separated into three areas; French Formal, English Landscape and Japanese Traditional. As the names might suggest, this isn't a park for sports or drunken parties, rather, people come to these manicured swathes of green to enjoy serenity and calm. Shinjuku Gyoen also has some great photo opportunities with the delicacy of it's Japanese garden backed by Shinjuku's towering skyscrapers.

Admission: 200 yen.

Nearest Station: Shinjuku Gyoen Mae (Marunouchi Line).
Image Courtesy of Flickr user: Craig Wyzik Olympia, WA, USA.
2) Yoyogi Park
Yoyogi is the post-shopping, post-posing playground for the colorful characters and hipsters that hang out in nearby Shibuya and Harajuku. It's a huge space, decorated with water features and traversed by walkways, jogging routes and cycle paths. Under the trees theater groups and dance troupes rehearse, wanna be Bob Dylans pen their latest verse and students pretend to study. The open spaces often become imaginary arenas for sports enthusiasts and during the warmer months the whole area can take on the vibe of an outdoor music festival. That's not to say there is an age prerequisite to enter. Far from it. Yoyogi is accessible to all, from toddlers to ancient pensioners and as such offers some the city's best people watching. It's also right next to the magnificent Meiji Shrine, a must for all sightseers. Admission: Free. Nearest Station: Harajuku (JR Yamanote Line).
Image Courtesy of Peter Van den Bossche.
3) Ueno Park
Want a reason to visit Ueno Park? Well, it hosts the largest concentration of world class museums and galleries anywhere on the planet. It's a boast that belays the somewhat rough around the edges feel of Ueno's streets (the park itself is home to Tokyo's largest homeless community). Among the museums and galleries the Tokyo National Museum and the Metropolitan Museum of Art are popular standouts, the latter having some classic sculptures from Rodin that you can ogle for free. Other attractions include Tokyo's largest zoo, magnificent temples and shrines, and a handful of places to eat and drink. You could easily spend the entire day here if you wanted to get through all there is to see and do.

For a park, there is very little in the way of grass and it's not the sort of place to spread out and have a picnic, unless the cherry blossom is out, in which case get here early or be prepared to wrestle for space under the trees. Admission: Free. Nearest Station: Ueno (various lines).
Image Courtesy of wHyC@Re.
4) Kasai Rinkai Park
Located on the edge of Tokyo Bay, Kasai Rinkai Park's boast of being the largest in the city is somewhat overshadowed by neighboring Disneyland. Still, it's a magnificent space and a great place to catch ocean breezes coming in from the bay. Built on reclaimed land with the purpose of promoting harmony between people, land and sea, the park includes an aquarium and a bird sanctuary. There's also an area for barbecuing and it even has it's own hotel (very convenient if Disneyland is on your radar). Possibly the park's loudest boast though, is the extravagantly named Diamond and Flowers Ferris Wheel. It's the second tallest in the country (177 m) and has great Tokyo views (reaching as far as Mt. Fuji on a clear day). It's so named because of it's hallucinogenic light displays that can be seen from far and wide, and which keep Kasai Rinkai Park firmly on the map.

Arrive at the park in style by taking the water-bus from Odaiba! Admission: Free. Nearest station: Kasai Rinkai Koen (JR Keiyo Line).
Image Courtesy of 掬茶.
5 5) Odaiba Kaihin Park
Make no mistake, the primary reason to visit Odaiba Kaihin Park is for jaw dropping city views. This waterside space has a front row seat for some of the finest in the city, with Rainbow Bridge and Tokyo's skyline showing off for the cameras. Add to this massive cargo ships coming in and out of one of the world's busiest ports and jumbo jets from Haneda Airport, and it's understandable that people forget they're standing in a park.

Actually there are three parks here, lined-up next to one another along the waterfront. To the south is Shiokaze Park with it's decks, terraces, plazas and promenades. To the north, Daiba Park. Originally built as a battery to fend off foreign vessels it now welcomes a steady stream foreign tourists as well as locals. Kaihin Park is the link between the two. It has a beach but swimming is not allowed (and you wouldn't want to anyway). However, it makes for a great stoll between the two.

There is plenty to see and do in this area and it's highly recommended to hang around until dark in order that you might see Tokyo's lights in their full glory. Admission: Free. Nearest Station: Odaiba Kaihin Koen (Yurikamome Line).
6 6) Hibiya Park
Hibiya Park delights visitors with it's European style gardens (the first public gardens of their kind in Japan), and it's sculptures and features donated from around the world. It's not a huge park but it packs a lot in and has an enviable location, surrounded as it is by the grounds of the Emperor's Palace, numerous government ministries and one of Tokyo's most important financial districts. It's also close to Ginza and is a great place to take a break from shopping/sightseeing (along with plenty of exhausted business types).

It hasn't always been so rosy, though. This former Edo Era army stomping ground was converted to a park in 1903 but as early as 1905 became the center for fierce rioting following the signing of the Portsmouth Treaty that same year, ending the Russo-Japanese War (1904-05). Brokered by America, the Japanese felt hard done to by the treaty and some 30,000 rioters gathered in the park to demonstrate their displeasure before spreading out to other parts of the city.

Things got worse before they got better. During World War Two many of the park's trees were cut down for timber and the fences melted down for parts. Restoration work was completed in 1961. Admission: Free. Nearest Station: Hibiya (Hibiya Line).

(Reference: http://en.wikipedia.org/wiki/Hibiya_riots)
7 7) Kitanomaru Park
One of the main draws of the this central park is the Nippon Budokan, the grand venue for many a rock concert but also the scene for traditional martial arts contests. If you happen to be around for the latter, you'll see the contestants outside the entrance, decked out in traditional garb, warming up for the contest.

Despite being sandwiched between the Imperial Palace grounds and the controversial Yasukuni Shrine, the park manages to keep things reasonably lighthearted and is a popular choice for picnics and drinking parties during the cherry blossom season (late March/early April).

There are some fine walking trails through the park's forested areas and plenty of secluded benches for those looking to leave the city behind.

'Kitanomaru' is also home to the Kagaku Gijitsukan (Science Museum) whose displays are primarily aimed at youngsters, and the National Museum of Modern Art which, according to many, houses one of the finest collections in the country. Admission: Free. Nearest Station: Kudanshita (Hanzomon, Shinjuku or Tozai Line).
8 8) Imperial Palace East Gardens
These gardens are the closest most of us will get to the Imperial Family. Befitting of one of the world's 'power family's', they boast big spaces surrounded by big walls made of big stones.

Actually the Imperial Palace sits on the site of what was once one of the largest castles in the world. However, the gardens manage to combine grand scale with the stark simplicity and moments of intricacy typical of Japanese style.

This is definitely not the place to break out bat and ball or spread out for a picnic. However, there are some interesting buildings/structures to keep visitors engaged, from mighty buttresses to guard houses and imposing gates. The Museum of the Imperial Collections displays pieces donated by the Imperial Family. It's located near the Ote-mon Gate entrance. Admission: Free. Nearest Station: Otemachi (various lines).
9) Shirokanedai National Park
Shirokanedai National Park is unexpected to say the least. After all, an urban megalopolis of some 30 million people is not somewhere you'd think to look for wild flora, fauna and rare birds. Still, here it is and here they are, right in the middle of one of Tokyo's most affluent areas.

That said, the park isn't just randomly here like piece of the environment the city forgot to build on, rather it's an attempt to preserve some of the nature that was around before Tokyo got so, well, big!

The park covers approximately 200,000 square meters. Room for a lot of people you might think but in keeping with it's purpose to preserve nature, the latter's worst enemy (err, us) is kept down to a maximum of 300 people at any one time.

Shirokanedai National Park is next to the grounds of the Tokyo Metropolitan Teien Art Museum which itself is surrounded by beautiful gardens. Intellectuals and those with a fetish for higher seats of learning will be pleased to find the Meiji Gakuin University and the University of Tokyo's Institute of Medical Science nearby. Admission: 300 yen. Nearest Station: Shirokanedai (Toei Mita Line).
Image Courtesy of Nishimura Yukiyasu.
10 10) Rinshi no Mori Park
Who knew there would be a wild wood in the middle of upper class Tokyo suburbia? Well, not many foreign visitors it seems. The locals know though. Especially those with kids, and they come out in droves to let their little ones explore. For the tourist, Rinshi no Mori offers pleasant walking beneath it's impressive old trees. It's also a good place to spot a variety of birds as well as observe the behavior of Tokyo's family's out to play.

The park began life as a tree nursery in 1900. It was later taken over by the Forestry Agency who wanted to see what kind of trees could be grown in the Tokyo area. It became a public park in 1989 but, thanks to it's history, it has a large number of tree species. Many of the trees are labeled and there are also information boards that highlight what kind birds and critters can be found in the park.

If you're traveling with kids, Rinshi no Mori has adventure play areas, and a splash pool in the summer. Admission: Free. Nearest Station: Musashi-koyama (Meguro Line). (Reference: http://www.kensetsu.metro.tokyo.jp/kouen/kouenannai/park/english/rinshinomori.pdf)
11 11) Kinuta Park
Located just ten minutes on the train from Shibuya, Kinuta Park is a great place to breathe some fresh air and get back to earth after Shibuya's technicolor mayhem. Interestingly, the park used to be a golf course and as such there is plenty of space here to spread out, with many people coming to enjoy improvised games of soccer, softball and cricket. For those who are more serious about their sport, 'Kinuta' has a range of facilities including a baseball ground, soccer pitch and running field. However, even with all the athletic action going on, the park is large enough to accommodate those who like their solitude. And it's easy to find, with plenty of wide expanses of (sometimes) untamed grass flanked by ancient looking trees making it feel like you've stumbled onto an English meadow.

Kinuta is also home to the Setagaya Art Museum which exhibits art from the prehistoric to the contemporary.

The park is accessed from Yoga station. It's well signposted and the fifteen minute walk along Yoga Promenade is a delight in itself. Admission: Free. Nearest Station: Yoga (Tokyu Denentoshi Line).
12) Nogawa Park
This large space is really a tale of two parks as it's rather unceremoniously split in half by a highway (a pedestrian bridge links the two). For those who like getting down and dirty, north of the highway a rugged (for a city park) scene awaits. Here the Nogawa River cuts through the grounds providing nourishment for the Musashino Forest and a bird sanctuary. As you'll see, it's far from being a mighty river but this means you can take a paddle or try your hand at some fishing without fear of getting swept away. Head south of the highway and things become far more civilized, with tennis courts,a barbecue area and even a place to play a spot of croquet (or gate ball as they like to call it here).

Like Kinuta Park, 'Nogawa' started life as a golf course. Be very glad it changed as it's a fantastic place in which you can dip your toes into a bit a nature and unwind. Admission: Free. Nearest Station: Shin-koganei (Seibu Tamagawa Line).
Image Courtesy of Waka moana.
13) Koganei Park
This huge park in the east of Tokyo houses the just as hugely named Edo-Tokyo Open Air Architectural Museum. With Tokyo's long history of suffering at the hands of wars, fires and earthquakes the museum is an important resource in the effort to preserve and restore the city's architectural heritage. As the name suggests, it's an interactive experience where visitors can enter a variety of buildings such a residences and shops. The museum is also said to have provided inspiration to the legendary animator Hayao Miyazaki when he was making the Oscar winning Spirited Away.

Koganei Park offers plenty of lighter pursuits. Bicycles are available to rent and are a great way to explore the central areas of the park. There's also an artificial slope for sledding (sleds available to rent). Sporty types can make used of up to 16 tennis courts and there's even an archery range.

With some two thousands cherry blossom trees in the park it's a legendary place to enjoy a picnic and a party when the flowers are in full bloom (end of March/early April). Admission: Free. Nearest Station: Musashi-kogane (JR Chuo Line). (Reference: http://www.kensetsu.metro.tokyo.jp/kouen/kouenannai/park/english/koganei.pdf)
Image Courtesy of Fumiya Fujihara.
14) Jindai Botanical Gardens
Botanists and gardening enthusiasts should make this place a priority as they are the only botanical gardens in Tokyo.

The grounds are divided into 30 different plant zones and if the people who run it know their stuff, there should be something in bloom whatever time of year you visit. If you're into your roses then get here in late May or mid October and you'll have a field day in the rose garden which has over 5000 bushes showing off over 400 varieties. Those in the know have high praise for the azalea garden, too. A greenhouse holding plenty of weird and wonderful tropical plants ensures that even a mid winter visit to the gardens is worth your while.

Jindai hosts plenty of events and workshops including the popular Spring/Autumn Rose Festa held every May and October respectively. At the end of March or early April when the cherry blossom is in full bloom the park opens at night for concerts and illuminations.

Just outside the southern end of the gardens you'll find Jindai Temple, the second oldest in Tokyo. Whilst there are far more spectacular temples in the city, the streets around the temple are famous for their soba noodle restaurants, a speciality of the area, and so a good place to try what many consider to be the original form of 'fast food' in Japan. Admission: 500 yen. Nearest Station: Tsutsujigaoka (Keio Line). (Reference: http://www.kensetsu.metro.tokyo.jp/kouen/kouenannai/park/english/jindai.pdf)
Image Courtesy of 掬茶.
15) Shinjuku Chuo Park
It's all about the location for this diminutive park. Situated right in the heart of Tokyo's largest concentration of skyscrapers, you'll spend most of your time straining your neck to take in the magnificence of the surrounding towers to notice the park's size. Should you be able to look at ground level for a moment you'll find a small shrine, a 100 ft wide waterfall and a whole cross-section of Shinjuku society, from besuited businessmen to rebellious teenagers. During the summer months little ones can enjoy playing in the Jabu-Jabu Splash Pond and get some much needed respite from Japan's soaring summer temperatures. Admission: Free. Nearest Station: Tochomae (Toei Oedo Line).
Image Courtesy of Kamemaru2000.
16) Inokashira Park
You'd have to be a bit of a cynic not to enjoy Inokashira Park. There seems to be something here for everyone, and everyone here seems to be enjoying themselves. Perhaps it's the influence of the neighborhood that it's in, Kichijoji, where the streets welcome all from urban street dancers to savvy boutique shoppers.

The park is dominated by a lake that was once the water supply for Tokyo. It's new role now is playing host to an armada of swan boats and their giddy sailors. Paths wind around the water taking romantic strollers through its fine trees. In the open spaces Kichijoji's bohemian types put on music and magic shows for appreciative audiences.

Visitors to the park will also find a small zoo specializing in animals native to Japan, and the striking Benzaiten Shrine. Anime fans will rejoice at the presence of the world famous Ghibli Museum in the southern end of the park. Alas, entrance is available by appointment only. Admission: Free. Nearest Station: Inokashira Koen (Keio Inokashira Line).
Image Courtesy of t-seto.
17 17) Kiyosumi Teien
It's easy to understand why this traditional Japanese garden is a designated place of scenic beauty. It centers on a magnificent pond that is surrounded by steep banks of manicured grass carefully decorated with small trees and rocks brought from around Japan. Jutting out over the water, an authentic Japanese tea house (reservations required) completes the picture perfect scene.

The garden that visitors see today was created by the owner of the famous Mitsubishi Company, Iwasaki Yataro. He acquired the land during the Meiji Era and by 1880 had turned it into a garden for the enjoyment of company workers as well as for schmoozing guests. The gardens were first opened to the public in 1932.

A walking path encircles the grounds and there are cute stepping stones that navigate some of the steeper banks and shallower sections of the pond. The gardens don't occupy a large area and as such there are a number a vantage points from which you can take in the whole delightful scene. Admission: 150 yen. Nearest Station: Kiyosumi-shirakawa (Hanzomon Line).
18 18) Hama-rikyu Gardens
These impressive gardens are wedged in between the city and the sea, with Shiodome's metallic towers looming on one side and the waters of Tokyo Bay snapping away at the other. In such trying circumstances it's remarkable then that 'Hama-rikyu' does such a good job at making you feel like you're out for a day in the country. Perhaps it's because part of the grounds were originally a wild-duck hunting area for Edo Era feudal lords, in which you can get lost among the towering trees and hunting hide-outs. The city is never far away though, and depending on which way you look, you can take in the jarring spectacle of a beautiful garden framed by a dramatic urban skyline.

The gardens have a storied history having passed from Shogun to Shogun eventually becoming a detached palace for the Imperial Family. Earthquakes and wars took their toll but the gardens were restored and in 1952 designated a famous sight and one of great historical significance.

A water-bus to Odaiba leaves from the North East corner of the gardens. Admission: 300 yen. Nearest Station: Shiodome (Toei Oedo Line).
19 19) Rikugien Gardens
There are 32 pretty stunning reasons to visit this serene garden in the north of Tokyo, which boasts 32 stunning views indicated by 32 stone markers. Originally there were 88, but who's counting anyway? As you stroll the delightful paths that amble around the large pond, through lush forest and carefully crafted hills, you won't need markers to realize just how beautiful these gardens are.

Literary enthusiasts will be interested to know that the garden's design was inspired by early Japanese poetry (Waka). It was created in 1702 and, as with Kiyosumi Gardens, fell into the hands of the founder of the Mitsubishi Company (Iwasaki Yataro) whose family donated it to the city in 1936.

There are many interesting features in the garden including islands, bridges and hills. Highlights for many are Tsutsuji-no-chaya, a rare tea house that managed to survive the war, and Fujishiro-toge, the tallest hill in the grounds, from which you can enjoy a stellar view. Admission: 300 yen. Nearest Station: Komagome (JR Yamanote Line/Namboku Line).
20 20) Koishikawa Korakuen Gardens
The grounds of 17th Century Koishikawa Korakuen have the feel a secret garden children might discover in movie. It's full of twists and turns and narrows paths that lead to ancient buildings, stone ruins and fairy tale bridges. To add to the excitement, it's seldom visited by foreigners, who are perhaps distracted by the glamour of the Tokyo Dome right next door, which makes for a bizarre backdrop to the garden.

Typical of formal Japanese gardens, 'Koishikawa' has the requisite pond, but the main attraction here is exploring the paths that lead away from the water to discover what lies in wait.

There is a lot of Chinese influence here, with many concepts taken from a Ming Dynasty Chinese scholar, including the Full Moon Bridge, so called because it's reflection in the pond gives the appearance of a full moon. Admission: 300 yen. Nearest Station: Iidabashi (Toei Oedo Line).
Useful Travel Guides for Planning Your Trip
---