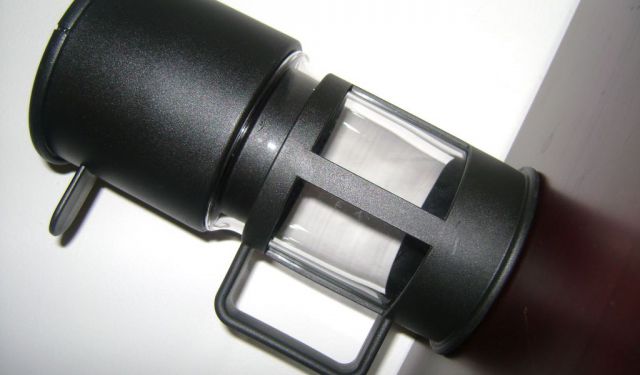 Villages Best Tea and Coffee, New York, New York (D)
This is a guide to the best tea and coffee shops and houses in the East, West, Washington Square and Greenwich Villages of Manhattan. None of these are chains, so tourists looking to avoid Starbucks can find sanctuary in this app. All of these run the gamut between W and E 14th Streets, and down 1st to 8th Avenues, but not further than Houston Street.
How it works:
The full article is featured in the app "GPSmyCity: Walks in 1K+ Cities" on
iTunes App Store
and
Google Play Store
. Download the app to your mobile device to read the article offline and create a self-guided walking tour to visit the sights featured in this article. The app's navigation functions guide you from one sight to the next. The app works offline, so no data plan is needed when traveling abroad.
Sights Featured in This Article
Guide Name:
Villages Best Tea and Coffee
Guide Location:
USA » New York
Guide Type:
Self-guided Walking Tour (Article (D))
# of Attractions:
19
Author:
Nickki Figurski
Author Bio
: A native New Yorker, Nickki Figurski is a freelance writer currently publishing articles on various topics, including: sports, food and music, the passions in her life. She writes for: Examiner, Factoidz, Suite 101 and Gather/Skyword, as well as a local newspaper. Nickki remains committed to the preservation and restoration of the environment, while leading a sustainable lifestyle. She's a hospitality host, taking in travelers from around the globe, while showing them her wonderful city.
Sight(s) Featured in This Guide:
Snice
Grounded
Chocolate Bar
Tea & Sympathy
Roasting Plant Coffee
McNulty's Tea & Coffee Co
Grey Dog's Coffee
Saint's Alp Teahouse
Mud
TKettle Bubble Tea
Porto Rico Importing Co
Veniero's Pasticceria & Caffe
Kung Fu Tea
Just Sweet Dessert House
Think Coffee
De Robertis Pasticceria
Roastown Coffee
Tea Spot
Caffe Dante
1 1) Snice
Hours: 7:30am-10pm Monday-Friday, 8am-10pm Saturday-Sunday

A very secret, local spot appealing to the younger college crowd, Snice has a nice wide space with plenty of seating, and a designated area to use laptops to access their free wi-fi. They have: books for reading, artwork for perusing (which changes to feature artists) and music for listening. Customers get own their water while viewing the help wanted ads hanging. Cards are accepted, but American Express has a minimum $15 charge. Snice features a new coffee every week from Porto Rico for sale. Half their menu just contains very cheap drinks and the other half, a delicatessen. Everyone comes for roasted broccoli. The baking-done on premises-offers lots of sweets and treats as vegan desserts. They also use organic fruits in season for smoothies.
2 2) Grounded
Hours: 7am-9pm Monday-Friday, 7:30-9 Saturday-Sunday

The outside sign of Grounded reads, "We love coffee and you". This is your eclectic demographic akin to the West Village organic coffee and tea bar. Great lighting, plants and spacious design, including a red velvet couch that stands out, are all nice touches. But, they have a 90 minute seating policy. By the listing of local events, hangs a huge varied menu displaying various drinks with cute names, and food. The smoothies: start with fruit, add juice or milk, then peanut butter, spirulina or soy powder. Prices vary according to selection. Their tons of (loose) tea for sale include: black, white, green, oolong, red, lots of flavors and blends. Rest assured everything is organic. Grounded also sells bags of coffee, along with a few pots. Card minimum is $5. All drinks are hand-chosen by the owners that started this place 7 years ago. Bonus card, buy 10 drinks, the 11th is free!
3 3) Chocolate Bar
Hours: 8:30am-9pm Sunday, 7:30am-9pm Monday-Wednesday, 7:30am-10pm Thursday-Friday, 8:30am-10pm Saturday

As you walk into Chocolate Bar, one can choose to sit on the wooden chairs and benches, unless you are lucky enough to score the 2 cushioned bar seats. Well obviously, they have tons of chocolate for sale, along with: fair trade and organic "Really Good Tea", ice cream and shakes. Their bonus card reads, "buy 10 drinks, get 11th free". Chocolate Bar supplies 3 size options for: coffee, teas and liquid chocolate, which is bittersweet chips steamed in milk. Those flavors include: classic, spicy, white, coconut, hazelnut, raspberry, peppermint, caramel and "buzzed" (double shot of espresso). You can also choose iced. Latte flavors include: vanilla, caramel, white, mocha, chai and minty. There is apple cider and plenty of cold drinks, like lemonade and egg creams. Do not expect the best service, just...chocolate!
4 4) Tea & Sympathy
Hours: (Restaurant) 11:30am-10:30pm Monday-Friday, 9:30am-10:30pm Saturday-Sunday (Store) 11:00am-10:30pm Daily

There are 2 different stops for Tea and Sympathy, both totally authentic. In the shop, talkative and helpful blokes hand you separate menus explaining how to "proper"ly steep your tea. They cannot even count how many teapots are there. You will not get bored with their selection of those or tons of candy from across the pond. Americans feeling like taking a trip down their memory lane can stop-in to receive an education. I mean, if anyone knows tea, 'tis the Brits, and I kind of feel English just sitting here. You are not really able to sit down inside of the store, but benches outside fill-up with patrons looking to sit and relax during the nicer weather. They also sell saucer and mug sets together, and royal wedding gear galore. Next door, visit the tiny café with rose tablecloths and British paraphernalia everywhere for food and tea served in your own pot for enjoyment.
5 5) Roasting Plant Coffee
Hours: 6am-11pm Sunday-Wednesday, 6am-12am Thursday-Saturday

Not encountering your typical coffee house layout, Roasting Plant is square with white, cushioned seats surrounding the counter. A huge board describing the whole roasting process sits above patrons. Inside is very bright and quiet, although being busy. Their high-tech menus show on screens, while free wi-fi is offered. Coffee comes in 3 different sizes, all super cheap. In elongated, tubular canisters are selections of whole roasted and non-roasted beans from all corners of the World: Brazil, Guatemala, Ethiopia and Jamaica. They also have a grinder for those without their own. They sell presses too. Chocolate-y desserts and other various drinks in bottles are also for sale.
6 6) McNulty's Tea & Coffee Co
Hours: 1pm-7pm Sunday, 10am-9pm Monday-Saturday

Although McNulty's only sells tea and coffee without serving any, those include lots of rare teas. One of these is the smoky lapsang souchong. Their focus steers away from herbal tea, and concentrates on black variations. Price varies according to flavor. A few assorted teapots (with an included infuser) are available for purchase. Besides loose-leaf blends, customers can grab plenty of pre-packaged teas. Patrons can blend, but need to specify to the ounce. Some blends are already available, like nectar (akin to Earl Grey and lemon), which they specify on gift bags. Going along with just as many teas, McNulty's sells lots of their own coffees that they buy from roasters. Picking either fresh-roasted grounds or whole beans you can grind, notice how the French Roast has the oils surfaced. The vintage tea bins add a nice flair. This place gets busy during weekends, so send a McNulty's postcard!
7) Grey Dog's Coffee
Hours: 6:30am-11:30pm Monday-Friday, 7am-11:30pm Saturday-Sunday

Now this is a coffee house. The dim lighting, scattered chairs, assorted baked goods and sandwiches create the atmosphere that is Grey Dog's. That, and dog biscuits outside. The very chill ambiance is quiet and relaxed, providing pretty good spacing while still being closed in, yet comfortable. Brown and dingy walls let customers feel underground. A nice staff shows you lots of coffee and tea flavors with all your standard espresso styles: americano, mochaccino, cappuccino, macchiato and latte. And of course, they are able to ice everything. Grey Dog's is not crowded; just enough people on a very busy street.
Image Courtesy of Barry Solow.
8 8) Saint's Alp Teahouse
Hours: 1pm-11pm Sunday, noon-12am Monday-Thursday, noon-1am Friday-Saturday

A very modern and plain design with tiny wooden stools and tables provides nothing warming or unique. Then why visit? Patrons definitely go for variety. Saint's Alp owns an entire menu that spans 6 pages devoted just to special tea drinks in regular and jumbo sizes. A few choices are: agar agar and coffee, nata nectar, sorbies, yogurt, milk shakes, glacemint, green and black milk tea, frothy tea with pearl tapioca, ruby grapefruit with citron agar, or just jasmine green and honey black teas. The unimpressive but cheap food leads to a wide space that gets filled quickly with an eclectic mix of patrons.
9 9) Mud
Hours: 7:30am-12am Monday-Friday, 8am-12am Saturday-Sunday

What can I say about Mud? Past the wooden benches outside, you are welcomed into the sound of alternative rock, a faint red glow and a friendly greeting from the barista, who knows the customers' names. Long and narrow with barely any lights, the brick walls are comforting and tea light candles soothing. Above the counter in front hangs a short selection of wines and beers. Wooden benches, chairs and tables lead the way as you walk into the depths of the back, which hosts more of the same set-up, with Christmas lights hanging, remnant of dorms. Without asking, I am treated to an entire carafe of perfect ice water and obvious recycled jars of jam for glasses. Mud is off the beaten path, to say the least, and perfect for this jaded generation. They only take cash, but host every flavor of espresso and every addition imaginable, along with lots of: breakfast items, sandwiches, salads, soups and mouth-watering desserts.
10 10) TKettle Bubble Tea
Hours: noon-11:30pm Sunday-Monday, noon-12am Tuesday-Saturday

The outdoor seating provides a totally open area, with lush green plants in front, but one can witness the mayhem that IS Saint Mark's Place from a safe distance inside. A wide front large seating area, fake red shoji lanterns hanging, orange reflective walls and abundant lighting provide serene settings. As a beautiful breeze wafts in, passersby can smell Earthly delights. Giving you a choice of a take-out or sit-down menu, customers see an entire page just devoted to drinks: green, black and oolong teas, shakes and juices. Go for a large; they are only 60 cents more. Be aware they only accept cash. Pig blood cake? Interesting eats! But you can opt for traditional soup, dumplings, noodles and rice dishes instead. Although, that bubble waffle looks quite intriguing. For additional spacious seating, walk in the back. A very nice staff provides you with a bonus stamp card; buy 7 drinks, get the 8th free!
11 11) Porto Rico Importing Co
Hours: (Store) noon-7pm Sunday, 8am-9pm Monday-Friday, 9am-9pm Saturday (Coffee Bar) noon-7pm Sunday, 8am-4pm Monday-Friday, 9am-5pm Saturday

Porto Rico is mainly just a store, though a patron cannot ignore that caffeine scent. Their sales and specials are listed on a sign outside. Upon entry, the totally open bags display whole beans, which I cannot even count how many there are; would be here all day. Customers can create their own custom blends. Guess that is why you see a big long line for service, attended by a patient staff. But their teas are stowed in canisters, with an indicator for variety or blend. Porto Rico has a coffee "bar" in the back that is unbelievably cheap, hosting flavor syrups galore-all the Toranis you desire. Those are also for sale, along with lots of mugs and presses.
12 12) Veniero's Pasticceria & Caffe
Open 365 days a year, Hours: 8am-12am Sunday-Thursday, 8am-1am Friday-Saturday

The outside view of Veniero's seating area includes 3 tables under a red awning and a flickering sign that is ever-so welcoming. As you walk-in, the long stretch of display cases offers all kinds of desserts and delights, with the aroma of sweets and chocolate cookies lingering. Visitors can choose to take-out or stay-in. Past this counter, assorted gelatos and sorbettos attract the eye, with all freshly-baked cakes and pies on display. There is seating too, with frescoes of old Italy. They could use additional restrooms, but the ones they have are very clean. If you walk-around to the additional seating section, a long hallway of warm bronze walls and mirrors with flower mosaics, and a lovely wait staff, greets you. Veniero's offers lots of assorted drinks very reasonably priced, but iced costs extra. This very chill atmosphere packs-in all ages, creeds and social classes.
13 13) Kung Fu Tea
Hours: noon-10:30pm Monday-Thursday, noon-11pm Friday-Saturday

Drawing patrons with haste, right on the door of Kung Fu reads, "free sample". But this establishment is very tiny, and has nowhere to sit down. That just means faster service. You can watch a demonstration that plays on a screen showing the process, while waiting for your order. First, the tea and milk are mixed together. Then, the tapioca-filled "pearls" (potato starch, not jewelry) get added, which taste like gummy bears. Be sure to obtain a large, wide straw to snag these pearls on the bottom of your drink. The tea is not strong (with respect to caffeine), but nice and sweet. At Kung Fu, customers can customize their own tea with: 5 sugar levels, 5 ice levels and 5 bubble levels; 0, 30, 50, 70% or regular. The very friendly and knowledgeable service at this quaint shop seems to draw a younger and working-class demographic.
14 14) Just Sweet Dessert House
Hours: 11:30am-11:30pm Sunday, noon-12am Monday-Thursday, 11:30am-1am Friday-Saturday

Even the sign looks cute, and there is plenty of outdoor seating. But, the sugary-sweet scents emanating from within and immediately beckon your entrance. Lots of candy toppings hang in clear baskets that you can choose to top a variety of desserts. A nice staff awaits in this quaint, but well spread-out shop, which seems a bit pricey, but is actually pretty regular in Manhattan. With orange and white walls, tables and orange and red padded chairs-the most comfortable I sat in all day-customers can choose all kinds of interesting drinks like: shaved ices with multiple flavors, tong shui (whatever that is), bubble tea with your choice of tapioca pearls or lychee jelly, yogurt drinks or just good old hot chocolate and tea.
15 15) Think Coffee
Hours: 7am-12am Monday-Friday, 8am-12am Saturday-Sunday

Noisy and crowded with students aplenty, Think is just for that, thinking. Their front has a self-serve station and a whole row of reading materials, if you did not bring your textbooks. The extended seating in the back has stone walls, padded chairs, cushioned seats and marble-colored tables with dim yet sufficient lighting by a random wine bar. Besides standard drinks, great pricing for 3 sizes, the Spanish latte is their thing; containing sweetened condensed milk, no sugar is needed, trust the junkie. Organic and Fair Trade single source coffees are: Guatemala, Colombia, Ethiopia. Fair Trade teas include white and obscure flavors like korakunda black (decaf, no less). Think sells to-go items and lots of snacks. They feature nightly events (games, art and music exhibitions, conference room coffee tasting) free for anyone to attend. The free wi-fi, besides compostable corn cups and containers, gives Think the modern edge.
16 16) De Robertis Pasticceria
Hours: 10am-10pm Sunday, noon-11pm Monday, 9am-11pm Tuesday-Thursday, 9am-12am Friday-Saturday

Standing by 1 table and 2 awaiting chairs outside, sits a sign with all the specials featured by DeRobertis. Upon entry, the overpowering scent of cookies hits you. A long, narrow hallway displaying delightful desserts leads you right into the back. Featuring white well-lit tiles with plenty of seating provided by tiny, red, wooden chairs and tables, this very quiet venue (although they do have televisions) draws a low-key and older crowd. The DeRobertis menu offers lots of coffee specialties in regular and double sizes. If you have any idea what orzata is (just almond syrup), that can be added, with a variety of Torani flavors to enhance your steamed milk and other drinks-very nice!
17 17) Roastown Coffee
Hours: 7am-12am Sunday-Thursday, 24 hours Friday-Saturday

Those in the mood for surroundings of a café can walk-in and seat themselves in Roastown. Offering: free wi-fi, a juice bar, self-service frozen yogurt, "breakfast all day", salads and desserts in an unhealthy union, bubble tea, frappes which run a bit expensive, espresso, lattes, coffee, tea and fruit smoothies to please Summer palates, there is little you cannot get here. An abrupt yet quick staff will take cards and certain cash, just not 50's or 100's. A chill and cute atmosphere with wooden chairs, tables and red counters allows the open air on the corner to enter easily.
18 18) Tea Spot
Hours: 10am-11pm Sunday-Wednesday, 10am-12am Thursday, 10am-2am Friday-Saturday

Taking a trip back to 1828, Tea Spot remains quite vintage. A long narrow upstairs with slight lighting by tiny candle lanterns leads to the wine bar downstairs, but watch your steps. Offering dessert-flavored teas in rooibos: (pumpkin cream, tiramisu marscapone, cherry, chocolate ginger and blueberry yogurt), a wide variety of herbal, lots of green (lemon, coconut, cinnamon apple and mint) and black (butter truffle, almond cookie, spiced pear, orange cookie and piña colada) flavors, one can get an entire pot to their self, or just a mug. They have oolong, white and bubble tea also, along with plenty of tisanes: pear cinnamon, Turkish apple, watermelon, roasted almond, apricot peach and strawberry kiwi. A few paninis and pastries are also offered, so let Tea Spot be a Victorian Era stop for you.
19 19) Caffe Dante
Hours: 10am-1am Sunday-Thursday, 10am-2am Friday-Saturday

Looking for a good buzz? This is no ordinary coffee shop. Theirs comes with ice cream or Sambuca. Besides the gelati and other assorted Italian dessert delights, Caffe Dante offers espresso with cognac, cappuccino with: cognac, Grand Marnier, amaretto, Sambuca or Kahlua. Try the delicious dessert drink additions (whip cream, cinnamon, cocoa and of course, ice). Not in the mood for any of those? Then enjoy tea or Italian drinks, like: fresh juices, sciroppi, limonata or arenciata. Just know that no cards are taken nor laptops allowed. Hanging black and white photographs of Italy match the plentiful seating. Despite the liquor, Caffe Dante has a wide space giving quiet refuge to an older crowd looking to get away.
Useful Travel Guides for Planning Your Trip
---