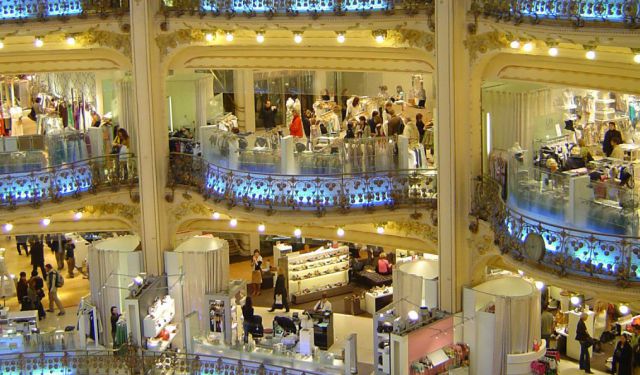 Shopping on the Right Bank, Paris, France (A)
What's a trip to Paris without some fabulous shopping? Forget the Champs Elysee-- real Parisian shopping is to be found while exploring the streets of Paris. This tour remains on the Right Bank, traditionally and historically Paris's commercial and retail neighborhood. Enjoy a touch of history while you discover a variety of popular shopping destinations for every budget.
This article is featured in the app "GPSmyCity: Walks in 1K+ Cities" on
iTunes App Store
and
Google Play
. You can download the app to your mobile device to read the article offline and create a self-guided walking tour to visit the attractions featured in this article. The app turns your mobile device into a personal tour guide and it works offline, so no data plan is needed when traveling abroad.
Walk Route
Guide Name:
Shopping on the Right Bank
Guide Location:
France » Paris
Guide Type:
Self-guided Walking Tour (Article (A))
# of Attractions:
12
Tour Duration:
3.0 Hour(s)
Travel Distance:
4.7 Km or 2.9 Miles
Author:
Orly Sibony
Author Bio:
Orly Sibony is a Los Angeles, California native who loves the beach and the sunshine. She attended Wellesley College in suburban Boston, Massachusetts, and learned to appreciate the cold. She was lucky enough to spend her junior year in Paris, fell in love with the city, and knew she had to return. She is now back in Paris teaching English to elementary school children, as well as tutoring, translating, and writing tours. She hopes to find a way to stay in Paris for a long, long time...
Sight(s) Featured in This Guide:
Saint Paul Metro/ Heart of the Marais
Allison
Tumbleweed
Rue des Francs Bourgeois
Sucrées
COS
Vintage Désir
Hippy Market
Rue de Rivoli
Rue St. Honoré
Place Vendôme
The Department Stores : Galeries Lafayette and Au Printemps
1) Saint Paul Metro/ Heart of the Marais
We begin in a charming neighborhood called the Marais, which means 'marsh' or 'swamp.' A thousand years ago, this area was marshland next to the Seine, but now it is home to Paris's oldest Jewish population, it's most lively Gay/Lesbian population, and is arguably the trendiest neighborhood of Paris! It was also one of the only areas of Paris not destroyed and rebuilt in the late 19th century, and hence retains some Renaissance enchantment. It is also famous for its mixture of one-of-a-kind shops, fashionable second-hand stores, and chic boutiques housing the most popular French designers. The Marais is also popular with tourists, so shop assistants can usually speak English. This metro stop is a popular locale for trendy and eclectic Parisians to meet and hang out, so take a moment to admire their style and take note of what interesting pieces or combinations you'd like to look for as we meander through the Marais.
Image Courtesy of Djampa.
2 2) Allison
Our first store, Allison, serves as a good introduction to what feminine brands and trends are popular in Paris at the moment, hence why this tour begins with this shop. It is known for stocking cute, trendy, seasonal pieces from a wide variety of favorite Parisian boutiques and designers, as well as, admittedly, a few popular American brands. However, the large majority of items are from French designers that you could not easily find outside of Europe, let alone France. They carry clothing as well as accessories and shoes. Prices are reasonable considering the brands on sale, but this is by no means H&M —it's a good place to splurge on one or two sweet articles of clothing or accessories, or maybe find a really nice gift. Their salespersons have a reputation for being helpful, so don't be shy if you have any questions!
3 3) Tumbleweed
The next location is a cute, tiny store called Tumbleweed.

Paris is famously filled with teeny tiny shops selling original items, and Tumbleweed is definitely one of the sweetest in this category of stores. It's an adorable "anything goes" store with artsy knickknacks, games, and one-of-a-kind accessories. My personal favorite items there are the bags and coin purses with clichéd images of Paris. They make great "look what I got you from Paris!" gifts. They also have some toys and puzzles for kids. Items are priced a little bit more than one would like to pay for them, but again, the items are original and fun, so sometimes it's worth it to splurge a little.
4 4) Rue des Francs Bourgeois
Our next location is a street rather than a store— Rue des Francs Bourgeois. Get ready to do some window shopping on this street that bursts with boutiques. The French word for "window shopping" is "lèche vitrine," which literally means window licking. A few glances at some of these storefronts and you'll understand why—the clothes, antiques, jewelry and more displayed in the windows are so delectable that you might have to restrain yourself from pressing your face against the glass to savor them! Many of the most popular contemporary Parisian brands have stores on and around this street, such as Et Vous (number 6), Comptoir de Cottoniers (number 33), Gerard Darel (number 41), Chattawalk (number 45), as well as other original boutiques (check out, for example, L'Artisan Perfumeur at number 34 for one-of-a-kind perfume!). Other worldwide designers chose to house their products on this particular Parisian street, such as London's Ted Baker (number 20) and Japan's minimalist household and fashion store Muji (number 47). Popular international beauty lines, such as Mac and Kiehl's, choose to squeeze in among the myriads of other high-quality clothes and accessories for men and women. Take your time with this street—there is truly a plethora of great places to discover, including gardens, museums, bakeries, and cafés. Choose what interests you and take your time, but make sure that you take a left at Rue Vieille du Temple in order to reach our next destination!
5 5) Sucrées
Sucrées is an adorable shop aimed at young ladies. Here you will find trendy Parisian fashion with just a slight funky edge. Their selection of clothes and accessories is small but still has some variety, ranging from chic to comfy, all in a very feminine style. Don't forget to check out their bags, jewelry, and other accessories. The staff is very helpful, so don't be afraid to ask if you need any help! Prices are affordable considering the trendiness of the items.
6 6) COS
COS stands for Collection of Style, and is created as the luxury component to the brand H&M. It's the perfect store for those who like classic, simple clothing that still looks elegant and modern. The store is rather large compared to the size of other Marais boutiques, and therefore has lots to offer! Prices are not as cheap as H&M, but are generally affordable considering their nice quality.

Take a moment to admire the colors of the building and the funky "Hammam" sign, recalling the days when the building was a Hammam, first opened in 1863.
7 7) Vintage Désir
Next on the list is a popular Parisian vintage store, Vintage Désir.

The popularity of this vintage store--which in French is called a "friperie"—is due not only to the great items they have in store, but also its location. It sits right next door to the best and most popular falafel in Paris, L'As du Falafel, in the heart of the historic Jewish street of Paris, the Rue des Rosiers. It is also known for having a wide variety of very affordable items despite its miniscule size. Items range from classic to eccentric, and most shoppers are sure to find something that interests them, especially with a selection that changes daily. I am personally a huge fan and shop here more often than I should, but I forgive myself because the prices are so cheap!
8 8) Hippy Market
Hippy Market is the newest friperie to hit the Marais, and distinguishes itself from the others in several ways. First of all, it is a huge store. Second of all, it's more of a boutique than a friperie because all of the beautiful items are well-organized, in very good condition, and, hence, more expensive than the other friperies. Shopping in Hippy Market is therefore a much more relaxing, enjoyable experience than shopping in the other friperies. The clothing has a 70s era vibe, and is filled with color and variety. One can even find jewelry and brand-name accessories. Enjoy this last stop in the Marais, and when you're ready, we'll head to one of Paris's most well-known commercial streets to see what big-brand Paris has to offer.
9) Rue de Rivoli
The Rue de Rivoli is a historically and commercially important Parisian street. The long, grand Rue de Rivoli began under Napoleon I in 1801 as a large street joining the Eastern and Western sides of Paris (which was a much smaller city at the time). The work was enlarged in the late 19th century under his nephew, Napoleon III, and now lines some of the most important and historic monuments in Paris, such as the Hôtel de Ville, the Louvre, the Jardin de Tuileries, and the Palais Royale. Its large size and central location logically made it a popular spot for shopping. Today, the Eastern side of the Rue de Rivoli (near the Medieval Tour St. Jacques) mostly contains mega stores for many French, European, and American well-known brands, such as Spanish store Zara (number 88 and 75), the Swedish brand H&M (also at number 88, next to Zara, and number 120), and France's own Etam (67/73—it's huge, you can't miss it) and Promod (110). Expect stores here to be quite affordable, given their mass-produced quantities. Heading further West down Rue de Rivoli, however, the atmosphere massively changes, in part due to the lovely arches that adorn the street. Near the sumptuous Louvre, the shops on the Rue de Rivoli become classier, more elegant, and more specific, such as chic home decorations, or stock stores for top brands, scattered between luxurious hotels and cafés. Here and there, however, a store catering to tourist trinkets breaks up the luxury.
Image Courtesy of MarkusMark.
10 10) Rue St. Honoré
Time for some more window shopping! The Rue St. Honoré is a street filled with cafés and many high-end boutiques. Continue further down the street to reach some of the biggest names in fashion. First, you must absolutely take a look at the concept store Colette, number 213, for its original layout, wide variety of funky offerings, fashionable clothes, and buzzing energy. Also further down can be found Miu Miu at number 219, and Gucci at number 350. Enjoy browsing, and then keep heading West to reach our next luxurious and historical destination.
11) Place Vendôme
The Place Vendôme is yet another location where history meets luxury. In 1702, Louis XIV commanded this large square to be built, and the buildings around it soon came to be the homes of many members of France's aristocracy. Originally the square was closed off and quiet, but when the Opera was built just North of Place Vendôme, a street was built to adjoin them, and thus allowed fashionable Parisian life and clothing to trickle down into the Place Vendôme. That is why today, the Square is home to the glamorous Chanel boutique at number 18, the high-class shirt maker Charvet (whose store has been there since 1877), French Jeweler Van Cleef & Arpels at number 22, and the exclusive Jeweler Cartier at number 7. Atop the giant Roman column sits a statue of Napoleon I.
Image Courtesy of stevecadman.
12 12) The Department Stores : Galeries Lafayette and Au Printemps
The department stores of Paris are an integral part of the city's history and allure. They are beautifully, artistically designed, and receive over 120 million visitors every year (meaning, they're basically as much of a tourist destination as the Eiffel Tower or the Louvre). The flagship Galeries Lafayette and Au Printemps are the most famous Parisian department stores, not only because of their gorgeous, sumptuous interiors, but because of their place in the history of Parisian fashion. Let me explain: When the lavish Opera was built in 1875, it was intended to be THE see and be seen location for the wealthy bourgeois of the city, who attended the same ballets and operas over and over with the intent of watching each other and gossiping about each other. With the richest Parisians now flocking the Opera area, businesses catering to the upper classes soon sprouted up, especially those catering to upper class fashion. After all, heaven forbid that Madame Frou Frou be seen at the Opera wearing the same dress twice! Printemps, anticipating the business that the Opera would bring, opened in 1865 as a store that would sell everything! Galeries Lafayette followed in 1893. Thanks to their success, this once-modest quarter of Paris completely transformed as it began booming with commerce, banks, cafes, restaurants, and bars. If nothing else, tourists in Paris--even those who hate shopping-- MUST visit the two department stores to see the artistically-created window displays, the stunning glass domes, and the views from their rooftop cafes. Au Printemps is generally considered to be the more expensive and luxurious of the two, for it carries more higher-end designers than does Galeries Lafayette.

And with that, I conclude this Right Bank Shopping Tour. I hope you enjoyed it!
Walking Tours in Paris, France
Useful Travel Guides for Planning Your Trip
---