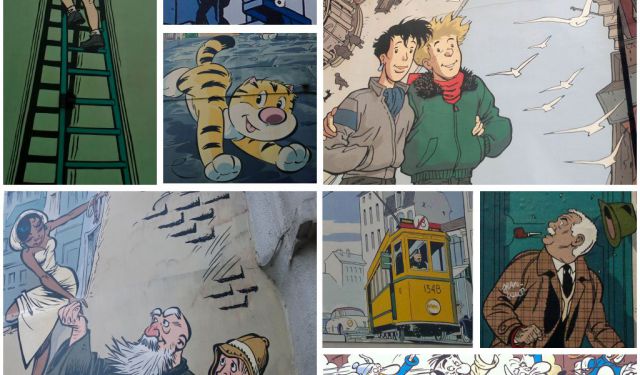 Comic Book Mural Hunt, Brussels, Belgium (D)
Not just every building came become a monument. In Brussels, they've found a shortcut, by turning ordinary houses into instant attractions using gallons of paints and talented artists to make gigantic tributes to Belgian comic book heroes.
In this guide, we'll help you find these spectacular murals, tell you who created the characters and why they contribute to Belgium's rich comic book history.
How it works:
The full article is featured in the app "GPSmyCity: Walks in 1K+ Cities" on
iTunes App Store
and
Google Play Store
. Download the app to your mobile device to read the article offline and create a self-guided walking tour to visit the sights featured in this article. The app's navigation functions guide you from one sight to the next. The app works offline, so no data plan is needed when traveling abroad.
Sights Featured in This Article
Guide Name:
Comic Book Mural Hunt
Guide Location:
Belgium » Brussels
Guide Type:
Self-guided Walking Tour (Article (D))
# of Attractions:
40
Author:
Rowald Pruyn
Author Bio
: I love to hit the pavement, roaming around big cities by turning left or right using my gut feeling. Brussels is not the biggest capital I have seen, but it is by far one of the most surprising ones, a melting pot of culture, language and surreal day-to-day events. I'm Rowald Pruijn, a travel writer, author and language teacher who uses this city as my headquarters, hopefully for a lot more years to come.
Sight(s) Featured in This Guide:
TinTin
Blake & Mortimer
Le Jeune Albert
Stam & Pilou
Victor Sackville
Odilon Verjus
Monsieur Jean
Le Passage
The Cat
F.C. de Kampioenen
Nic
Wowser
Cori le Moussaillon
Caroline Baldwin
Pass moi l'ciel
Broussaille
Olivier Rameau
Yoko Tsuno
Blondin & Cirage
Billy the Cat
La Patrouille des Castors
Comics Cafe
Asterix
Quick & Flupke
Ric Hochet
XIII
Suske & Wiske
Nero
Lucky Luke
Gaston Lagaffe
Statue Gaston Lagaffe
Marc Sleen Museum
TinTin in America
The Scorpion
JoJo
Belgian Comic Strip Center
Isabelle
L'archange
Thorgal
Brüsel
1 1) TinTin
Tintin is more famous than any Belgian comic book hero out there, which is no small feat considering the age of the character and stiff competition.

George Prosper Remi Remi, better known as Hergé, had a lot of things going for him when he created the boyscout reporter. He was a gifted storyteller and perfectionist, and was surrounded by an amazing team of supporting artists that helped create thrilling adventures for the young hero.

With that kind of fame controversy is never far away. Hergé, who passed away in 1983, has been accused of racism, sexism, promoting communism and collaborating with the nazis during World War II.

A Congolese citizen went as far as starting a lawsuit to get 'TinTin in Congo' taken off the shelves, as it openly promotes colonialism and shows the natives off as lazy and cowardly.

Hergé drew the controversial comic in 1931 to show the positive effects of Belgian rule, but admitted later in his life that the work was an embarrassment.

Strangely enough, according to tintonologist Michael Farr, who worked in Africa as a correspondent, 'TinTin in Congo' is so popular in Africa that it's constantly sold out. (Source Fivebooks.com).

Even though a lot of TinTin's adventures are over eighty years old, the young reporter is more popular than ever before. It is no mystery why this mural is only meters away from one of Brussel's main attractions: Manneken Pis.
2 2) Blake & Mortimer
Blake & Mortimer are Belgium's own Sherlock Holmes & Watson, traveling through time and space to fight their archenemy Colonel Olrik.

Many classic Belgian comics started out in TinTin Magazine, but few can say they did so in its very first edition.

The eccentric and versatile Edgar P. Jacobs, a good friend of Hergé, agreed to participate in the brand new magazine, that was used as a vehicle for the immensely popular TinTin comics.

The story about an adventurous scientist and a brave army officer, both Brits, soon caught on with the audience, and after helping his friend out in Studio Hergé with backgrounds and coloring, Jacobs started dedicating all his available time to Blake & Mortimer.

The mural you see here is an exact copy for the cover of 'The Yellow M', one of the most famous editions of Blake & Mortimer, and a prime candidate for a feature Hollywood film.

It showcases Jacobs' elaborate cinematographic style and storytelling, with mysterious kidnappings, a mind-controlling device, and a mad scientist.

Jacobs, a great admirer of Jules Verne, always had a flair for dramatics. He was an opera singer by trade, who drew in his spare time until 1940. During the Second World War, he thought up his first comic (Le Rayon U).

He continued Blake & Mortimer until his death in 1987, after which two teams of writers/cartoonists continued his work in the same vein.
3 3) Le Jeune Albert
See the cute little kid at the tram stop, with its nose stuck in a comic book? That's Le Jeune Albert (young Albert) and he is not as cute as he looks like.

In his world, Brussels in the 1950s, he was a street terror in the legendary poor district 'Les Marolles'. Albert is a so-called 'ketje', a street kid who hung around and played cruel pranks on innocent (and not so innocent) bystanders.

If you're looking at this wall, you're standing right on the edge of those same Marolles, a part of town that has still retained some of the same vintage glory. If you walk up the street and go right, you will find antique shops, a flea market and modern versions of the earlier mentioned 'ketjes'.

Le Jeune Albert is an obscure figure in Belgian comics, mostly because his creator died before his time.

Yves Chaland, a promising cartoon artist, was killed in a car crash at age 33. Even though he was born and raised in France, Chaland was in love with Brussels and became one of the most prominent modern members of the 'atomic style', an evolution of the style of drawing that was pioneered by artists like Jijé (Blondin & Cirage) and Franquin (Gaston la Gaffe).

It's a shame Chaland is nothing more than a collector's pet, but this tribute captures the spirit of Les Marolles like no other.
4 4) Stam & Pilou
Belgium gets its fair share of rain, and so it's good to know that one of the comic book murals on this tour is situated inside of one of Brussel's most famous bars.

Stam & Pilou were created as mascots for the youth stamp collector club of the Belgian post service.

Stam, the boy you can see on the extreme left, is holding up Pilou, a girl who lives next door to him.

The old man checking out the behind of Stam's mom is called Grandpa Fons and the text on the sign he is holding up says 'Speak your mother tongue'.

This message refers to the preservation of the Brussels dialect, which is a combination of French and Dutch that is still spoken in some parts of Brussels.

The authors behind Stam & Pilou, Marc Daniëls (De Marck) and Rik de Wulf are both true Brussels natives, who want to instill the spirit and scenery of their hometown into the characters. To keep the albums relevant, the two artists give drawing classes to children each week.

This mural is located on the courtyard terrace at the back of Het Goudblommeke in Papier/La Fleur en Papier Doré, a classic bar where famous artists like René Magritte used to spend their drinking days. That means you can not see this mural without passing through the bar first, even though this isn't necessarily a bad thing.
5 5) Victor Sackville
We suspect that the city of Brussels gave Victor Sackville such a prominent place on this comic book route because its author portrayed Brussels beautifully in the very first album The Zimmerman Code.

The impeccably dressed Victor is a spy for the British crown during World War I, and this takes James Bond's predecessor all over the world to sabotage the German military plans.

Sackville, created by the French cartoonist Francis Carin and script writers François Rivière and Gabrielle Borille, is truly a comic book for the connaisseur.

The story might be not the most appealing to the average fan, but Carin's 'clear line' drawings are beautiful and detailed, and the stories are intricate and well-written.

The depicted scene is taken from 'Le code Zimmermann 1: L'opéra de la Mort' in which the spy gets the assignment to go to Brussels and steal a secret book right in front of the nose of the German army.
6 6) Odilon Verjus
This missionary with an attitude is Vatican's secret agent, solving mysteries all over the world and rubbing shoulders with famous historical figures like Edith Piaf and Hitler.

The sturdy looking monk at the bottom of this beautiful mural is Odilon Verjus, a missionary with a rowdy past who has been staying with a Papuan tribe for more than twenty years. In his youth he was a Parisian pimp and he has been an almoner in the trenches of World War I.

The beautiful lady he's helping down is Josephine Baker, a famous American-born cabaret singer, who caused an uproar in early 20th century Paris by performing in nothing but a banana skirt. She was also an information officer during World War II and a human rights activist.

She isn't the only historical figure that makes an appearance in Odilon Verjus, but she is present in three of the seven albums that authors Laurent Verron (scripts) and Yann Le Pennetier (drawing) have created.

The stories of Odilon Verjus are extremely well researched, and contain accurate references to the Papuan tribes, even though the artists don't portray the tribesmen as savages but rather as intelligent human beings that are not inferior in any way to the white missionary with an attitude.

Their obsession with detail is time-consuming, apparently, as it has been seven years since the last album of Odilon Verjus appeared on shelves.
7 7) Monsieur Jean
Comic books are a great way to escape reality, but sometimes it's hard to identify with the characters. One cannot simply hack an enemy in two with a broadsword or leap over a house in a single bound.

Most people are more like Monsieur Jean, the gentleman in this stylish mural, passing by a lively bar on his way home from work in Brussels.

Monsieur Jean, created by Charles Berberian and Philippe Dupuy, is a French-speaking comic book series for adults about a writer from Paris who deals with depression, relationship trouble and job insecurity.

Monsieur Jean isn't a huge bestseller, but does have its fair share of fans, and the series has been lauded for its realism and eye for detail. The nostalgic drawing style fits so well with the Brussels surroundings, that you would almost pass it by without noticing.

Be a bit less like Monsieur Jean, lighten up and take a stroll through town. There are plenty of Brasseries in town to have a drink and a hearty Belgian snack.
8 8) Le Passage
What do you think is on the dark side of the moon? An ancient civilization, lost by the ages? A UFO landing site? Or something entirely more bizarre, like another dimension?

Renowned comic book authors François Schuiten (drawing) and Benoît Peeters (scripts) take this line of thinking even further with their successful graphic novel series The Obscure Cities, which takes place on a planet called 'Counter-Earth.'

Counter-Earth represents an alternate form of our Earth, and is located on the other side of the sun where we (conveniently) cannot see it.

Schuiten and Peeters claim that this planet really exists, and that their stories are written through 'otherworldly inspiration.'

Counter-Earth is filled with city-states that look remarkably like ours, and the mural you're looking at might be a passageway to Brüsel, the city-state on Counter-Earth that so strongly resembles Brussels.

So what you see might look like an animated version of the city you've been walking through all day, but could be a doorway to an alternate dimension.

Before you go intergalactic and step through, get some Belgian fries at Frietland next to the Bourse.
9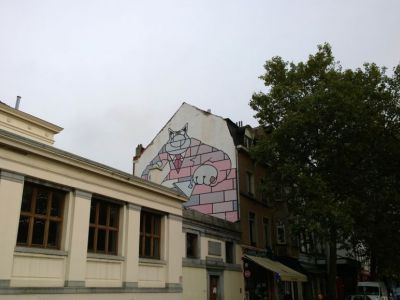 9) The Cat
Some of Belgian's most beloved comic book characters have a tendency to end up on Brussel's most forgotten walls.

Le Chat, French for 'the cat', might be the best example of this kind of assassination of character.

The mural is found on a windy boulevard in the no man's land somewhere between the Grand Place and the Brussels Midi railway station. Even if you're passing by in a car, it's easy to miss the tribute to one of Belgium's favorite characters.

Le Chat, a walking and talking cat, has been providing running commentary to current events in the French-speaking newspaper Le Soir since 1983.

Author Philippe Geluck has become extremely popular in the French-speaking world and makes regular appearances on national radio and television.

In spite of all the success, Geluck decided to kill off the creation that made him famous. On 22nd march 2013 he published the last comic, exactly 30 years after its debut.

Le Chat won't be forgotten soon, not even with its obscurely placed tribute: you can find plenty of comic albums and merchandise down town, with English translations available.
10 10) F.C. de Kampioenen
In most countries, popular comic book heroes get turned into television series and movies, but in Belgium they often do it the other way around.

F.C. de Kampioenen was an extremely popular television real-life comedy first, and its success prompted a comic book series of the same title.

The comedy about members of a badly performing amateur football team and their families, ran from 1990 until 2011. It was one of the most popular and longest running television series in Flanders, the Dutch-speaking part of Belgium.

In Flanders, making a comic book about a celebrity or popular tv-show is fairly common, but most of these 'vedettestrips' fail to have any success.

This is not the case with the F.C. De Kampioenen comic book series: it started in 1997 and is still going strong in 2013, with 81 published albums, dozens of specials and even a spin-off series for some of the characters.

The colorful looking gentleman with the yellow jacket is Balthasar Boma, president of F.C. De Kampioen and owner of the local sausage factory. There is a small chance you will ever get in closer contact with Boma and his friends, as the series has little international appeal. This gigantic wall does succeed in livening up a depressing looking side street of the city center.
11 11) Nic
This boy and his beastly buddies were not meant to be. If it wasn't for the persistent passion of Philippe VanDooren (Morphée) the dream world of Nic would have never ended up on this gigantic wall.

Nic, translated into English as 'Hey Nick! Are you dreaming?' is a tribute to Little Nemo, an ancient comic book character created in 1905 by the legendary American cartoonist Winsor McCay. Nemo is a little boy that escapes into fantastic dream worlds while sleeping.

Morphée, a passionate fan of Nemo's adventures, wanted to retell this classic story in the 1970s, but couldn't find a cartoonist willing to fulfill this dream.

After his first choice turned him down, VanDooren went to his brother-in-law Hermann Huppen, one of the most respected and popular Belgian cartoonists.

Huppen, mostly known by his pen-name 'Hermann', was stunned by the request, as he is known for cynical, violent comic books that display mankind at its worst.

After making some test pages, he discovered he actually liked drawing Nic a lot, although the fans didn't agree with him.

Nic went too deep for young comic book lovers, while fans of Hermann dismissed it because it lacked his trademark anguish and violence.



Morphée cut the experiment short after three albums, but Hermann kept good memories about the imaginative boy. When Brussels approached him for his own comic book wall, he picked Nic.
12 12) Wowser
In cartoons, most dogs end up as the butt of all jokes, but there's always an exception to the rule. This white, big, fluffy exception is called Cubitus, or Wowser for English-speakers.

Wowser is a lazy and snobbish dog, who walks on his back legs like a human being. His favorite pastime is eating gourmet food while reading literature, hence his considerable girdle and conceited nature.

The brainy wonder dog was born in 1968, when editor-in-chief of TinTin Magazine Greg (the author of Olivier Rameau) had an empty page to fill up. Luc Dupanloup, better known as Dupa, came up with the talking dog Cubitus, named after a small bone in the arm.

One year later, Cubitus was joined by his new owner, a messy inventor and retired sailor called Sémaphore, who insists that his pet tests out his many inventions.

Cubitus was a hit, and ended up being translated into Dutch (Dommel) and English (Wowser). The dog even got its own cartoon series, drawn up by a Japanese artist that was shown on television networks all over the world.

Even though Dupa passed away in 2000, Cubitus is still very popular inside and outside of Belgium. The wonder dog has gotten its own Belgian postal stamp and statue and regularly shows up in advertising campaigns.

The comic book series was relaunched in 2005 by artist Michel Rodrigue, and is still going strong 45 years after Cubitus' first adventure.
13 13) Cori le Moussaillon
Bob de Moor was the most important cog in the machine called Studio Hergé, a team of artists that worked unceasingly to make the TinTin adventures into the major success they have become.

The fact that De Moor was Hergé's right-hand man didn't mean he had no ambitions of his own. He was an extremely productive artist in the 1940s and 1950s, who drew countless of series for Dutch- and French-speaking newspapers.

Cori le Moussaillon (Cori de Scheepsjongen in Dutch) is perhaps his best-known work and showcases his passion for boats and nautical adventures.

De Moor started working on the series in 1951, but between the first and second installment there is a gap of fifteen years. During that time he had his hands full with TinTin Magazine and other series.

After Hergé's death De Moor could dedicate himself to his own masterpiece, and showcase his storytelling skills and drawing abilities.

Cori le Moussaillon, or Cori the cabin's boy, takes place during the golden era of the Verenigde Oostindische Compagnie (V.O.C), the Dutch trading company that controlled the world spice market in the 16th and 17th century. The stories, as you can on this mural, are full of nautical battles, rough oceans and marvelously drawn ancient ships.

De Moor died before he could finish the fifth story, Cori the Captain, but his son Johan de Moor made sure that the last part of his father's magnus opus was properly finished.
14 14) Caroline Baldwin
This amazing mural has so much personality you would expect it in the heart of a bustling bar district. Instead, you find Caroline Baldwin in a more quiet residential part of the city center.

Caroline Baldwin is one of the more important contemporary Belgian comics and revolves around a Canadian female private investigator, who travels to exotic countries to solve mysteries.

André Taymans, who is both responsible for the scripts and the artwork of Caroline Baldwin, clearly shows his mastery of the 'clear line' style of drawing that Hergé introduced with The Adventures of TinTin.

The character development of his female hero is more oriented towards adults than TinTin is; Caroline struggles with relationships and has become infected with HIV, not a topic you will often read about in a comic book.

After almost twenty years of adventures, a Brussels movie company has decided to make a feature film about the long-legged female detective. It is not yet know when the aptly title 'Caroline Baldwin' will appear in movie theatres.
15 15) Pass moi l'ciel
Heaven or hell, what'll it be?

When you die, or so it is said, you will have to report to Saint Peter at Heaven's Gate to determine if you're allowed entrance.

Janry en Stuf made fun of this heavenly doorman in the Spirou-series 'Passe-moi l'Ciel/Oh! Lieve Hemel', which can be roughly translated as Oh, dear heaven!

The drawn version of Saint Peter is a scatterbrained bureaucrat, who has to deal with his inefficient staff of angels and the devil down below mocking his efforts.

When the creators of this heavenly comedy found out their mural would be right next to the Brussels Palace of Justice, they took some cheap shots at Lady Justice as well.

While Saint Peter is busy growing cannabis, and ruining his neighbor's barbecue down below, the long arm of the law is busy keeping an eye on the 'usual suspects', being rastafari and pretty girls on a nudist beach.

This parody of afterlife is a strictly Belgian affair, with six albums in Dutch and French.
16 16) Broussaille
Brousaille may not be the most famous Belgium animated character, but he does have something to boast about: he was the very first comic book character to grace a building in Brussels.

This mural was unveiled in 1991, and still looks amazingly fresh after more than twenty years of smog, sunshine and rain.

Broussaille is both a nature lover and a true Brussels city kid. That is why he is shown doing what he loves to do most: strolling through the city with his girlfriend Cathérine and dreaming about the future.

Broussaille is sort of an alter ego of Frank Pé, a Brussels native who started drawing this character for the nature section of Spirou magazine in 1978. Like many of his colleagues, he has collaborated with the scouting movement, and he also made illustrations for local nature protection groups.

Frank Pé doesn't just show his love of nature in his drawings: he is an active reptile breeder, and has nursed sixteen crocodiles to adulthood.

Speaking of walking around: this mural is right next to the smallish gay bar district and the Rue du Midi, a long street filled with affordable student bars and comic book stores. Right around the corner, of course, is the famous Grand Place and the Bourse, which will soon host a Belgium beer museum.
17 17) Olivier Rameau
Sometimes, all it takes is a pretty lady with luscious curves to create a success story.

You don't have to tell Daniel Henrotin (Dany) that twice, as he has been making a successful living for decades drawing sexy animated girls without their clothes on.

Most people know Dany from his naughty comics series 'Rode Oortjes' (red ears) he started making in the nineties, but his first big success came with Olivier Rameau, the psychedelic tale you can see on this mural.

The stunning blonde in the blue dress, the obvious centerpiece of this mural, is Colombe Tiredaile.

She is the girlfriend and soon-to-be wife of Olivier Rameau, a legal clerk who is the guardian of a dreamlike realm that is inspired by Oz and Alice in Wonderland.

As is the case with most successful comics, Olivier Rameau was first published in TinTin Magazine. As mentioned before, Dany was responsbile for the artwork, but the storyline was in the hands of Michel Renier (Greg), one of the most influential Belgian comic book artists of the 1960s, 1970s and 1980s.

It's a bit unfair that the painters put this wall so close to Manneken Pis, the city's most famous landmark. Few people will be inclined to go up the street to explore if they don't know the Olivier Rameau wall is there. A real shame: it's one of the more spectacular murals in the city.
18 18) Yoko Tsuno
Male heroes tend to dominate the Belgian comic book scene, but luckily the pretty Yoko Tsuno is there to even the odds.

With a strong female lead and a heavy emphasis on technology and futuristic themes, Yoko Tsuno is notably different than most prominent Franco-Belgian comics.



With episodes about time travel, mechanical dragons and even an alien race, the Vineans, author Jacques LeLoup shows his passion for science fiction and the future.

LeLoup, roughly translated as 'the wolf', got into comics by accident when his neighbor, cartoonist Jacques Martin, desperately needed a colorist for one of his albums.

The technically skilled kid LeLoup got the job and soon started drawing all kinds of constructions and buildings for Studio Hergé, the machine behind the highly successful Adventures of TinTin.

After almost twenty years of assisting other artists, LeLoup (that is his real name) wanted to try his hand at his own series and after a botched collaboration he came up with the character of Yoko Tsuno, a Japanese electrical engineer living in Brussels.

LeLoup never looked back and has produced 26 full albums to date in the characteristic 'clear line' style, that have been translated in 16 languages to date, although English translations are rather difficult to find.



It isn't so easy to see in this space-suit, but Yoko is quite a sight to behold, a girl that puts friendship, loyalty and courage above all else.
19 19) Blondin & Cirage
Some of the comic book murals in Brussels are simply great to look at, like the action—packed Ric Hochet. Others, like Blondin & Cirage, have more historical value than pure visual power.

This short comic gag with Blondin,the white kid, and Cirage, the black kid, may look a bit dated, but that is probably because they are older than most Belgians can remember.

Blondin & Cirage, roughly translated as Blondy and Blinky, were published during the 1940s and 1950 in Spirou Magazine, the legendary comics weekly that started publishing shortly before the Second World War.

If it wasn't for Jijé, Blondin & Cirage's creator, many walls in Brussels would have stayed empty.

Joseph Gillain, better known under his artist name Jijé, kept Spirou going during World War II when foreign comics (American) were not allowed by the occupying Germans.

Right after the war, a small stable of young promising artists started a renaissance period for Spirou magazine under his supervision.

By then, Jijé had developed his own drawing style that mixed realism with humor, the so-called Atom style. Artists like Franquin (Gaston la Gaffe) and Peyo (the Smurfs) were heavily inspired by him.

Jijé handed over the series he had been drawing over to this new generation, so he could dedicate himself to new work.

This led him to create Jerry Spring, a realistic looking western that was to be a blueprint of many rough and realistic comics to come.
20 20) Billy the Cat
Do you believe in reincarnation? And if so, would you like to be reincarnated as the cheerful street cat you are looking at?

That simple notion is more or less the starting point of Billy the Cat, a story about a mean-spirited kid called Billy, who likes to torture street animals with his friends.

He gets run over by a car and ends up in heaven on probation (See Passe moi l'ciel). To make his chances of an indefinite stay in paradise bigger, he gets sent back as a cute tiger-striped street cat, but with the boy's memories intact. This is supposed to teach him respect for the tough street life these animals have to endure.

Billy the Cat is one of many creations of Stephen Desberg, a prolific Belgian native with American roots. With Stéphane Colman doing the artwork, they turned this story about street animals into a huge success, that eventually led to an adaption for television.

The animated series keeps a lighter tone than the original comic book. To avoid talking about death and reincarnation, they introduced a magician who turns the bullying boy into a cat to teach him a lesson about the harsh life of street animals.

To make sure the boy's parents do not get worried, the magician turns his own cat into a lookalike of the boy, that starts living with Billy's family.

Billy the Cat has featured in eight full albums; the tv-series ran for five years in several European and Asian countries.
21 21) La Patrouille des Castors
This mural is just as much a tribute to the Belgian love for scouting as it as an illustration of the comic La Patrouille des Castors, or Beaver Patrol.



The scouting movement, started by Baden Powell at the start of the last century, plays an extremely important role in Belgium.

About 1,5 procent of the Belgian population is involved with scouting in some way, and it has almost as many members as the neighboring France, quite an achievement considering the difference in size.

Many Belgian comic book artists, like Hergé (TinTIn) and Willy Vandersteen (Spike & Suzy), were scouts in their youth, and they instilled boyscout philosophy in their characters.

None were as dedicated as the deeply religious Brussels native Michel Taq (Mitacg).

The creator of the 'Beverpatroelje' started his series about a group of Beavers in the 1950s, but it's a bit odd that two of them are painting a bare wall in this mural.

Scouts are do-gooders alright, but the Beaver Patrol specialized more in fighting dictators in faraway countries than doing neighborhood chores.

After Mitacq's death in 1994, this series was discontinued, but the World Organization of the Scout Movement made sure they weren't forgotten.

When an international scouting museum opened its doors in the Belgian Arlon, Mitacq's work was given a prominent place in the permanent exhibition about scouting in Belgium.
22 22) Comics Cafe
There are several Brussels museums where you can learn more about Belgian comics, but if you want an more informal setting, the Comics Cafe is the best place to stop by for a drink and a chance to buy some comics.

A French surgeon and comic book collector had the bright idea to open a gallery in Brussels, alongside a comic book shop for an international crowd and a hamburger restaurant where you can get a bite to eat.

The walls of Comics Cafe are decorated with drawings from private collections and the Comics Cafe regularly organizes theme shows for famous artists. The TinTin statue at the entrance is from a Paris gallery, and was supposedly made as a commission for Hergé before he died.

Even though you can find comics for a better price elsewhere, the selection at Comics Cafe is quite extensive and caters well to an international audience. There is a nice reading room upstairs, so you can try before you buy.

Other than comics, you can buy stuffed animals and other memorabilia, which makes this combination of museum, store and restaurant a nice place to take a break from your hunt for the comic book walls.
23 23) Asterix
In 2011, a group of respectable German scientists published a detailed analysis of 700 head injuries suffered by characters in the Asterix comic books.

Their conclusion? Authors Goscinny and Uderzo didn't faithfully represent the brain damage inflicted on the poor Romans beaten up by Asterix and friends.

This could give children the wrong impression about brain damage, a leading cause of teenage death.

You could argue those scientists should have their own heads examined, but the research does prove how much Asterix has become a part of western culture.

The story, for the blissfully unaware, revolves around a small Gaul village that defied Roman occupation thanks to a magic potion that made the tribesmen invincible. Important characters are the small and brainy Asterix, big lug Obelix and his little dog Dogmatix and the druid Getafix, creator of the earlier mentioned potion.

Both René Goscinny (script) and Albert Uderzo (drawing) were French, although they have strong bonds with Belgian colleagues, and they have worked extensively for magazines like Spirou and TinTin.



Goscinny died in 1977, after which readers begged Uderzo to continue on his own. He obliged their request, but most fans agree that the newer albums lack the brilliant storytelling of his deceased friend.

Asterix and Obelix have become larger than life, with a theme park, movies and merchandising. The Gaul warrior even has a satellite named after him.
24 24) Quick & Flupke
Hergé was in many ways the grandfather of Belgian comic books. His creation TinTin became a poster boy for the Belgian style of drawing and storytelling, and he helped pave the way for whole generations of artists.

With TinTin, Hergé (an alias for George Prosper Remi Remi) showed the world his serious side. With Quick & Flupke, two naughty Brussels street kids or 'ketjes', he showed his light and humorous side.

Quick & Flupke (Quick tall and skinny, Flupke tiny and blond) started out around the same time as TinTin came into being. They lived in 'Les Marolles' from before WWII, the Brussels poor district that plays a prominent role in many Belgian comic book stories.

The exploits of Quick & Flupke appeared on a weekly basis in the youth section of local newspaper Le Vingtième Siècle since 1930. The storyline was deliciously simple: the kids cause trouble, the neighborhood cop (Agent 15) tries to stop them.

Hergé used Quick & Flupke as to put jokes that weren't appropriate for The Adventures of TinTin. He even put himself in the weekly comic a couple of times, but the two rugrats were never more than an afterthought. When the Germans invaded Belgium in 1940, the newspaper folded and the two kids disappeared.

In spite of Hergé's lack of attention, Quick & Flupke were never really forgotten. In the 1980s, the son of Hergé's right hand man Bob de Moor, Johan de Moor, made an animated series based on the comics, and collections are still being reissued.
25 25) Ric Hochet
Ric Hochet has it all: a whiff of sixties Austin Powers, Scooby Doo detective skills and a fancy Porsche to chase after bad guys. Just as the more famous TinTin, Hochet is a journalist, but that's pretty much all they have in common.

The slick looking hero, whose first adventure came out in 1963, dabbles in supernatural crime mysteries. Like in Scooby Doo, the perpetrators of crimes he investigates often turn out to be flesh and blood.

This 30 m2 mural is one of the most spectacular ones in Brussels. You can see Ric Hochet hanging from the roof , trying to save his girlfriend Nadine from a mysterious shadow with a big knife. On the ground floor is Commissaire Bourdon, a police inspector who is Hochet's closest friend and Nadine's uncle.

Belgian comic book heroes are long distance runners and Hochet is no exception. Tibet (drawing) and André-Paul Duchâteau (script), the creative duo behind the crime journalist first introduced Commissaire Bourdon in 1955 in TinTin Magazine and later let him join forces with Hochet as leading man.

Both of Hochet's creators are French, but resided in Brussels for most of their life.

Tibet, an alias for Gilbert Gascard, passed away in 2010, but Duchâteau decided to keep their man of mystery alive. He hired a new artist to finish the 78th (!) adventure they were working on, and also published a detective novel that unveils Ric Hochet's past.
26 26) XIII
XIII is as American as apple pie. No wonder you can find a New York yellow cab painted large as life on a Brussels house. The stranger leaning against the cab is known as XIII, one of the most successful comic book heroes in Belgian history.

Author Jean van Hamme and comic artist William Vance took XIII's storyline from the popular Ludlum novel The Bourne Identity and turned it into one of the longest running animated spy chases ever recorded. With over 10 million editions sold, XIII is one of Belgium's most successful titles.

For those who haven't read the book nor seen the action movie trilogy starring Matt Damon: XIII (Jason Bourne) starts out as an amnesiac, who is fished out of the ocean by a passing vessel.

He is unconscious and bleeding from a bullet wound to the head. With just a mysterious tattoo and a few scraps of paper to go by, the protagonist tries to piece his identity back together. Soon after, he finds himself chased around the globe by shady mercenaries and covert-ops secret services, who know his background better than he does.

The fact that the Belgian creative duo could turn this story of suspense in such a long-running franchise is quite an achievement. XIII's eternal pursuit has been captured in motion, with an animated series featuring Val Kilmer as voice actor, and a critically acclaimed console computer game.
27 27) Suske & Wiske
The cheerful looking bunch depicted here are the titans of the Dutch-speaking comic book industry.

Suske & Wiske, named after the boy and girl on top of this human tower, have been a household name for generations of Belgian, Dutch and Luxembourg kids, with hundreds of millions copies sold in those three countries alone.

In the UK and US, they're called Spike & Suzy, the French call them Bob & Bobette and in Brazil they are known as Zé & Maria.

Like most Belgian comic book artists, author Willy Vandersteen got his big break when he started contributing to the funny pages of local newspaper De Standaard just after WWII.

Suske & Wiske soon become popular enough to become separate entities and sales are still strong after 70 years, even though Vandersteen passed away in 1990.

The supporting characters of Suske & Wiske are every bit as famous as their namesakes.

On the bottom of the pile is Jerommeke, a silent type with herculean strength and caveman roots.

On his shoulder is Lambik, a public favorite because of his clumsiness and unmistakable bow tie.

Next up is Tante Sidonia, Wiske's aunt, a nervous type, who has a secret crush on Lambik and acts as the group's moral conscience.

And last but not least: Wiske's doll Schanulleke, which you can see in her outstretched hand.
28 28) Nero
Most comic book heroes are meant to be timeless, but Nero has always been about current events.

Nero was a regular in Belgian Dutch-speaking newspapers for many years, where he ridiculed politicians, royalty and dictators that had their fifteen minutes of fame. When you staple these daily contributions together, you get a long string of comic books that show Belgian's history of the past sixty years.

Nero is special in the sense that he retired alongside his creator Marc Sleen, who called it quits when he was 70 years old. Sleen has been added to the Guiness Book of Records in 1992 for the world's longest running comic book made by a single author.

After Steen's retirement, the city council decided to buy up his complete archive. They gave it a prominent place in a museum of its own across the street from the Comic Book Museum in the city center.

Nero ended with a grand finale, with all the villains from the last decade making a final attempt to defeat him. After he had vanquished his foes for the last time, Nero celebrated his farewell as he always did: by having a big waffle meal with his family in the final picture frame.

This tribute to Nero is on Place St.Gery, one of the hippest squares in town. If you want to grab a drink or a bite to eat, this is the place to start, or end for that matter.
29 29) Lucky Luke
Belgian comic artists have always been heavily influenced by American culture, but they always managed to give a unique, surreal twist to classic Yankee settings and archetypes.

Maurice De Bevere (Morris), Lucky Luke's creator, started out in a small animation studio with Peyo and Hergé, the legendary creators of the Smurfs and TinTin respectively.

He began his career just after WWII, and in those days reliable information about the Wild West was hard to come by. Morris based much of his early Lucky Luke drawings on old movie stills, which he stole from the display windows of local cinemas.

In 1948, Morris traveled to the United States for the first time, where he finally got to see the Old West up close. He also met with many of his American contemporaries.

Lucky Luke is a bit more edgy than the little Smurfs, but the violence of the Wild West is watered down to be suitable for the younger readers. Villains riddled with bullets will have another shot of whiskey, unaware of the fluid leaking from many holes in their body.

The Dalton Brothers, bloodthirsty bank robbers in real life, were goofy jailbreakers in the comic, who mess up their own crimes with their constant bickering and clumsy antics. Luke's sidekicks, the smart horse Jolly Jumper the dumb dog of the Wild West Rataplan (Rantanplan in French), play an active role in the adventures, with Jolly Jumper saving the day and Rataplan messing things up.
30 30) Gaston Lagaffe
Gaston was a slacker long before anyone knew what the word meant. This likable, very lazy twenty-something has been a public favorite in the French-speaking world for decades. He works at the offices of Spirou, in real life of one of the leading comic book magazines of Belgium.

We needed someone who was "too dumb to be a hero", author André Franquin said when he thought up Gaston. Even though his adventures were never translated into English, he gained huge popularity in many countries around the world. The surroundings and wardrobe of the characters may seem a bit dated, but the gags on office life and authority are as timeless as they come.

Though friendly in nature, Gaston can be a bit of a rebel when he wants to be. Especially when he climbs aboard his Fiat 509, he can be a real menace to society.

As is the case with many Belgian comic book heroes, Gaston started out as a sidekick in Spirou magazine, and moved his way up to full-scale comics by the 1960s, when Franquin grew tired of his other characters Spirio and Fantasio.

Unlike most murals, this unusual specimen is located on the most boring building imaginable: a parking garage. Luckily, Brussels most flashy shopping street in the city centre, Rue Neuve, is just around the corner.
31 31) Statue Gaston Lagaffe
Giving the clumsy Gaston Lagaffe his own statue seems like an odd choice, but if you look at Brussel's reputation as capital of surrealism, it makes perfect sense.

The statue couldn't be more out of place than on the quiet boulevard it's standing. The brightly colored statue sticks out like a sore thumb in this classy neighborhood with fancy banks and museums (the Brussels Comic Strip Center is just down the stairs). Fifty meters away from where Gaston is standing, a female goddess snobbishly pulls up her nose for the famous slacker.

Gaston always has been the odd one out, from the moment creator André Franquin came up with him while working at the famous Spirou magazine.

He was to be a 'hero without work', a character that no comic book would want to have as a member, let alone main character. Lagaffe began as a mascot and joker on the editorial pages, but started growing into a full-fledged character with its own world and friends with the help of editor-in-chief Yvan Delporte.



Contrary to all expectations, Lagaffe has grown into a permanent fixture of the Belgian comic book landscape, with countless albums and even a film adaptation in the eighties (a miserable failure). The presence of his hyper-active cat is more than valid: Lagaffe is a huge animal lover that takes the cat (and his depressed seagull) to work, and they often act as the punchline of the many gags Franquin published over the decades.
32 32) Marc Sleen Museum
Of all the Belgian comic book heroes, Nero might be the best kept secret. His creator, Marcel Neels, is surely the most productive cartoonist Belgium ever produced, and he deserves his own museum.

Neels, who wrote under the pseudonym Marc Sleen, started drawing Nero in 1947 and produced 217 full stories until his retirement in 2002. Where famous colleagues like Hergé and Vandersteen had their own studios to help out with the work, Sleen practically did it all by himself.

Because of this reason, Nero has a very distinct style. If you want to know more about the character, check out the Nero-mural at St.Géry-square.

The choice for this building may seem logical: it's right across the street from the Belgian Comic Strip Center.

The actual reason for choosing it is quite different. When Sleen started drawing Nero in 1947 for De Nieuwe Gids, the catholic newspaper was situated in this exact building on the Zandstraat. It was even featured in an early Nero-comic.

The Marc Sleen Museum contains the full archives of Sleen's comics, all in all ten thousands of documents, including the 217 original albums.

The city of Brussels has bought both the archive and the building, and pays the author a yearly stipend for use of the author's material.

Tickets for the Marc Sleen Museum are for sale at the Belgian Comic Strip Center: 2 euros for adults and 1 euro for children under 12.
33 33) TinTin in America
If you're arriving in or leaving Brussels by train, there's a big chance you're passing through Brussels Midi-station. Don't forget to check out the impressive mural TinTin in America, close to the Eurostar terminal.

TinTin is the only comic book hero in Brussels who has two murals dedicated to him. Not very surprising, considering the amount of attention and visitors the young reporter is bringing to Brussels after his appearance in a Hollywood movie produced by Steven Spielberg.

TinTin was a hit long before that movie was produced, and TinTin in America was one of the most famous editions.

You could also call it 'TinTin against America', as it was written as a complaint against American capitalism, a system that author Hergé was suspicious of.

TinTin travels to the US to report on American organized crime, and ends up fighting Al Capone and his cronies. Capone one of the few characters in TinTin comics that also existed in real life, even though it's unclear if Capone ever knew about his comic book alter ego.

Striking about TinTin in America was Hergé's favorable attitude towards Native Americans, whom he ended up portraying as brave but naive. Hergé later refused to remove a scene from the translated edition where a native American tribe was removed from its native lands.

The serialized story appeared in black and white on the pages of Le Petit Vingtième in 1931, and was later republished in full color. The mural you see here is from the original edition.
34 34) The Scorpion
Looking at Belgian comic book legends like Nero, TinTin, or Blake & Mortimer, it would be almost obscene to imagine them having a love life. With the fierce looking Casanova-type 'The Scorpion' this seems a lot less odd.

Armando Catalano, better known as 'The Scorpion', is a relics dealer in eighteenth century Rome. This means he hunts through catacombs looking for ancient religious objects he can sell to the highest bidder.

He is chased mercilessly around the globe by a Vatican cardinal, who sees in him an important enemy of the catholic church and a possible threat to his personal quest for world domination.

The cardinal sees proof for this fact in 'the mark of the devil' a birthmark on Catalano's shoulder, that shaped like a scorpion (hence, the nickname).

The Scorpion is one of Belgium's most popular comic book series of the hour, because of its fast pacing, realistic sword fights and beautiful dames.

This action-packed series is created by Stephen Desberg, a heavy hitting scenario writer who is also responsible for Billy the Cat, the popular Gil Jourdan and many other series. He is joined by Italian cartoonist Enrico Marini, who is based in Switzerland.



The Scorpion is still being published, with thirteen albums to date. This mural isn't far away from the Parc Royale, a lovely and quite extensive park just around the corner where you can relax for a bit on a sunny day.
35 35) JoJo
Looking through the eyes of a child, the world can look so much less complicated and gloomy.

That special kind of innocence is excellently portrayed in JoJo, a comic book series about a small boy from Brussels and his friends.

Jojo first appeared in Spirou in 1983, and from that moment on, the cute boy started appearing on a regular basis in short gags and stories that eventually led to full albums.

Author André Geerts, who was born and raised in Brussels and was a good friend of Broussaille-creator Frank Pé, always considered Jojo more of a Flemish than a Franco-belgian comic.

"The landscapes, the atmosphere, the 'Leuven's' furnace in Mamy's kitchen…this all to me has to do with Flanders. While drawing Jojo I even feel more Flemish than Wallonian", he said in an interview in 1995 with Stripschrift (source: stripspeciaalzaak.be).

In spite of that sentiment, Jojo never became truly popular in Flanders. Sales were lacking and many stories were never translated to Dutch.

Geerts died of cancer in 2010, just before he was able to put the finishing touches on Jojo's eighteenth full album. Two befriended artists finished the last pages, but it's still not clear if publishing house Dupuis will allow another artist to continue the series. Also, an animated series Geerts was working on, was shelved and may never see the light of day.

A sad ending for such a positive man and his charming creation.
36 36) Belgian Comic Strip Center
It takes a special kind of building to become the temple for a special kind of art. The Belgian Comic Strip Center (BCSC) is located in a former shopping mall designed by Victor Horta, a prominent Belgian Art Nouveau architect, responsible for many of Brussels' most beautiful buildings.

The 4.200 m2 museum has a documentation center, a huge comics library and a store to purchase the latest editions in many languages. The BCSC organizes guided tours and offers a ton of information about famous characters (TinTin, Smurfs etc) and less famous characters.

The non-profit organization that runs the museum has influential French- and Dutch-speaking comic book artists on the board.

Other than the promotion of Belgian comics, the museum has multiple permanent and temporary exhibitions about Belgian and/or European artists and common themes.

Ticket prices for the museum are 8 euros for adults and 6 euros for seniors, special card holders and 12 - 18 year olds. Tickets for children younger than 12 are 3 euros.

Keep in mind that the library/documentation center is accessible for a small fee (1,20 euro) and is only accessible if you're 16 years and older. The Reading Room, however is freely accessible.

If you haven't bought a ticket for the museum, you pay 0,50 euro to sit in the reading room. It's rare for a museum that the building is as spectacular as the items on display, but the BCSC manages to pull it off.
37 37) Isabelle
Isabelle was always more of a pet project for Belgian cartoonist powerhouses than it was a comic book fan favorite.

Isabelle, not the striking woman in the foreground but the petite red-haired girl in the background, ends up in surreal worlds like the one in this mural all the time.

This is due to her uncle Hermès, married to the good witch Calendula, who is the woman in the foreground with the green locks and penetrating stare. Isabelle's enemy is Kalendula (mind the spelling), Calendula's evil predecessor.

Isabelle was thought up by friends and script writers Yvan Delporte and Raymond Macherot at the end of the sixties. They wanted to have a female counterweight to all the male heroes that dominated comics at that time.

They asked Willy Maltaite (Will), one of the most important early contributors Spirou magazine, to provide the artwork. When Macherot fell ill a couple of years later, André Franquin (creator of Gaston Lagaffe) started filling in for him. Franquin and Will were both disciples of Jijé, the legendary comic book artist you will meet elsewhere on this route.

The dreamlike landscape is obviously meant as a break from harsh reality, but the mural fails to deliver. Unfortunately, the Isabelle mural is in a poor state compared to other murals, with big black smudges all over and trash all around it. A shame: the mural is really well done, even though Isabelle itself was discontinued in 1995 because of poor sales.
38 38) L'archange
People who have the presence of mind to look up every now and then get to see the most marvelous things.

At least, that is the case with 'The Angel', a mural that is as multifaceted as its creator, cartoonist and scenarist Bernard Hislaire.

The bottom of the wall is covered in, what appears to be, plain graffiti. Yet there's something off here: the messages are in multiple languages and more philosophically inclined than the average tag line.

Slogans like 'Lost illusions are discovered truths' or 'Is god dead? (Kafka)' cover a sooty silhouette of a house or factory.

Floating overhead is the centerpiece, a cowering angel. Mixing the ethereal with gritty reality is a common theme for the ambitious Belgian comic book artist.

Hislaire's career started out in a typical way: inking comics for Spirou magazine in the 1970s and 1980s. He radically changed his style when he started Sambre, a realistically drawn saga about the impossible love between a farmer's girl and the aristocrat Bernard Sambre. Hislaire changed his pen name to Yslaire.

Then came his most ambitious project to date: 'Mémoire du XXe Ciel', a collaboration with a psycho-analyst that chronicles famous events of the last century in images. The project started online, but grew so quickly that he decided to turn it into a series of comic books. The installment 'Le Ciel Au-Dessus de Bruxelles' (the sky over Brussels) most likely is the inspiration for this Archangel.
39 39) Thorgal
Thorgal is Superman meets Conan the Barbarian, a story about a Viking warrior from alien ancestry.

He is discovered by nordic warriors in an alien capsule and adopted as Thorgal Aegirsson, the rugged gentleman shown on this mural together with his wife Aarica, daughter of Viking Leader Gandalf the Mad. They have a son and daughter together, both with special powers: Jolan can disintegrate objects with his mind and Louve can communicate with animals.

Beneath Thorgal's rough exterior lies a noble spirit that fights for justice and equality.`For a short period during the series he loses his memory and turns into pirate lord Shaigan, without ever losing that noble character.

The unusual combination of historic and fantastic comes from the mind of an unusual comic book artist. Jean Van Hamme a marketing man by trade, who drew comics in his spare time as a hobby.

After doing regular contributions for TinTin Magazine, he decided to start working in the field full-time in the 1970s. Thorgal, a collaboration with the Polish cartoonist Grzegorz Rosinski, was his first major success.

Thorgal is Van Hamme's second tribute in Brussels. Elsewhere in the city center you will find a mural of XIII, another one of his big successes.

Thorgal is the 49th comic book mural in Brussels and the second on Place Anneessens (Isabelle being the first), one of the town squares that can use a push in the right direction.
40 40) Brüsel
There are a lot of comic book stores in Brussels, so competition is tough. Brüsel is one of the best stores to find the comics you've seen as murals earlier on, and one of the best places to buy original art if you have the budget.

Brüsel stands out because of several reasons.

First: they're well situated on the central Boulevard Anspach and are open seven days a week.

Second: they have a very broad range of comics for kids and adults, with a separately attached gallery where you can buy original artwork from well-known cartoonists.

Brüsel regularly organizes signing sessions and special expositions, so if you're a fan of the genre, keep an eye on the schedule on their website.

A lot of the comics are in French, but you will also find a section for English- and Dutch-speakers inside of the store. Brüsel recently opened a new store in the nearby neighborhood Ixelles, so if you're in the neighborhood of Place Flagey, go have a look.
Useful Travel Guides for Planning Your Trip
--- What to Buy in Brussels: 15 Ideas for Travelers
It's no secret that Brussels is not all about JCVD muscles and EU headquarters. Small country as such, Belgium abounds in signature items, such as beer, chocolates and... the peeing boy. All of these have made prime Belgian souvenirs for years. Now you can explore the Brussels gift scene in... Belgian Beer Tour of Brussels
Belgium is world-renowned for its beers and Brussels is the best city to sample the huge variety of flavors. We'll show you the best places to buy them and to drink them. We'll even show you a family brewery where the liquid gold is produced right in front of your eyes! This tour is meant...